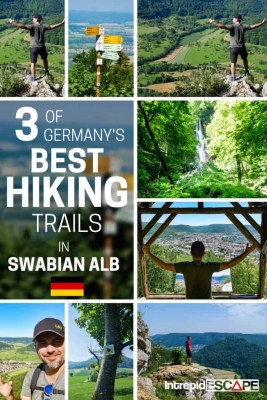 As an adventure travel blogger, nothing makes me happier than the great outdoors. Be it hiking, cycling or kayaking, if it's outdoors in nature I'm happy. So, when I was invited to experience 3 of Germany's most beautiful hiking trails, I was in. I was a guest of Baden-Württemberg Tourism, to explore the Swabian Alb; a 220km mountain range stretching across the region. It's a destination I was yet to visit, but it was on my radar since a German friend told me about some of the stunning hiking on offer here.
All 3 of these hikes have been listed as some of the best hiking Germany has to offer, all are around 3-5 hours and are well signposted 'loop' trails – starting and finishing in the same spot. There are however a lot of other hikes in and around each of these areas, but these routes have been designed to give the best one-day hiking experience. For me personally, 10-15km (6-9 miles) is about right. It's an enjoyable distance. Each of these trails are also marked on the Outdooractive App, where you can follow the exact trail via GPS. It has all the points of interest marked, along with plenty of useful facts about the hike. I've also marked the points of interest on my map above, with the trail starting points in yellow.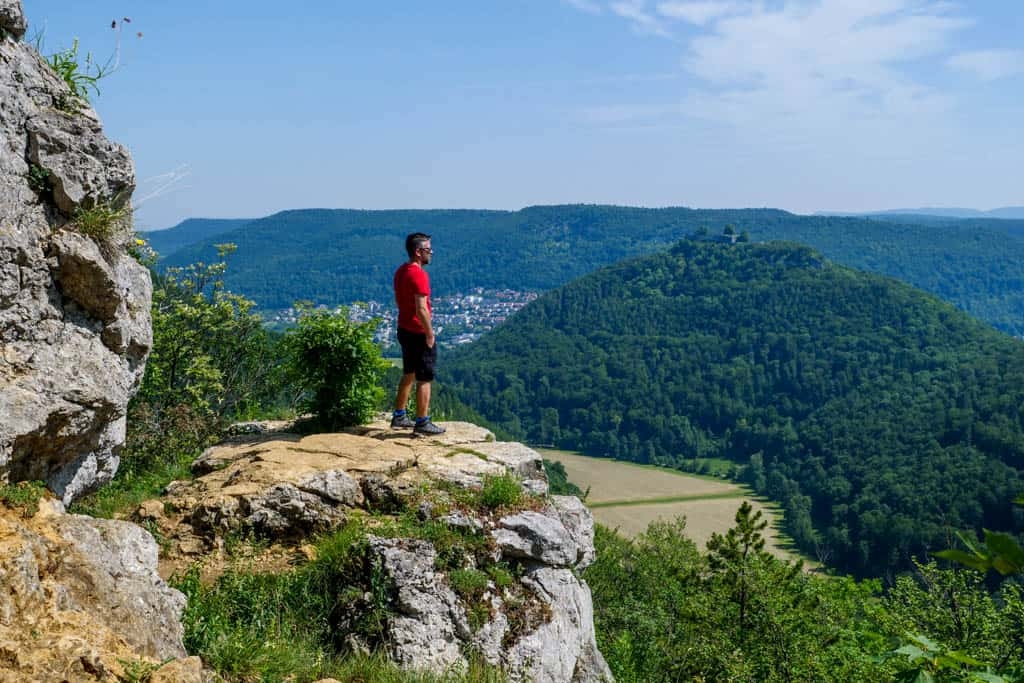 "Wasserfallsteig" Waterfall Trail, Bad Urach
After picking up my hire car in Stuttgart, I drove for around 35 minutes to Bad Urach, a town just a few minutes from the start of my first hike. This is the one I'd heard most about, and that's for one simple reason, the Urach Waterfall. The hike was voted Germany's most beautiful hiking trail in 2016 in the annual vote by 'Wandermagazin'. It was easy to see why. Right at the start of this 3-4 hour hike, you're hit with a waterfall that wouldn't look out of place in South-East Asia. Seriously did you know Germany had a waterfall like this?
In fact, from the starting point and car park the waterfall is only around a half hour walk. If you are short on time and want to just see the waterfall you can do it in a couple of hours. You'll be missing out on the rest of the hike though. After taking some stunning photos of the waterfall the Wasserfallsteig trail continues to climb and passes one of my favourite spots on the trip. It's one place that's not marked on the Outdooractive route, but there is a photo spot Aussichtspunkt (on my map on google above, along with each of the starting points). It's a small viewpoint off the main trail, you can often spot these little pathways and if you have time, I recommend exploring them. This is where you find the hidden gems. The final stage of the hike passes through a couple of smaller waterfalls, forests, meadows and local farmland.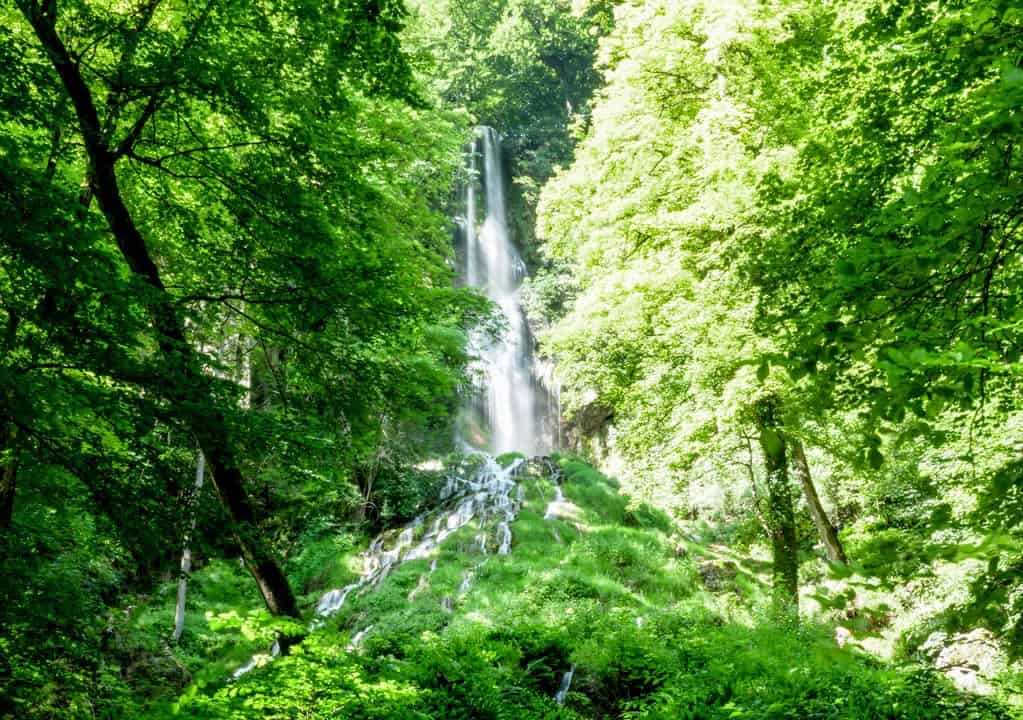 Wasserfallsteig Facts:
Length: 10km (6.2 miles) Duration: 3.5 hours Elevation change: 510 metres Highest Point: 774 metres Recommended direction: Clockwise Difficulty: Medium More information & GPS link
Eat & Sleep: I stayed overnight at Hotel Bischoffs, which has the adjoining and highly rated Kesselhaus restaurant. The hotel was so nice and the food delicious, and if you get a chance to wander around Bad Urach it's a beautiful little town.
Bonus: Between this hike and the one below you'll find Lichtenstein Castle, the "fairy tale castle of Württemberg". This neo-gothic style castle is quite simply a must visit when you're in this area! I mean just look at the photos, it's stunning. It was built in 1840 and sits 817 metres above sea level and overlooks the town below. You can't take any photos from the inside, but it has a fascinating history behind it and is lovingly maintained by private owners.
"Dreifürstensteig" Trail, Mössingen
My second hike was right next to the town of Mössingen, and as you can see from the map, it might make sense to do this hike first. But as the Waterfall hike is shorter, I wanted plenty of time to go to the Lichtenstein Castle. So it's your call how you play that one. The Dreifürstensteig hike is a little longer at 13.3km. It starts in the apple orchards before leading uphill through the forest, to the viewpoint "Dreifürstenstein". From here there are fantastic views over the valleys and the picturesque village of Beuren. Next you head along a stunning mountain pass to Bergrutsch Hirschkopf, the scene of Baden-Württemberg's largest recorded landslide. To get a real sense of the scale of the landslide I recommend viewing it from the bottom too, following the signs slightly off trail. It will only add 20 minutes to your walk.
The route then takes you through some lovely 360-degree landscape views of the countryside, before arriving at the stunning swing viewpoint "Unter Andeck". I have to say this was perfectly timed for a little rest, and to admire the view over the town of Talheim. The only problem was getting up again! After some relaxing it's back to it, passing through more forests before being back in the orchards, and passing several beehives. It's great to see these wonderful creatures being catered for.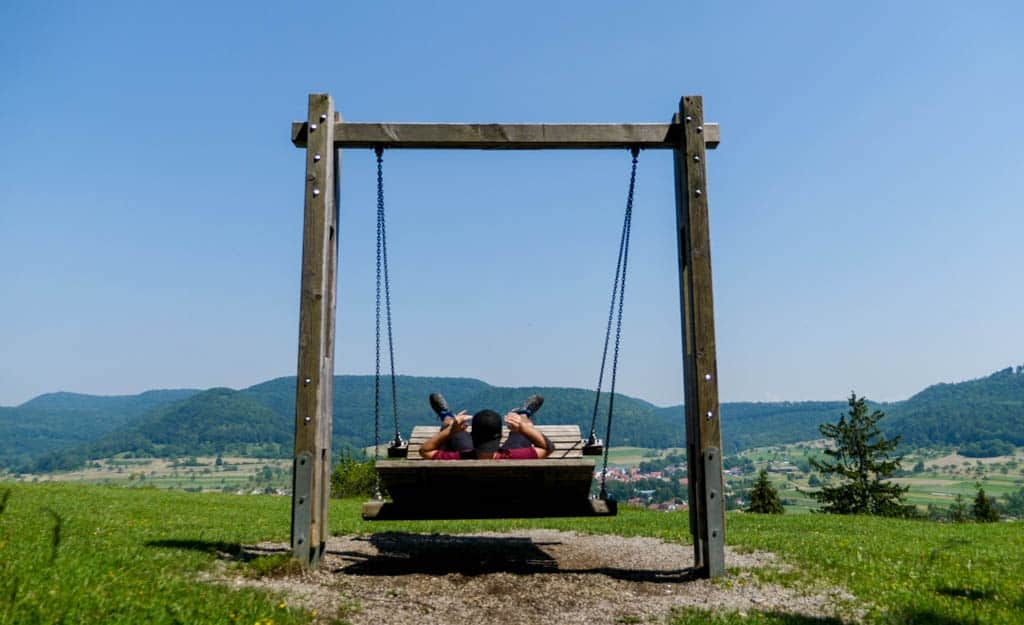 Dreifürstensteig Facts:
Length: 13.3km (8.2 miles) Duration: 4.5 hours Elevation change: 568 metres Highest Point: 859 metres Recommended direction: Anti-Clockwise Difficulty: Medium More information & GPS link
Eat & Sleep: I stayed at a lovely hotel called Forellenhof Rossle, close to Lichtenstein Castle. In fact, I could see the castle from my balcony! It's a small village, but after hiking all I really wanted to do was grab dinner (and a beer) and go to bed. The hotel restaurant is one of the best in the area, and its speciality is trout (highly recommended). If you want a larger town and a few bars check out the hotels in Mössingen.
Löwenpfad "Felsenrunde" Lion Trail, Bad Überkingen
My final hike took me to the town of Bad Überkingen, which is a bit of a drive from Mössingen (around 1.5 hours). But the drive is fun if you stick to the country roads. Felsenrunde is a loop trail marked by a lion's head, and you can walk directly from the town to the starting point. It is very easy to find. It's another one I recommend doing clockwise, this is so you hit the steep incline at the beginning, and for me I'd much rather hike up the steep part then down it. The best bit about doing it this way, the fantastic views will blow you away right at the start of the hike!
After the steep climb through the beech forest, the views from the top of the ridge (the Alb plateau) are spectacular. You can see as far as the Alps on a clear day. There are several viewpoints here, but please be careful as there are sheer drops along the rocky ridge. A level of climbing ability is required to access some of the rocks, and never do it alone unless you're very experienced. I managed to get my photos from "safe" vantage points. My advice for this hike is to allow plenty of time for this spot. Add a little bit to the hiking duration if you like to take photos or savour the moment. It was my favourite part of the three hikes.
The trail then passes through a small village, giving you a chance to stop for lunch or a beer if you wish. I did this hike first thing in the morning and had a packed lunch on each hike, but it's a nice option. You then pass the Bad Überkingen Golf Club, which looks like a fantastic course. And in case you didn't have enough views it finishes with spectacular views across the valley in the other direction, over the town of Geislingen. You can also find the Burg Helfenstein castle ruins and the Ödenturm tower in Geislingen, both look worth a visit.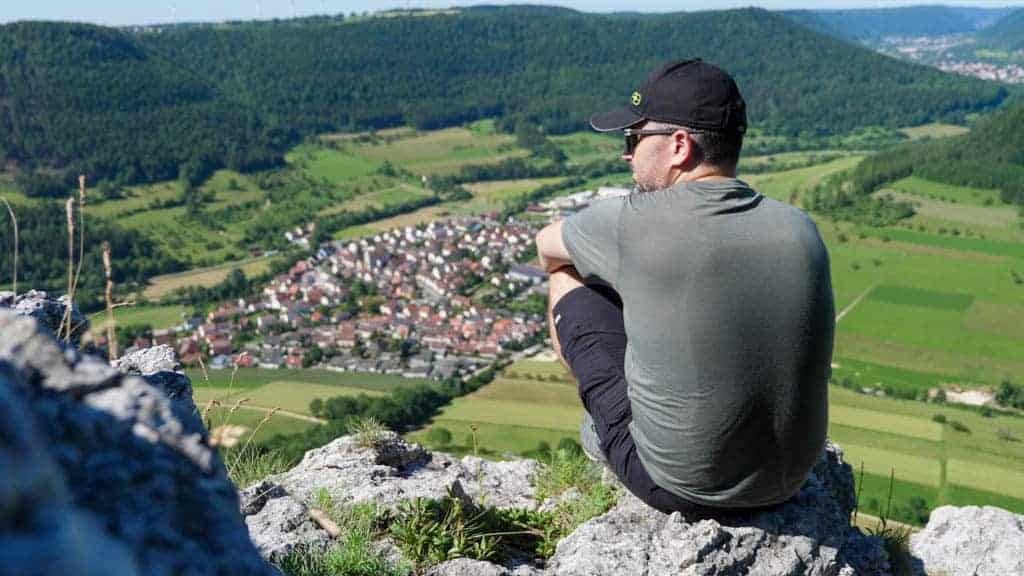 Felsenrunde Facts:
Length: 13.3km (8.2 miles) Duration: 4.5 hours Elevation change: 427 metres Highest Point: 748 metres Recommended direction: Clockwise Difficulty: Medium More information & GPS link
Eat & Sleep: I stayed at Bad Hotel, which really wasn't bad at all! It has a lovely spot overlooking the river and gardens, and on the day I left it was hosting a wedding shoot. I also ate at their restaurant and the food was delicious. They were kind enough to give me a late checkout, meaning I could shower after the hike and before heading back to the airport.
Getting there
The closest airport to these three hikes is Flughafen Stuttgart, and from there you are around 40-minute drive to each of the hikes. There are many operators that fly from Heathrow and Gatwick, with Eurowings and EasyJet offering the most competitive rates. You can also fly direct from Bristol, Edinburgh, Birmingham or Manchester. Once you're in Stuttgart I recommend hiring a car if you want full flexibility for the trip.
This article is sponsored by the Germany Tourism board and supported by each local tourism board. Nonetheless, all the photos and opinions are (as always) my own, and quite simply these kinds of hiking trails are awesome, and I loved it!