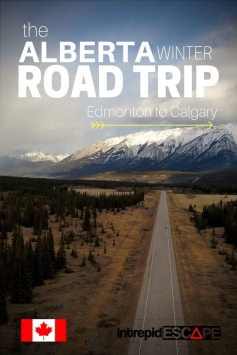 If you know me, you'll know I love a road trip. I love the feeling of freedom you get, the open road, a good road trip playlist, you can't beat it. I'll always try to travel overland on big trips, often travelling in to one airport and out of another, driving the gap in between, sometimes crossing borders, sometimes provinces or states. In this case, I just didn't stray outside of the province of Alberta, I drove from Edmonton to Calgary, for skiing, ice climbing, fat bike riding, hiking and general exploring, all around the province. This trip is focused on winter, the list of things to do would be totally different in summer or spring. So for summer inspiration take a look at 10 things you must do in Alberta and The Alberta National Park Showdown. Below you'll find the route I took on Google Maps, it's the first time I've used it so I'd love some feedback in the comments below.
Edmonton
You can do this road trip both ways, Edmonton to Calgary or Calgary to Edmonton. Either way, if you can, spend a few days to explore the cities as well as the countryside. Edmonton (the capital of Alberta) is a city that embraces winter and has plenty to do when temperatures fall below freezing. I went Fat Tire Mountain Biking with River Valley Adventure Company, who also run winter Segway tours. Did you know Edmonton has an Iceway at Victoria Park that offers one of the first 'skate to work' schemes? Then to top it off, as I mentioned in 10 things you must do in Alberta, there's the West Edmonton Mall, which hosts a water park, theme park and ice rink all in one place.
Sleep: The Metterra Hotel (photos below) – it's the second time I've stayed here, it has a homely feeling, great breakfast and a perfect location.
Eat: The food (and craft beer) at Situation Brewing was incredible! You can also find 3 of the top 10 new restaurants in Canada in Edmonton, take a look.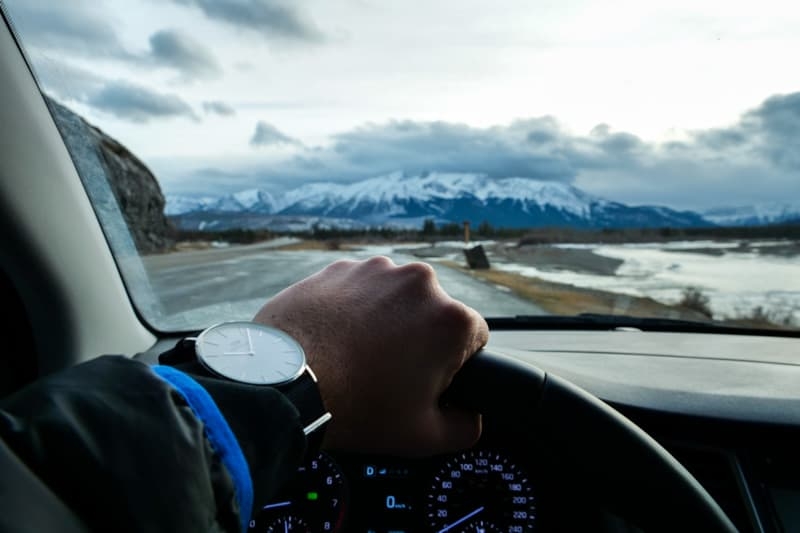 Jasper
What can I say about Jasper? I just love it here. It was the winner (just) of The Alberta National Park Showdown, and each time I go back I discover something new. The drive from Edmonton is around 4 hours, and it's the last hour or so where the views get spectacular, so allow some time to stop for photos. One thing I love about Jasper, there's plenty of opportunity to spot wildlife, even in the winter. Staying in Jasper gives you a chance to feel like a real local, as there's definitely far less of a touristy feel to it than other towns in Alberta. During winter this is a popular base for skiing at the Marmot Basin, I have a dedicated article focusing on Skiing and Snowboarding in Alberta, and a video below. Just outside of Jasper (around 7 miles), I'd also recommend a tour of the Maligne Canyon and Lake. It's transformed in winter, and there are spectacular views along the river bed and gorge.
Sleep: I stayed at The Crimson, which is right on the main road and walking distance from everything you need. If you prefer a hostel check out Jasper Downtown Hostel, or if you want to go big, try the unique Jasper Fairmont. Not feeling a hotel? Why not check out Air Bnb?
Eat: Dinner and craft beer at Jasper Brewing, Breakfast or lunch at Coco's Café, or try the new Jasper Food Tours which will take you on a whirlwind of Jasper's most delicious spots.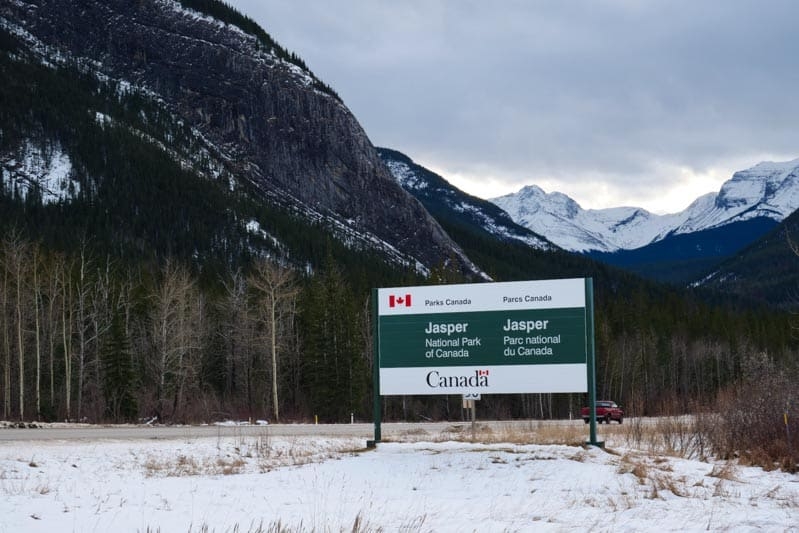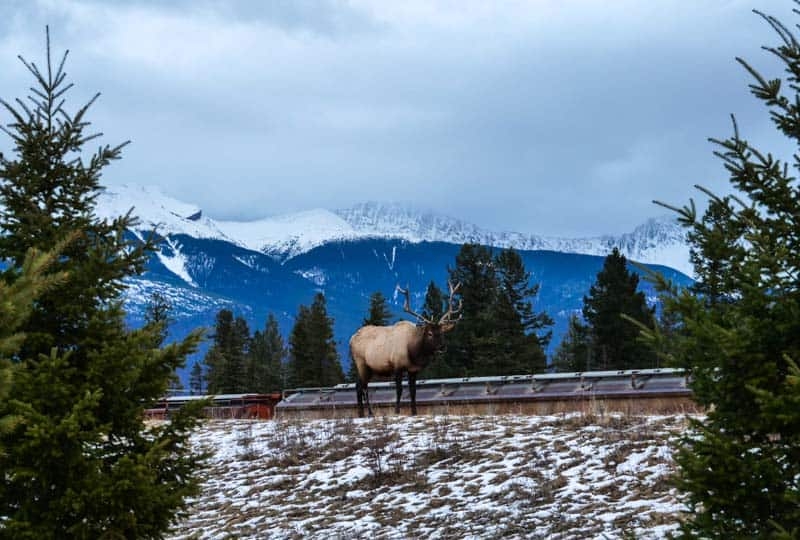 Icefield Parkway and Waterfalls
I couldn't plot these on the map above as Google Maps only allows 9 destinations, however they all fall between Jasper and the Icefield Parkway below. Please note, in extreme conditions they may be closed. You come across Athabasca Falls first, around 20 miles from Jasper, it's not known for it's height, but its view and backdrop, especially on a clear day. Next is the Sunwapta Falls, officially now in the Icefields Parkway. Here you'll find a pair of falls, and some of the iconic shots you will have already seen in Jasper National Park. Please just be very careful on your feet in winter, a pair of Ice Cleats (rented or bought) is a very good investment.
The final fall on route is the Tangle Creek Falls, where I went Ice-Climbing with Rockaboo Mountain Adventures. At Tangle Creek Falls you can Ice-Climb on an actual waterfall, climbing the frozen ice right beside a fresh mountain waterfall! I must admit I wasn't expecting such a spectacular setting for this, and man is it tough! Reaching the top was amazing, and you can see more of this experience in the video below (skip to 1:18 for only the Ice Climbing).
[su_youtube url="https://youtu.be/nu8HOVtgBcA" width="300″ height="200″]
Lake Abraham
I first found out about Lake Abraham when I saw some stunning photos of frozen methane bubbles, which attracted me to visit, I wanted that epic shot for myself. Unfortunately, you need very low temperatures for this to happen, and that wasn't the case on my visit. Nonetheless, it's still a beautiful spot, just outside of Banff National Park. It's around a 40 minute detour off of the main route, but just the drive there is enough to make it worthwhile. Lake Abraham is actually a manmade lake, and the bubbles are formed from frozen methane.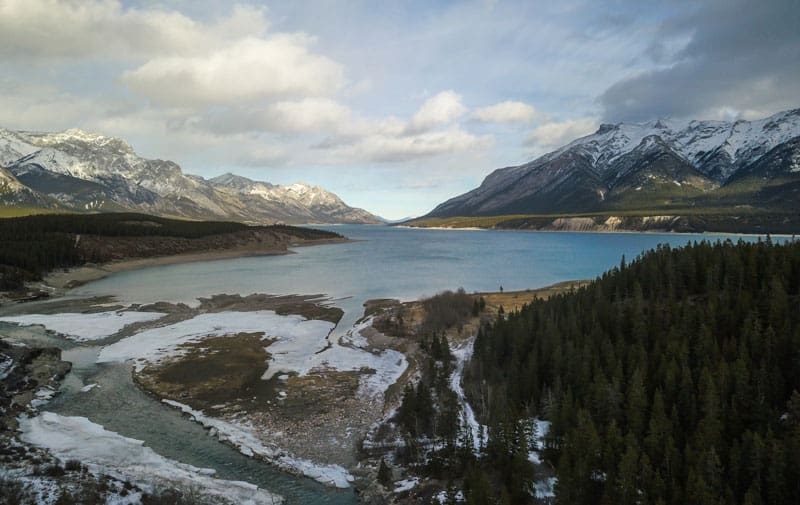 Lake Louise
Lake Louise is beautiful, it can be a little touristy yes, but still worth the visit. The lake itself has a totally different look in every season, and in the winter is often completely frozen over. Check if it is safe to walk on as whilst I was there a woman fell in, guess what she was doing? Taking a selfie! I didn't have much time to explore anything other than the Lake Louise Ski resort, but look for some of the snowshoeing hikes in the area on a clear day. For details about the skiing and snowboarding, check out Skiing and Snowboarding in Alberta.
Sleep: I stayed at the Mountaineer Lodge, which was good but family orientated and a little quiet. So it might be worth considering staying in Banff or at the Lake Louise Fairmont.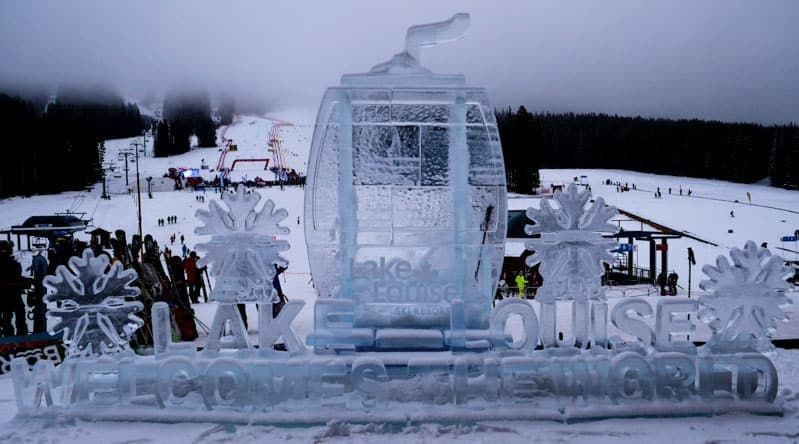 Banff
There's a common misconception with Banff, that it's too touristy! Now don't get me wrong, it has a lot of visitors, and your typical tourist shops. But this is a beautiful small town in the mountains! It's still very small, at the weekends it's busy, standard, so what? Most of the tourists are Canadian, many visiting from nearby Calgary. That's still pretty authentic to me. I really want people to realise that this is a great place to visit, and the surrounding area has SO MUCH to explore. However most of us do just pass through, that's the nature of travelling or holidays. Therefore getting something like the Alive Pass will save you money and give you some ideas. It includes park entries, rentals and a few of my tops recommendations such as the Banff Upper Hot Springs, the Banff Gondola and Cave & Basin National Historical Site. Finally one of the best things about Banff, there a 3 ski resorts (know as the Big 3) all within an easy drive, I've reviewed them here Skiing and Snowboarding in Alberta.
Sleep: Buffalo Mountain Lodge, which is a short walk out of town (but with an amazing log fire in the room, and shared hot tub!). If you want to be closer to the action stay anywhere near Banff Avenue (Banff is very small), you'll find a list of hotels and hostels below.
Johnston Canyon
All year round, the Johnston Canyon is beautiful, but in winter it looked (in my opinion) even more spectacular! I was lucky enough to get fresh, fluffy snowfall during the entirety of the walk. However, most important part first, in winter please PLEASE hire ice cleats or go on a guided walk which will have them included. I could not believe how many people didn't have them, not only was this dangerous but it was far quicker with them (how smug did I feel marching passed people slipping and sliding on their butts?!). The walk is split into two sections, the lower fall and the upper falls, with a viewpoint on route. The lower is by far the more impressive of the two, but the walk to the upper falls is beautiful. Words don't do this place justice so take a look at my video below from Instagram, taken on my phone for an edited Instagram Story.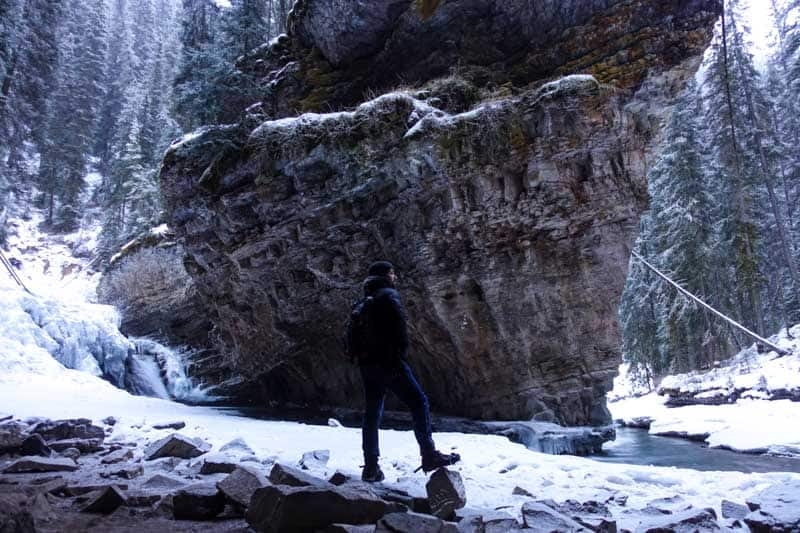 Calgary
Finally finish your trip in Calgary (or start here if you did the trip in reverse). Now I've never spent much time here, as I never want to leave Banff! But there is plenty to offer, including a luge (in summer), an ice-skating oval, a zoo and a number of museums including the Canadian sports Hall of Fame! Click here for more attractions.
And there you have it, around 550 miles later (885km), and you've driven one of the greatest road trips in the world. The next Canadian road trip challenge, on to Vancouver! (Watch this space). I hope you've enjoyed these tips, of course I haven't covered everything, so please let me know in the comments below if you have anything else to suggest on this amazing Alberta road trip.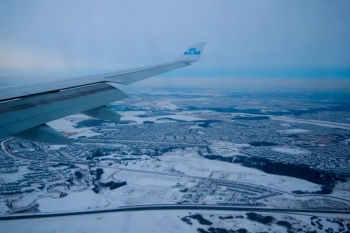 Getting there
KLM UK flies to Alberta, to Edmonton or Calgary using Amsterdam as a hub. You can fly into one and out of the other, travelling over land via Jasper and Banff at your leisure. Going via Amsterdam allows you to fly from 17 UK based airports, rather than only travelling from Manchester or London. The changeover is smooth, KLM will inform you which gate (sometimes from the plane), and you won't need to collect and check in your luggage again.
And then it comes to the seat… Business, Economy or Economy Comfort? Not everyone can afford business, so I'd suggest looking into Economy Comfort for the extra leg room, which makes a big difference on any flight over 3 hours.
Find out more about this route & other options with KLM
I flew to Alberta in partnership with KLM UK and Travel Alberta. My flights to Edmonton were complementary, but return flights from the UK start at £460, including taxes. All of the content, opinions and photography are my own. Please take time to visit KLM UK and Travel Alberta's websites to support me on more adventures like this one!
Pin it for Later
Support Intrepid Escape by adding this article on Pinterest, Facebook or Twitter to read it later and share it with your friends! 😀