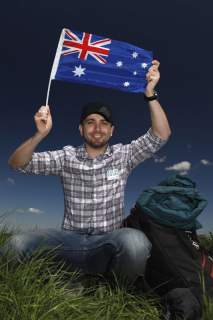 Many of you won't be aware that in 2012 I was shortlisted for one of Tourism Australia's 'Best Jobs in the World', to be a 'Wildlife Caretaker' in South Australia. In a way it kick-started the process that resulted in the creation of Intrepid Escape, and although I didn't win the dream job, it showed me what is possible in a very short space of time and what can be achieved when you put your mind to it.
It started for Tourism Australia in 2009, when Ben Southall beat 35,000 applicants and won the job of Island Caretaker on Hamilton Island. This time around in 2012, there were six jobs ranging from 'Chief Funster' in New South Wales, 'Park Ranger' in Queensland and 'Wildlife Caretaker' in South Australia. The campaign focused primarily on increasing working holiday visa's to Australia for 18 to 30 year olds. With over 600,000 applicants, making it to the top 25 for any of these jobs was an achievement in itself. Everyone was asked to submit a 30 second video showing why they deserve to be short-listed, an almost impossible task, I submitted the video below and thought nothing more of it.
Photo above: Innes Marlow Photography
[su_youtube url="https://www.youtube.com/watch?v=UV0n_JTicPw" width="300″ height="200″]
The Media Campaign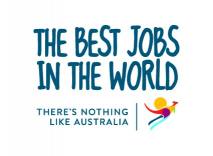 Now the fun begins! At this point some people look upon these dream jobs with some scepticism, each candidate now must create as much publicity and buzz about why they deserve to win. Basically 150 people all around the world promoting the heck out of themselves, and therefore Australia in the process, for free. Clever marketing in my opinion, but the much of the success of this campaign was due to the investment from Tourism Australia in promoting these jobs in the first place, and their enviable social media strategy. Each candidate went about their campaign in different ways, some amassing a huge following on social media, some working with charities and some even getting mainstream TV coverage!
I wanted to show Tourism Australia a few examples of how I make inspiring videos and tell a story, along with gaining as much press coverage as possible. I estimate that I reached around 400,000 people in total*, which to me even now is staggering, especially without a blog or any social media presence. Imagine if the other 149 candidates reached that many? That's 60 million people worldwide!
Highlights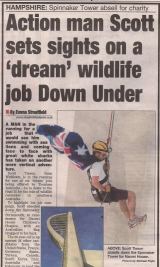 Abseiling the Spinnaker Tower – In addition to raising money and awareness for Naomi House, I chose to abseil the Spinnaker Tower in Portsmouth with an Australian Flag as a cape to really grab Tourism Australia's attention. It at least got me one of the best newspaper headlines I could have ever wished for!
"Action man Scott sets sights on dream Wildlife job Down Under!"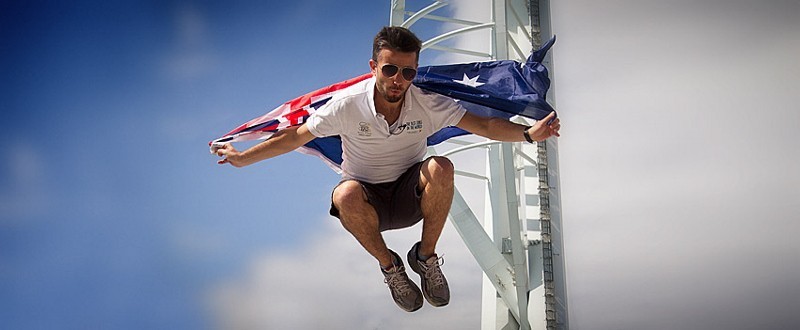 Photo above: Michael Foyle Photography
Go! Rhino & Marwell Wildlife – Marwell is a local zoo to me and where I grew up, and had just launched its Go! Rhino project, a mass public art event on the streets of Southampton. I couldn't wait to get involved, Marwell has also just announced its latest project Zany Zebras, due to hit the streets of Southampton in 2016!
[su_youtube url="https://www.youtube.com/watch?v=D4GPwmEaOfU" width="300″ height="200″]
Press Coverage – For a couple of days if you listened to Heart Radio, Wave 105 or Jack FM (UK based radio stations), in every news report you'd hear "Hampshire man Scott Tisson has been short-listed for one of the Best Jobs in the World…" followed by a short interview. Not to mention the front page news coverage! I can't tell you how exciting it is!
Campaign Highlights video
[su_vimeo url="https://vimeo.com/66678829″ width="300″ height="200″]
Greg Snell – Wildlife Caretaker
It was possibly one of the craziest times of my life, a two week whirlwind of media coverage and late nights, whilst working a full time job might I add! But unfortunately I didn't win, and I've since been a finalist for two other dream jobs without winning. So to tell you how it's done I've asked the actual Wildlife Caretaker winner, and friend of mine Greg Snell.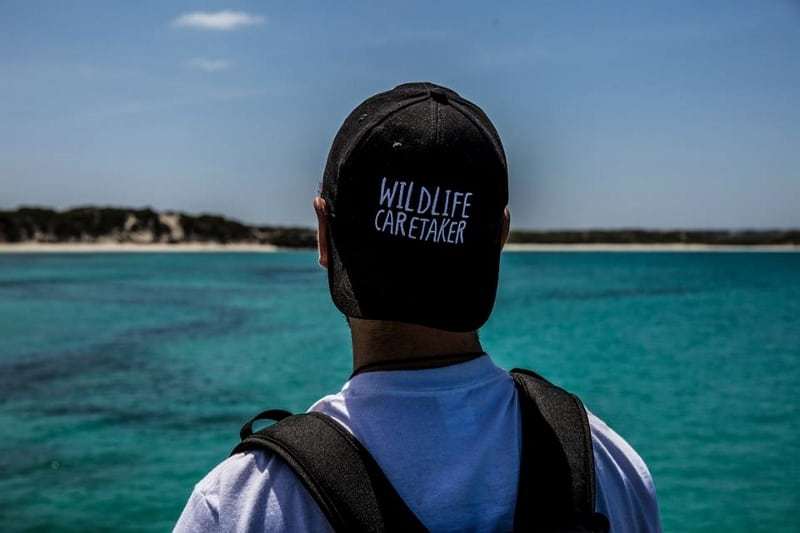 What tips would you give anyone applying for a 'Best Job in the World'?
Make it fun. Whenever you're applying for something that revolves around PR, Marketing, and being social it helps to be entertaining. People want someone and something that catches their attention, and often a witty and energetic presentation does exactly that. I would also say it is very important to push the limits. Go above and beyond whatever you think the company or organization is expecting. Think way outside the box, like a box doesn't even exist. The more creative and inspiring you are the better. People hiring for the best job in the world don't want great, they want exceptional, someone who always delivers excellence. This can be tough but is something that is worth mentioning. It never hurts to be the absolute best you can be and more. At the same time, try to simply be yourself, don't overdo it, nobody likes someone who is trying too hard. This is contradictory to what I just said, so finding a balance is necessary. You want to produce excellence but not in a pompous manner. Ask others for advice and things that they think might help. A video and strong social presence is huge. When applying for the Best Job in the World, you want people to know about it.
[su_youtube url="https://www.youtube.com/watch?v=Vnb3MRqF1Vk" width="300″ height="200″]
What were the highlights of the job?
Meeting the people and learning from the experiences. Also the activities and all the cool things I got to do in South Australia. I was introduced to an amazing state, which is somewhat underrated in Australia. This gave me the chance to really show off how awesome it is. The best parts of my job were taking everything I learned from the people and the experiences and presenting it to the world in a fun and interactive way, through blogposts, videos, and photos. It was truly the Best Job in the World!!
Photos: Greg Snell
What's next for you?
I have left Australia and moved to Europe to be closer to my girlfriend who is currently studying in Germany. Over the last few years I have had this vision of creating a documentary travel series telling the powerful stories of extraordinary people in incredible places. During the second half of 2014 I was able to focus on exactly this. After months of hard work I had the basis of the series ready to be presented to the public. We are currently in the middle of a crowd funding campaign to raise the money needed to get the series up and running. Check it out below… if you're reading this, and you're a traveller, I think you might like it 🙂
Please check out: Travel Global Think Local
Highlights of being Wildlife Caretaker
[su_youtube url="https://www.youtube.com/watch?v=Db7hvx_Srkw#t=269″ width="300″ height="200″]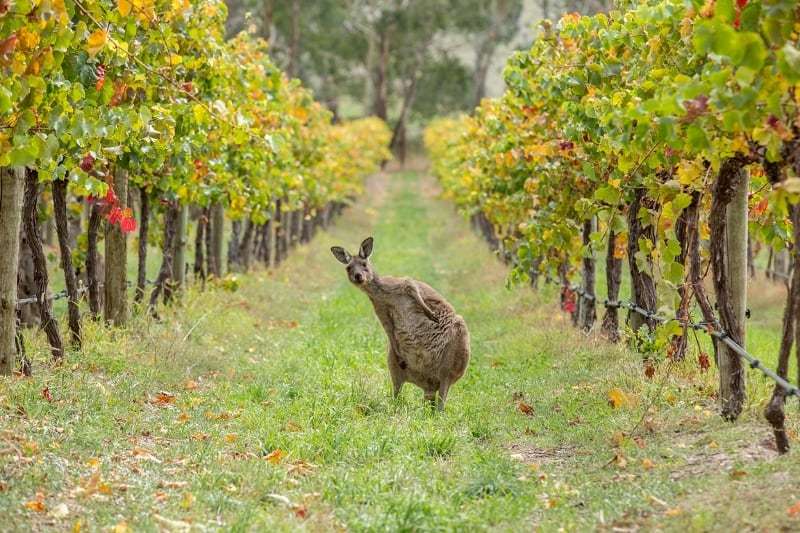 Please take a moment to check out Greg's Kickstarter campaign above, or follow his next journey on Facebook, Twitter or his website Greg Goes Global.