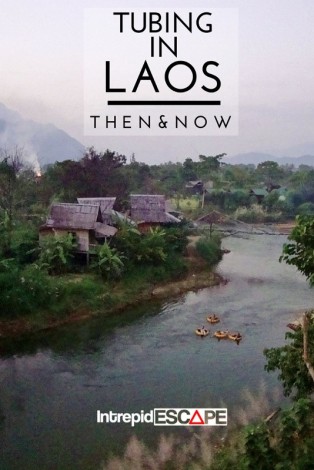 In this article:
Before the Ban – tubing in Laos before the government made important safety changes to the bars and put strict rules in place
Tubing Now – what you can expect from tubing in Vang Vieng now, from backpackers who have recently visited Laos.
My Summary – has Vang Vieng changed for the better, would I go again and what do you think?
For many years Vang Vieng in Laos has been an essential stop on the backpacker trail through South East Asia, and the attraction for most is Tubing down on the Nam Song River. It's always been a contentious subject. The drunken antics of 'Spring Break' type partygoers give Vang Vieng a reputation similar to that of the Full Moon Party in Koh Phangan. Love it or hate it, it was very dangerous! I can personally verify that. So dangerous in fact I remember having a moment where I thought, "s*** if I'm not careful I could drown here!" And I was one of the sensible ones (believe it or not).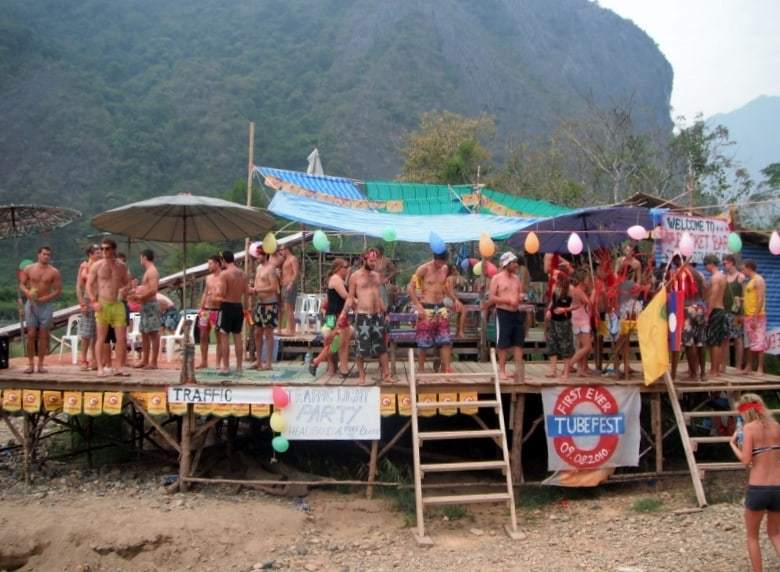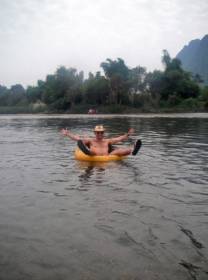 Before the Ban
Tubing in the 'good old days'. I went tubing in Vang Vieng before it was banned in 2012 and given a safety makeover by the Laos government, when it was arguably at its most dangerous. It's been reported that there are over 20 deaths per year, but there seemed to always be an inconsistency with the numbers and a lack of press coverage on just how dangerous it was. When we arrived, we'd heard that the same day a Norwegian guy had died after using a rope swing, knocking himself unconscious and not re-surfacing. That was the warning we needed to avoid the rope swings and make a point of really looking out for each other.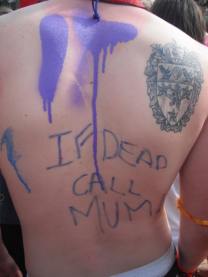 Back in those days over 400 people would head to one of the two shacks in town providing the tubes, you'd pay your deposit, sign your life away and get a number written on your hand. A Tuk Tuk would then take around 10 of you up the Nam Song River to the first bar. Backpackers would then float from one bar to the next with their dry pouches containing money and maybe a camera, getting more and more drunk along the way. Sounds fun right? Well it was. The main problem was just how drunk people got and the infamous rope swings. Drinking during the day will catch even the most hardened drinkers out, add to the mix Laos strength Whiskey, dodgy cocktail buckets and a deep, treacherous river to the equation and you have a recipe for disaster.
Then you have the rope swings and zip line. Having heard the horror stories I opted to avoid these tubing the first time round, but did give one a go the second time round, having judged their safety and chosen the one I deemed the least risky. But even this one had its hazards. The local Laos guy passed me the swing and said "don't land here, here or here", pointing at shallow spots and rocks in the river! Great. Thankfully I landed in a deep bit and all was well. But what if I wasn't so cautious, sober or I simply slipped? It's easy to see how accidents happen.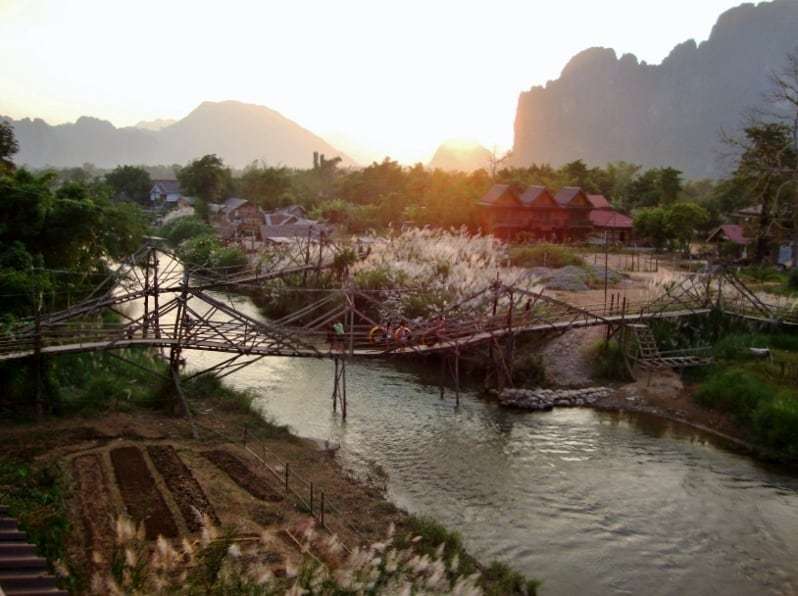 Tubing Now
What about tubing now? Well, as far as I can tell all the bars were initially closed, then some re-opened with certain rules to abide by. There were certainly no rope swings and many of the bars on the river front were and still are closed for good. I've heard that Vang Vieng suffered, initially attracting little or no tourists what-so-ever. A backpacker recently told me…
[su_quote]It's like going to a party that's already ended, but the last few stragglers are still partying![/su_quote]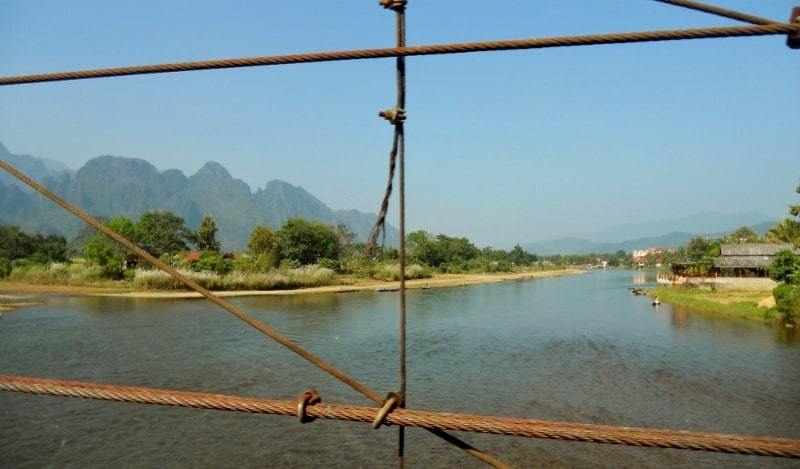 But, all is not lost. There are still plenty of people tubing, and if you want to party then the famous Vang Vieng bars still sell ridiculously strong cocktail buckets in the evening, if that's your thing. Adam Poskitt, writing here for Travelfish explains that many tubers stop at strategic spots on the river to have a beer, throw a Frisbee and make new friends. This to me seems like a much healthier environment for tubing, rather than huge bars full of drunks pumping out loud dance music and upsetting the beautiful scenery surrounding you! I asked a couple of travel bloggers what their recent experiences were like.
Jenn, a travel blogger at Who Needs Maps went in July 2014. You can follow Jenn on Facebook.
[su_quote]We went tubing in Vang Vieng this past July and to our pleasant surprise, tubing was still happening. Every night. Rain or shine, drunk kids were roaming the streets of Vang Vieng in their Bikinis and a bathers looking for a way to continue their party. However, it isn't as rowdy as it was a few years back! It's a good thing, for sure. They limit the amount of bars open so it is more regulated (we only had 2 open), they got rid of all swings and ropes, and there was a few people waiting at the end of the Tubing session to help drunk people out of the water. They still do give you a free shot with every beer and a free bracelet but I'm not sure if the bracelets are drink counters or just a festive souvenir! Tubing was definitely one of the best days we have ever had![/su_quote]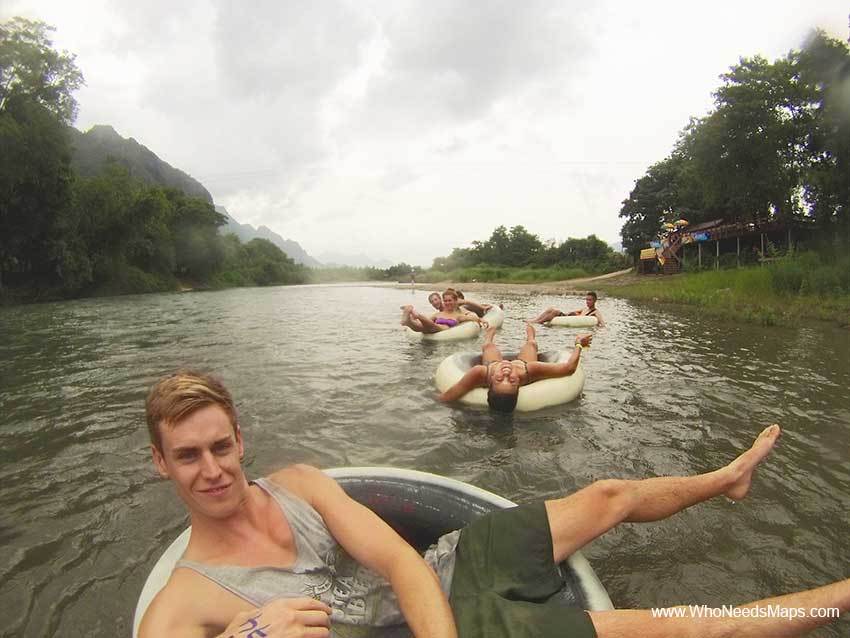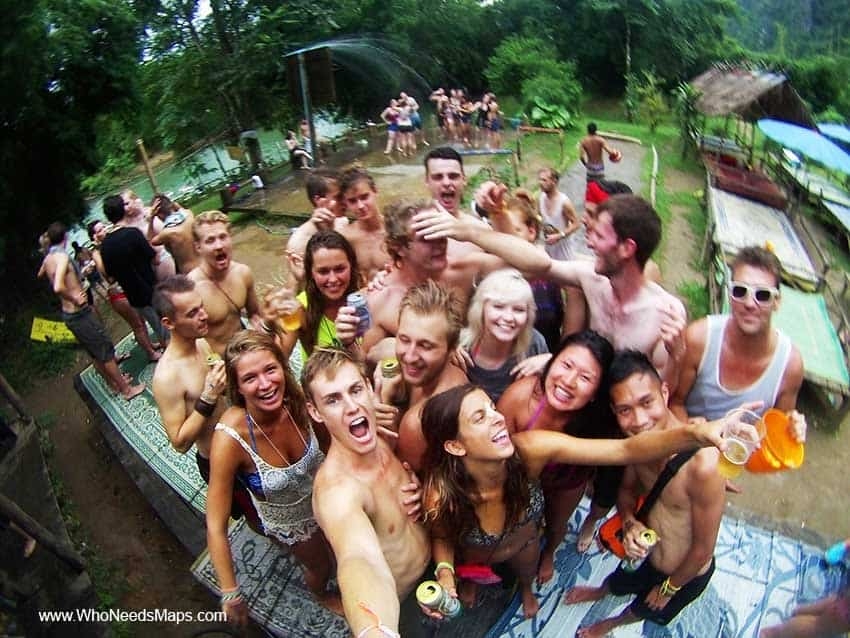 Siobhan, travel blogger at her new blog Backpacking Mama went tubing in September 2014, and had a slightly different experience. Follow Siobhan of Facebook.
[su_quote]I was in Vang Vieng last September and it is a lot quieter than it was a few years ago. Many of the bars along the river have closed or at least they are now a lot more low key. When you hire tubes, you are taken around 2-3 miles out of town and it only takes 90 minutes to float back. It's slower in dry season and faster after the rains. There are still a lot of bars open playing music, but they are no where near as busy as a few years back. In my opinion it is much better without the crowds, drifting down the river through all the gorgeous scenery is enough for me without being totally wasted. There's time for that when you get back to the town.[/su_quote]
In Summary
So in my opinion, for what it's worth is this seems like a very good move for Laos. It may have taken the government a few years to get there, but with this balance it's definitely made me keen to go back and do it again, in the much improved format. Laos, and Vang Vieng in particular has so much more to offer than getting drunk on the Nam Song River. In fact, I want to discover more of Laos, and not be victim to following the herd, rushing through and only scratching the surface.
If you've been to Laos recently, Vang Vieng or beyond, I'd love to hear about your experience. What are your top tips? Where are the hidden gems in this great country? (If you prefer you can email me these privately) 🙂