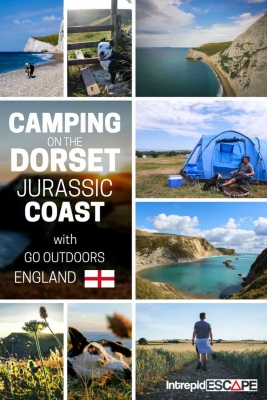 I'm lucky enough to live on the beautiful south coast of England, with places like the Jurassic Coast right on my doorstep. The British countryside never ceases to amaze me, we are spoiled for choice when it comes to stunning coastlines and varied landscapes. The Jurassic Coast stretches nearly 100 miles from Exmouth to Swanage and was rightly added to the World Heritage List in 2001. The rock formations and fossil findings here are fascinating and attract geologists, palaeontologists and archaeologists from all over the world. I'm in Dorset to go camping, to have this natural wonder literally in walking distance and discover even more of this coastline than I have so far. I'll be testing out my brand-new camping gear from Go Outdoors, and bringing along my trusty camping companion, Balou (the dog).
Camping in Dorset
First things first, find yourself a good campsite. Although it is sometimes tolerated, wild camping in England is illegal and permission must be gained from the land owner. There are many good campsites in Dorset with hot showers, clean toilets and plenty of space if you avoid hot bank holiday weekends! Many campsites will require a membership to Freedom Camping during the week or to simply turn up and pitch. Membership is free, and you can also search campsites on their website.
I wanted somewhere dog friendly with a view, and so chose Acton Fields Campsite, close by to everything I wanted to see. When I arrived I instantly knew I'd made the right decision, I could see as far as the Needles on the Isle of Wight, and there was a spot overlooking the campsite that had my name all over it. The staff were incredibly friendly and helpful, and the toilets and showers were clean. Perfect.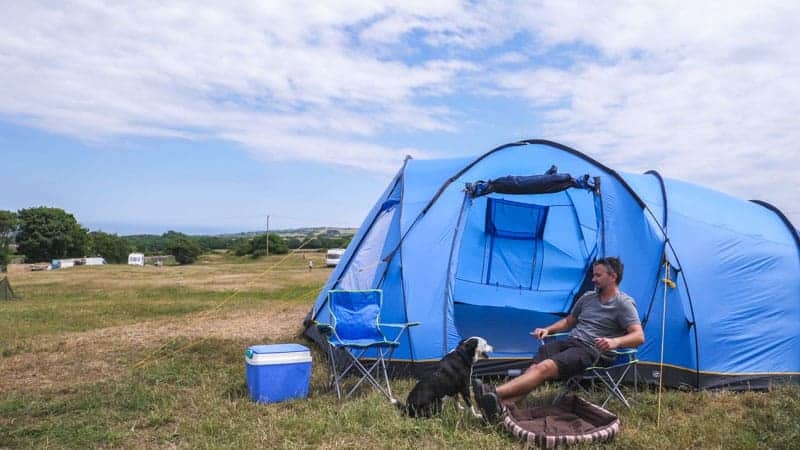 My Camping Gear
I've been keen to test out my new Go Outdoors camping gear and this was the perfect place to do it. It was the first time using the Hi Gear Voyager Elite 6. Yes, this tent sleeps 6 people, and I am here alone with a dog. I wanted to see if I can set it up by myself, and guess what? It was tough, but I did it! It has so much space but it's also very practical, with compartments for your belongings and that much needed full standing height outside the bedrooms. I also found it very easy to air, with two doors and numerous vents, which with our summer heatwave was much appreciated.
I tried a new Hi Gear "Snooz" sleeping bag, and the Outwell Dreamcatcher self-inflating mattress. The sleeping bag was perfect and gave me room to move which I really appreciate, and the mattress is a game changer! It's lightweight and uses a combination of air and foam, meaning the foam naturally expands. That alone was soft enough, and you can then top it up with more air if you like. It was so easy to use and much better than any airbed I've used in the past.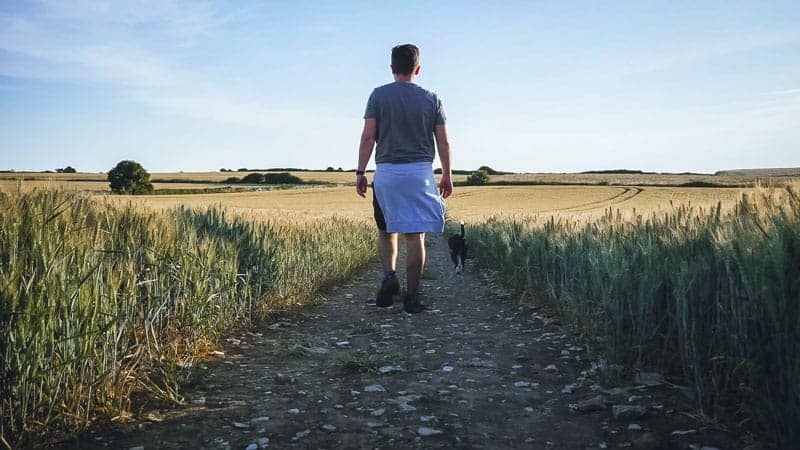 Where to Visit
I've listed my favourite spots so far on the Jurassic Coast, but this is not an extensive list! I am still finding new spots to explore and will update this article as I go. All of these spots are nearby to the camping site mentioned above, but I'd love any recommendations you have and welcome suggestions in the comments section below.
Durdle Door
This is one of my favourites, and it's a must visit on the Jurassic Coast. The large car park is just a 10-minute walk away and has a few useful facilities like toilets and food vans. However, be warned it is also one of the most popular spots! People flock here when the sun is out, and there's often a few school groups learning about erosion of the cliffs. I suggest getting here for early morning if you're not here to sun bath. Be warned that it can be dangerous if you don't stick to marked paths, and always keep your dog on a lead anywhere near the cliffs. Be sure to wander down to Man of War Bay too, crystal clear waters and sheltered from the wind.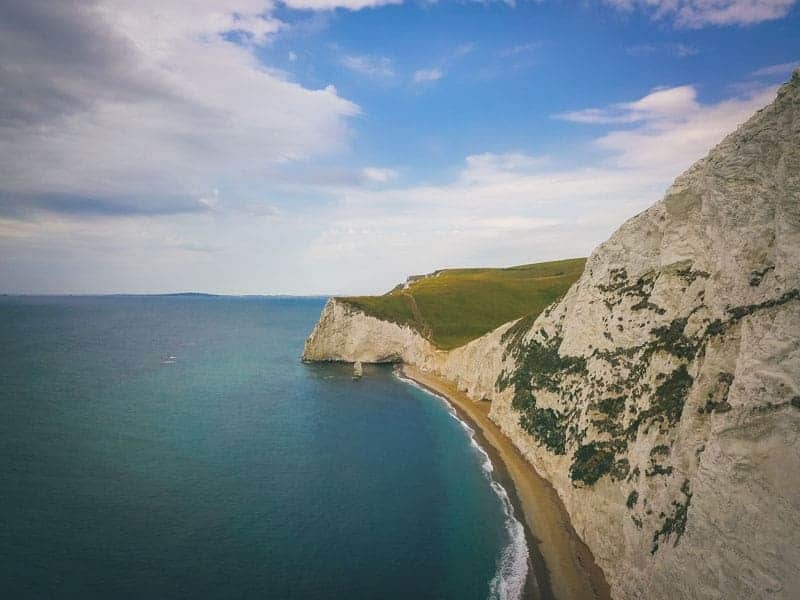 Old Harry Rocks
I wanted to take Balou here first, but the heat was too much and I (rather sensibly) turned back as despite carrying water, Balou was too hot. Old Harry Rocks is a bit of a walk from Swanage or Studland, and there's a lot of uphill with little shelter from the wind, rain or sun. I find them fascinating, they used to connect to the Isle of Wight and over millions of years have eroded away. I've been a couple of times, but desperately want to get that drone shot, like this one below.
Lulworth Cove
Just along the road from Durdle Door you find Lulworth Cove. In fact, there's a nice walk connecting them both which I recommend. The village of Lulworth itself is gorgeous, with little tea houses and picturesque buildings. But to really get a view of the cove, you'll need to hike up the west side or fly a drone!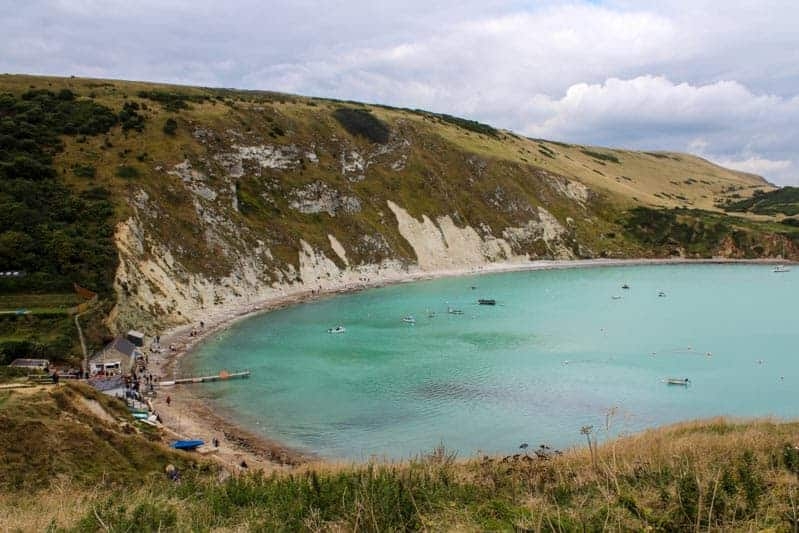 Chapman's Pool
One of the lesser known spots and my hidden gem, it's not the easiest to find and you can only reach it by foot or boat, but it's worth it. There's a beautiful walk overlooking the bay, where I watched the sunset below. You'll pass Emmett's Hill and the Royal Marine's war memorial if you walk far enough, and if you're fit enough head down to the beach. There are typically less visitors than other spots, and if you go head for the Renscombe car park nearby, it's completely free and there's a public footpath through the farmland straight to the cove.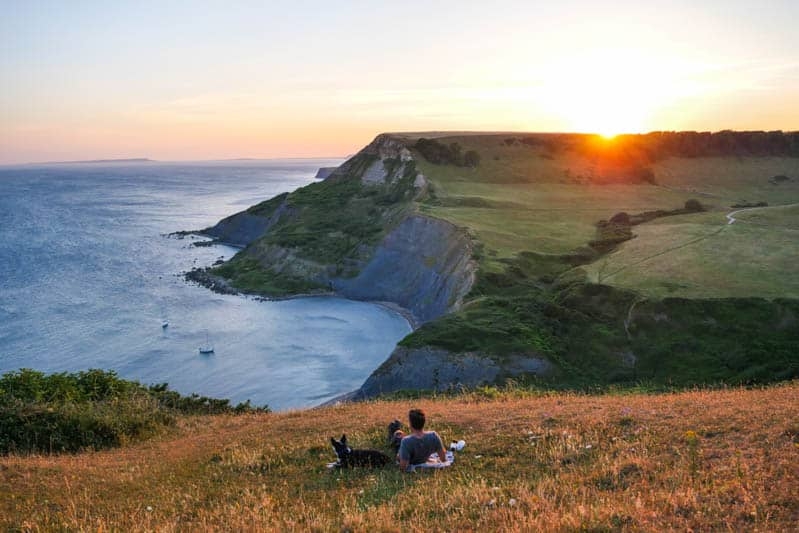 I hope you've enjoyed reading about my favourite spots on the Jurassic Coast, what are yours? Did you go to any of the above? I'd love to hear about it in the comments below. My camping trip was supported and sponsored by Go Outdoors, however as always, all the photos, views and reviews are my own, and the trip planning and video ideas were all mine 🙂
Sharing…
Sharing this article with your family and friends on Facebook, Pinterest or Twitter really helps keep Intrepid Escape going, thank you!