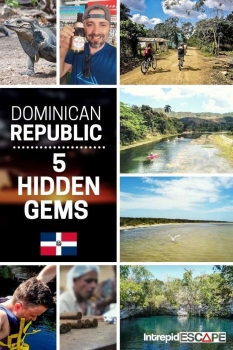 Let me start by fully clarifying, the Dominican Republic is far more than an all-inclusive or party destination. In fact it's a little sad that so many people visit the country but barely see it at all. Now, the infrastructure isn't perfect and travelling around off your own back isn't ideal here. But you can get around if you want to, and many of these hidden gems are within reach of the already popular tourist hotspots.
Another thing. My Dominican Republic hidden gems doesn't include things like the 27 waterfalls, any of the boat trips to the islands, whale watching in Samaná ( this is an absolute must by the way), or any resorts. Why? Because they are not hidden, they are easy to find. Final thing. I'll be constantly updating this list, currently it's 5, later it might be 10. As is the case when you visit a country, I found out about a lot more while I was here. I'll list a few of the gems I want to visit next, in case they tickle your fancy. Once I do, if they're deserving, they'll make the list.
Kayaking in Espaillat
I'm starting with by far one of my favourite activities. The area of Espaillat is a beautiful region off the beaten track, between Santiago and Cabarete in the North of the island. This makes it within easy reach of Cabarete, Sosua and Puerto Plata. Cabarete incidentally is probably my favourite place to stay in the Dominican Republic.
We took a kayaking tour with Jamao Ecotours, a relatively new company but one that looks after the environment they so much rely on. They also offer hiking and canyoning tours, if that's more your cup of tea. We went kayaking along the River Yasica. It's a pretty laid-back adventure and not too physically demanding. It's probably one of the most relaxed kayaking trips I've had, with stunning scenery all round.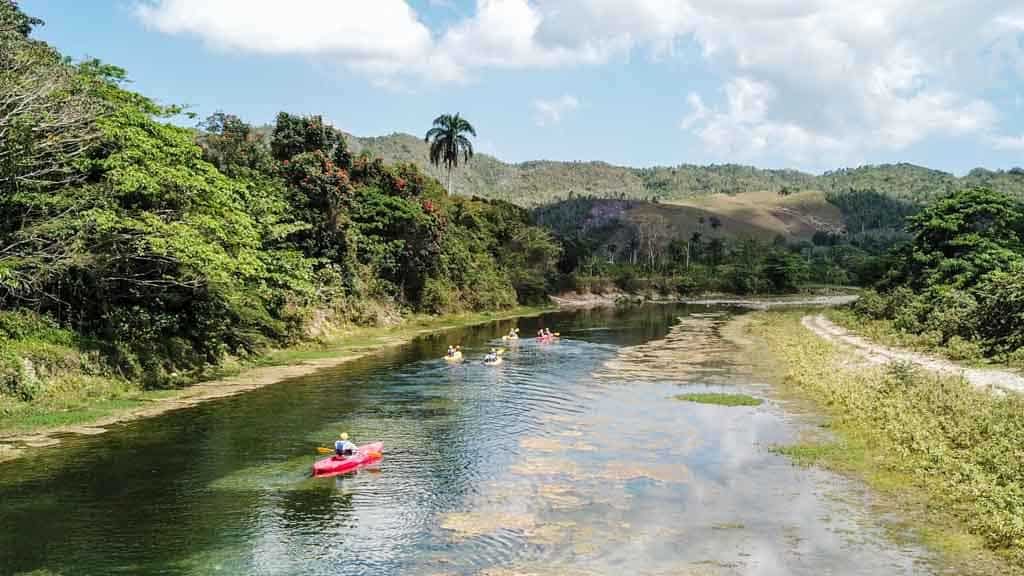 Stay here: Cabarete was one of my favourite places to stay, it has a kitesurfing vibe and laid back bars and restuarants. I recommend staying at Hotel Villa Taina and eating/drinking at Onno's Bar.
Dudu Lagoon Cenote
If you've been to Mexico, you'll be familiar with what a cenote is. In a nutshell it's a natural sink hole that exposes ground water and results in a huge cave and pool. The Dudu Lagoon is a stunning cenote on the north coast of the Dominican Republic, just off the main coastal road.
Conveniently it's the road you'd take from Cabarete to Las Terrenas or Samana (where you can go whale watching). There are also plenty of viewpoints and beaches on the way too, if you have the time, you can hop between beaches on the way to the cenote, then onwards to Las Terrenas.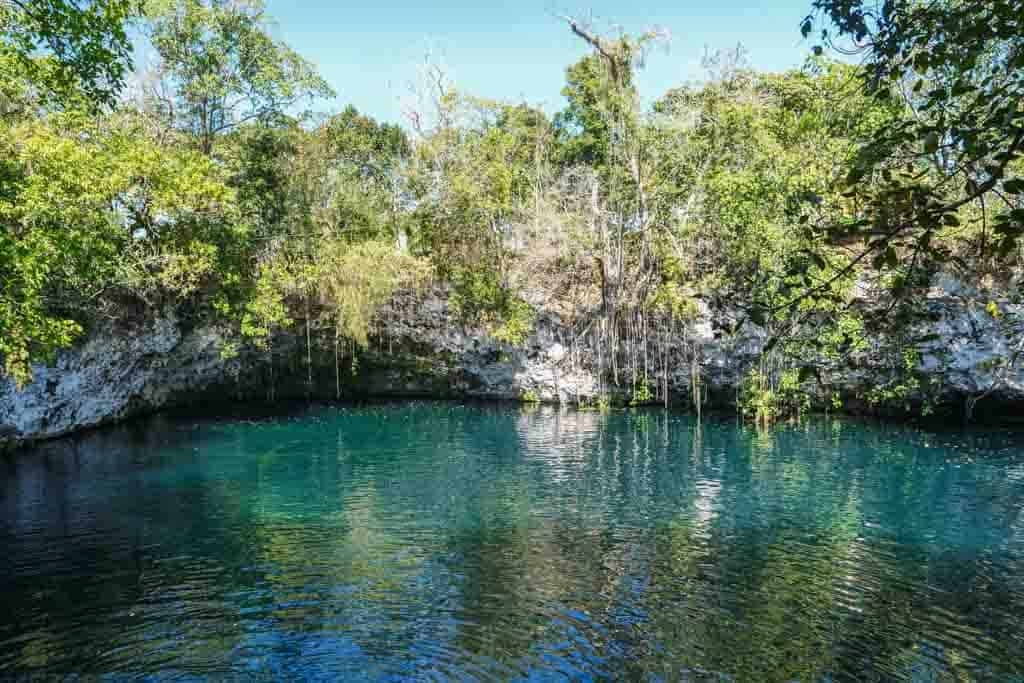 The best bit about the Lagoon is there are literally no tourists here! It seems to be relatively unknown (until now, sorry!). There is a fun zipline that drops you into the lagoon and a more chilled out second pool too.
Cycling Tour, Santo Domingo
For me there wasn't a great deal to see in Santo Domingo once you've checked out the Colonial Zone or Boca Chica. Then there's the driving, which is crazy. Honestly only hire a car if you are a very confident driver, efforts are being made to improve them but the roads are very dangerous.
The reason this cycling tour made my list is because it was a total surprise. On the outskirts of Santo Domingo, in the area of El Higuero you can take an e-bike tour through the local villages. I couldn't believe what stunning nature there was within easy reach of the city. We cycled for a couple of hours, were welcomed by some incredible locals, and had a delicious fresh lunch after. For an additional tips, close by is a culture and heritage tour in the neighbourhood of Los Morenos worth seeing too.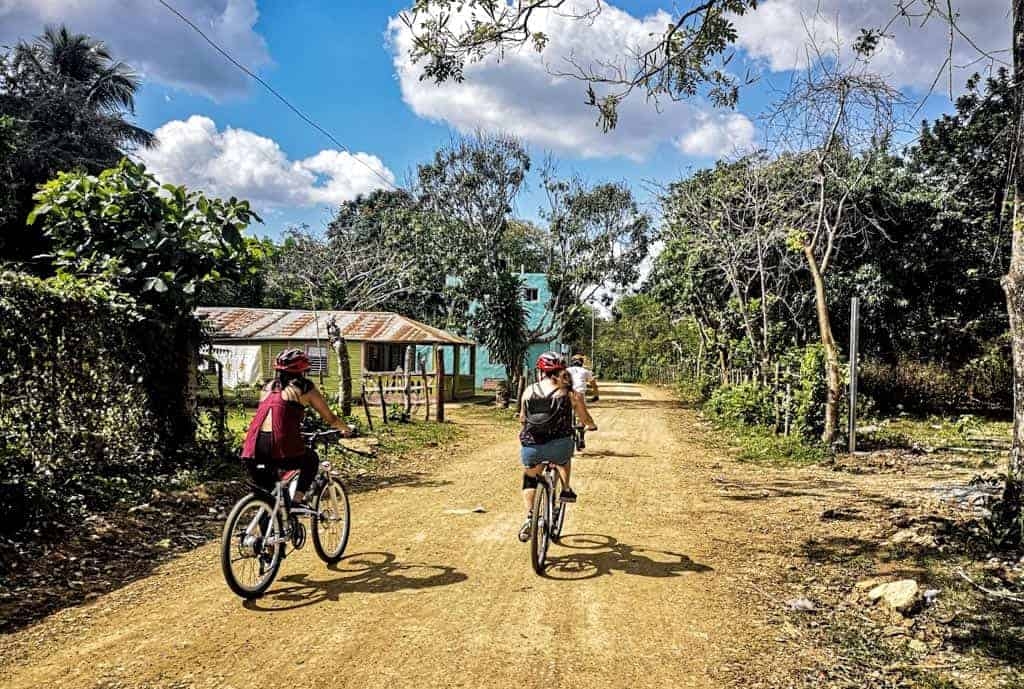 Sleep here: In Santo Domingo Stay at Casa Sanchez, a beautiful adult only "chic boutique" hotel in the heart of the colonial zone. This hotel was honestly amazing and the staff are some of the nicest people you'll meet. There's also a hot tub on the roof, just an FYI.
La Aurora Cigar Factory, Santiago
Just outside of Santiago de los Caballeros, so on the way to the north coast and Cabarete from the capital Santo Domingo is a cigar factory with a great history. Now, this won't be for everyone that's for sure, but we loved learning about the history behind these famous cigars. They were founded in 1903 and have a proud history that rivals the Cuban cigar. There is an amazing selection that included many handmade cigars.
We had a fantastic guide who was probably as passionate as you'll get about his cigars! Then, if you're in Santiago you must spend some time exploring the street art and murals, before heading to the Peace Monument for sunset. A word of warning however, it's still advised to travel around Santiago with a trusted guide, and not safe to go out alone at night. So perhaps you can spend the day here and head north for your overnight hotel.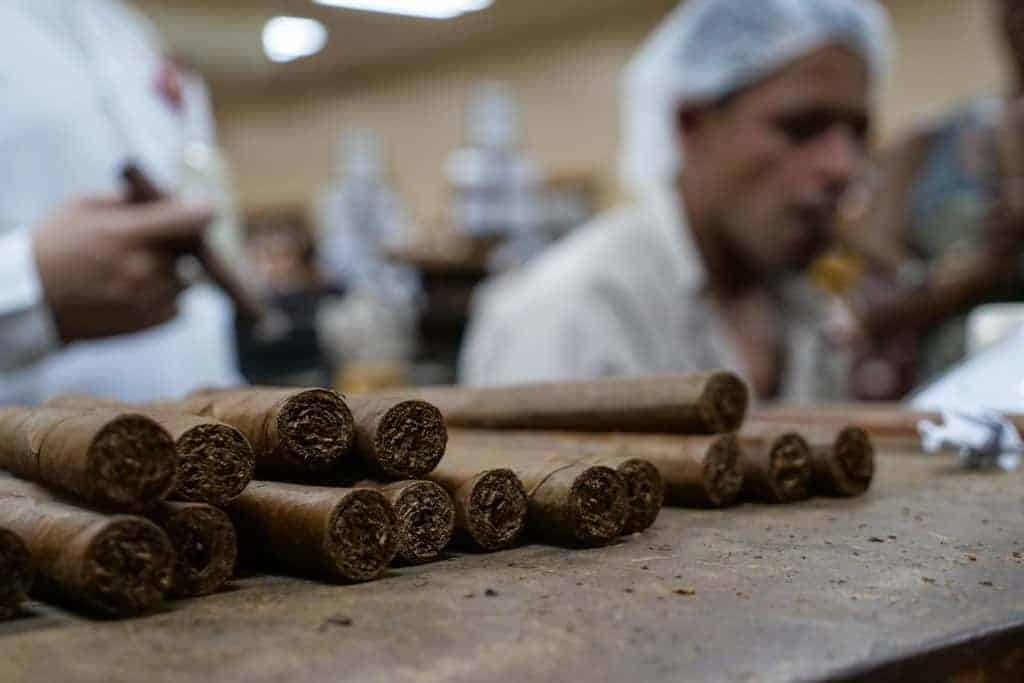 Additional tip: stop for a local Quisqueya beer in Casa Bader, one of the most famous bars in the Dominican Republic.
Laguna de Oviedo & Las Aguilas
I've honestly saved the best for last here, so I hope you've made it this far! This hidden gem is also a two for one. Because this area is pretty far from anywhere else, close to the border with Haiti, you'll need to stay at least one night at Rancho Tipico (more below). This eco-lodge is also a short boat trip away from one of the best beaches I've ever seen, Bahia de las Aguilas. I'll let the photos speak for themselves.
Then you have the main attraction, in my opinion; Laguna de Oviedo. Both Bahia de las Aguilas and Laguna de Oviedo fall into Jaragua National Park. Now this whole area felt so untouched considering how amazing it was. Imagine a stunning 25km square saltwater lake, green in colour full or salts and minerals. The lake has three times more salt in it than the sea, and it sits higher than sea level. It's famous for birdwatching as alongside the pink flamingos, you can spot herons, gulls, the great egret, roseate spoonbills, sandpipers, pelicans and parrots.
And in case that's not enough wildlife, they have a endemic species of iguana; the Rhinoceros iguana and Ricord's iguana. They have lived on the islands for hundreds of thousands of years and look like little dinosaurs. Due to this existence they have no fear for humans, which is helped by tourists feeding them fruit. However you feel about this, it gives you a great opportunity to get up close and personal with these amazing creatures.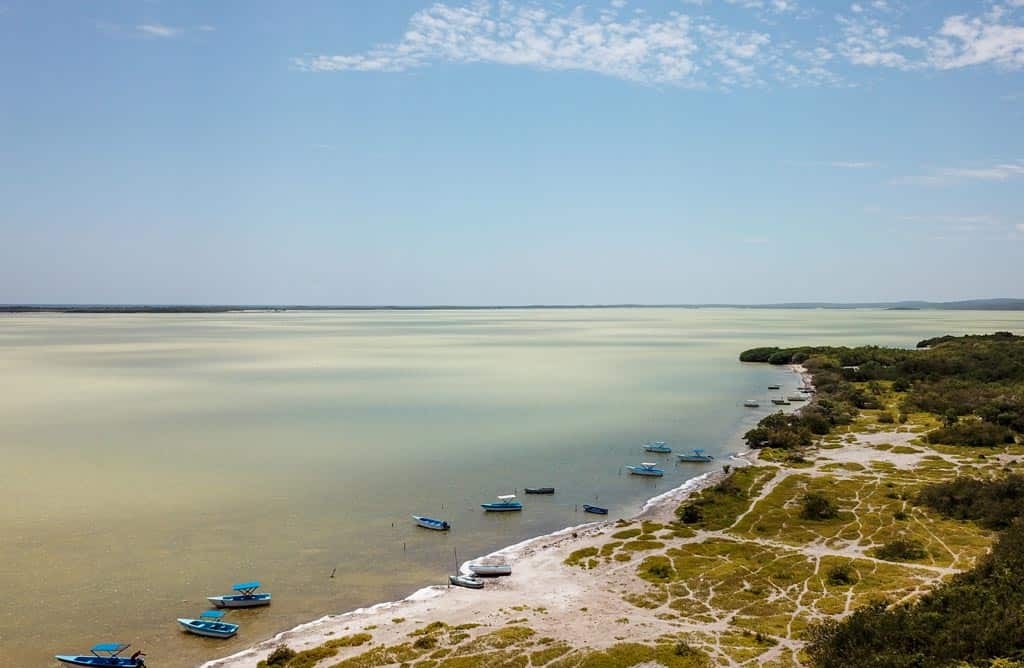 Sleep here: Rancho Tipico, a stunning eco lodge with private glamping tents that look right on to the beach, with some of the best sunsets you'll ever see (see the last photo in this article!).
So there you have it, alongside my video you have some real hidden gems of the Dominican Republic. On my next visit I plan see Salto Alto, Leaping Jalda, and Pico Duarte for hiking. I am always looking for more hidden gems, have you been to the Dominican Republic? What can you recommend? I'd love to hear about them in the comments below.
My trip to the Dominican Republic was supported by Go Dominican Republic, please take a moment to explore their website. Nonetheless all of the photos, videos and opinions are my own (as always).