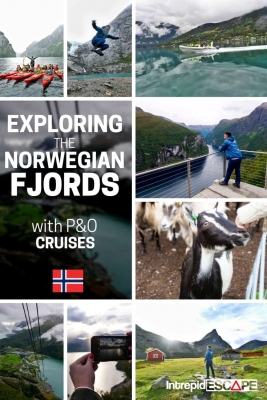 Let's start with this confession – I've never been to Norway. Well at least not before this trip. Why? I don't know, the longer it got the higher up the list it went. I knew I'd like it, correction, I knew I'd LOVE it. So naturally when I was discussing visiting with P&O Cruises it was a pretty quick decision to go at all costs. But I wasn't going on a cruise, we were here to experience the shore excursions available in this area of the Norwegian Fjords. We are doing exactly what you'll have the chance to do, if you sign up for their new route starting in May 2020, on the brand-new "Iona" sailing from Southampton. She's being built as I write this, but you can book it now. And let me tell you, if you have an ounce of the fun we had, I recommend you sign up right away.
Now I'm not just saying that because I am working with P&O Cruises, this is a fantastic way to see the Norwegian Fjords. I mean, the Fjords aren't exactly designed for road trips, just look at how many car ferries, winding mountain roads and bridges you need to cross. The Fjords are designed for ships. So, sailing on a round trip from Southampton, on a brand-new ship built only to do this route, for me, this is the way to see Norway. And then, with activities like these on offer, there's plenty of choice for the younger generation, couples, families or the adrenaline junkies amongst you. You'll just have to choose which one you want to do. Good luck with that!
Kayaking
If there's one way to get a feel for the magnitude of the Fjords, I think its kayaking. Getting on the water, up close and personal will give you the feeling of just how huge they are. We picked them up at Geiranger and spend a couple of hours on the Geiranger Fjord. I can only compare this experience to kayaking in New Zealand's Milford Sound, or at Halong Bay in Vietnam. It's just such a great way to see them, and you get a feeling for just how small and insignificant you are, amongst Fjords formed over hundreds of thousands of years. The first thing you notice is how still the water is, you can feel how calm and quiet it is being on the fjords. Breath-taking.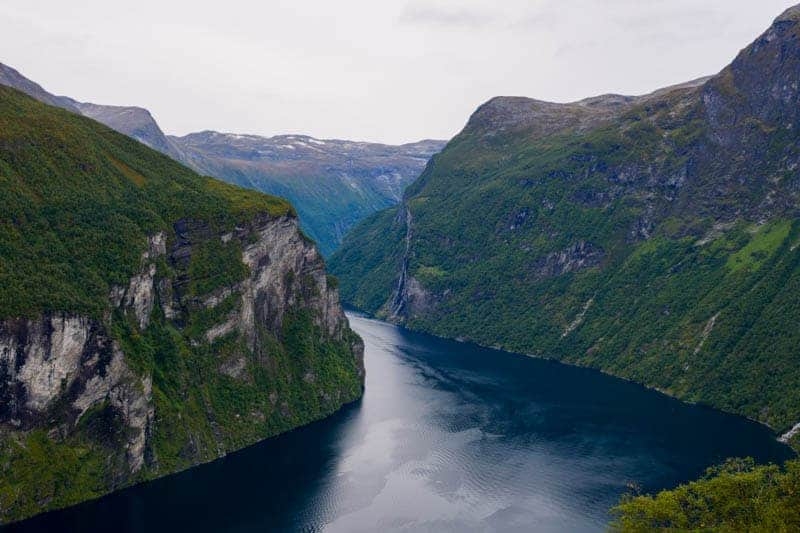 Herdal Farm
On paper, visiting a Goat Farm isn't really my kind of thing, and it might not be yours. We all know what we like. But sometimes we are wrong, so rip that piece of paper up and listen! This isn't any ordinary farm, we visited a protected national park, with UNESCO World Heritage status. It was a farm that held century-old traditions, the people lived on site in their traditional huts and produced some of the tastiest cheese you'll ever try. And with surroundings like these below, what's not to love?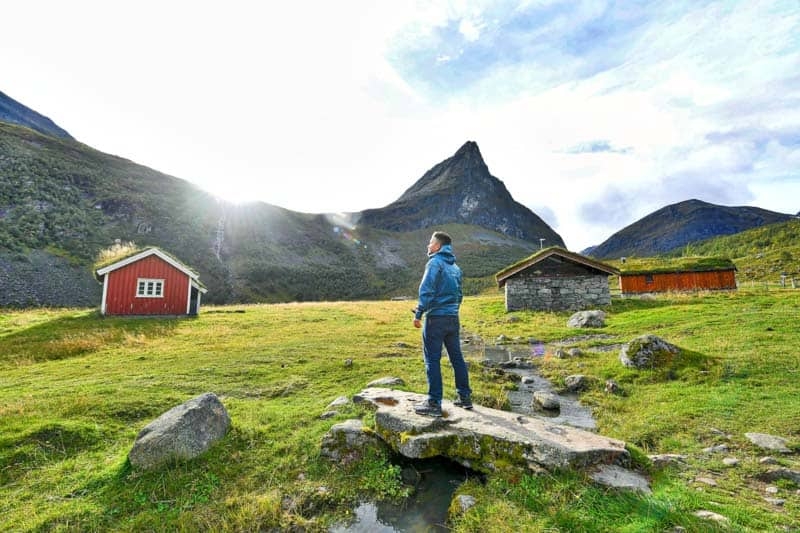 Exploring Norway by road? Check out the 7 best places to see on a Road Trip.
Downhill Biking
There's a key word here, downhill! On this trip the bus takes you uphill, and you cycle back down, so that's the first bonus. The second is that is goes via the Dalsnibba viewpoint, which is one of those epic Norway viewpoints you've seen on Instagram, you know the kind, a moody looking, perhaps pensive guy or girl in an orange jacket. Well I went for blue and made a pose I can only describe as "the Viking". And then there's the cycling, sweeping downhills, hairpin turns, and more of the same views, what's not to love. Don't worry about the fitness side, this is a pretty easy ride but a great way to take in the scenery.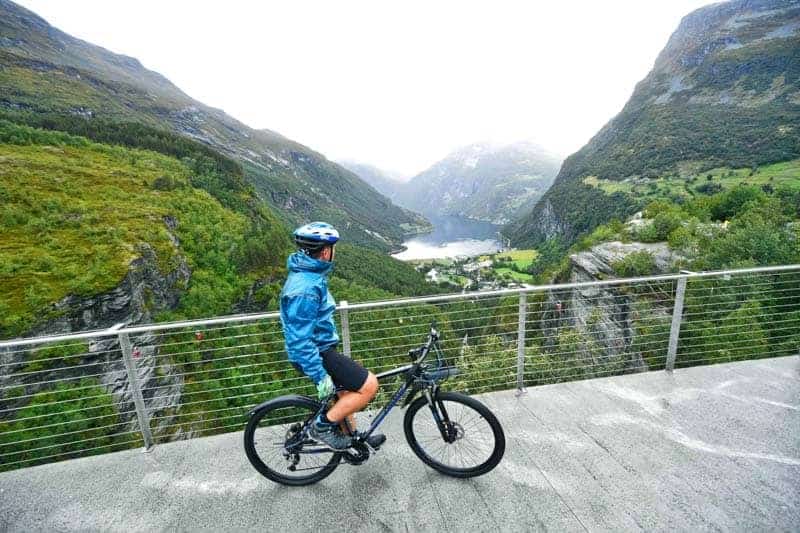 High Speed RIB Boat
The next few shore excursions take place from Olden, and this one is for the adrenaline junkies. A high-speed RIB boat ride around the Nordfjord. It's a pretty exciting way to see the Fjords, and like the kayaking gives you a real perspective on them. You can also whizz passed your P&O Cruise ship and wave at any passengers that didn't bother to get off! Our captain stopped us at a couple of crayfish nets too, to see if any had been caught and to our surprise one of them had around 5 crayfish! And they made a tasty snack after too.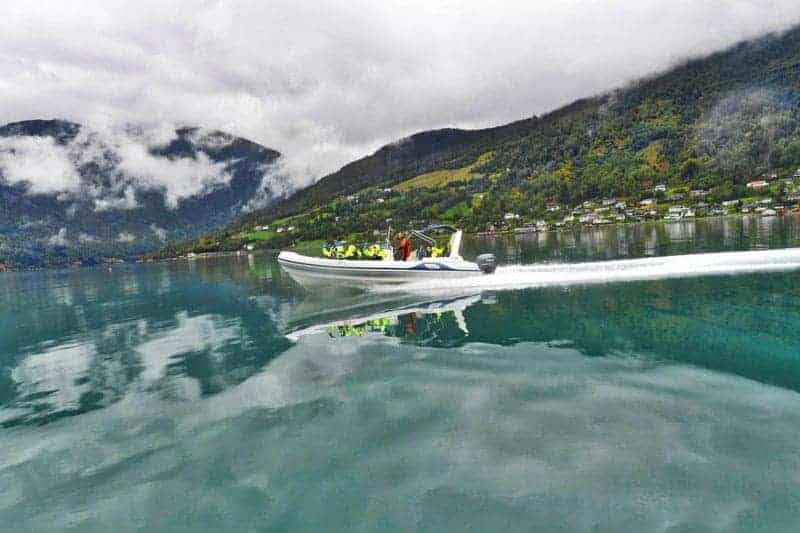 Loen Skylift
The newly opened Loen Skylift takes you 1011 metres above the Nordfjord below, to stunning panoramic views of the surrounding mountains and town below. Their slogan is "from Fjord to Sky in 5", and that pretty much sums it up. It's so quick to get to the top of Mount Hoven, where you'll find the Hoven restaurant with panoramic views around you. Depending on when you visit, there is so much to do and it really makes the mountains accessible to everyone. In the summer you can hike and mountain bike, and in the winter ski touring or snowshoeing. Although if you are going to explore on your own and not on a P&O Cruises tour, please use a guide or plan your route carefully.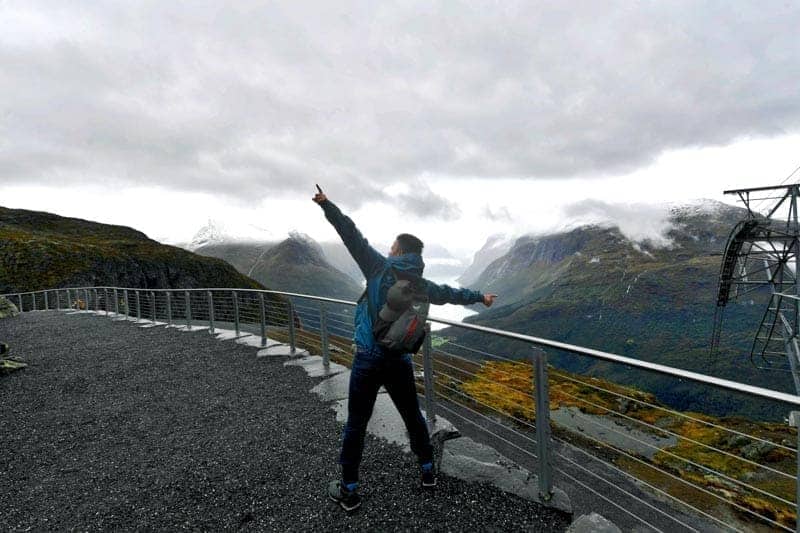 Briksdal Glacier
If you've never seen a glacier, this is the tour for you. There's something about glaciers that are magical, whether it's the length of time they've been there, or the fact most of the Fjords were created by them in the first place. Either way, it's also important to appreciate them, as most glaciers in the world are retreating, it's the harsh reality of global warming. When you get to Brikdal, you have the choice to either walk up or take one of the "troll" cars. If it's a nice day I recommend walking, and maybe taking the troll car back down. On the way you'll pass by some stunning waterfalls, and once you make it to the top the views just get better. I recommend taking some time to learn about the glacier and the fragile environment we live in.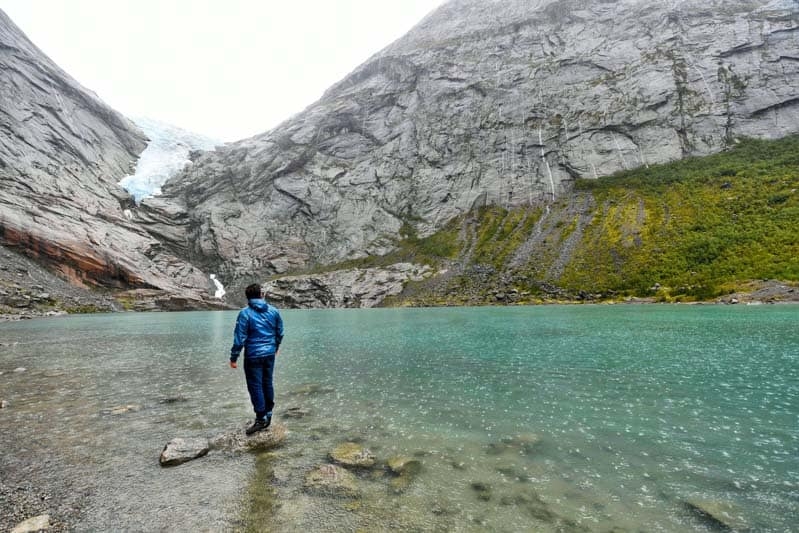 So that's the options, you'll be spoiled for choice of what to do or where to go. Either way seeing Norway on a cruise is a fantastic way to enjoy the incredible scenery. And the fact that you can sail right from Southampton, local to me on the South Coast, even better. I visited Norway in partnership with P&O Cruises, however all the views are my own. Please share and comment to support me on more adventures like these.