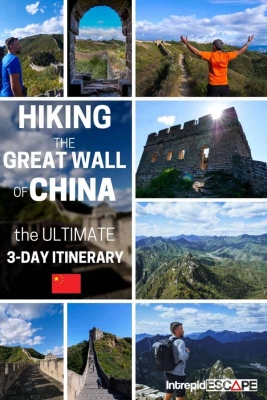 They say you'll remember the first time you see the Great Wall of China forever. Well they don't, I just came up with that, but it's true. Just look at this view below. As we started with the toughest climb of the whole trip the magnificent Great Wall was revealed to us, from behind the trees in a very dramatic fashion. I am here in collaboration with KLM, my favourite airline. Check out my other collaborations in Tokyo and Alberta Canada. Naturally, the Great Wall has been on the list for a while, and I've always wanted to spend some time here, take more than just a day exploring, and more specifically get away from the crowds.
For that reason, I decided to choose a 3-day hike with Great Wall Hiking, a company referred to me by a friend, and who I fully recommend to you. You can do anything from 1 to 8-day options, with varied ability levels and accommodation options. From the start they were helpful for me deciding which trip to choose, what was important, and where I wanted to sleep. They really are the experts, so drop them an email and explain how long you have, your circumstances and your budget, and see what they come up with.
I wanted to spend 3 days on the Great Wall and stay in hotels or guesthouses close by. That's something I've wanted to do for years. In fact, once upon a time I wanted to camp, but a combination of getting older and the weather getting colder meant I didn't consider it for this trip.
Day 1: Jiankou to Mutianyu
We were dropped off in what felt like the middle of nowhere, which was great. The first thing I noticed is no tourists, this was going to be a theme that followed over the next few days. We wandered passed a couple of houses in a remote village, to a path into the forest. It was far from a well-trodden one. More like a hiking trail. This was the toughest, steepest climb of the trip, and I struggled at times. Not because I am not fit enough, but the jetlag kicked in. When you travel West to East, ie forward in time I always find this the worst. So, my first tip, for any where in Asia coming from Europe; give yourself a couple of days to adjust to the time difference! It wasn't a luxury I had, as I wanted to walk the wall before the Public holiday kicked in, just a few days later.
Around halfway up, we got a view I will never forget, my first glimpse of the wall. An opening in the forest revealed this magnificent view of a wall that went on for miles, the first of many breath-taking views we'd be seeing over the next few days. As we got to the top the path opened out and we popped out next to our first watchtower, we found our way up on to the wall, an unrestored, almost ruined section, and we climbed the tower.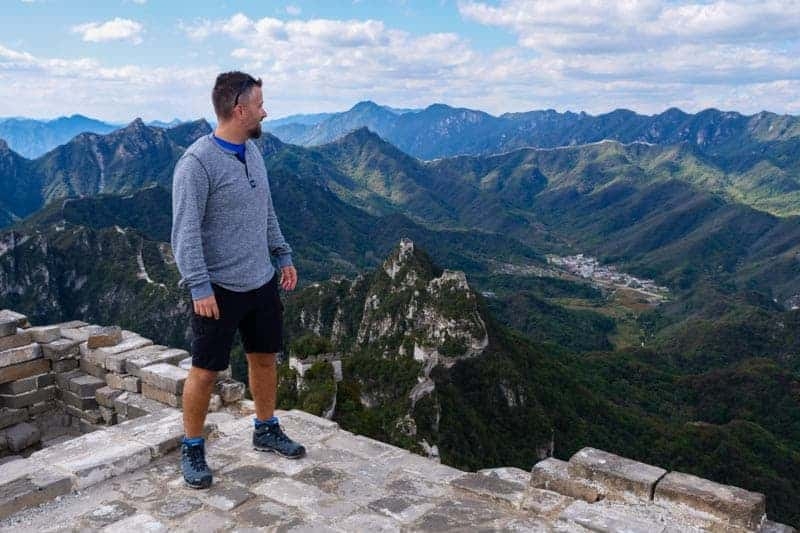 Reaching the top of the tower really was a moment of realisation that I've made it, to the Great Wall of China. The views from here are immense, you can see for miles. What struck me is how the wall follows to top of the mountain, the very top ridge. It might sound obvious, but at those times, to build a structure that big and so high, what a huge challenge. From here we passed many watchtowers on the unrestored part of Jiankou towards Mutianyu. We started walking with little to no people, and as we got closer to Mutianyu we started to see more, most people were walking from the tourist spot as far as they could manage before turning back, not hiking from A to B like we were. As we go there the wall changed, we arrived at a restored area. It's interesting to see the contrast between the old and new parts, ruins versus restored. Mutianyu is an area which is restored, and that inevitably attracts the tour buses.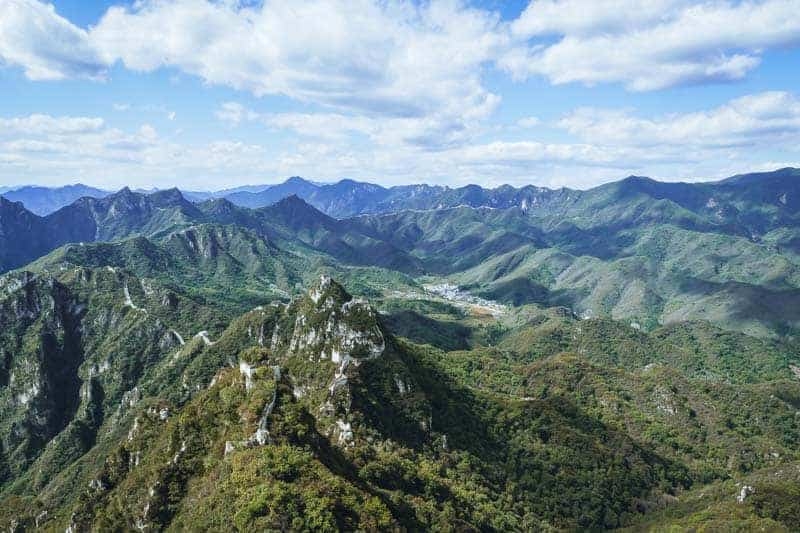 Overnight: our driver picked us up from an agreed meeting point and we headed to Gubei Water Town, to what I can only describe as a huge purpose-built village of hotels and entertainment. It was also somewhere that is the only place to offer night visits to the wall by cable car. The wall is lit by spotlights and lights running along the top, it's certainly a sight worth seeing.
Day 2: Gubeikou
This morning we had the choice between hiking the same spot as last night, or relaxing and starting a little later. I chose to have a later breakfast (very traditionally Chinese) and wander around Gubei Water Town a little more. Following this we headed the Gubeikou section, near to our accommodation for the second night. We hiked up a nice path to the Guibeikou passes, it wasn't a difficult walk today or a lot of hiking. The schedule was very relaxed, this was perfect as I needed lots of time here.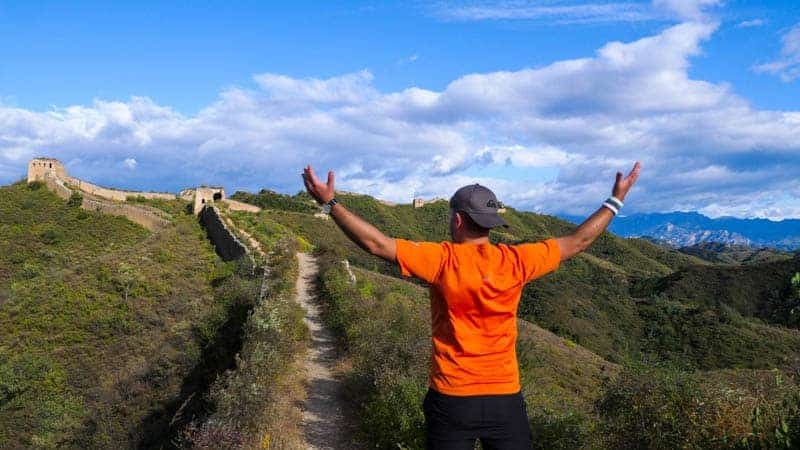 There were views every where we turned, in some spots we could see for miles and I realised just how lucky I had been with the weather. I wanted to take my time, find that photo, fly the drone and film an epic time-lapse. I think I did it. It was another section that wasn't restored, and this is fast becoming my favourite, it's more historic and has more character and colours. But more importantly, far fewer people. It's also an area of historical importance, as protecting the Gubeikou section was vital for keeping Beijing safe from the Mongolian Nomads.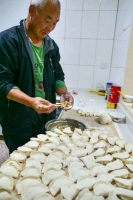 Overnight: We stayed at Great Wall Inn at Gubeikou village, and you have the option to stay here both nights, as all these sections can be reached from here. I really liked this place, it was more of a local farmer's guesthouse, and the food was amazing. The chef let me film a little inside the kitchen, and watch him make pork dumpling from scratch, a tradition sadly that's not often kept as it becomes easier to buy them ready-made.
Day 3: Jinshanling to Simatai West
We got up first thing and drove to Jinshanling to get there early, the aim being to get there before the tourists arrive. However, we were hit by public holiday traffic and unfortunately didn't get there as early as we wanted to. I really recommend you try to though, as Jinshanling is one of the most popular tourist spots for the Great Wall, and for good reason. People don't tend to get there first thing as they are usually on day-trips from Beijing, however on this tour, we are just 20 minutes away, or supposed to be! Nonetheless, this meant we would need to be creative to find a spot away from the crowds, and despite the public holiday, we managed it.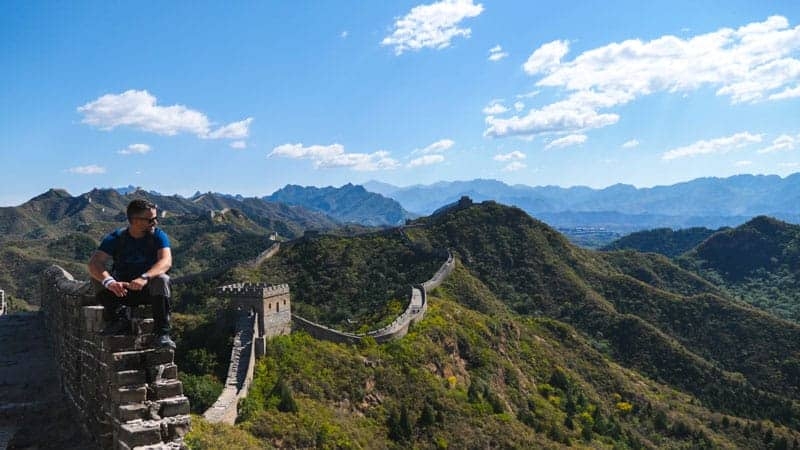 When I arrived, I must admit I thought it was going to be a tourist nightmare, too many people, all trying to get a photo of the same spot, but it really wasn't. Jinshanling is huge! Here you'll find wild, ruined, preserved, original and re-built sections of the wall. There are steep gradients to climb, giving an incredible perspective of the wall and the surrounding areas. It really is hard to take a bad photo, I mean just look at it. Unbelievable. There are some areas with a lot of tourists, that's expected, even some parts with a queue as the watchtowers can create a bottle-neck effect. But that's OK, this was our last day and I was happy that I had already seen an amazing amount. It was time to find one of the snacks and drink sellers, and buy a well earned beer, and celebrate an amazing few days hiking the Great Wall of China, not only in a way that shows you almost every perspective imaginable, but one that educates and impresses you all the way. Ganbei!
Getting there with KLM
KLM UK flies to to Beijing using Amsterdam as a hub. Going via Amsterdam allows you to fly from 17 UK based airports, rather than only travelling from Manchester or London. I fly from Southampton, which is right on my doorstep, and make life so much easier. Southampton is quick and easy, you literally breeze through, and they also have a nice lounge :). The changeover in Amsterdam is smooth, KLM will inform you which gate (sometimes from the plane), and you won't need to collect and check in your luggage again.
And then it comes to the seat… Business, Economy or Economy Comfort? Not everyone can afford business, so I'd suggest looking into Economy Comfort for the extra leg room, which makes a big difference on any flight over 3 hours.
I flew to China in partnership with KLM UK. My flights were complementary, but return flights from the UK start at £398, including taxes. All of the content, opinions and photography are my own. Please take time to visit KLM UK to support me on more adventures like this one!