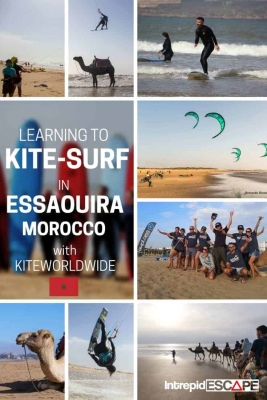 The term "Slice of life" didn't mean anything to me before this trip to Morocco. It's the name of the kite-surfing camp run by KiteWorldWide, in collaboration with Tom Court. I guess it's more of a concept, I thought it was just a fancy name. After a few days here I realised that there's a lot more to it than meets the eye. It's a lifestyle that epitomises Kite-surfing, and a lifestyle that KiteWorldWide are doing a great job of promoting. I guess to really understand what it means, you'll just have to come and do this for yourself. Or at least read on to the end of this article, I'll give you a pretty good idea.
Interestingly this trip came at a perfect time for me, I desperately need a new hobby, a new challenge or if you like a "Slice of Life". I've done a variety of water sports over the years, but not one that's got me hooked, and I've never tried kite-surfing. The clinics KiteWorldWide offer are for a variety of levels, from beginner to experienced, and typically the Slice of Life camps will look to improve an intermediate level kite-surfer to advanced. With one to one tuition from Tom, filming your technique to learning moves and tricks. And in addition to that, they are all over the world! Look at the list below, kite-surfing can really take you to some incredible places, and they're often lesser known destinations.
Essaouira
I have been to Morocco before, on a trip that took me from Marrakesh to the Sahara. Since then I've always wanted to go back and explore the coast. I've heard some very good things from close friends with opinions I trust. When I arrive somewhere new, I like to go with my first instinct about the feeling I get, and it's not usually wrong. Essaouira is one of those places I was right about. I instantly felt at home, at ease. It has a chilled back kind of vibe to it, most people living there, are there because of their lifestyle choices. To wake up everyday and go and work or play on the huge fantastic beach, that can't be too bad at all.
The city itself is a well-established port with a vibrant fisherman's market. Most of the city falls within the Medina (Old Town), which is lively and feels very safe. Although it's a city, it's very much got the feel of a small town. More importantly Essaouira is known as the windy-city of Africa, which makes it a kite-surfing hotspot. For us Brits, it's only a 3.5-hour flight with EasyJet from Luton, if you can stand flying with EasyJet. When you land in Essaouira the airport is a breeze and you're only a 15-minute dive to town.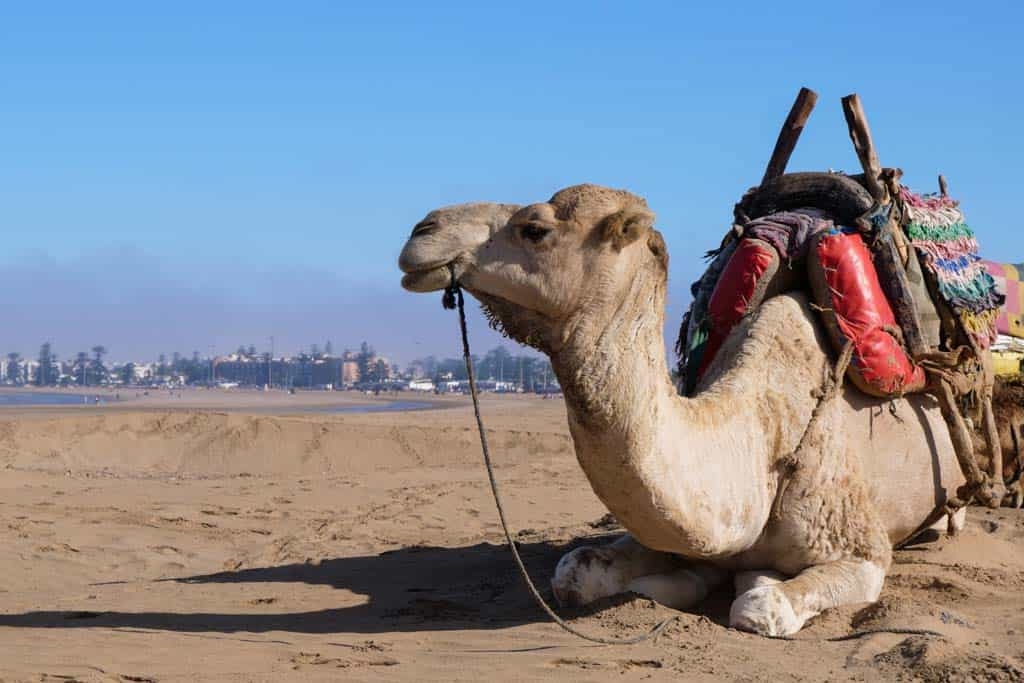 Accommodation in Morocco is generally in the beautiful traditional Riads inside the Medina, here was no different. KiteWorldWide typically offer mid-range hotels, which is perfect when you aren't likely to spend much time in your room anyway. The centre of the Riad doubles as a spacious communal area where you'd typically all dine together, with your new kite-surfing friends.
Our Riad was booked out exclusively for KiteWorldWide. Our first night we were spoiled with a variety of traditional Moroccan dishes, it was a real feast and a chance to get to know everyone and enjoy a beer (or two).
Surfs up
On our first day we headed to the beach, only a 15-minute walk from the Riad, only to find out that it the aforementioned "windy city" had let us down a little! Instead of grabbing the kites we were picking up our surf boards as the waves were still big enough. In fact, they were the perfect size for beginners.
I've surfed a few times, despite a re-occurring jinx which involves standing on a Weever Fish, breaking my foot and spraining my ankle. This time there were no such problems, and we all got in the unbelievable fresh Atlantic Ocean for our surf lesson. It was a nice way to ease in to the trip, and great to see there are plenty of alternatives on offer if you can't kite-surf.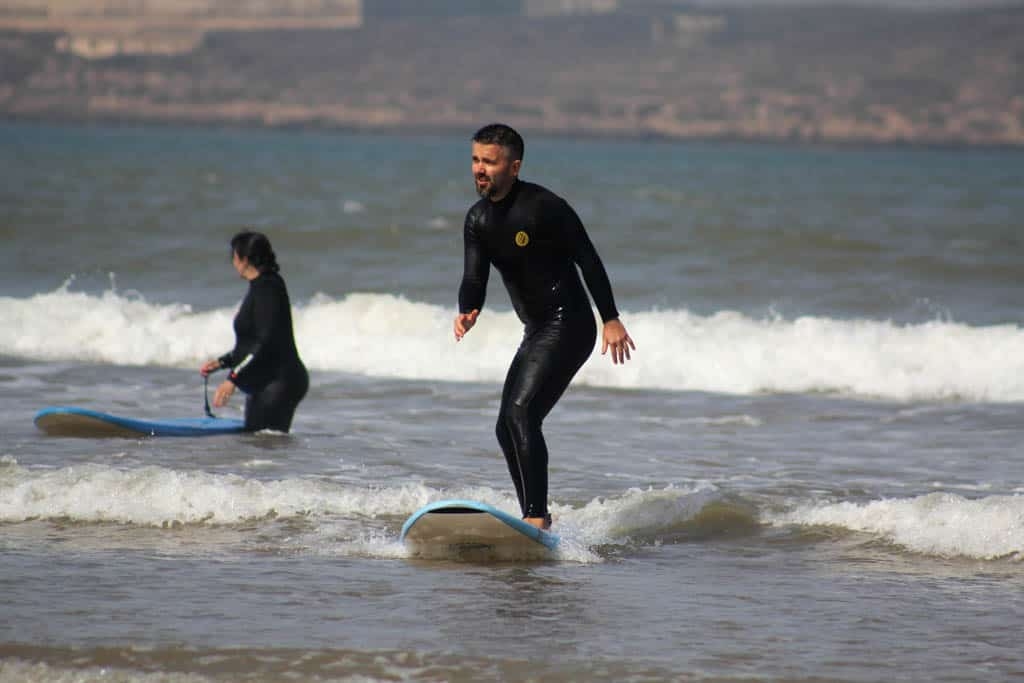 Eat lunch here: Ocean Vagabond – a chilled brasserie overlooking the beach conveniently next door to Explora Watersports.
Learning the ropes
The wind had picked up and it was finally time to get to learn the ropes (quite literally). Tom and the team at Explora Watersports had us totally looked after, from kite pumping to attaching the lines, everything is ready to go. The more experienced guys head off with their instructor, and the beginners in another group. We learn all the key components to kiting, from wind direction, setting up the kite, kite control and of course safety. Each of us have a go controlling the kite, which you are harnessed into.
It's an incredible feeling once you feel the power and force of it, the first time it pulls you across the beach is quite scary! It's not long before most of us have a grasp for controlling it, keeping it moving from the power positions to a more relaxed one, and understanding the lines. I honestly didn't realise how technical it was, and how much respect the kites (and kite-surfers) deserve. It was a brilliant feeling to get it under your control, and to start to understand how this force could see me whizzing across the waves in the not too distant future. Well, one step at a time Scott.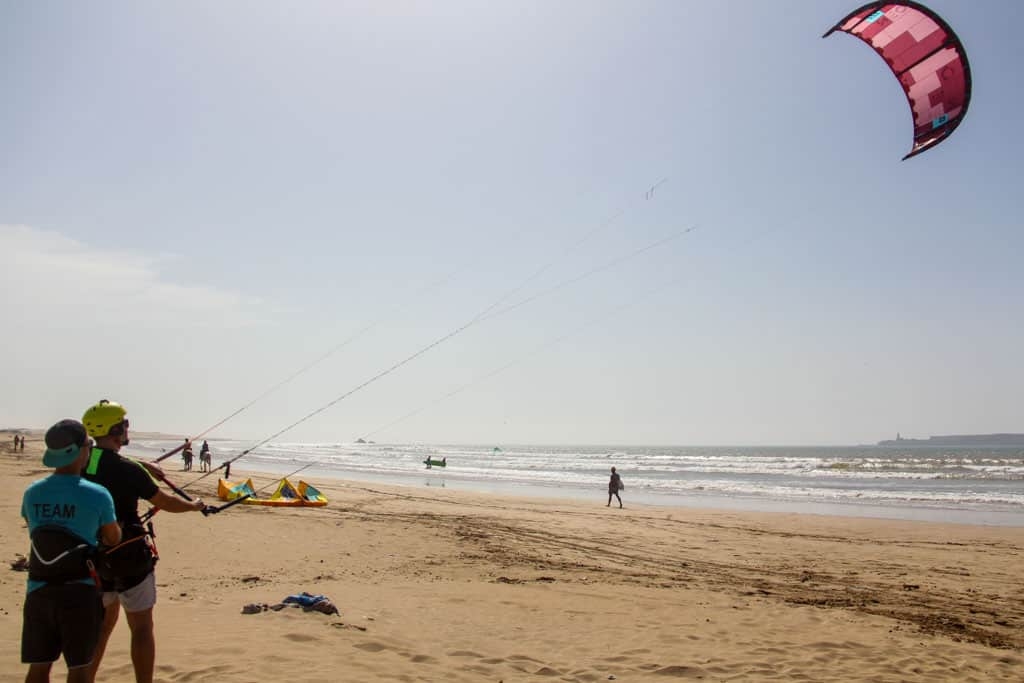 Other things to do: explore the medina, SUP boarding, quad-biking, camel riding, Hamman massage, cookery classes or shopping.
Tom would float between the groups, and jump out for a surf himself, including showing us some tricks and kite-surfing over the top of a camel. Yes, you did read that correctly. When the wind was up there were so many kiters enjoying it, watching that alone was brilliant. Along with the chilled (almost hippy) like vibe to Essaouira.
We didn't get to kite much more than that, the following day we surfed again hoping that the wind would pick up in the afternoon. It wasn't to be, but that did give us a chance to explore the medina and harbour, grabbing a fresh fish barbeque lunch at the port. The fortress ramparts were also used for filming in Game of Thrones season 3. The day was topped off with a group camel ride along the beach at sunset.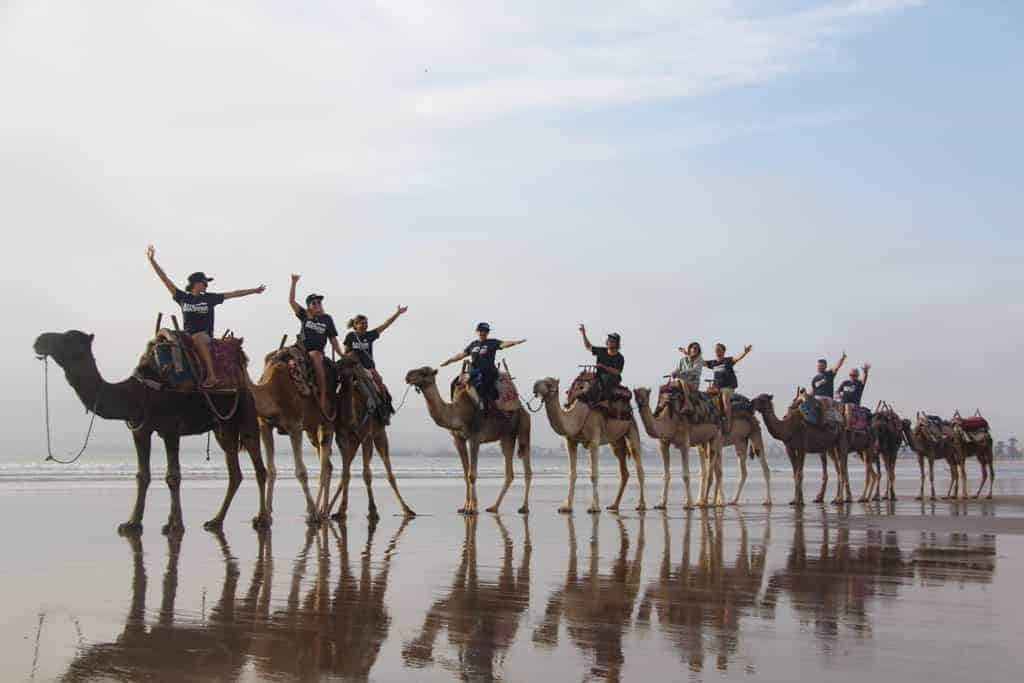 Eat dinner here: Mega Loft, a fantastic new restaurant with live music and excellent views over the Medina.
The evenings were a chance to enjoy some delicious food and swap stories about our day or listen to kite-surfing stories. The first evening spent in the Riad, the second in the medina, and the third enjoying a rooftop barbeque. It's not a party holiday by any means but having a few drinks and getting to know your new friends is a must. You're typically on this kind of trip with likeminded people, who all have one major interest in common, so the social side is a big draw.
It was as I spoke more to Tom and the team that I started to understand the Slice of Life mentality. I appreciated what it meant. Kite-surfing is a community, and by no means a closed one. You could walk to any kite-surfing hotpot on your tod, connect the lines, get ready to launch, and someone will help you. The same person you'll see later having a beer, who'll invite you into their group for dinner. It is very much a way of life with kite-surfing at the core.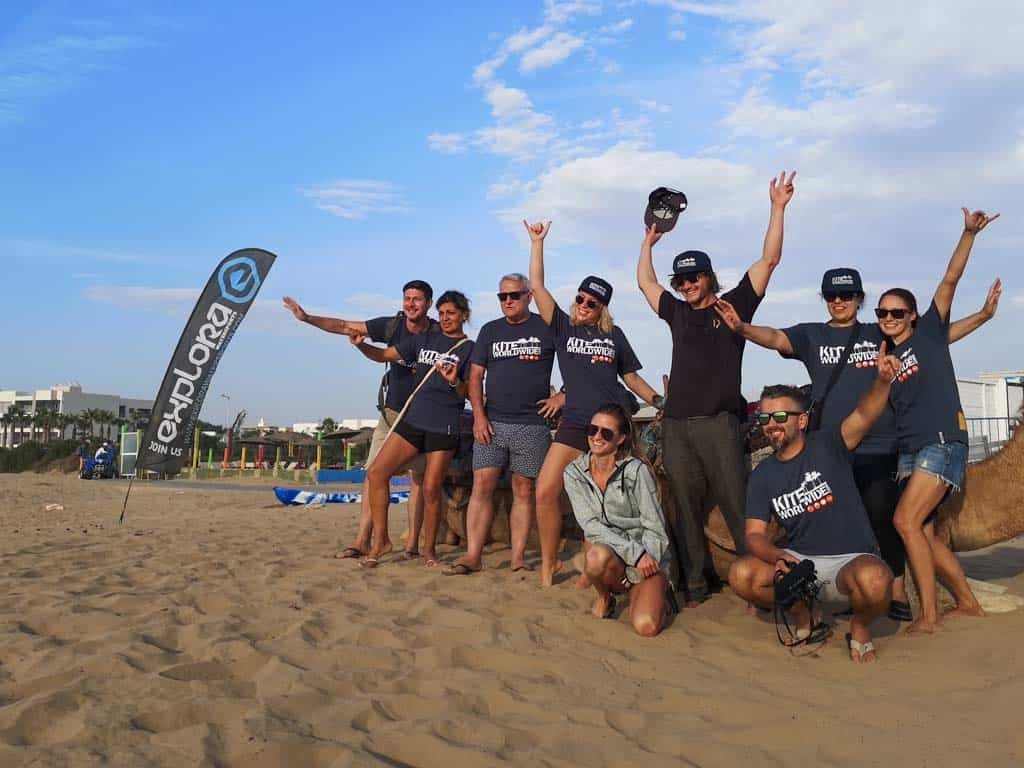 Hearing the stories from new friends, like kiting in Brazil, kiting by moonlight in Sri Lanka and sleeping in a hammock, it had me hooked. And this was despite getting unlucky with the wind, I didn't even step into the water with a kite. So, imagine how I'll feel once I do? I've also found out that Hayling Island, right on my doorstep at home in England, is a kite-surfing hotspot. How convenient. So I guess I'll be seeing you again soon Slice of Life, very soon.
I travelled as a guest of KiteWorldWide and my trip was covered by them with the flight's courtesy of the Moroccan Tourism board. A 7-night kite-surfing package starts from £650 per person based on two people sharing. It includes breakfast, 12-hours of lessons, kite-hire, SUP rental and some evening meals. Our lessons were with the team at Explora Watersports.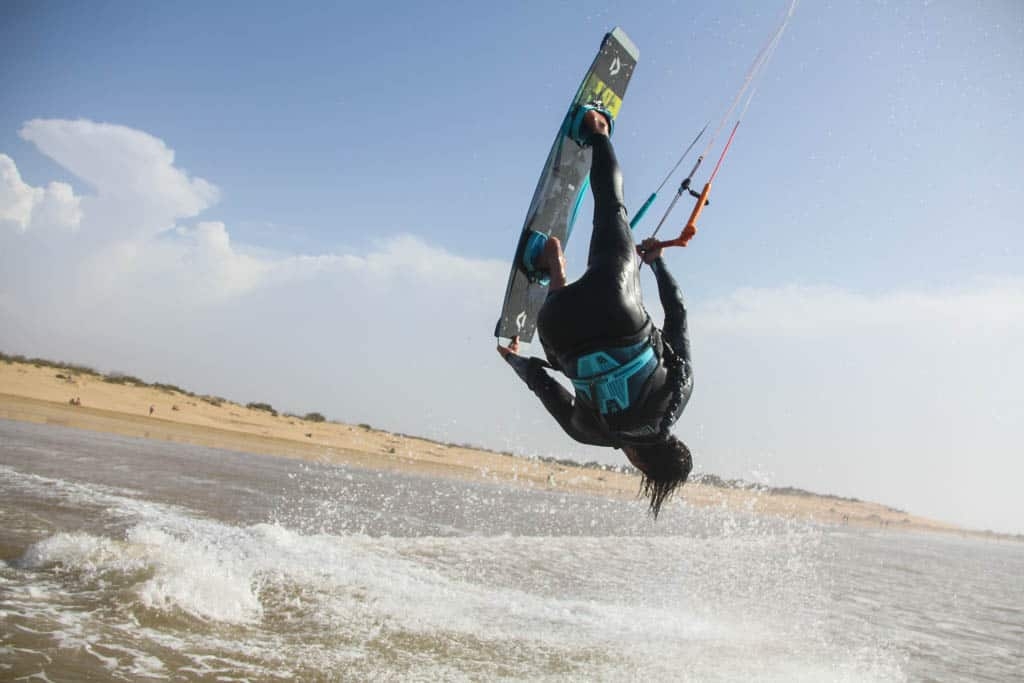 KiteWorldWide destinations
Brazil: Tatajuba, Prea, Jericoacoara
Cape Verde: Sal
Egypt: Seahorse Bay
Greece: Kos
Italy: Sicily
Morocco: Essaouira, Dakhla
South Africa: Cape Town
Spain: Tarifa
Sri Lanka: Kalpitiya
Tunisia: Djerba
Zanzibar: Jambiani / Paje
Share Me
Sharing this article with your family and friends on Facebook, Pinterest or Twitter really helps keep Intrepid Escape going, thank you!