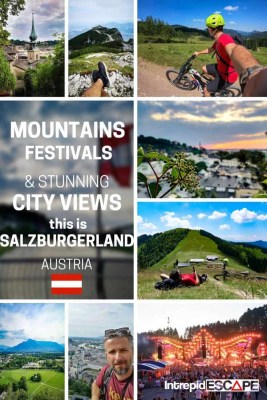 There's something about Austria that's always appealed to me. I've loved every trip I've taken here at any time of the year. As a summer destination it's sometimes overlooked, particularly the mountains. I don't understand why, I can't think of many better places to hike or bike in the summer. As a region, Salzburgerland has it all. A thriving, modern and culture-rich city, surrounded by incredible mountains, with an abundance of events to get involved with. I was here to sample each of these. Firstly Salzburg and its city views, second was the mountains and the surrounding region of Fuschl, and finally the world famous Electric Love Festival. Let's do this Austria.
Salzburg City
As a city, Salzburg has that instant connection I look for when I arrive somewhere. It's hard to put my finger on what or why it is. Some places just connect with me. It's a small city with the River Salzach running right through the centre. There's great public transport if you're staying outside the city, and the Salzburg Card makes getting around and the attractions a doddle. Although most of what you need is within walking distance once you arrive in the town centre. I call it the city of a thousand viewpoints. As quite literally everywhere you turn you can get a fantastic view of the city.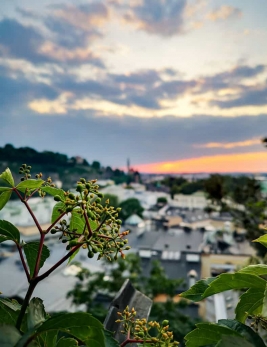 So, what do you need to go and see? Well, the list is endless. Starting with something like a walking tour is a good idea. It allows you to get your bearings of the city and find out a little bit about the history. Our tour took us through the old town, passing the fortress on Mönchsberg mountain, the museum of modern art, Mirabell gardens and the birthplace of Mozart. From the fortress there's a beautiful walk along the hill overlooking the city, to the famous Augustiner Brewery (one of my highlights). They have a huge beer garden (which seats 1400 people) and full of locals enjoying the evening drinking the local beer. It was packed even on a Wednesday! The beer is poured from wooden barrels and served in stone jugs (or steins). You can tell it's an important and traditional meeting place for locals, and that's because people have been meeting there since 1621! Amazing.
To be honest, it's just one of those cities you need to wander with no agenda. Find yourself a traditional restaurant, do some shopping, stop for a coffee or walk along the river. You can even declare your love on a love lock bridge. Just keep in mind they must remove them occasionally, as they add too much weight to the bridge. Shame! For a bit of fun head to the Schloss Hellbrunn fountains which have been tricking people since the 17th century. Which once you see them, it's impressive that it was all built that long ago. It's also set amongst some beautiful grounds.
Hot tip: Get a Salzburg Card to make the most of a few days. You get one-time admission to tourist attractions and museums, free travel on certain public transport and discounts on events and concerts. The card is available for 24, 48 or 72 hours.
Eat: Carpe Diem Finger Food. Okay, it's not the cheapest place to eat, but for a treat try some of the incredible food here. It's a little different to your usual
Sleep: I stayed at Motel One which was great and modern. It's a little out of town but its right on the main bus route which just takes 10 minutes.
Untersberg Mountain
One of the things I love about Salzburg is it's surrounded by mountains, every way you turn. If you love the mountains, the outdoors or just fresh air, then taking the cable car to the top of Untersberg Mountain is an absolute must! Or you can hike it if you prefer. The station is an impressive 1775 metres high where you have amazing panoramic views across Austria and Germany. And the cable car only takes 10 minutes! Once you reach the top there are so many options for hiking in the area, and in winter there is of course skiing. I didn't have long, but still spent a couple of hours up there hiking. You can hike to the Salzburger Hochthron easily, which is at 1853 metres. Just allow some time to enjoy those 360-degree views.
A return adult summer ticket costs €25.00, or it's included with your Salzburg Card.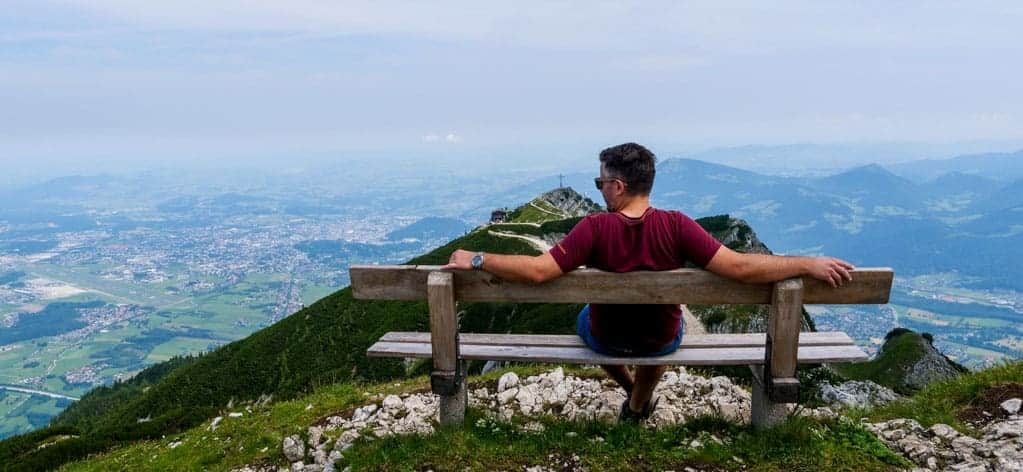 The Fuschl Region
Just a 30-minute drive from Salzburg is the stunning region of Fuschl and Lake Fuschl (Fuschlsee). There are so many things to do here in the summer, you could honestly spend a week exploring it. We didn't have that long, and went e-mountain biking with Franz from the e-bike Academy. The great thing about e-biking is it makes the whole mountain accessible, up and down. I'm a big fan. They also mean the whole group can stick together, whatever your ability. And if you are really keen for a workout, you can always turn off the battery.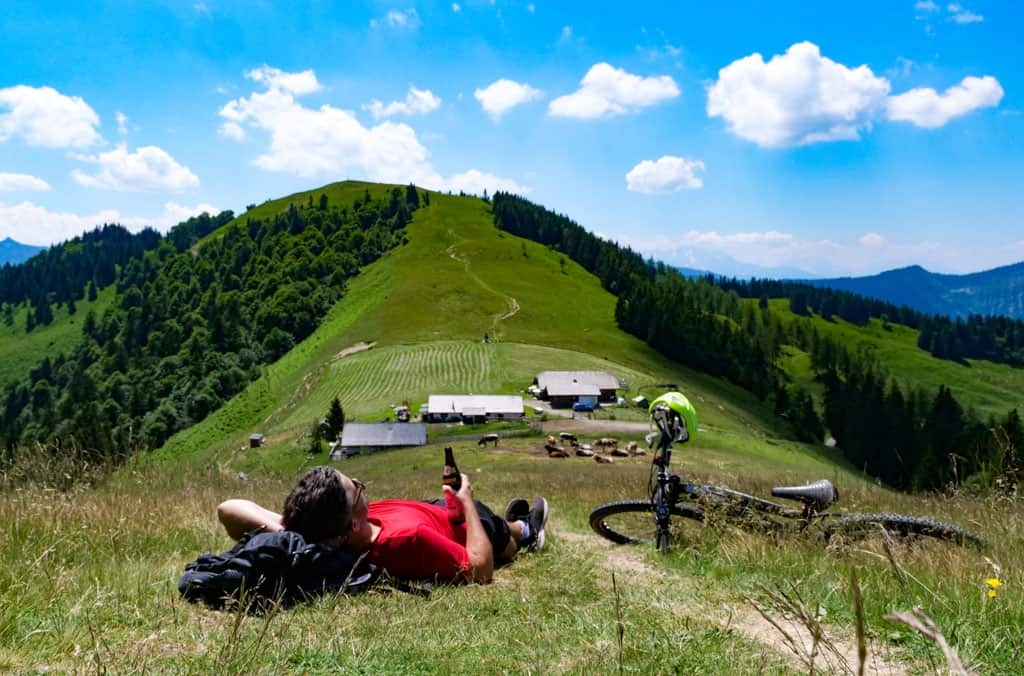 The region and the views were simply stunning, and we stopped for lunch at a traditional mountain cottage. It's one of the places where words don't do it justice, simply look at the photos and you will be sold. Our tour took most of the day, and the descent back down to Lake Fuschl was great fun. Of course, being such a warm day, we had to take a refreshing dip in the lake to finish off. In fact, you could spend a week sunbathing at the lake if the weather is good. You can take to the water on Stand-up Paddle Boards or go kayaking. There's a total of 4 mountains and 3 lakes to explore in the Fuschl region, and many different and active ways to do it.
The e-Mountain bike tours start at €85 per person, or you can rent an e-Mountain Bike from €45.
Sleep: We stayed at Hotel Mohrenwirt a lovely hotel with a great breakfast, and only 5 minutes walk from the lake.
Electric Love Festival
For Electronic Dance Music lovers, Electric Love festival is a massive event in the festival calendar. Its hosted on the world-famous Salzburgring racetrack, right in the heart of the Salzburg Lake District. So it's surrounded by nature and greenery. The festival gets around 180,000 visitors revelling across 8 different stages, with massive headliners such as Afrojack, Tiesto, Diplo, Armen Van Buuren, Dimitri Vegas and Steve Aoki, who have all headlined in the last two years. There are full camping options, a huge VIP area, and it even has a contactless payment system for all your food and drink.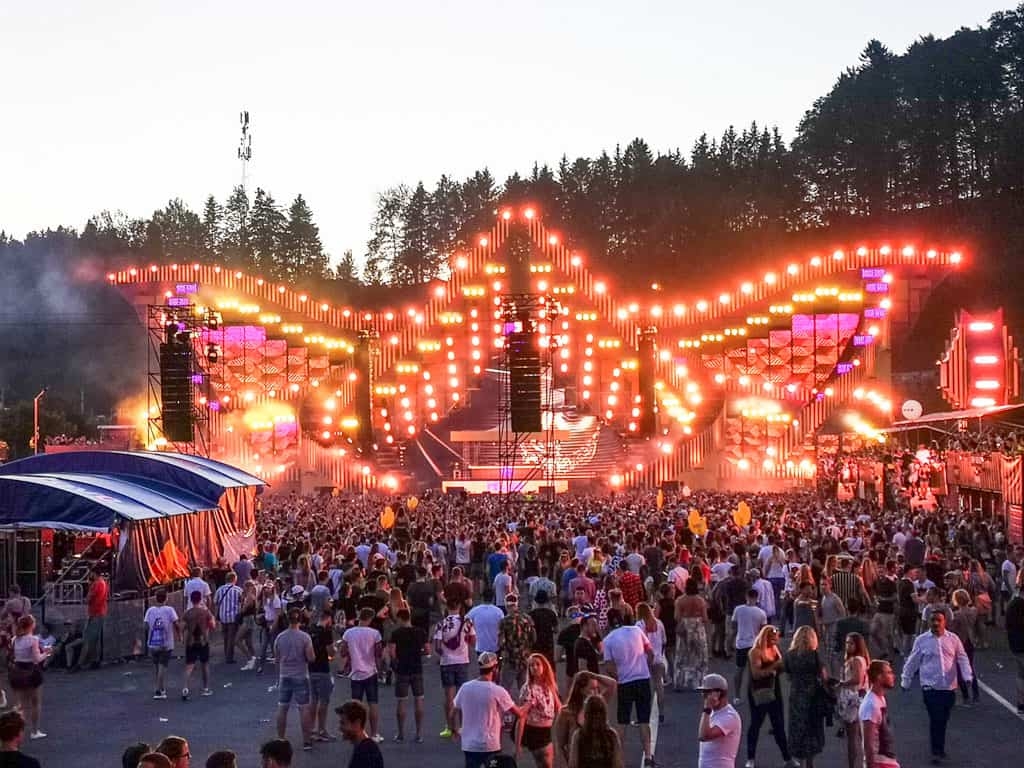 And it wasn't just the music that was impressive. A huge display of fireworks kicked off and officially opened the festival, with an incredible air display taking place during day one. It's a big deal here and they certainly know how to throw a party. It's a festival that needs to be on your European festival bucket list, and for anyone into EDM, this one is for you.
*My trip to Salzburgerland was sponsored by the Tourism board. Nonetheless, all the photos and opinions are (as always) my own, and quite simply this area is awesome, and I loved it!