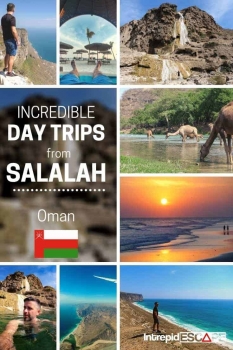 On my first trip to Oman I had Salalah firmly at the top of the list of places to see. It was always somewhere I wanted to go, top of an incredibly long list of things to do in Oman. It's a country that's not that well-travelled, but that's changing rapidly. Oman is beautiful, and with fantastic links around the world with Oman Air it's easy to see the appeal. It has landscapes and history that could rival Jordan, along with open waters and an epic endless coastline. Then there's the nature, the people and the adventure. All things that it's not necessarily known for, but they're here that's for sure. Here in abundance.
For more ideas on what to see in Oman check out the Last Minute microsite full of tips for what to do and where to stay, inspired by me and other British Travel Bloggers!
I travelled to Oman and spent a few days in Muscat before and after my trip to Salalah. It wasn't a trip where I'd get to tick off everything on my list. But I sure wanted to try to in Salalah. Spoiler: I didn't manage it! I still have more to go back and see. This "Day Trips from Salalah" article focuses on what I did manage to do, and I put it together so you have a handy itinerary to follow when you visit. I recommend 3 or 4 days here and I've even written about what I didn't do. Do all three of the day trips from Salalah I've detailed below if you can, but remember I only had time for two of them.
I've put all the stops on Google maps so you can pretty much follow this as I did, along with a 12-minute video of everything I did. I mean, what more could you ask for? Of course if you do need more, have any comments or want to suggest something to add, please put it in the comments below. Enjoy
Day Trip #1: Salalah and the West Coast
After some research and getting the best advice, I split my two days into the West and East. On my first day I would see Salalah itself and the West Coast, and I recommend you do the same. I had a guide who was also the driver, which made my life very easy. However you can do it yourself with your own car, there are pros and cons to each.
Salalah
The first stop in Salalah was the Sultan Qaboos Mosque. This was simply a stunning place of worship, it was pristine and had such a calming vibe to it. It was built in 2001 and is the largest in Dhofar. The stunning architecture makes this a must see. From here you have a difficult decision, there are many other things to see in Salalah, but you might also want to start your road trip up the coast (as I did!). I visited the Souks and left anything I had time for to the end of the day.
If you have time then I highly recommend going to the Al Balid Archaeological Site and the Frankincense Museum, both of which are marked on the map (and are right next door to each other). You can take Al Bahri Street to them, where the beach becomes a public road. This was something I did and you shouldn't miss it if you are driving yourself!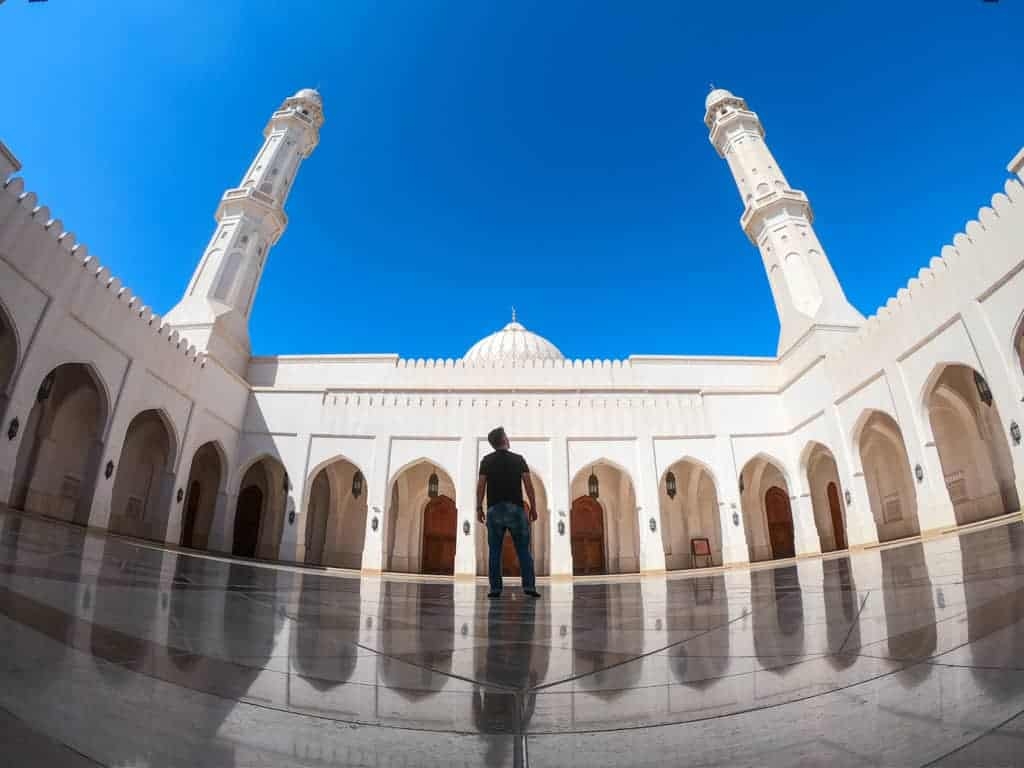 For ideas on what to see in Oman check out the Last Minute microsite full of tips for what to do and where to stay, inspired by me and other British Travel Bloggers!
Incredible Viewpoints
Now from here it doesn't matter which order you do these in. As you can see from the map, you will drive up and down the coast, so do them in which ever order you like! Our first stop after Salalah was the Eftalquot viewpoint, which overlooks the coastline and beautiful Eftalquot beach. It made me realise just what kind of scenery I had in store for me today, it was a sign of things to come.
The next amazing viewpoint which we stopped at towards the end of the day was Shaat Oman, and this one was equally spectacular. It's the furthest point down the coast and be aware that you will pass through an army checkpoint as it's not far from the border with Yemen. You should take your passport with you if you plan to go this far, and you cannot take any photos or videos at the checkpoint. We passed through just fine, and I didn't need to show my passport.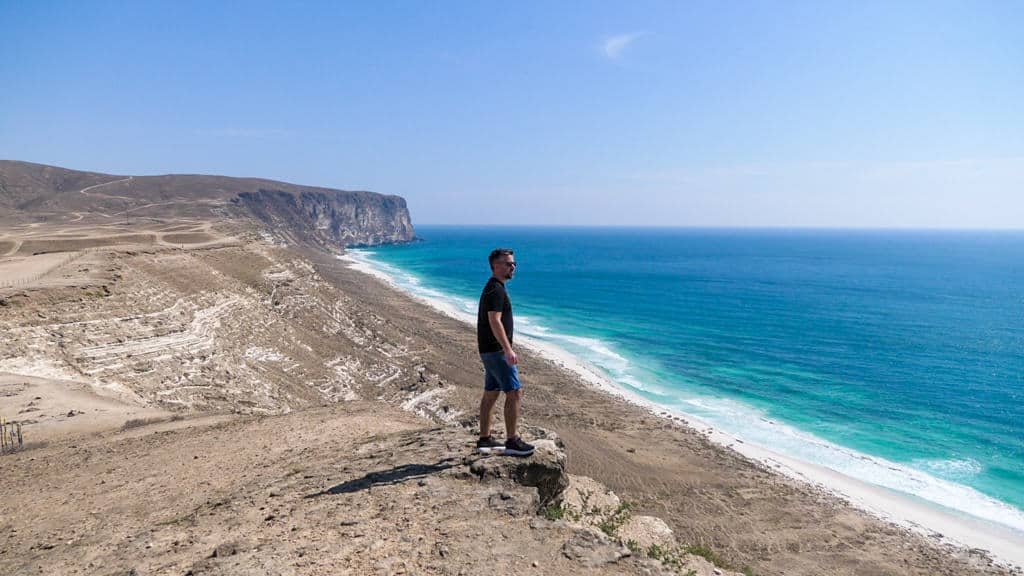 Stunning Beaches
The first beach you will come across is Mughsail Beach, where it hits you just how pristine and deserted these beaches are. Okay, I have come here in December which isn't the most popular month for travel, but still. You could have basically had a 3-mile beach all to yourself! It's also Mughsail that the Marneef Cave and Blow Holes are located, which are worth a stop however I found them a little disappointing. The amount of force from the blow hole very much depends on the tide and the weather, and it was the only place where there were a lot of tourists.
Moving onto one of the highlights of the day. Firstly the drive to the next beach was insane. Long windy roads up to the top of a huge canyon, hairpins, S-bends. It was a road trip lover's dream! I've marked it on the map and you can see photos below, it's an awesome drive.
And this road takes you to the Fazayat Beaches, officially there's 3 main beaches but in truth there's a fair few more. You take a long dirt road down from the top of the mountain all the way down to a collection of superb beaches. It's here where a group of camels roam free and if you're lucky you can get a nice photo of them in the sea. Either way you basically have the choice of beaches, you can drive all the way down and see what takes your fancy. There's even a small fishing beach full of local fishermen and their boats.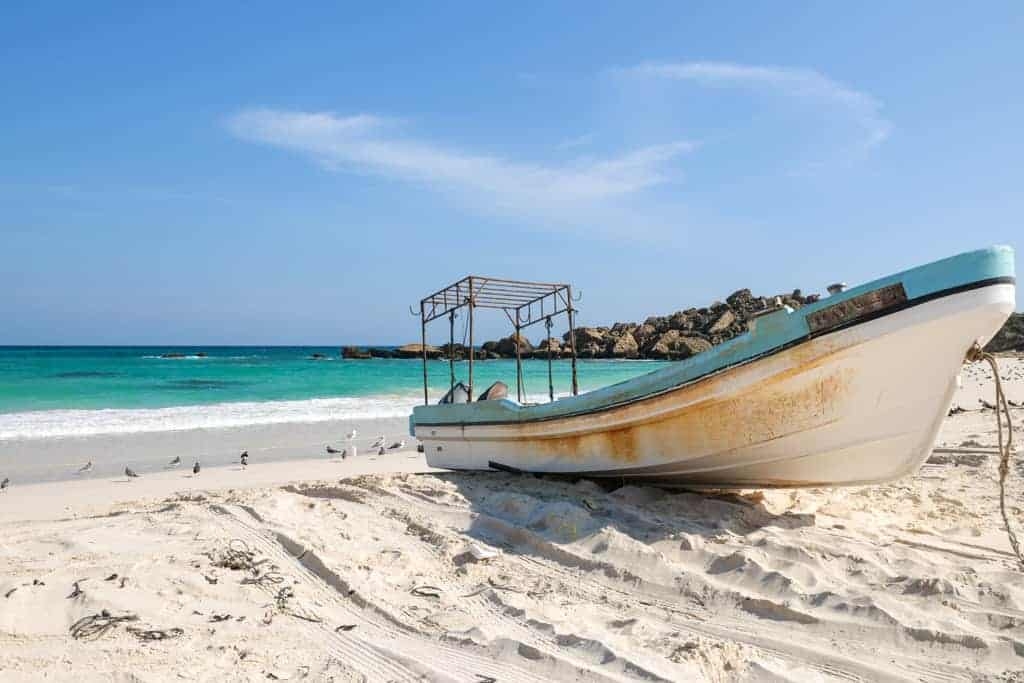 Day Trip #2: The East Coast
My second day trip tries to tick off all of the things to do on the East Coast of Salalah. Covering incredible waterfalls, sinks holes, viewpoints and villages. Again, all marked on the map (in red).
I've not necessarily written these in order, so here is the best order to do these in from my experience: Taqah beach and viewpoint, Wadi Darbat (three stops), Atair Sink Hole, the Jabal Samhan viewpoint, Baobab Trees and the zero gravity point, and finally Mirbat.
Wadi Darbat
I'm starting strong here as this was by far my favourite part of the day. Wadi Darbat is the river and to be honest you could spend a few days exploring, hiking, canyoning, kayaking and abseiling in this area. Day trips are designed to hit the main spots quickly. I decided I definitely wanted to see two of the waterfalls plus a main part of the river. Therefore on the map you can see three pins for Wadi Darbat, I recommend going to all three spots.
The pin furthest south on the map was my favourite. Firstly, as I had this waterfall practically to myself, and secondly because it is breath-taking (I am struggling to find more adjectives for this article!). From the car park you can see a view of the waterfall, then a short hike takes you to the bottom where you can swim. And let me just tell you, you have to swim. The photos do the rest of the talking here and I need to get on with the next part.
The more popular waterfall is the second pin on the map (looking from south to north), and still well worth a visit. You can see these from dry land and there will be more people, but it's still a stunning spot which you have to see. And finally we drove up to the third pin which is an area you can go hiking, take a picnic or just stop for a while like I did. The highlight was seeing the camels in the water. Honestly I wish I had time to hike along the river, perhaps as far as the Edgrain waterfall. Like I said there is so much to do here.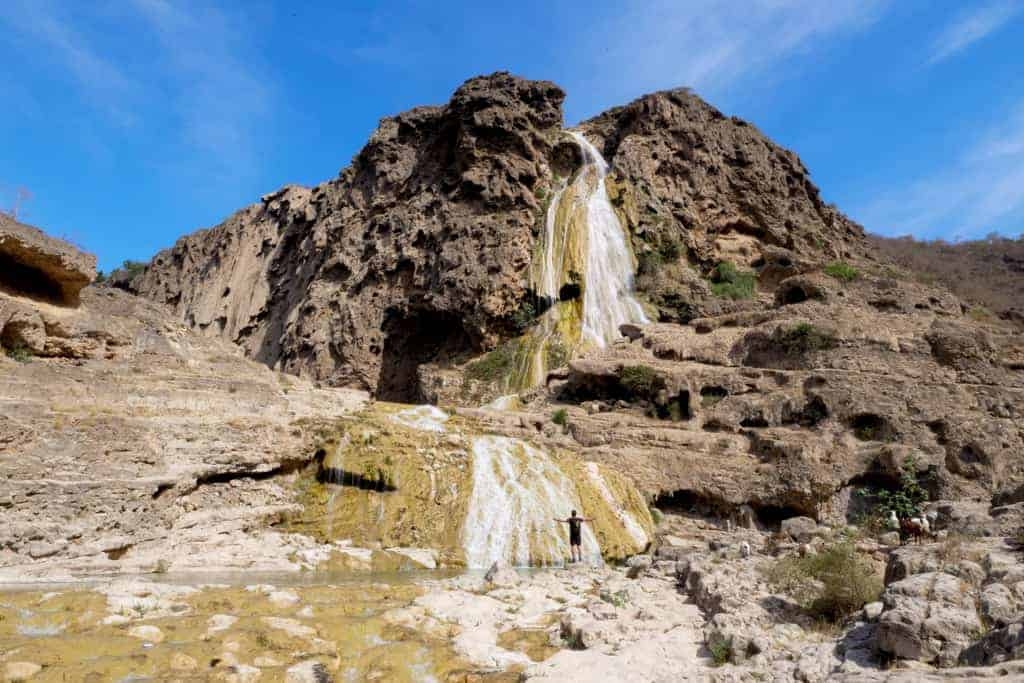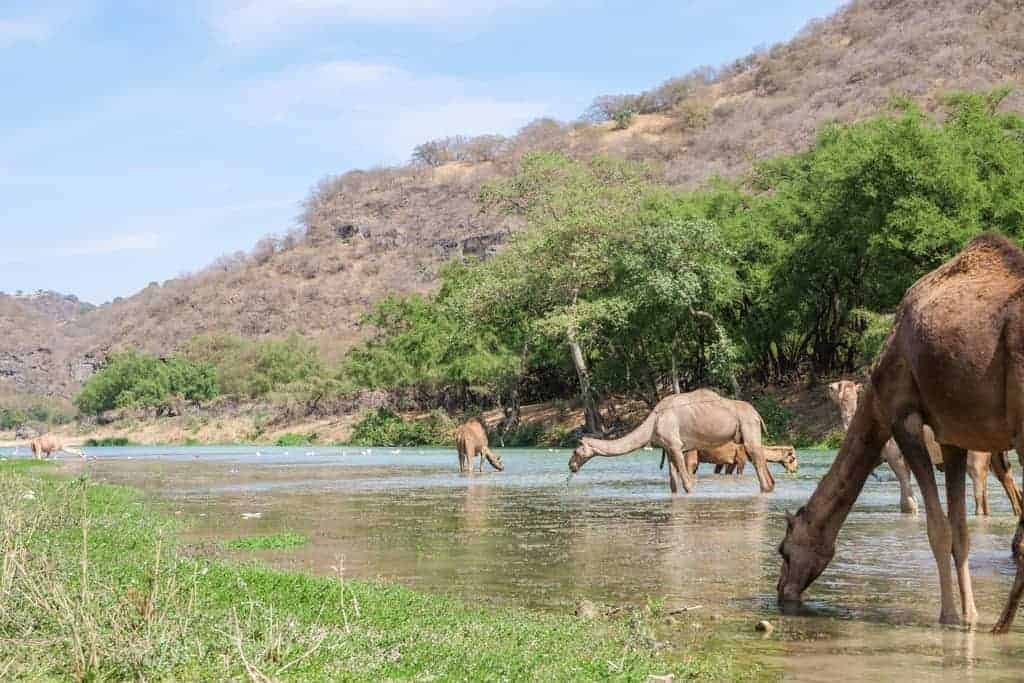 Towns and Villages
You certainly don't want to miss the two places on this list. Taqah was our first stop of the day, which you can just pass through in the morning. It's important to do this first as in the morning dolphins can be seen swimming close to the beach. We drove along the beach and to the Taqah Viewpoint, and saw as many as 5 or 6 dolphins. I struggled to get a good photo, but I got enough to prove it happened!
The second village is Mirbat, which I recommend doing at the end of the day. You can pass down the mountain roads from the Jabal Samhan viewpoint and the Baobab Trees mentioned later. The first thing to see is Bin Ali's Tomb. It's a unique white-washed building that houses the remains of Mohammed Bin Ali, a descendant of Prophet Muhammad. Women will be required to cover their head and shoulders and men will need trousers to enter.
The next stop is the Mirbat Castle which doubles as a museum. Mirbat is an interesting town with a significant history for trading. There are a number of traditional merchant houses, some of which have been abandoned and left to ruin. I also suggest driving down to the Mirbat Fishing Port and spending some time there.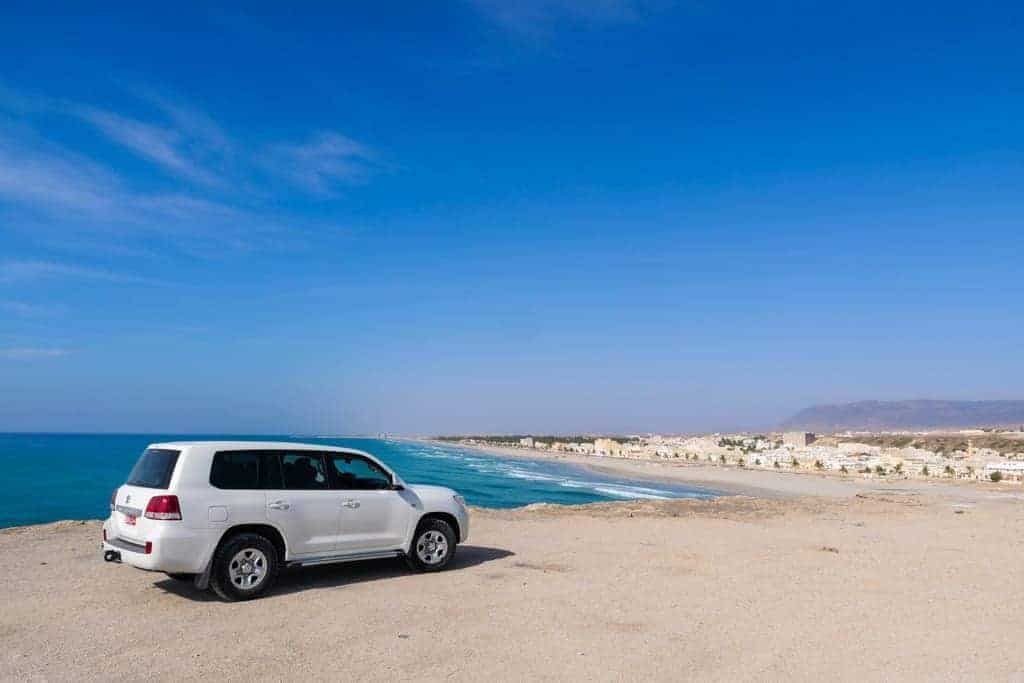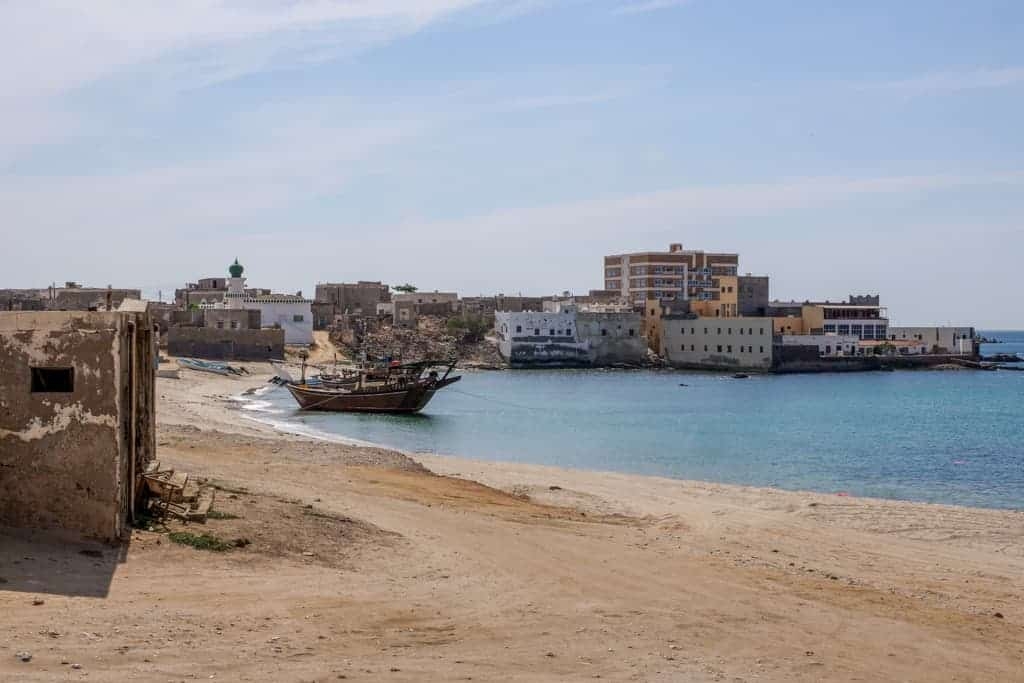 Everything else
From the Waterfall Wadi Darbat we drove across to the Atair Sink Hole. It's a 210 metre deep sink hole or cenote full of groundwater which has fish living in it. There's a viewpoint which you can't really see anything from so I recommend taking part of the hike down. I hiked 10 minutes and I think you can go further but it wasn't really that clear. I didn't have time to go further, but even from here it was worth it for better views.
From there we headed across the mountains to the Jabal Samhan viewpoint. Now this is a view that would be better with the famous Salalah mist and fog, some of those photos are stunning (just Google it). Mount Samhan is the highest of three that form the Dhofar Mountains, and it's in the Jabal Samhan Nature Reserve. I was sad I didn't have time to explore the nature reserve and do some hiking here. With a permit you can also try to see wild Arabian leopards, the Arabian Wolf and the Striped Hyena. Amazing.
Next you can head down to Mirbat (above) via the Baobab Trees and the zero gravity point. Yes these need some further explanation! Firstly this drive is worth it alone, with great views to the ocean. Then there are the Baobab Trees, which can be one thousand years old and grow as big as 15 metres. They can only be found in Oman, Yemen, Australia and Madagascar creating an interesting geological link between the countries. Thankfully they are being preserved well in the area.
They are also very close to an Anti-gravity Point or the Magnetic Field. It's an interesting place with little explanation, basically you can park your car in neutral and it will move, seemingly uphill. Well I can tell you that it happened to us for sure. Some say it's more of an illusion, some say it's a magnetic field and some blame aliens. Go and see for yourself.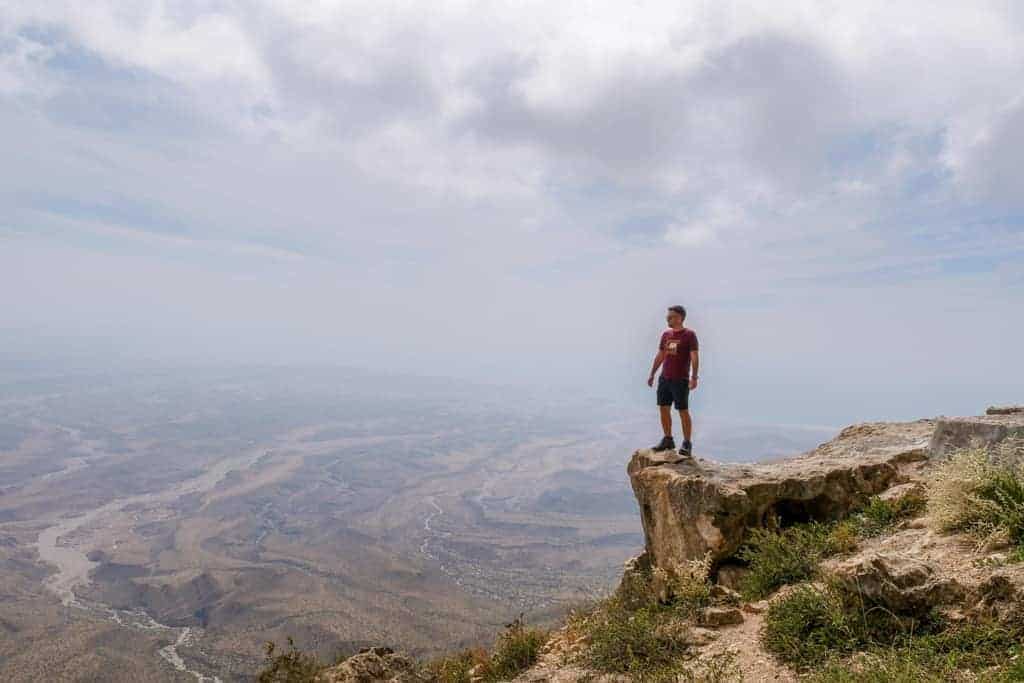 Bonus Day Trip #3: The Empty Quarter Desert
Sometimes, in fact most of the time, you won't get a chance to complete everything on your list. Or what I tend to find is that you get tips and ideas from people along the way, ideas you didn't plan for. I am trying to make a point of still writing about them. For me the Empty Quarter Desert is one of those things that I desperately wanted to do but didn't have time. So here's what I know.
The Rub al Khali (as it's known in Arabic) is a huge unbroken stretch of desert, which in fact covers 650,000 square kilometres. This makes it larger than France! It's been described as travelling to another world and has been used in movies such as Star Wars and the Matrix. It's on my list as a day trip as that's the way most people do it, but from looking at the photos below, you really must spend the night there too.
You can wild camp yourself but why not stay in a traditional Bedouin campsite, eat the food and enjoy the whole experience? I've not marked this one on the map as I wasn't sure exactly where the best spot was and I sure as hell don't want someone to drive there and get lost because of me! Either way, I wouldn't recommend self-driving without a guide as a lot of the route will be off-road. You really need to be with a local expert.
Where to stay
I stayed at the incredible Salalah Rotana Resort, which quite frankly was one of the best places I've ever stayed. This 5-star luxury resort is only 35km from Salalah airport and overlooks its own private beach on the Indian Ocean. I don't even know what to talk about first. The thing that blew me away the most was the sunsets. Every night I saw one of the most spectacular sunsets I've seen, and you can walk the beach and quite literally feel like you're walking off into the sunset.
I plan to release a video and article about only the Salalah Rotana Resort soon, to give you a full idea of what to expect. But let me just add that the next highlight was the food. With six dining options to choose from, I truly tasted some of the finest dining Oman has to offer.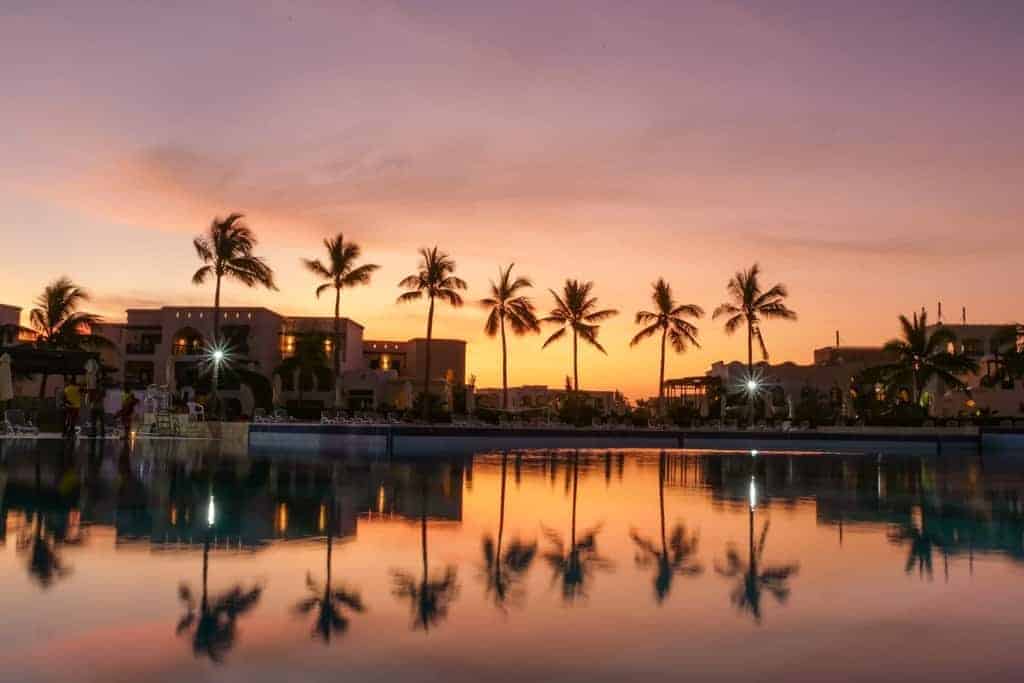 In Muscat I stayed at the stylish W Hotel by Marriott. This relatively new hotel is right on the beachfront and I was sold on its stylish design from the moment I arrived. It also has fantastic dining options but my favourite part had to be the trendy rooftop bar Siddharta Lounge by Buddha-Bar. Day or night you can relax with a cocktail and enjoy the endless views.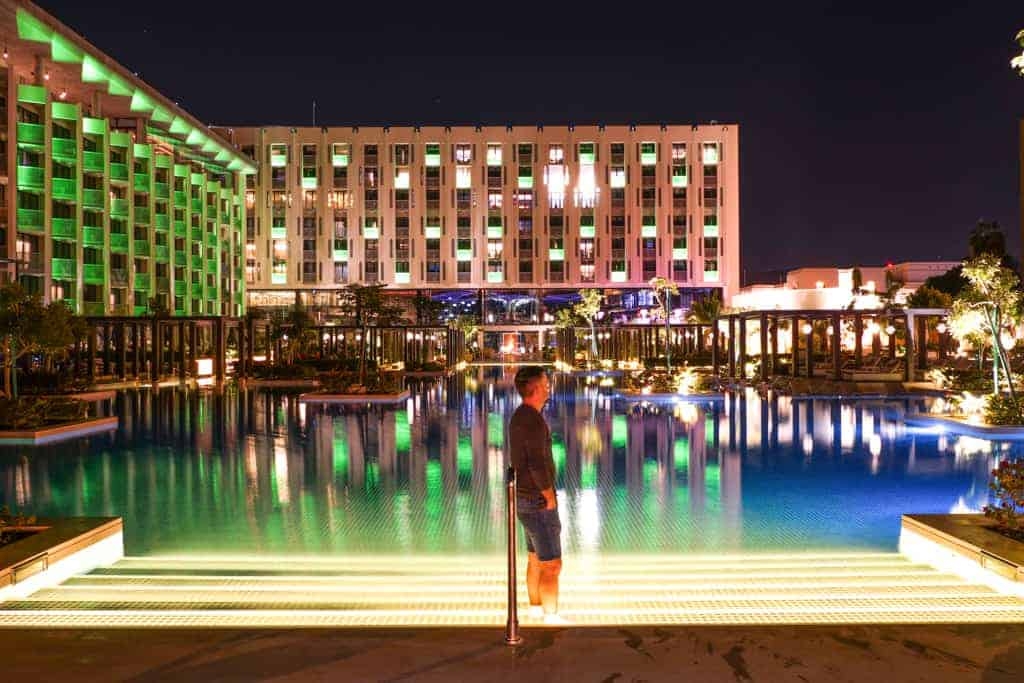 For ideas on what to see in Oman check out the Last Minute microsite full of tips for what to do and where to stay, inspired by me and other British Travel Bloggers!
My trip to Oman was supported by the Experience Oman and Last Minute, please take a moment to explore their website. Nonetheless all of the photos, videos and opinions are my own (as always).