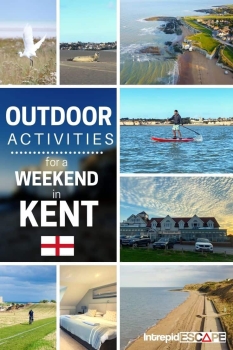 My latest UK based outdoor adventure took me to the Viking Coastline of Kent, to explore the outdoor activities on offer for the more active adventurer. This trip was in partnership with Visit Kent, Visit Thanet and Active Ramsgate, who are all very much open for business and welcoming back visitors.
Firstly, this was a flying visit for a couple of days, so this article is to show you a selection of the activities possible. It's the perfect guide for planning an outdoor weekend escape, from London or further afield. If you have longer to spend here, then even better!
I have focused on 5 main activities I did here, but there are far more than that. I also encourage you to take a look at Kent's Heritage Coast (recently voted best in travel for 2022 by Lonely Planet) for another take on the coastline.
Paddle-boarding with Grey Seals in Kent
I am kicking things off with my favourite activity that I did here. Yes, Stand-up Paddle-boarding can be done anywhere, it's nothing new, but to a colony of Common Grey Seals? Now that is a unique adventure if ever I saw one.
I actually started the day planning to go Kitesurfing with Graeme from Kite Pirates Kite School, but we were aware if there wasn't enough wind we would go paddle-boarding. At the time I was disappointed, but this turned out to be a far better substitute activity (I will talk more about kitesurfing in the Water sports section below).
The tour with Graeme lasted 2-3 hours and started at Pegwell Bay. The time the tour starts depends on the tides as does the starting point. You will head out into the open water before reaching the mouth of the River Stour. For beginners Pegwell Bay is a suitable place to start, on a calm day the bay offers some protection from the waves.
However, this is a suitable time for my first warning; You must only Paddle-board to the seals with a guide and on a tour.
Firstly, as Pegwell Bay has some fast tides and quick moving currents, and secondly if you are going to get this close to wildlife, you need to do it with a professional. It is also a key area for birdwatching, which I'll talk about more below.
As you start to approach the area where the seals are, you will start to notice a few bobbing their heads up to check you out, like you're being watched. Grey Seals are incredibly inquisitive, and as they head in and out of the river to fish, they will most likely say hi.
It is quite a paddle to get to where the colony typically beach themselves, and you're paddling upstream. I've paddle-boarded a fair bit and I needed Graeme's help here. But what a sight when you get there, to be so close to these amazing seals, right on the shore and in Kent. Very surreal.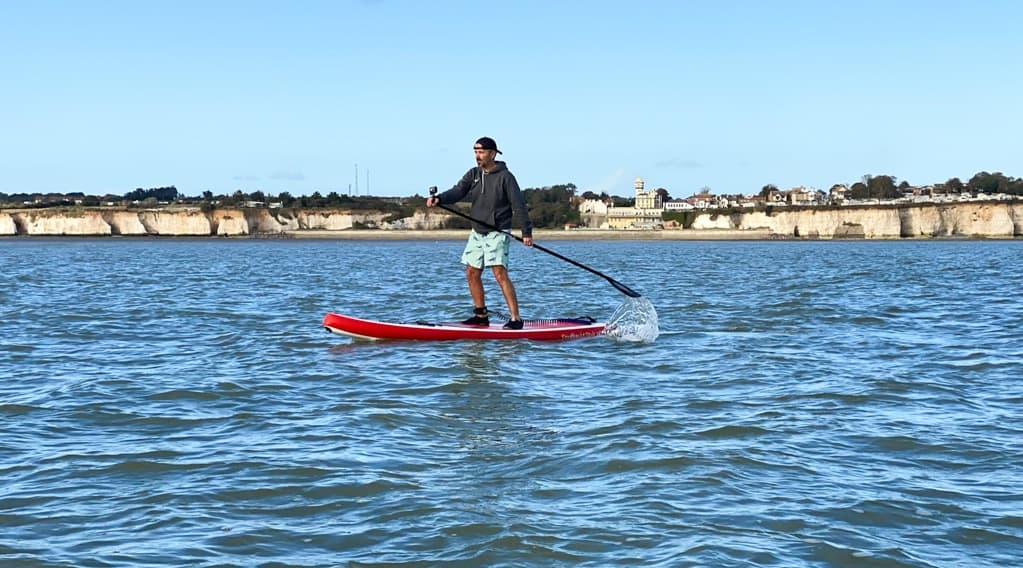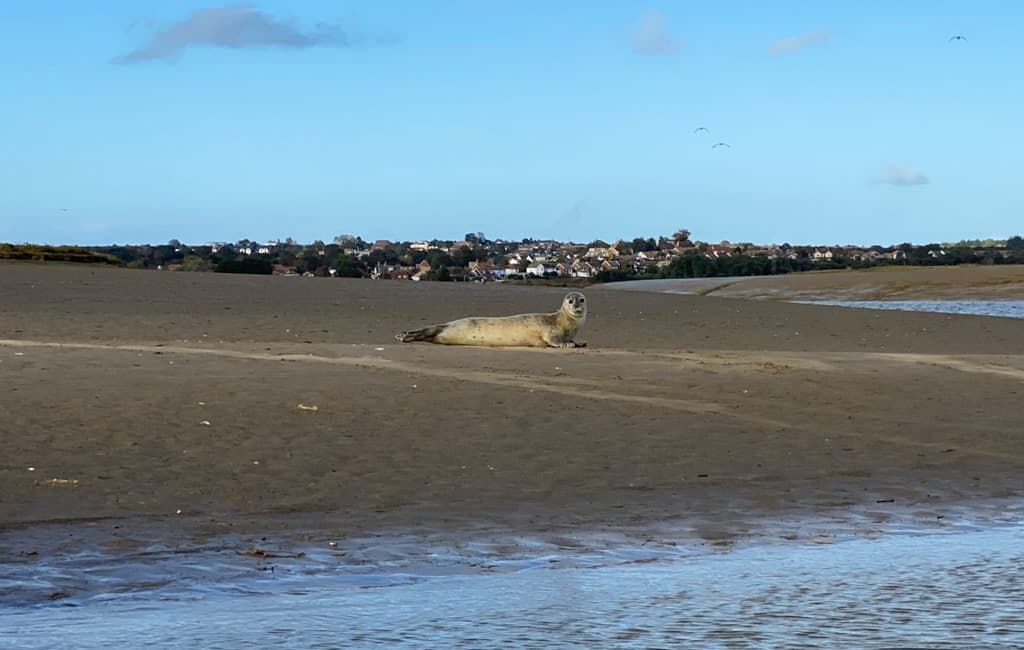 Birdwatching in Kent
Next up it's another way to connect with nature; Birdwatching. This was something I requested to do; I have found over the years my fascination is growing for nature reserves specifically to protect migrating species of wetland birds. It is so important we preserve and protect these habitats.
Sandwich & Pegwell Bay National Nature Reserve are well known for the birds that stop here from all over the world. I met with Keith from Ramsgate Birds to explore this beautiful spot. Keith himself is a wildlife filmmaker and keen birdwatcher, he has had footage appear on all kinds of wildlife features not least a few times on Springwatch and The One Show.
Keith runs guided walks from September to March, and I recommend having a look at his Instagram to get a feel for what you'll see. Do not forget your binoculars! On our 2-hour walk we saw Little Egret, Curlew, Bar-tailed Godwit, Oystercatcher, Lapwing, Shoveler, Redshank, Kestrel, Great Spotted Woodpecker. A brilliant morning.
Cycling in Kent
The coastal pathways of Kent have very much been kind to cyclists, with several well-marked trails and a continuous route along the coast. I barely scratched the surface of what's on offer here, but I did get to try a couple of different cycling routes.
The first was the Viking Coastal Trail. You can do the entire route or pick sections of the 32-mile (52km) circular trail on the Isle of Thanet. You can casually do this ride in around 5-6 hours, so it could be a lovely day trip with some lunch and photo stops. I recommend downloading the full guide from the Visit Kent website. The guide also divides the route into smaller sections, such as 'Beaches and Bays' and 'The Six Churches ride.' My photo is heading south towards the formidable Reculver Towers.
My second suggestion is the Pier to Pier route one of the 'Active Ramsgate' suggestions, and also part of the longer Viking Coastal Trail above. The route starts in Ramsgate Harbour and takes you to Deal, passing a few of the places I have already mentioned such as Sandwich & Pegwell Bay, the Viking Ship, and the River Stour.
The Pier-to-Pier cycle route is just under 13 miles, and it's recommended to allow 90-minutes (one way).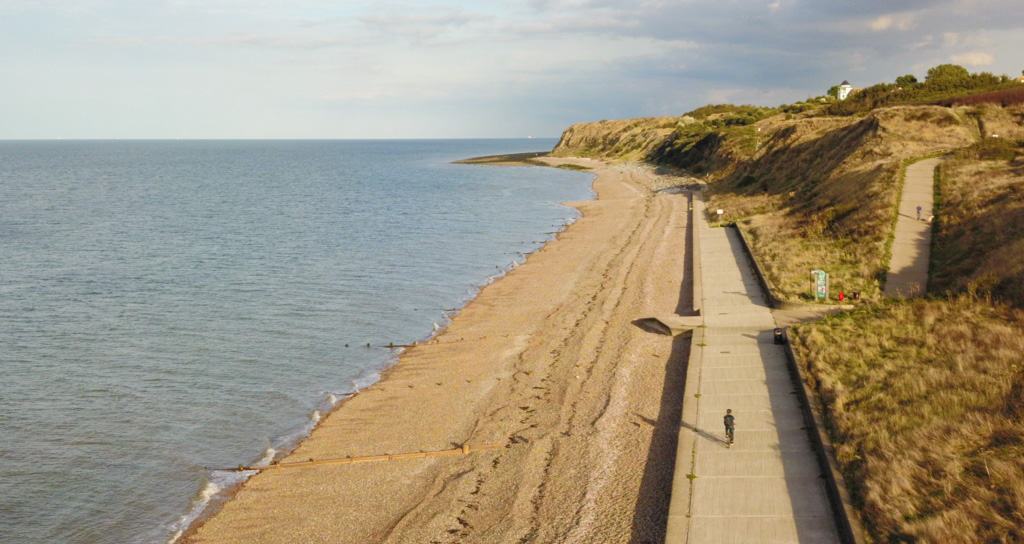 Hiking & Walking in Kent
If you've got a stunning coastal line, then it's a hiker's dream. Most of my exploring by foot was limited to small walks on parts of various trails on the Isle of Thanet. I did not have much time and if I am honest, was a bit overwhelmed by how much choice there is in Kent for walkers and hikers.
It's for that reason I've listed a few ideas with the help of Visit Kent and Ramsgate Town. Firstly, take a look at the Winter Walks ideas from Visit Kent. As I write this winter is fast approaching, and there are some fantastic ideas here, from Hever Castle to the Kent Downs.
Being centred around Ramsgate however meant my focus was things in and around Ramsgate. For a short walk you can walk from Ramsgate to Pegwell Bay, taking around 3 hours there and back. Or go the other way and head north to Broadstairs, this includes Viking Bay and takes around 2.5 hours there and back.
But my top tip is Ramsgate to Margate, do it one-way and take public transport back home or stay the night. This really does take in the best spots on the Isle of Thanet coastline, and a large part of the Viking Coastal Trail discussed above. This should take approximately 3-4 hours. My highlight on this route is Botany Bay beach and staying overnight at the Botany Bay Hotel (more below).
If these still aren't long enough for you please take a look at the Active Ramsgate suggestions. It features even longer walks such as Ramsgate to Camber (66 miles) and the Augustine Camino, a 62-mile pilgrimage from Rochester Cathedral to Ramsgate.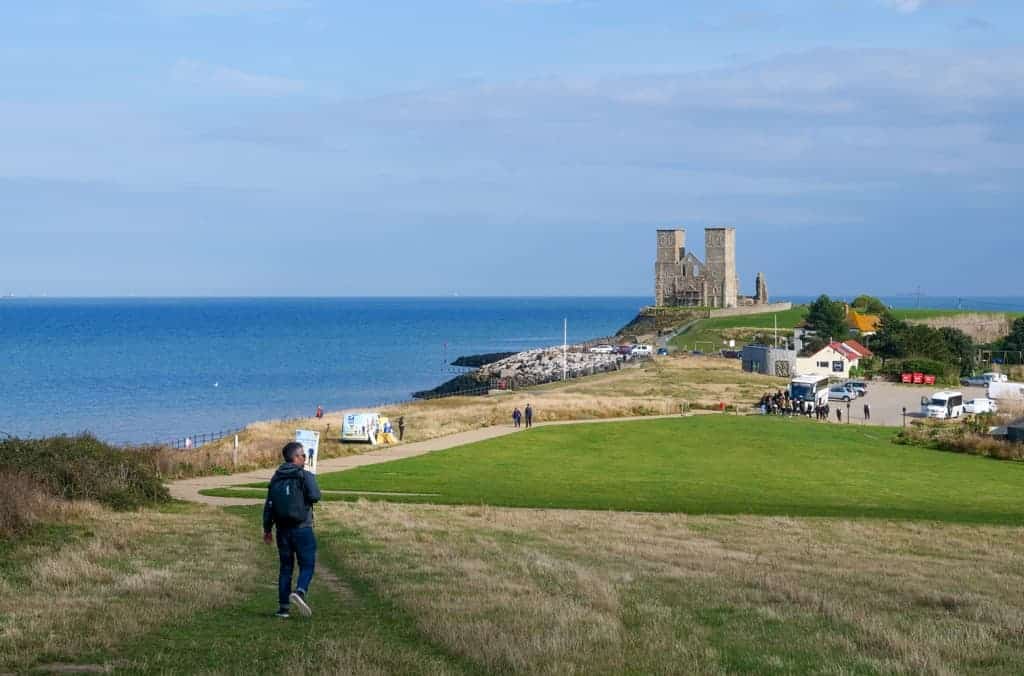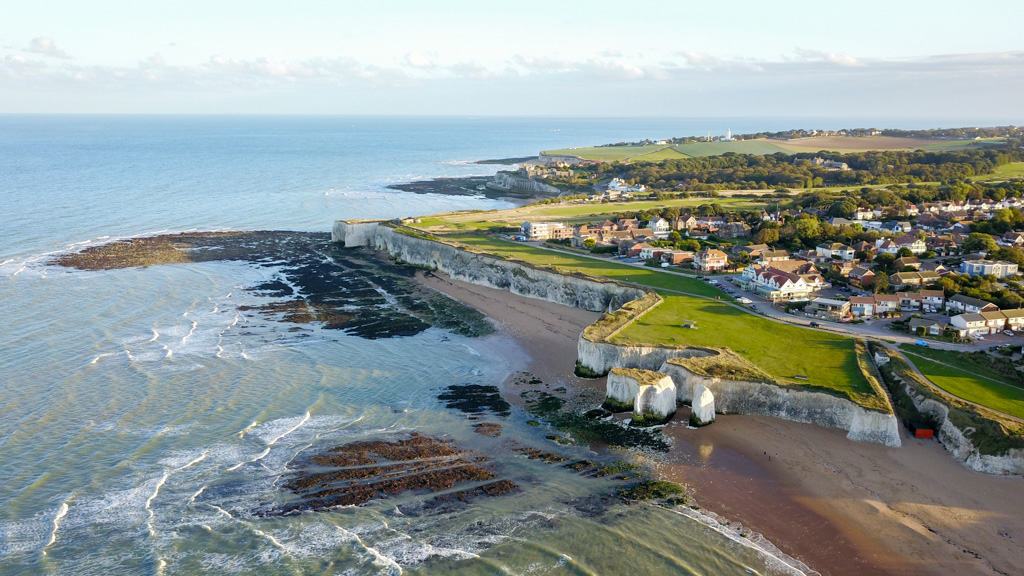 Water sports in Kent
Okay technically Paddle-boarding falls under water sports too, but that just had to be a section all on its own, blame the grey seals! The other key water sports in the area that I want to talk about are Kitesurfing and kayaking.
The Ramsgate Sands are becoming well-known as a Kitesurfing hotspot, with some of the best conditions in the UK for all levels. There are consistent winds (except when we went), and the sands offer a large shallow space suited to both beginners and more experienced kitesurfers.
To get started you absolutely need lessons, which you can organise with Greame from Kite Pirates (who I went paddleboarding with). Please note because of the Nature Reserve and protected environment of Sandwich and Pegwell Bay, kitesurfing is only permitted at certain times of the year and from certain launch points.
The final activity in this article, and another one that falls under water sports is kayaking. There aren't many better ways to get out on the water than on a kayak (or canoe), one of my personal favourites. There are a couple of self-guided routes for more experienced kayakers, or guided trails for less experienced.
The first self-guided route takes you across Pegwell Bay to the River Stour, like the route I did on a paddleboard. And the second heads north to Broadstairs, via Viking Bay. Please make sure you check the tide times before setting off.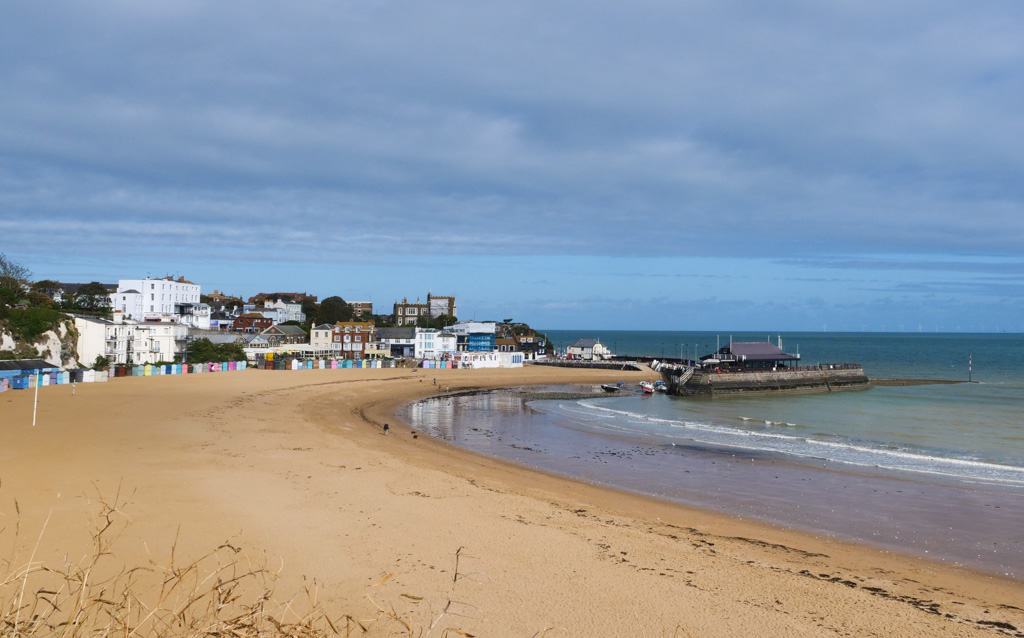 Where to stay in Kent
I stayed at the lovely Botany Bay Hotel, overlooking one of the most iconic spots on the Kent Coastline and right on the clifftop. They have only 30 rooms and a wonderful restaurant and bar downstairs. I decided to eat here after finding out about the quality of the locally sourced food. I wasn't disappointed!
For dinner I had their fish n chips, doesn't sound too adventurous but most places on the British coast are famous for fish n chips so I always love to try it. And it was sold to me when the waiter explained their homemade batter is soaked in local ale from Shepherd Neame in Faversham.
My room was huge, and the bed was so comfortable, and it had superb sea views. Breakfast at Botany Bay Hotel has the official Visit England 'Breakfast Award.' After my poached egg and avocado on toast I can confirm they deserve it! And the best part is, you are right next to Botany Bay beach, one of the most stunning spots and spectacular beaches in England.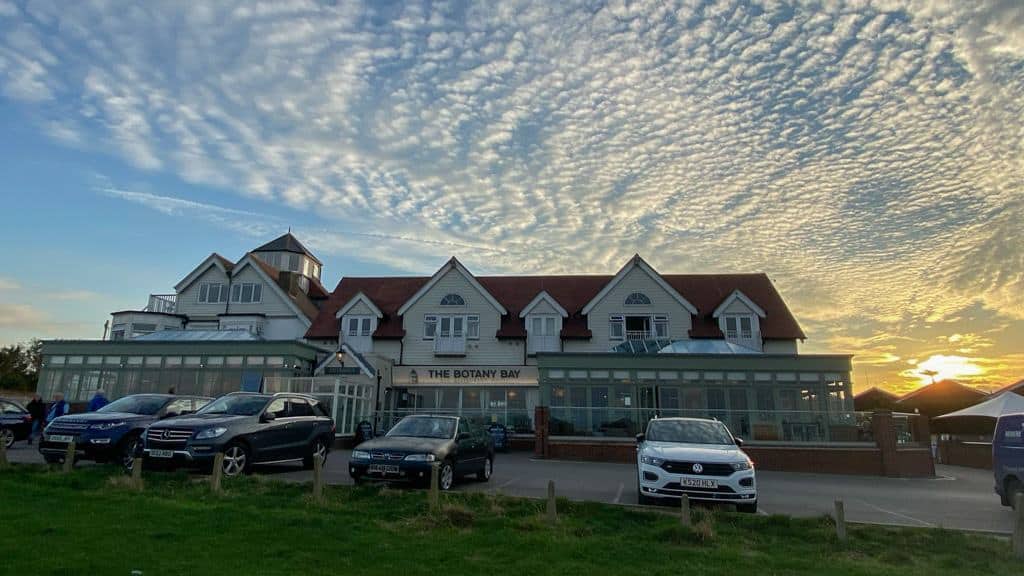 That concludes my ideas for outdoor activities Kent! I would love to know what you think, and if this has inspired you to Visit Kent? Maybe a daytrip from London? Please let me know what you think, or any further activities in the comments below. Happy travels!
This article was supported by the Visit Kent but as always, the opinions and photos in the article are all my own, and as you can see I loved all the activities I did in Kent.