I often write about bucket list road trips, I'm about to feature a whole section about it. It's always been the way I've loved to travel most. In this trip we covered Nova Scotia and New Brunswick on a rather epic 10-day trip.
It was my first visit to Nova Scotia, which has long been on my road trip list! This article focuses on the things we did along the Cape Breton and the Cabot Trail part of the route. Cape Breton is a Bucket List Road trip, and I love to feature those.
We would be starting and finishing the trip in Halifax, which has direct flights from London. And picking up a rental car here and returning it to the same location. So, let's get stuck into our itinerary.
Halifax
As mentioned, this trip would start and finish in Halifax. We wouldn't have long here sadly, but I recommend at least an afternoon and night. Halifax has a great vibe to it and an interesting history. You have an incredible mix of architecture, some from the 18th and 19th century and some much more modern.
Did you know? Halifax is the historical capital of Atlantic Canada!
One thing I love is that it's a city that can mostly be explored on foot. If you do have time, you can get lost in the galleries, museums and cafes. Not to mention the waterfront and new harbour development.
As we didn't have long, we took the Harbour Hopper boat/land tour. The Hopper is an amphibious vehicle previously used to carry troops. It starts at a must visit viewpoint, the Halifax Citadel National Historic Site, before passing St Paul's Church and Spring Garden Road.
And then, into the sea! As cheesy as I thought this would be, it is pretty cool to then be cruising along the harbour and getting a view of the Halifax harbour from the water. It can get chilly on the water so bring an extra layer!
Finally, Halifax is a great base for day trips to Peggy's Cove and Lunenburg. Two things which we didn't manage to visit on this trip, due to heading along the Northern route of Nova Scotia.
Sleep here: The Westin Nova Scotia, right in the Halifax Seaport District. It has a huge car park behind the hotel and is just 5 minutes' walk to the harbour. They have recently renovated rooms, and amazing views over the harbour, as well as an onsite restaurant.
Eat here: We ate at the BG Halifax Beer Garden, easy going food at a good price. And great quality too, and pint and fish and chips were a great way to start off my Nova Scotian food adventure!
Baddeck, Cape Breton
Today we covered a lot of distance as we wanted to centre the first part of our road trip around Cape Breton. And there were some stunning views along the way.
We were stopping at Baddeck to break up the journey and find a little peaceful part of Cape Breton before starting the Cabot Trail. Baddeck is right on the Bras d'Or Lake and the former summer home to Alexander Graham Bell, credited as the inventor of the telephone.
Speaking of Mr Bell, the Alexander Graham Bell Museum is a must visit, featuring models, replicas, photos, artifacts and films all about the work of Bell. And he didn't just work on the telephone, he had a number or achievements and inventions.
You could also spend a few hours here walking the shores of the Lake and exploring it's small harbourside.
Sleep here: We stayed at the Inverary Resort, a lovely lakeside property with an adventure centre offering kayaking and stand-up paddle-boarding. The rooms are spacious, and they have an onsite bar with food and live music, as well as a lakeside restaurant.
Eat here: On the way to Baddeck stop off at Charlene's Restaurant, a local's favourite hotspot. This is a no fuss diner, with award-winning seafood chowder. It has a real family and local vibe to it, and a welcoming atmosphere. You can also dine at the lakeside restaurant at Inverary Resort above.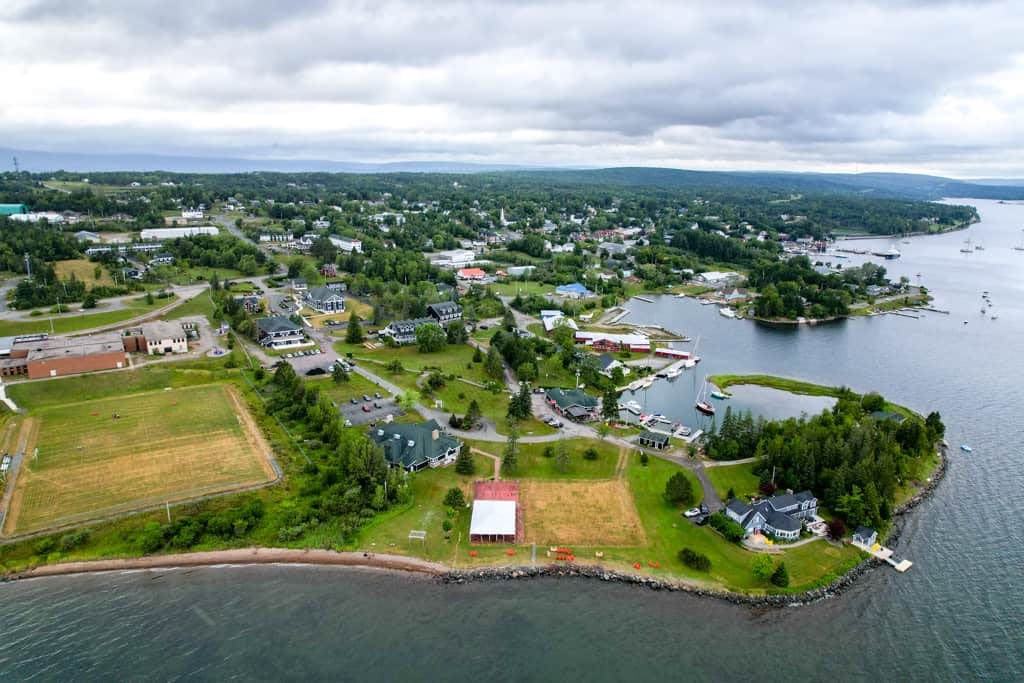 Louisbourg
After a quick stop at the World's Largest Fiddle in Sydney, we headed to Louisbourg. If you are going to stop in Sydney, allow over 2 hours for this journey.
We were going to spend the day at the Fortress of Louisbourg National Historic Site. Known as the largest reconstruction project in North America, it represents a 'living history' in a hands-on step back in time.
The original settlement was founded in 1713 by the French, before being fortified against the threat of British invasion. It was later besieged twice and destroyed in the 1760s.
There's so much to do here, we headed for a traditional lunch for the villagers at Restaurant de la Marine (I had a turkey pie). Then had a tasting of local beer, cider and fortress rum at La Taverne Storehouse.
In the afternoon we saw a cultural demonstration at the Mi'kmaw interpretive centre, before an example of a typical shaming of a criminal! And finally, we shot a muscat. Yes, a muscat!
Sleep here: On a beautiful peninsula overlooking the ocean and Louisbourg harbour sits North Star. Probably my favourite room (and balcony) of the trip, stunning. From North Star you can also walk along the Lighthouse and Old Town Trails, both are quite short (around 2km) and offer history and outstanding views.
Eat here: The North Star also has The Bothy, their onsite restaurant, which serves locally sourced produce and dishes to highlight Cape Breton and the Maritimes.
Have you seen the rest of my articles on Canada?
The Cabot Trail
And now begins the bucket list road trip part of this adventure. This was probably the first pin on the map when we started to plan the trip, the Cabot Trail.
The Cabot Trail is a coastal highway and one of the most spectacular drives in North America. It meanders through the Cape Breton Highlands National Park. Think hiking, gondolas, vistas, stunning beaches, crystal clear waters, bald eagles, and the chance to spot minke or pilot whales!
This is the kind of place you could spend a week, we had a couple of days, so here's the places I recommend you visit.
Cape Smokey & Ingonish
Atlantic Canada's first and only Gondola. This is the latest resort development, and the top has 3 separate viewing platforms and a cold Cape Smokey pilsner! But you need to earn it, you can do the short hike to a lake at the top.
Ingonish is another place you could spend days not hours. There are a number of picture-perfect beaches, lush green valleys and rugged headlands and viewpoints. This is also where you'll enter the Cape Breton Highlands National Park, where you'll need to pick up a pass from the visitor centre.
The next couple places are inside the National Park, but it's really worth noting that we just scratched the surface of the Cape Breton Highlands National Park, so consider spending a few days here if you have the time.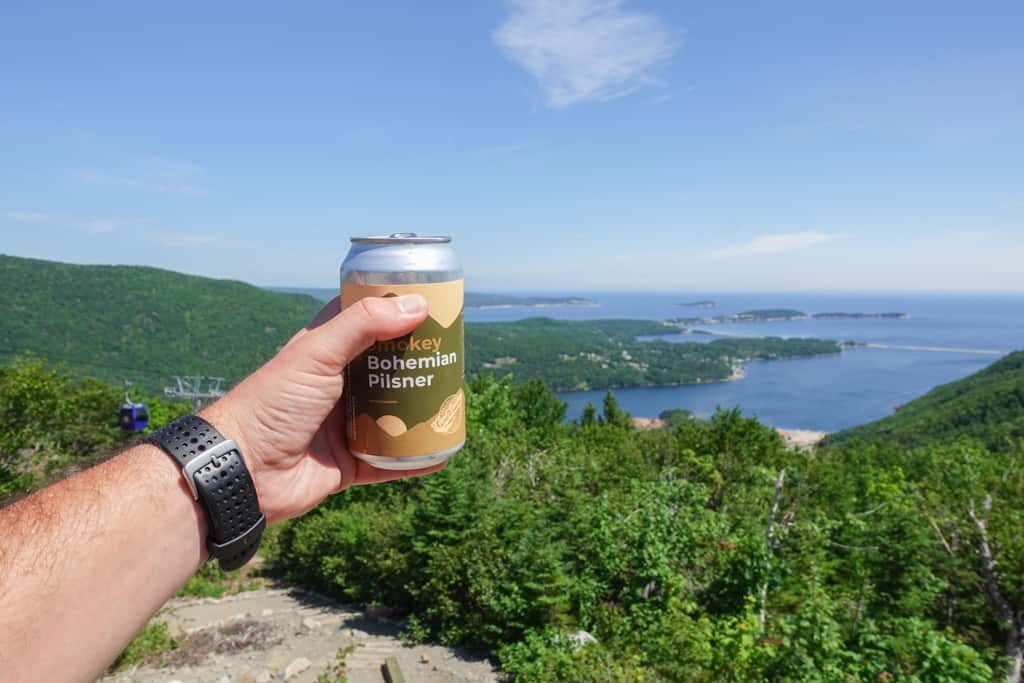 Skyline Trail
All along the Cabot trail be prepared to stop as there are some fantastic viewpoints along the way. And add the Beulach Ban Falls to that list, the car park is right by the falls (although there is a much longer hike to it if you prefer).
I've known about the Skyline Trail for some time, after seeing it listed as one of the best short hikes in Canada. It's approximately 6.5km, which can take around 2-3 hours. However, if you keep moving you can do it in under 2.
It's a loop hike and has come incredible views over the Gulf of St Lawrence, and a purpose-built viewing deck. Look out for Moose, Bald Eagles, Bears and other birdlife.
Sleep here: Cornerstone Motel is right on the edge of the National Park and in the heart of nature. It's a family run motel with friendly and helpful owners and offers private walking trails along the Cheticamp River.
Eat here: L'abri is a real local's favourite, and to get in here you'll need to book in advance. It was created by two locals with a desire to see their home village flourish. Meaning 'The Shelter', there is a friendly and warm atmosphere, with classic food, cocktails and ocean views.
Cheticamp
The Cornerstone Motel is just a few minutes' drive from Cheticamp, so the following day we were keen to find out about some of the Acadian history and traditions in this French Acadian fishing village.
Our first stop was the Elizabeth LeFort Gallery and Museum at Les Trois Pignons. LeFort was the first person in the world to make portraits from hooked rugs! And her gallery is fascinating and even features our very own late Queen Victoria and King Charles, as well as portraits of US presidents.
There is also a gallery and collections from Marguerite Gallant, featuring hundreds of antiques reflecting the daily life of the Chéticamp settlers.
I also recommend a stop at Inverness on your way to the Glenora Inn & Distillery.
Glenora Inn & Distillery
Home to North America's first single malt whisky distiller. It was started in the 1800s when Scottish immigrants flocked to Cape Breton, it's said they settled here as the landscape resembled that of the Highlands.
You can take distillery tours between 9am and 5pm and it last around 20 minutes. The tour could use a bit of updating, but do you get taste the whisky at the end!
Alternatively, grab yourself a spot at the bar or some lunch. We sat at the bar, sipped a whisky and watched the live musician, I felt right at home!
Glenora is also part of the Ceilidh Trail, a coastal drive between Margaree Harbour and Port Hastings.
Judique
The final stop in Cape Breton Island is Judique, where you could have lunch at the Celtic Music interpretive Centre. The centre was built to share the culture of Cape Breton, and professional musicians are always there to give demos.
There is an exhibition and museum you can tour, and if you make sure you're there between 11:30am and 3pm there will be live music!
Mini-Cabot Trail
A little bonus tip as you head south and leave Cape Breton Island is to drive the 'Mini-Cabot Trail'. It's essentially a short detour from the main road, heading north on the #337 from Antigonish, before picking up the #245.
The scenery was great, and you can stop and admire the views at Cape George Lighthouse. But my favourite spot and the reason for adding this detour was the Steinhart Distillery.
Thomas Steinhart has a tradition of craft distilling in his family for over 300 years. And he has brought that experience and tradition to Nova Scotia distilling a variety of spirits. But what I really loved was the atmosphere and community developed here.
We sampled gin, whiskey and vodka before enjoying one of the 9zero2 beers outside, watching live music with views over Prince Edward Island. Perfect.
Sleep here: We were heading south and over to New Brunswick, so the perfect pitstop was Pictou Lodge Beach Resort. They have a great onsite restaurant and sea views. And if you're feeling brave, why not go for a morning sea swim to wake you up?
This concludes the Nova Scotia leg of this epic road trip. Have you been to Nova Scotia? Is there anything you would add to this list? Please let me know in the comments below.