When I started to plan my Tennessee road Trip, it was always going to start and finish in Nashville and include Memphis and the Smoky Mountains.
There are daily flights direct from London to Nashville with British Airways, and it takes just over 9 hours. I'll talk about the complete Deep South Road Trip in another article, but for now, if you want an itinerary for a few days exploring Tennessee, look no further.
In this article it makes sense to start in Memphis and finish in the Smoky Mountains. But you can of course do both, or even base yourself in Nashville and do it that way. It's up to you!
Things to do in Memphis
No Tennessee road trip is complete without visiting Memphis, and this is where I started. Honestly, I could have spent so many days exploring this city. Memphis is also a really easy city to navigate on foot, so you can have a break from driving.
Memphis is located along the Mississippi River, just a short distance away from the state lines of Arkansas and Mississippi. Known for its blues music, delicious BBQ food, and culture, so there's a lot to do here.
Below, I'm going to cover some of my must-do attractions, so you can truly make the most of your trip. This includes the iconic Stax Museum of American Soul Music and the Sun Studio!
Graceland
A must for any Tennessee road trip itinerary, Graceland was once the home of Elvis Presley, the King of Rock 'n Roll. This huge complex has countless museums, interactive experiences, Elvis's private airplanes, restaurants, and shops.
For the best experience, I'd recommend booking your tickets in advance and spending the day here if you can. In some of the exhibitions you are restricted to only taking photos, no video.
Make sure you check out Elvis's remarkable car collection and try a fried peanut butter and banana sandwich in Glady's diner, a favourite snack for Elvis!
Must try: fried peanut butter and banana sandwich, a favourite of Elvis!
Graceland is open daily from 9.00 am to 4.00 pm and the entrance fee depends on the package you choose and can go from $28 to $285 per person – Pricey, but definitely worth it!
Old Dominick Distillery & Tour
With a 150-year history, Old Dominick Distillery & Tour is perfect for the whisky and spirit lovers.
Located in Downtown Memphis, this distillery offers a fantastic 45-minute tour that includes tastings and offers you the chance to learn about the history of this place and its whisky.
The tour includes a tasting of their gin, vodka and 3 whiskey's! My favourite was the Huling Station, lovely. We also found time to grab an Old Fashioned before we left.
Stax Museum of American Soul Music
The Stax Museum of American Soul Music was once a tiny movie theatre until the late 1950s when it became a popular recording studio.
Throughout the years, this place has produced some epic hits, and as you explore the museum, you'll learn all about this! Not to mention there's an awesome gift shop!
I really enjoyed learning about the history here, and how welcoming to all Stax was, at a time where there was a lot of racial tension in the United States.
As you walk through you realise just how many artists created music here. Without Stax the world would have been robbed of so many great albums.
The museum is open from Tuesday to Sunday from 10.00 am to 5.00 pm and the tickets cost $15 per person. That said, when you book online, you'll get a $2 discount, which is excellent!
Sun Studio
No trip to Memphis is complete without visiting the iconic Sun Studio, which has seen several famous stars head through its doors. That includes Jerry Lee Lewis, Johnny Cash, and the King of Rock 'n Roll himself, Elvis Presley.
The tour lasts between 40-50 minutes, although allow yourself some waiting time. It's a busy spot!
The best way to visit Sun Studio is to book your tickets online, which also include a Music history bus Tour. That said, I recommend booking early as this tour sells out often.
Edge Motor Museum
This awesome car museum is under a 5-minute walk from Sun Studio, so I'd suggest visiting them at the same time. Here, you'll get to witness over a dozen dreamy American sports cars, dating from post-war to the 1970s.
At the Edge Motor Museum, you'll also get to learn all about the trends, design, and engineering of these cars.
I recommend booking your ticket ahead of time, which will save you some time once you get there. For only $10 per person, the Edge Motor Museum is one of the best attractions to include in your Tennessee road trip!
Take a Food Tour In Downtown Memphis
For foodies visiting Tennessee, joining a food tour in Memphis is easily one of the things you can't skip in town
This delectable tour takes you to six different hotspots, from family-owned eateries to award-winning restaurants, all while discovering the culture and history of this dynamic Tennessee city.
You'll enjoy seven specially prepared food tastings, using only sustainable, locally sourced ingredients. From hot tamales to house-made desserts, every dish is a classic, and you'll love it!
This private guided tasting tour is perfect for foodies who want to ditch the tourist traps and enjoy the tastiest treats like an insider. The catch? This tour sells super fast, and you'll want to book as soon as possible!
Riverboat Cruise On The Mississippi River
If there's one cool way to discover Memphis, this is definitely the one! The Memphis combo tour includes amazing sightseeing opportunities and a riverboat cruise on the legendary Mississippi River.
You'll start with a guided Memphis city day tour, where you'll get the chance to see the famous Beale Street, iconic Victorian Village neighborhoods, and other historical landmarks.
The guide will tell you fun and interesting stories about the cultural landmarks, statues, and historical events such as the tragic assassination of Martin Luther King Jr.
And after this, board a paddlewheel boat for a scenic cruise on the iconic Mississippi River. Enjoy the refreshing river breeze as you take in the incredible views of Memphis from a different perspective.
Don't miss the chance to take this combo tour – it's packed with all that Memphis has to offer, from modern-day sights to historical landmarks to the glory of the Mississippi River.
Other important things to do in Memphis
If you find yourself with more time in Memphis, then why not check out the National Civil Rights Museum or the Slave Haven Underground Railroad Museum?
If you're all museum'd out (it does happen) then other popular attractions in the city include Memphis Zoo, Beale Street, Memphis Botanic Garden, and The Peabody Hotel.
Where to stay in Memphis
There are many hotels worth staying at in Memphis, but here below are the best ones you'll want to consider for one night or more.
Luxury: Hotel Napoleon
Hotel Napoleon is set in a gorgeous building that was built in 1902. Known for its Romanesque structures, gorgeous lobby, and fleur-de-lis, this hotel has a lot to offer. Especially as some of the rooms feature bay windows, so you can admire the epic city views!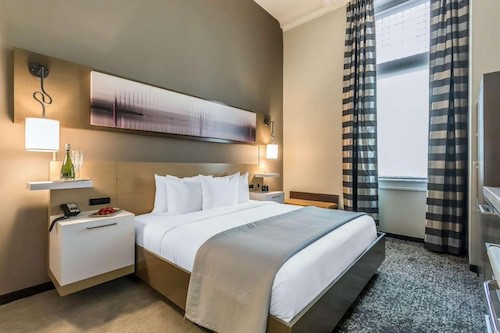 Mid-Range: DoubleTree by Hilton Memphis Downtown
Located in the heart of Memphis, this DoubleTree by Hilton is one of the best options for a nice stay without breaking the bank.
They offer a gym, beautiful rooms with fast WiFi and a spotless bathroom, and all the amenities you need.
The breakfast in the morning is a nice added touch, and you'll love waking up in the morning when staying here!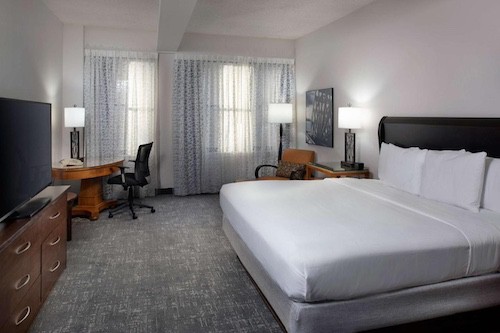 Budget: La Quinta by Wyndham Memphis
Located only 2 miles from Memphis Airport, La Quinta Hotel is a great option to stay in Memphis with affordable prices without sacrificing the quality.
They provide everything you need from fast WiFi to an outdoor pool to a delicious breakfast and nice rooms.
Also, they offer a shuttle to go to Graceland, and that is priceless!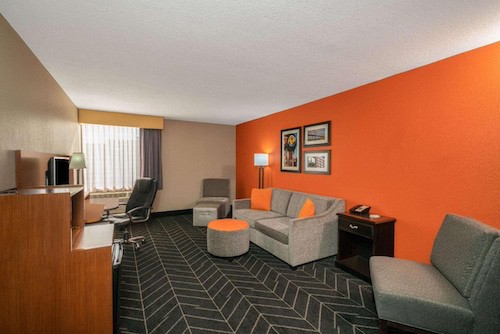 Where to Eat in Memphis
We ate at Gus's World Famous Fried Chicken, which is famous for its spicy fried chicken. This casual eatery is a popular spot, and we'd highly recommend it. Another fantastic option is Slider Inn Downtown, which (as the name suggests) is known for its delicious slider trios and fries!
Best Tours in Memphis
Things to do in Nashville
Around a 3-hour drive from Memphis, you'll find the state's capital city of Nashville. As such, it's a must for any Tennessee road trip!
Nashville is a vibrant and bustling city, most famous for its music and food scene. However, you'll also find fantastic culture, art, sports, and architecture here, so there's something for everyone.
Dubbed the 'Music City', this incredible destination is best explored by using the All-Access Pass, which allows you to choose six awesome attractions, as well as offering you six exclusive discounts.
Here's my list of the best things to do in Nashville!
Country Music Hall of Fame and Museum
The Country Music Hall of Fame is one of the largest museums in the world, so I'd recommend spending at least two hours here. But allow more time if you have it.
During your visit, you'll get to learn all about the history and culture of country music, visit world-class exhibitions, take part in some fun activities, and even listen to live music!
This is one of the best things to do in Nashville and, rightfully so, it gets very busy, and I recommend booking your tickets ahead of time.
The museum opens daily from 9.00 am to 5.00 pm and tickets only cost $27.95 – A bargain for such an experience!
National Museum of African American Music
Also known as NMAAM, this is the only museum of its kind in America. Focusing on the country's black music and the celebration of African-American artists, this is the perfect place to visit if you're a music lover.
The experience is extremely immersive and there are several fantastic galleries to explore, including the 'Rivers of Rhythm' and 'One Nation Under a Groove'.
Please make sure you watch the video to see Dave and I take part in a Gospel Choir and participate in a rap battle. Yes you read that correctly.
The national museum opens daily at 10.00 am until 5.00 pm (apart from weekends when they open at 12.00 pm) and the tickets cost $26.95 per person.
Nelson's Green Brier Distillery
Tennessee is home to several awesome distilleries, with Nelson's Brier Distillery being a popular option. In fact, it's home to the original 'Tennessee Whiskey' and is the most historic distillery in Nashville.
Distillery tours take place daily and last between 45-60 minutes. You'll get to walk through the production floor and try some premium whiskeys!
Marathon Motor Works & Marathon Village
If you have the time, I'd recommend heading to Marathon Motor Works and Marathon Village, right next door to Nelson's Green Brier Distillery.
Marathon Village is a collection of businesses housed in the buildings that were once home to Marathon Motor Works. And they all seem to have a boutique or crafts feel to them, along with a few distilleries.
Nearby, you'll find several restaurants and a variety of funky stores, which sell everything from vinyl records and Harley-Davidson apparel to clothing and jewellery.
Old Town Trolley Tours of Nashville
If you're looking for quirky things to do in Nashville, then go on an old-town trolley tour – trust me, you won't regret it. These tours have been operating since 1980 and you'll have a knowledgeable guide onboard as you head around the city.
Not to mention, these trolley tours offer unlimited hop-on & hop-off and plenty of stops! It's a great way to get a feel for Nashville, and make sure you plan which places you want to stop at.
Most of the things to do on this list are stops on the Trolley Tour, so make sure not to miss it!
The Parthenon
The Parthenon is something you certainly wouldn't expect to see in Nashville. As the centrepiece of Centennial Park, this iconic landmark will certainly remind you of Greece, as it's a full-size replica!
Aside from being an awesome spot to photograph, The Parthenon also acts as the city's art museum, so check out the exhibits during your time here.
Bicentennial Capitol Mall State Park
This state park is the perfect place to visit if you're looking to relax outdoors. There's a World War II memorial here, as well as the Bicentennial Carillon, which is worth a visit.
However, the highlight of this place has to be the awesome views of Capitol Hill and the Capitol building!
Downtown Broadway Nightlife
As Nashville is known as the 'Music City' it would be rude not to find some live music during your visit. Popular venues for this include Honky Tonk Central, The Stage on Broadway, Tootsies Orchid Lounge, and Robert's Western World.
Honestly, I'd be here all day naming the best spots as there are so many to choose from. I didn't want to love it, but my favourite bar was Kid Rock's Big Honky Tonk & Steakhouse, it just had my kind of music!
Take a Helicopter Tour Over Nashville Downtown
Get a bird's eye view of Nashville's skyline with a Downtown Helicopter Tour! If you're looking for a thrilling adventure, this tour is perfect for you.
From the State Capitol building to the Nissan Stadium, you'll fly over famous landmarks while enjoying the breathtaking views of Tennessee's rolling hills.
Have your cameras ready as we pass by the Parthenon at Centennial Park and the Ryman Auditorium, home to some of country music's biggest legends.
Of course, we couldn't forget about the Country Music Hall of Fame, Bridgestone Arena, and the AT&T building, which are all part of Nashville's rich history and vibrant culture.
All in all, when on a Tennessee road trip, it's hard to find a cooler activity to join!
Other Important Things to Do in Nashville
If you have more time in Nashville, then you won't run out of things to do. Other popular attractions in Tennessee's capital include the Nashville Zoo, the Grand Ole Opry, and the Belle Meade Historic Site & Winery.
There are several awesome museums to visit too including the Johnny Cash Museum, the Tennessee State Museum, and the Adventure Science Center.
Where to Stay in Nashville
There are many hotels worth staying at in Nashville, but here below are the best ones you'll want to consider for one night or more.
Luxury: Bobby Hotel
Centrally located in Nashville, Bobby Hotel is one of the best places to stay in town. Steps away from Broadway Street, they offer a rooftop pool and a lounge, as well as on-site restaurants and stunning rooms.
Talking about the rooms, all of them are spotless and modern, with a Smart TV and Netflix included.
All in all, one incredible hotel to spend the night at in Nashville.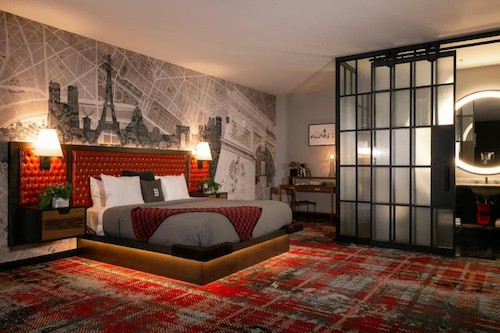 Mid-Range: The Gallatin
We stayed at The Gallatin Boutique Hotel that's located in the charming East Nashville neighbourhood. The rooms are spacious and cosy. Not to mention, The Gallatin plays an important role in giving back to the community, through a variety of local projects.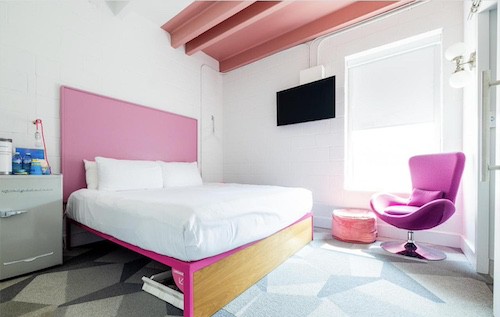 Budget: Sleep Inn Nashville Downtown Opryland Area
Featuring all the amenities you need on a holiday like an outdoor pool complimentary breakfast, cosy rooms, and great deals, Sleep Inn in Nashville is a great hotel to spend the night at!
All rooms are spotless, spacious enough for a few days in town, and you'll be near the major tourist attractions, which is a nice bonus.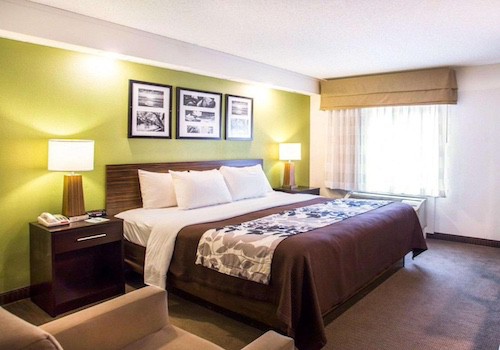 Where to Eat in Nashville
No trip to the city is complete without eating at Nashville Farmer's Market. Here, you'll find a variety of local eateries serving everything from tasty curries to ramen!
I'd also recommend Martin's Bar-B-Que Joint which is known for its classic BBQ dishes, taco trays, and scrumptious burgers.
Best Tours in Memphis
The Great Smoky Mountains
To round off the perfect Tennessee road trip, make sure you head to the Great Smoky Mountains. Located under an hour's drive from the city of Knoxville, this amazing destination is home to the most visited national park in the United States.
Covering an impressive 520,000 acres, the Great Smoky Mountain National Park features ancient mountains, Appalachian culture, and a wide variety of wildlife.
However, it's perhaps most famous for the iconic blue mist that seems to cover the valley. For the best experience in this national park (and surrounding area), take a look at my top things to do below!
Anakeesta, Gatlinburg
Anakeesta is an awesome mountaintop adventure park that's home to popular attractions such as the AnaVista Observation Tower, the Dueling Zipline, and the Rail Runner Mountain Coaster.
However, the Canopy Treetop Walkway has to be the highlight as it's North America's longest tree-based skywalk. If you're lucky, you might even get to spot a bear from here!
Skyland Ranch
Skyland Ranch is a quirky amusement park in Sevierville. It's set on a 100-acre farm and boasts exhilarating rides, fantastic eateries, shops, and live entertainment. You'll even find miniature animals on-site!
One of the best attractions has to be the Horizon Skyride which will take you to the top of Skyland Ranch, offering epic views of the Smoky Mountains.
There is also a fun mountain coaster to ride, and we meet a real legend; Gary Biscuit Davis who played banjo on tour with Dolly Parton for 5 years.
Zorbing at Outdoor Gravity Park
Outdoor Gravity Park is the United States' only zorbing park making it a must-visit. You'll be flying down a 1000-foot hill in an 11-foot huge inflatable ball, so what's not to love?
Better yet, there are three different tracks to choose from, and you can do this activity both in summer and winter.
Downtown Sevierville
While exploring the Smoky Mountains, make sure you head to Downtown Sevierville. Home to a variety of restaurants, boutiques, and stores, there's plenty to do.
I'd recommend heading to the Pines for some tasty food, delicious drinks, and games, such as bowling, Dutch shuffleboard, retro video games, and foosball. Don't miss out on seeing the Sevier County Courthouse either.
And don't miss the famous Dolly Parton statue, right outside Chancery Court Clerk & Master.
Last but not least, if you have more time available in town, I highly recommend booking a our to 3 Pigeon Forge Wineries with Tastings, as it's by far the best experience.
Hiking
If you're planning to include the Great Smoky Mountains on your Tennessee road trip (which you should), then make sure you hike to Rainbow Falls, which is a 2.7-mile (4 km) hike one way.
Other popular hikes within the national park include Alum Cave Bluffs, Andrews Bald, Charlie's Bunion, and the Chimney Tops.
You never know, you might be lucky enough to spot bear cubs!
Other Important Things to Do in the Great Smoky Mountains
While exploring the Smoky Mountains, I'd recommend spending some time wildlife-watching, as you've got a chance to spot bears, elk, and deer among other mammals, along with a variety of birdlife.
Guided horseback rides are another popular activity, and there are also 90 historic buildings found in the national park, including barns, churches, and schools.
Where to Stay in the Great Smoky Mountains
There are many hotels worth staying at in the Great Smoky Mountains, but here below are the best ones you'll want to consider for one night or more.
Luxury: Greystone Lodge on the River
Nestled in Gatlinburg near Ripley's Aquarium, Greystone Lodge has an outdoor pool free parking, a gym, and rooms that are to die for.
You'll find a beautiful bathroom as well as fast WiFi, a 24-hour front desk, and everything else you could ever need while enjoy the road trip in Tennessee.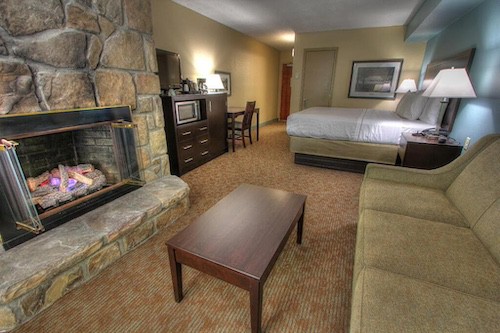 Mid-Range: Music Road Resort Hotel and Inn
On the hunt for an affordable property with beautiful views of the Smoky Mountains? Music Road Resort is a great choice.
All their rooms are clean and comfortable, they provide a microwave and a fridge, and even a coffee machine to wake up off the right foot.
They have an outdoor pool and a fitness centre to work out after exploring around, and a playground for children, and this is nice when travelling as a family.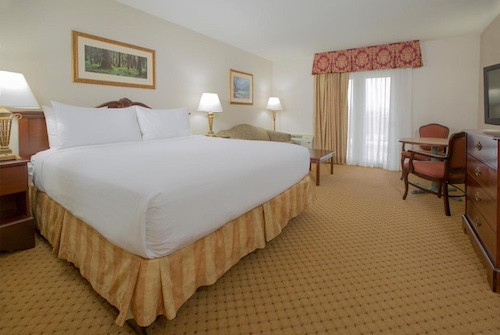 Budget: Mountain Aire Inn Sevierville
Mountain Aire Inn is another great property to stay at near the Great Smoky Mountains, with excellent deals, a free parking, a beautiful outdoor pool, and helpful staff.
While this is a 2-star hotel, you'll get great service in a nice area in Sevierville, all for less than $100 a night!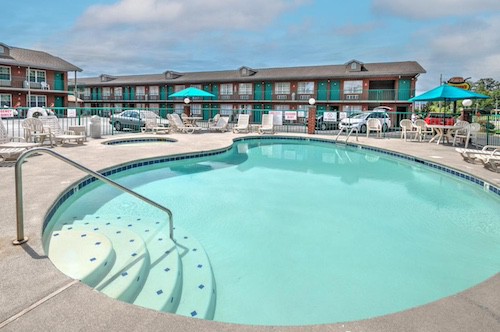 Where to Eat in the Great Smoky Mountains
The Appalachian is a popular eatery in Sevierville that offers an intimate dining experience and delicious Southern Appalachian cuisine. Although it only opened in 2021, this place quickly became one of Sevierville's best eateries, and it's not hard to see why with its farm-to-table approach.
We had a fantastic meal at the Chef's table, where you get a one-of-a-kind multi-course menu that you won't see anywhere else. This was truly an amazing culinary treat.
Just like that, our Tennessee Road Trip has come to its conclusion! As you can see, there are tons of awesome things to do in this state, from exploring bustling cities to admiring the beauty of the Great Smoky Mountains.
Conclusion
Have you ever been to Tennessee? If you have, I'd love to hear about the destinations you've visited and if there's anywhere else you'd add to this road trip. Don't hesitate to let me know in the comments below!