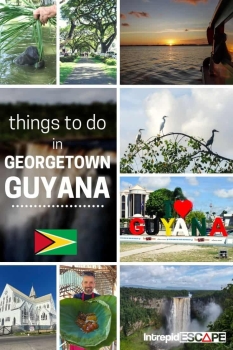 Every now and then I write about a destination in slight disbelief. Disbelief that I went there and explored these incredible destinations.
Guyana is one of those. I recently spent the best part of 2 weeks exploring Guyana. Starting and finishing in Georgetown, with a pretty hefty chunk of the trip in the Rupununi Savannah. Make sure you check out that article.
For now let's start with a brief intro to Guyana as a country, before I move on the all the fun things to do and places to see in Georgetown, Guyana.
What is Guyana known for?
Perched on the northern part of South America bordering Brazil, Venezuela, and Suriname, Guyana is one of the most offbeat destinations in South America. It's a great place to visit especially if you have an adventurous soul.
Besides being famed as the only English-speaking country on the continent, Guyana is also home to a some incredible and unique ecosystems and terrains – from highlands covered in pristine rainforests, to coastal plains and unique savannah, it's a destination that has it all.
Surprisingly, Guyana is still one of the least visited countries in South America, which means the country is a rare gem in a world that's struggling with over-tourism.
However, over the past decade, the country is slowly but surely gaining the attention it deserves, so if you enjoy visiting untapped destinations, it's time to pack your bags and get to Guyana before its unspoiled reality changes.
How to get to Guyana
The country is served by Cheddi Jagan International Airport (GEO) but there are no direct flights from London.
You can use the London Gatwick route which usually has a stopover in Trinidad and Tobago (at Port of Spain Airport) via the Caribbean Airlines.
However, the easiest and the most popular way to get to Guyana from the UK is flying to the US.
From London Heathrow to New York, JFK Airport, (or Miami), and then take a connecting flight to Georgetown.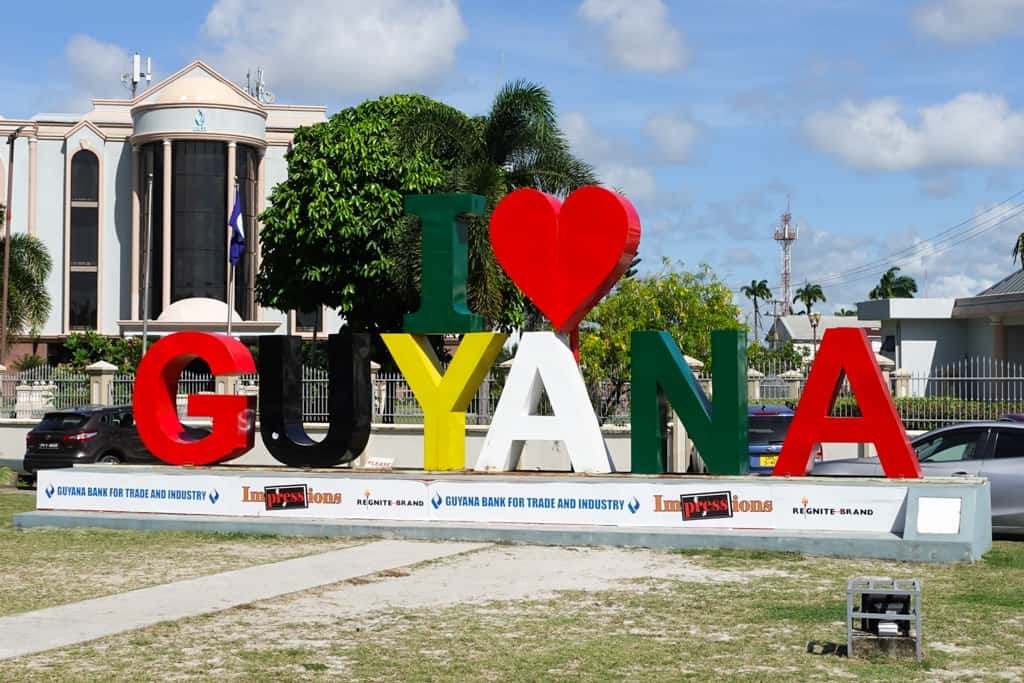 Things to do in Georgetown, Guyana
Explore the Markets
Bourda Market
Bordered by Regent Street on the south and Robb street on the North is the Bourda Market – the most popular and one of the busiest vending spots in Georgetown.
Here you'll discover some of the freshest and most exotic fruits as well as vegetables and it gives you a wholesome local shopping experience.
Not only will you enjoy shopping for local produce but you also get a chance to mingle and interact with the locals.
Plus, the vendors are super friendly and kind – it's not alien for the sellers to offer samples as you shop. And please make sure you see Buddy for a fresh coconut (pictured!).
Stabroek Market
Visiting this market is one of the best things to do in Guyana. Stabroek is another bustling local marketplace in the central area of Georgetown.
Dating back to the 17th century, this market is considered the largest in the country.
Aside from having a variety of fresh produce, the square is surrounded by some unique buildings imitating the Tudor architectural style that you can stand and marvel at.
It's also the starting point for the Demerara River cruise, a bit further down this list.
The Singing Chef & the 7 curries tour
Dining in the secret garden in the company of the Singing Chef Eon John and his wife Jessica, is probably one of the most authentic experiences you can have in Guyana.
Eon from Singing Chef Adventures is a multi-talented chef that has also had a marvellous career in the mainstream music industry.
In addition to sharing his love for music and food by preparing amazing Guyanese meals in their secret garden, you also get to explore some lesser-known parts of Guyana with this amazing couple.
You can chose just to eat in the garden, or do the full 7 curries tour (as we did). The tour starts with sourcing local ingredients from the Bourda Market. A great chance to connect with locals and see their way of life.
This was followed by a visit to Tony's Puri Shop where we would watch a demonstration of how the dhal puris are made. It was cooked right in front of us and we even had the chance to get involved.
After we picked our own waterlily leaf to eat from (be careful not to fall in the swamp as I did!), we headed to the secret garden for a masterclass in cooking and singing. Eon and Jessica are fantastic hosts, talking us through the entire process in their beautiful secret garden.
The 7 curries are a much loved traditional dish in Guyana, they are all vegetarian and I can hand on heart say they are some of the most flavoursome mouth-watering curries I've ever eaten! This is a must do for Georgetown.
Visit the St. George's Cathedral
Soaring to a height of 143 feet, St. George's Cathedral is one of the tallest wooden structures in the world.
But that's not the only thing that makes it intriguing – built in the 18th century, some hundred and something years ago, this white-coloured building has withstood the test of time and you can still explore, admire the architecture or even worship in the building!
The secret to the building's longevity is arguably the type of timber that was used in the construction of the cathedral, the Greenheart is a tree that's endemic to Guyana and the neighbouring Suriname.
The Greenheart, also known as Bebeeru, is a timber tree that's remarkably stiff, durable, and resistant to termites.
Visit the endangered Manatees
There are a couple of places to visit the endangered West Indian Manatees in Georgetown, either the Botanical Gardens or the National Park.
We visited the National Park, which is a lovely green space full of people exercising. The looped track is popular with runners, and we saw school children practising for a relay race.
But the main reason we went was to see the Manatees. There are couple of schemes in place to rescue manatees in Georgetown, and there are around 15 Manatees here.
You can just about see them shuffling around, but if you swish some grass around the top of the water, they usually come over. They are completely harmless and incredibly gentle, amazing creatures to see close up.
Take a Demerara river cruise
Cruising along the Demerara River is a must-do while in Guyana! And for sunset? Even better.
There are some amazing bird-watching opportunities here, you can regularly see Snail Kites, Herons and three kinds of Egrets. But the showstopper was the Scarlet Ibis, watching them as they fly across the sky and settle into the mangroves for the evening. Stunning.
You can also enjoy panoramic views of the Demerara Harbour Bridge, which has an intriguing history. It used to be the largest floating bridge in the world (total length 1851m).
The Harbour Bridge was commissioned in 1978 to link the west and east banks of the river and make transportation between the two areas easier and quicker.
Although this bridge was designed to serve these purposes for only a decade, it has withstood the test of time and it's still in use today, almost half a century later.
Make a point to hop on a cruise in late afternoons or early evening, after a long day of exploring to relax as you watch the world go by, and see the magical sunset over the fast-flowing waters of the Demerara River.
Explore the history of the city
It would be a pity to visit Guyana and not peruse the history of Georgetown! Like most things in Guyana, I recommend doing this on a tour.
Our trip and itinerary was planned by Wilderness Explorers, who are experts in Guyana and South America. Our guide Salvador was fantastic.
Georgetown was dubbed as the Garden City of the Caribbean thanks to its natural beauty and serene surroundings, it rose from a sleepy village in the 18th century when it became the capital of the colony of Demerara-Essequibo.
It was selected by Lieutenant-Colonel Kingston to be established as a town due to its strategic location, at the mouth of the Demerara River.
Today, you can still see the traces of the colonial ruling in the country imprinted especially on Dutch and English architecture.
Georgetown is Guyana's capital as well as the chief port with so much display of culture and history.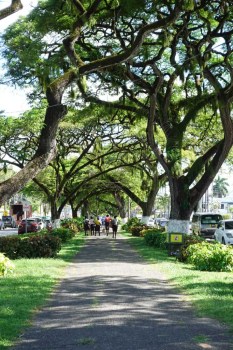 Walk the Promenade along Georgetown's Main Street
On a sunny afternoon, nothing beats a stroll along the streets of Georgetown. Be sure to take a leisurely walk along Main Street and Regent Street.
These streets are lined with charming colonial structures including some of the most significant buildings in the country such as the Public Library (formerly Carnegie Free Library) where you'll find loads of antiquarian books.
Along these streets, you'll also find the City Hall, a stunning piece of gothic-style architecture, the State House, which is the official residence of the president, and the Victoria Law Courts.
Fly to the Kaieteur Falls
Technically the only thing on this list not in Georgetown. I couldn't not include it. You absolutely cannot come to Guyana without taking a trip to the Kaieteur Falls.
The Kaieteur Falls is the trademark of Guyana, and for good reason; it's the largest single-drop waterfall in the world at 224 metres (741 feet). It's an absolutely breath-taking sight to see and feel the force of this waterfall.
This unique micro-climate is also home to golden frog, Kaieteur Swifts, Makonaima Birds or the beautifully orange 'Cock-of-the-rock'.
You can take flights from Georgetown, which typically stop for 3 hours so you can explore the falls. Or you can charter your own plane if there's enough of you. Nothing can quite prepare you for the first view of the waterfall from your tiny plane. Check out the video below.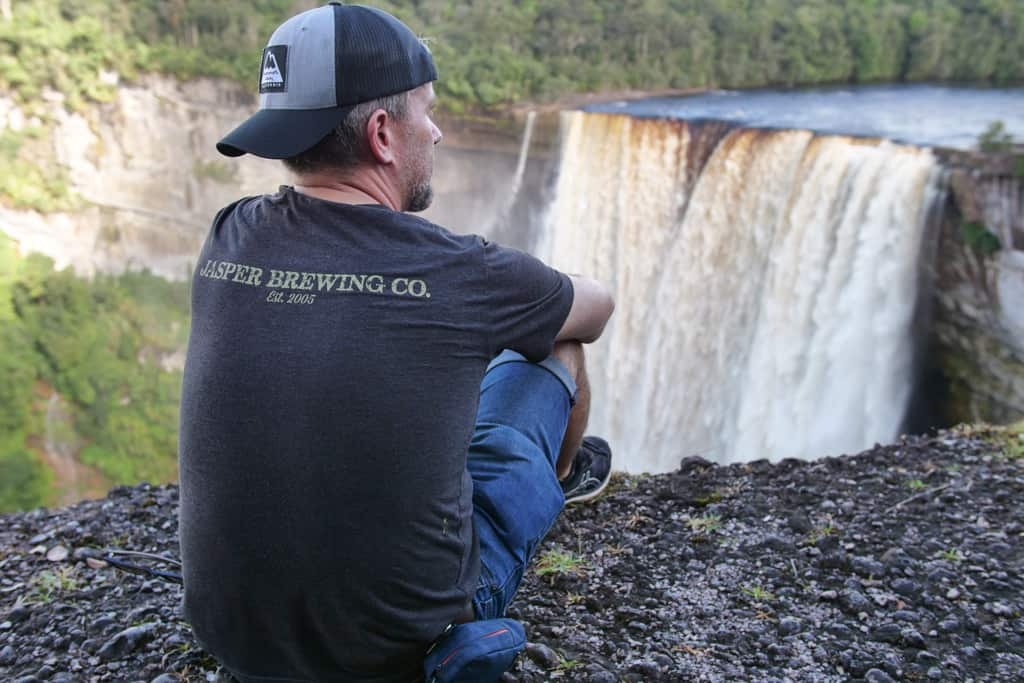 Georgetown nightlife
As is often the case, we didn't have loads of time to explore the nightlife in Georgetown, but from what I did see it looked like it had a real Caribbean vibe to it.
Rum-tasting
Okay for a start this is not strictly a night time activity, but it is something you'll become accustomed to in Guyana, they love their rum!
You'll see El Dorado rum everywhere, it's world famous and they are extremely proud of it here. It's (apparently won the best rum in the world award numerous times). You can go tasting at the distillery itself, where they have been producing since the 17th century. They also have an impressive sustainability pledge.
Alternatively the Cara Lodge Hotel offers rum tasting and a rum infused dinner menu! That was brilliant. You can taste the rum aged 12, 15 and 21 years sampling the differences. These are their sipping rums, drank more like a whisky. And they were delicious, I bought a selection from duty free to bring home.
Palm Court, Georgetown
Palm Court is one of the oldest and among the best upscale bar & restaurants where you can visit to enjoy the nightlife in Guyana.
It's located right at the heart of the city and its exterior is adorned by lots of palm trees that make the ambiance very cosy, especially at night.
They offer amazing food, drinks are reasonably priced and they always have a DJ that gives off relaxed vibes.
Ignite Bar & Grill/ poolside dining
This is another awesome place to visit for an evening out. It's part of Pegasus Hotel so it's great if you're looking for a fine dining experience and a great selection of drinks.
Ignite Bar & Grill is also a great place to enjoy music as you vibe to a combination of Indian, reggae, and Soca tunes.
Where to stay in Georgetown
Most of the accommodation here comes in the form of hotels, guesthouse and B&B's.
Rainforest B&B
Rainforest B&B is a beautiful guesthouse in the heart of colonial Queenstown (a great location for exploring). It's 10 minutes' walk to the centre of Georgetown and close to all the main things to do here.
I loved staying here, what a quirky place run by an amazing woman called Syeada who rescues and rehomes a variety of pets in her spare time. Including a number of dogs and tortoises that live onsite. So you must like dogs to stay here (they are all so sweet and very friendly).
I am sure you will get a tour of the property, but make sure you spend some time in the stunning gardens.
Cara Lodge Hotel
One of the oldest and grandest buildings in Georgetown, Cara Lodge Hotel is a heritage house and has that boutique hotel feel to it. It was built in the 1840s, and has had a fair few dignitaries visit in its time including HRH Prince Charles and Mick Jagger.
The rooms are modern and spacious, with really comfortable beds! The onsite restaurant is also really good, and this is where we had the rum-tasting and rum menu.
So that rounds off my experience and things to do in Georgetown. What would you add to the list? Have you been yet? Please let me know in the comments below.
This article was supported by the Guyana Tourism Authority, but all thoughts and opinions are my own. And if you couldn't tell, I loved this trip!