Newquay has built a reputation as one of England's finest surfing and beach holiday destinations. Situated on Cornwall's Atlantic Coast, its equally famous as a Stag and Hen Town, and this is the very reason I was there. It was also a great opportunity to tick off a life-long Bucket List item of learning to surf! Our Stag party however had a subtle difference to the Sambuca for breakfast culture you might expect from a British Stag do. Our Stag doesn't drink, so we were determined to focus more on activities, beach life, sunsets, fine food and a glass of Rosé (Yes, Rosé).

Lusty Glaze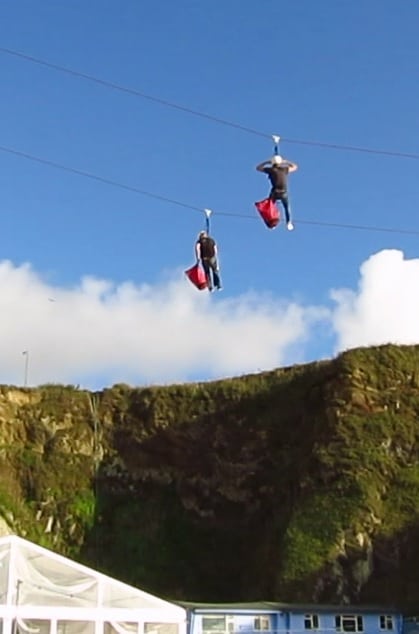 [dropcap]T[/dropcap]he weekend started at the beautiful Lusty Glaze beach. Situated on the outskirts of Newquay Lusty Glaze is a beautiful sandy horseshoe shaped cove surrounded by high cliffs. Like most beaches on the Atlantic Coast in Cornwall its well know for its surf, but on top of this there's a selection of other activities, such as tight roping, abseiling and even dodgeball. We opted for our stag to arrive in style on the zip line that runs from the top of the cliff down to the beach, where he was greeted by the 10 of us, beers in hand.
As a group we immediately warmed to Lusty Glaze, welcoming staff and a relaxed atmosphere in the restaurant made us feel right at home. Its a venue becoming increasingly known for its gigs, regularly showcasing talented young artists performing a mixture of chilled and indie acoustic sets on both of the nights we were there. We could have easily been watching the UK's next Ed Sheeran. Then on the Sunday Ocean Colour Scene performed to a sold out beach. I couldn't think of a better setting to watch one of my favourite childhood indie bands. My photo is a typical Lusty Glaze sunset, as you can imagine it makes for a great wedding venue, romantic getaway or corporate team building event.

Surf School
[dropcap]O[/dropcap]ur first day saw us head to Mawgan Porth beach, 5 miles north of Newquay, for our surfing lesson with King Surf located in Betty's Surf Shop right on the main road. The beach is known for its swells and is a great place for beginner surfers and families alike. On the journey there one of the guys described his encounter with a Weever Fish last time he surfed, he said it was excruciating pain and the worst he'd ever experienced. So with the threat of Weever Fish on the increase, most of the group decided to get some surf boots for £10 in Betty's, which offer the desired rubber soled protection. I took the advice of our instructor Damo who said it was 'highly unlikely' and there were guys that surfed Mawgan Porth everyday and have never been stung, so I chose to save a tenner…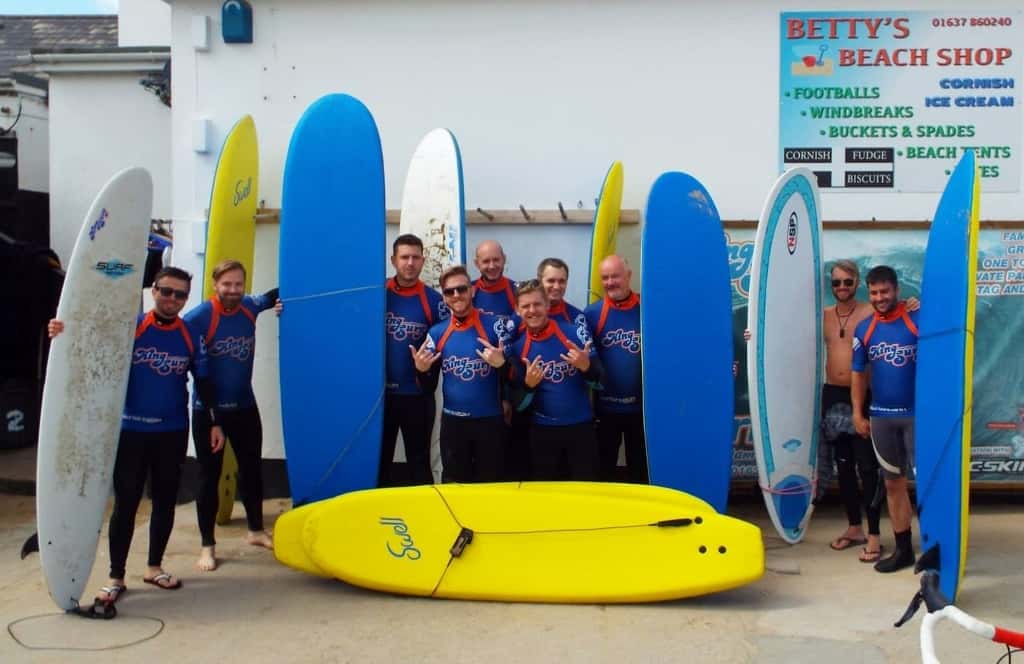 So began our 2.5 hour group lesson which involved 30 minutes on the beach talking through some useful tips to get us standing, and the rest of the time on the water. And I must admit there were some hints that were priceless when we got out there, as for the waves they were the perfect level for beginners. It wasn't long before I'd hit my first wave and spent about 3 seconds on my feet! The biggest rush, whether you stand up or not, is when the wave catches you and sweeps you past your struggling mates back to shore. I could immediately appreciate the addictive nature of surfing. All going well so far, and my fitness was helping me catch more waves than my hung-over mates.
Now, before I explain what happened next I must first explain my surfing jinx up to this point in my life. About 10 years ago I went on a surfing holiday to Biarritz (France), after half an hour we decided the waves were too rough for beginners so we played beach football and I broke my big toe. No more surfing that week. Then 3 years ago in Fiji I booked a surf lesson for the following day, and during a friendly volleyball match a huge Fijian local smashed a winner down and landed on my foot, resulting in a Beckham/Rooney-esque broken metatarsal, and then an infection to boot.
 Weever Fish
[dropcap]S[/dropcap]o to get to the point where I had stood up several times, was me winning, at this point it didn't matter if the jinx struck. But then it did, with a vengeance, in the form of the evil Weever Fish. At first you just think you've stood on a rock, but there aren't any in Newquay, its pure sand. It was only because of the aforementioned story that I realised pretty quickly what had happened. The pain sets in rapidly, so I made it to shore and spoke to the instructor. Your first and only aim is to get your foot in red hot water, as hot as you can stand, as the poison is protein based and its destroyed by heat. The symptoms vary but involve a red, inflamed and swollen area with excruciating pain, as described here. This link also explains that "life guards will be trained to deal with Weever Fish stings". Not here, not on Mawgan Porth beach, the lifeguards here are about as useful as a chocolate teapot. So began the longest 20 minute walk of my life, 'excruciating' is an understatement. But its not until you sit and wait for the kettle to boil that it really sets in, when you can't focus on anything else but the pain, that's when a grown man nearly cries. Nearly. Slowly though the pain does subside, and I'd like to thank the staff at Betty's for their help and sympathy. Something I didn't necessarily find from Tracey at Lusty Glaze
"I've got some pills for Weever Fish stings… they're called man the f*** up pills!" Tracey at Lusty Glaze
 Newquay Nightlife
[dropcap]F[/dropcap]inally when it comes to the nightlife I'm sure you'll find plenty of reviews of the bars and clubs in Newquay, personally the bars weren't for me, ironically we found they were ruined by pissed up stag do's! Nonetheless we did have a great time in Bertie's Nightclub which had the DJ and atmosphere we were after.
To sum up my first visit to Newquay, I can't express how much there is to do here. Many young groups make an annual road trip for the nightlife, and that's all they see apart from a hungover visit to the beach. Don't make that mistake. I was stunned at how beautiful this part of England is, the beaches are perfect, and you couldn't do everything in Newquay if you were here all summer. My plan is to come back in a VW Transporter, with my own board (and surf boots!), practise my surfing and try to experience all Newquay has to offer, I'm just praying for another summer as hot as this one.
Scottie suggests
Quad biking – for an adrenaline fuelled day out, we went Quad Biking at ATV Motor Sports Centre, a brilliant day if your group can get through it without serious injury. This is not for the faint hearted!
More Photos