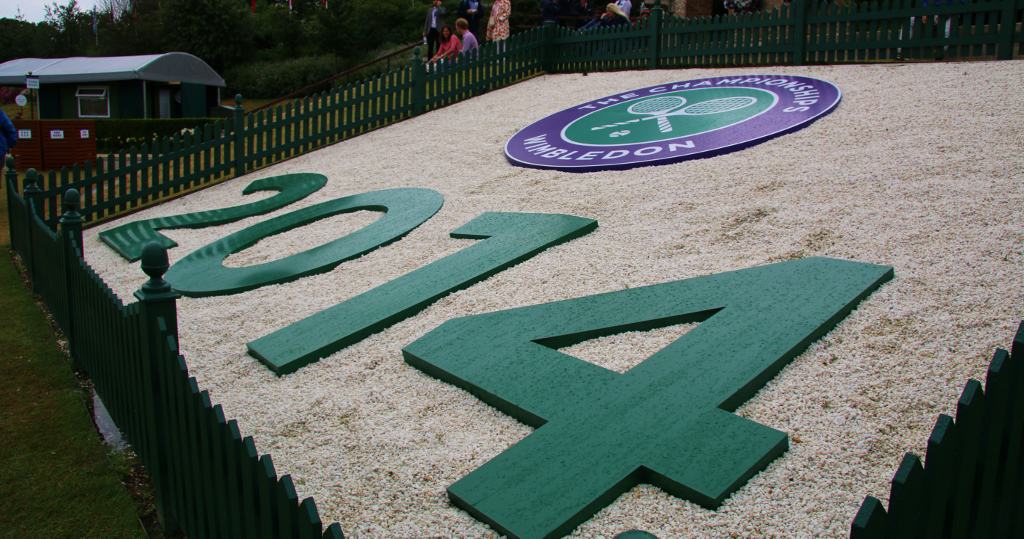 Watching a Championship final on Centre Court at Wimbledon All England Lawn Tennis Club is definitely something to tick off the Bucket List. Tennis doesn't get much better than this, Wimbledon Centre Court has been graced by the finest tennis players to have ever picked up a racket, and its deep history and tradition make it a the pinnacle for any fan of the game.
Personally I've always loved playing and watching tennis, growing up with the likes of Boris Becker and Andre Agassi, then following British interest with Tim Henman and more recently Andy Murray. I've been lucky enough to go to Wimbledon a couple of times through my British Tennis Membership, but never centre court and never a Championship Final. And it was immediately apparent that this is no ordinary venue, right from when you walk through the gates there is a special 'feel' to Wimbledon. We (myself and Miss Barlow) had a chance to soak up the atmosphere before Centre Court play started by watching Andrew Castle warming up for his invitational doubles match on Court One. I recognised his voice from BBC commentary before I saw him hit a ball! We followed this with a fiercely contested Boys Junior Singles Semi-final on Court Three between Stefan Kozlov (USA) and Johan Tatlot (France) with Kozlov triumphing 6-3, 7-6.
Ladies Championship
[dropcap]I[/dropcap]t's not until you find your seats on Centre Court that you first get a feel for how special Centre Court is, as the ground fills to its 15,000 capacity the anticipation builds with the sight of Sue Barker, Lindsay Davenport and Martina Navratilova discussing the game ahead. The court itself doesn't have many bad seats, you get a great view from everywhere, no matter how far back in the stands you are. The first game in the order of play was the Women's Championship Final between Petra Kvitova (Czech) and Eugenie Bouchard (Canada).
Bouchard, seeded 13th, is the first Canadian to make it to a Grand Slam final and the underdog coming into the match, however having not dropped a single set in any of her previous rounds, and taking down the likes of Angelique Kerber and Simona Halep the 9th and 3rd seeds respectively, she's having the tournament of her life. Petra Kvitova on the other hand has been here before, when the 2011 Champion is on her game she is considered somewhat unbeatable. But she hasn't seen a Grand Slam final since that victory, when she defeated Maria Sharipova.
It was clear from the very first ball that Kvitova wasn't going to take this opportunity lightly. She put huge pressure on Bouchard's serve and gave the 20 year old from Montreal no time to settle into her game. This was very much the story of the first set, Kvitova breaking Bouchard's serve 4 times and winning 6-3. Bouchard still had the Wimbledon crowd on her side, either because we love an underdog, or because we see the raw talent and bright future of the Canadian. And she's pretty. However the Wimbledon crowd couldn't inspire her to victory, and Kvitova went on to dominate the second set, with huge serves reaching 113mph. Her relentless pressure and incisive winners were too much for Bouchard to handle on her first Grand Slam final and Kvitova was victorious 6-0 in the second set and crowned Wimbledon Champion for the second time in her career, after just 54 minutes. The superb Wimbledon ceremonies began with ball boys and girls creating a guard of honour, trophy presentations and the customary interview with Sue Barker, where you really get a sense of how much it means to Kvitova to be crowned Wimbledon Champion again.

Doubles Finals
[dropcap]T[/dropcap]he highlight of the day for me was the Men's Doubles Final, which followed on from the Woman's Doubles Final which saw top seeds Errani & Vinci (Italy) defeat 14th seeds Babos and Mlandenovic from Hungary 6-2, 6-3 in 56 minutes. The reason the Men's Final was my highlight was because it was an epic 5-set underdog story which is what Wimbledon is all about.
Centre Court favourites and American's Bob and Mike Bryan, legends in the Men's Doubles arena, were looking for their 16th Grand Slam title, and playing American Jack Sock and Canadian Vasek Posppisil ranked 99 and 94 in the world double's rankings. Having only entered a few days before the draw, it was surprising they even made it this far. As far as the tennis was concerned, there was nothing between the pairs, with the first two sets going to tie-breaks and some breath-taking rallies. The kind of rallies that make double's tennis so brilliant, sometimes the point just never ends. Sock and Posppisil eventually held their nerve and triumphed 7-6 (7-5) 6-7 (3-7) 6-4 3-6 7-5 in just over 3 hours, a match that went on late into Saturday night that we quite simply didn't want to end. At 24 and 21 years, you'll hear plenty more from this USA/Canadian duo in the future.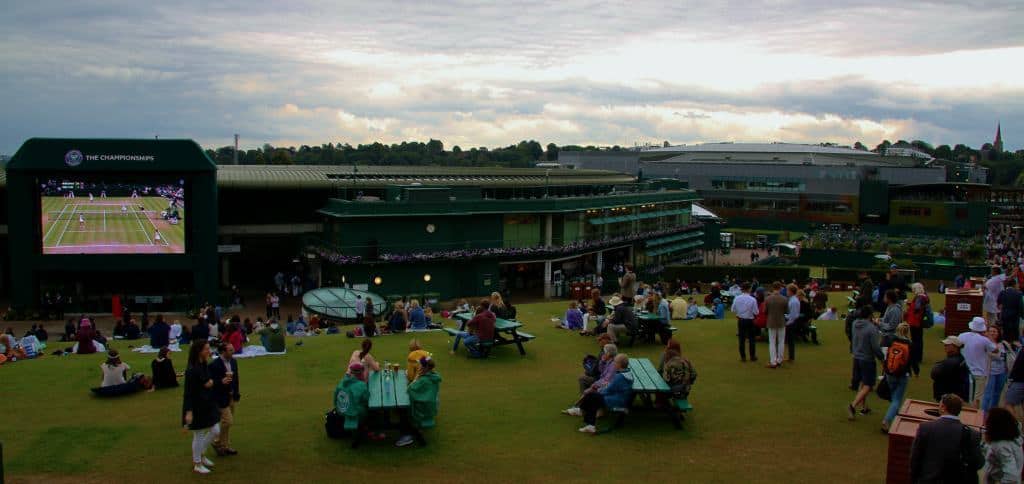 Practical Advice
[dropcap]T[/dropcap]raffic in London is always a problem, so public transport is definitely recommended. Both Southfields and Wimbledon Park underground stations are within walking distance if you are coming from or via London, and can be accessed by the District Line. Arriving by car we opted to drive to a train station outside of London and get a Train to Wimbledon, which is 15 minutes walk from the grounds, or for £5 return there are buses to shorten the trip. There are however a number of official and unofficial car parks from £20 very close to the grounds, and the traffic in Wimbledon itself didn't seem too bad, and after a long day I would have loved to have jumped straight into the car, but the roads are a gamble so who knows if it would have saved any time. For more information visit the TFL Journey Planner
Getting tickets for Wimbledon show courts is not easy, I've been a British Tennis Member at the LTA my whole life, each year you get entered into the ballot and I have never before won any tickets. Family members have, but not Championship Final day, so we were very lucky. For more information visit the LTA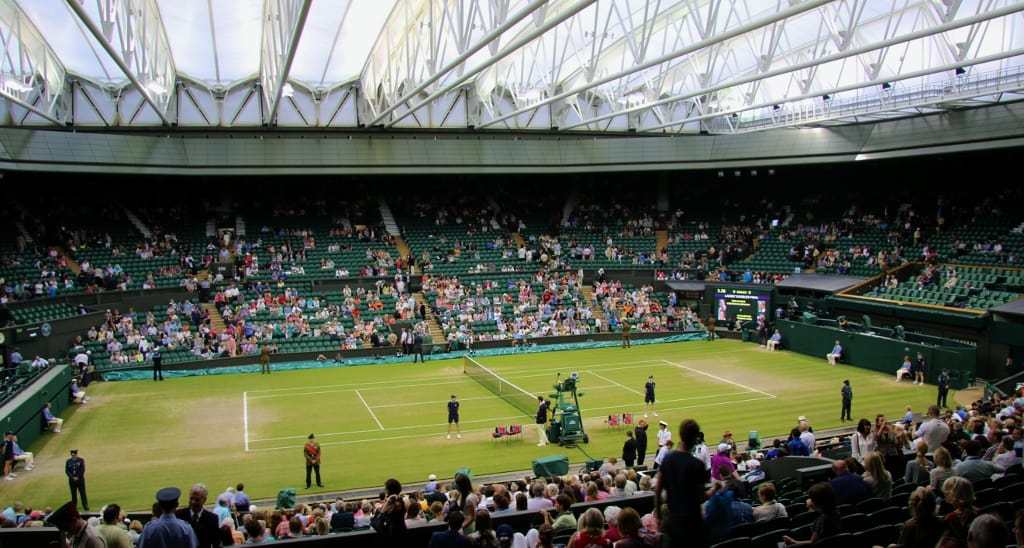 One of Britain's finest sporting venues, Wimbledon does not disappoint, there's a reason why fans sleep over night just for General Admission tickets, these tickets alone are worth every penny to soak up the atmosphere and catch the tennis on the outside courts. Or watch the action with a picnic on Henman Hill (or Murray Mountain). The tradition is what makes Wimbledon, not the Pimm's and Strawberries posh vibe, but the refusal to allow advertising and ensuring all players are dressed in white. Its not snobby, its great tradition and I love it. There will always be the posh crowd, and they make Wimbledon what it is. Its no bad thing, but just be ready for it! Its a place of great tradition, history and values. There is a certain 'way things are done' and that makes Wimbledon what it is.