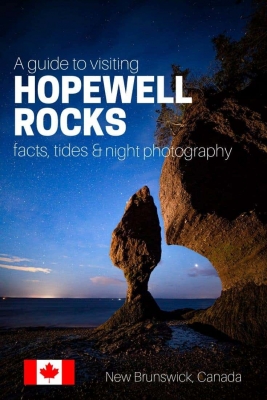 Post updated for 2023 travel! Hopewell Rocks is one of those iconic places that I've dreamt about visiting for many years. After seeing photos of it in newspapers, magazines and Instagram.
I kept saving it as a "favourite" time and time again or flagging it as a must visit on Google Maps. So it's no surprise it features heavily in my recent road trip article about New Brunswick and the Bay of Fundy.
And it wasn't just the rocks that I found fascinating, it's the whole area of the Bay of Fundy and the incredible high and low tides. It's for that reason I decided to dedicate an entire post about it, a guide to visiting Hopewell Rocks.
I wrote this article to attempt to explain the phenomenon (as best I can). And provide a guide to visiting, how to get there, how much it costs, or kayaking around the rocks. And finally, one of the top experiences, the Night Photography shoot we did of the rocks at night, which gave us a new perspective and appreciation for the area.
What is special about the Bay of Fundy Tides?
The Bay of Fundy is a huge area of water on the Atlantic Coast of Canada sandwiched between the provinces of Nova Scotia and New Brunswick.
The Bay of Fundy is home to the world's highest tides. The highest recorded tidal difference of over 16 metres (53 feet) in the upper reaches of the Bay. Now, just think about that for a second, that's as high as a 3-story building. It's mind-blowing.
Why are the Bay of Fundy tides so high?
Tidal changes around the earth are caused by the gravitational pull of the moon and the sun on the earth. But there are a few factors that contribute to the Bay of Fundy's extreme tides. Firstly, a naturally occurring slow-moving wave or "seiche", is amplified by the enormous tidal swell of water flooding into the bay every 12 hours. The second is the shape of the bay which is like a huge funnel, causing the tide to rise progressively higher as it courses in, and forcing rivers to run upstream.
Hopewell Rocks
These unique tides have carved a dramatic coastline all along the Bay of Fundy, from hidden caves, sandstone statues, fossil filled beaches and crazy rock formations. Hopewell Rocks is the latter!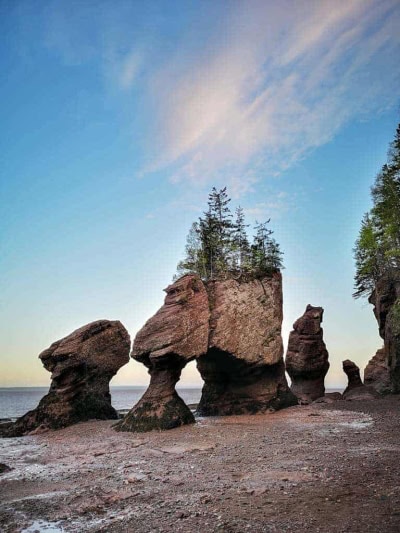 When should I visit Hopewell Rocks?
Firstly, I suggest you visit Hopewell Rocks at high tide and low tide. Your pass will give you entrance for two consecutive days so you can come back at your convenience. Or why not stay and watch the tide change from start to finish? It's only around 6 hours to wait!
Can I walk on the sea floor at Hopewell Rocks?
At low tide you can walk all around the rocks, getting a real feel for how immense they are. You can also walk down to and along the beach, there are several other interesting rock formations and if you are lucky, you'll spot nesting Peregrine Falcons. So, no flying a drone around here, in fact it's banned in all of Canada's national parks.
Is it worth seeing Hopewell Rocks?
Yes absolutely! The whole area is stunning, you'll also want to take your time here. It has several interesting information boards explaining the geology of the area, as well as a learning centre, gift shop and café. As I mentioned, I also recommend a visit at high and low tide.
Hopewell Rocks Facts
Largest recorded tidal change: 16 metres (50 feet)
Time span between high and low tide: 6 hours 13 minutes
Tide rise per hour: 4 – 6 feet (1.5 to 2 metres)
160 billion tonnes of water flow into the bay twice daily
Kayaking at Hopewell Rocks
By far one of the best adventures I have had in New Brunswick and the Bay of Fundy is kayaking at Hopewell Rocks. For me, this is the best way to see the 'Flowerpot' Rocks close up, and paddle through Lover's Arch.
Can you kayak at Hopewell Rocks?
The short answer is YES! Kayaking can be done at Hopewell Rocks at all different times of day, but only at high tide, where there is enough depth to paddle up and around the rocks. The tour will be finished by low tide.
Can you kayak at Sunset at Hopewell Rocks?
Yes you can. This was one of the most memorable tours I've had in Canada. We paddled along the coast, to the flowerpot rocks and through Lover's Arch. Before heading further down the Bay of Fundy for sunset. And we even saw the incredible Peregrine Falcons. You can see this experience best in my video below.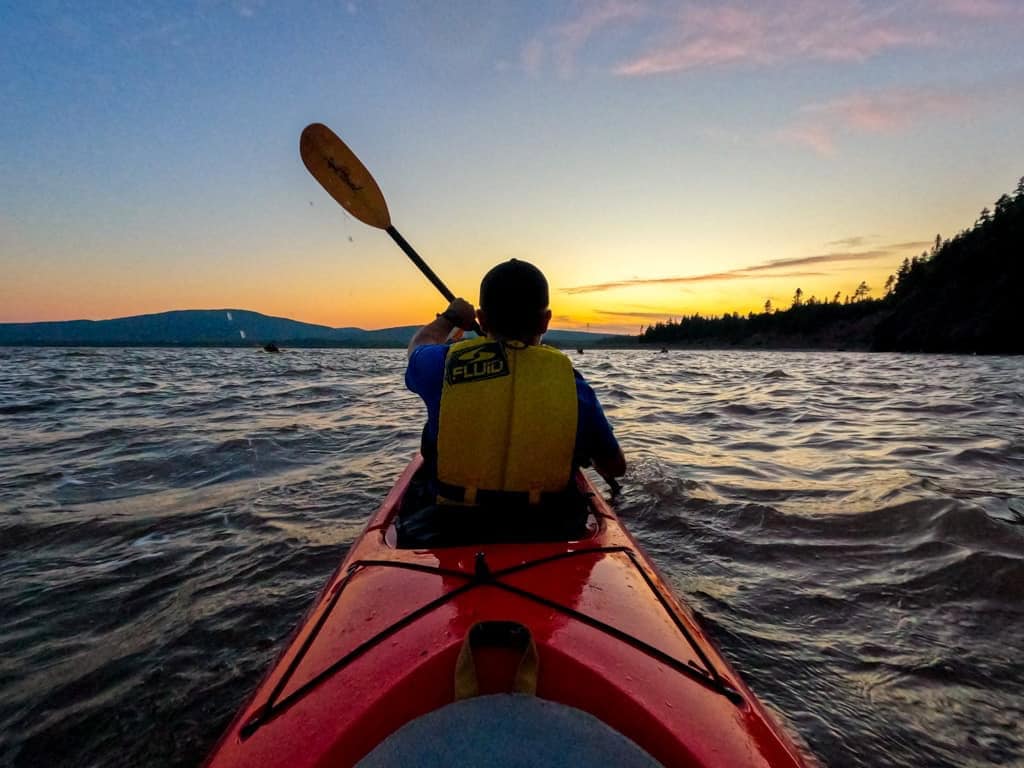 Guided Kayaking Tours start at $69 for adult and last 1.5 – 2 hours.
Hopewell Rocks Video
Hopewell Rocks Night Photography
By far one of the stand-out experiences of this trip was a visit to Hopewell Rocks at night. As the park is closed, this is a guided tour by park expert and local photographer Kevin Snair. The tour was amazing.
2022/2023 update: Sadly, this tour no longer runs, but this does not mean you can't go and take some spectacular photos at night. But you will need to stay in the viewing bays, as travelling along the beach is dangerous as the tides change so quickly.
I was going to remove this section, but as it's possible someone else will run the tour someday, I've left my experience below.
Kevin met us before night fall and took us on a walk along the beach, explaining many of the facts and telling stories about some of the sights he's seen; from meteor showers to the Northern Lights show. We walked along to the furthest point on the beach, where Kevin pointed out some of the spots where the tide cuts you off. In effect, there are rocks where once the tide reaches it, you only have 10 minutes to head back!
It was here Kevin explains some of the process for capturing the best night photos, and some basic knowledge about photography. But don't be concerned if you are a photography newbie, to be honest even your phone will capture a nice shot these days. But you must have a tripod. To get the most out of the experience, you really need a DSLR or mirrorless camera. Or at very minimum something that you can switch to manual and place on a tripod.
As you learn the processes even a seasoned pro will pick up some tips from Kevin. Capturing the rocks with the stars behind it is an artform. He also lets us in on a few of the trade secrets, including bringing along a couple of spotlights to light up the rocks. Once you are back at the main 'Flowerpot' rocks, you really get a sense of the speed the tide moves. At night it's particularly eerie. I desperately wanted to feature myself in a photo, and with a 30+ second shutter speed the tide was quite literally coming in around me at I stood still for the photo. But check out the results below. The photos speak for themselves.
Make sure you bring: A DSLR camera, wide angle lens (if possible), tripod, warm clothes, a torch, boots or wellies and a flask of tea or coffee.
Planning Your Visit to Hopewell Rocks
Hopewell Rocks is a 40-minute drive from Moncton. We flew into Moncton and out of Saint John, hiring a car and driving a fantastic A to B road trip along the Bay of Fundy. From the UK there are regular flights to New Brunswick via Toronto with Air Canada. Hopewell Rocks is also only two-hours' drive from Halifax, Nova Scotia.
Before your visit make sure to check the season and opening times. The park and facilities are open from May to October, and whilst the park is accessible during the winter season it is at your own risk and not advised. In peak season the park is open from 8am to 8pm.
The next thing to check is the tides, to plan your visit around high or low tide. As I mentioned earlier, I recommend both. The ocean floor access time changes daily, often it is accessible in the morning but some days it's not for long, so you'll need to plan around this.
Kayaking is available in peak months from June to September and only at high tide, and start at $65.
Entry to Hopewell Rocks start at $10 for an adult ticket and include access for two consecutive days. Frequent visitors can benefit from a season pass at $35, or $85 for a family.
Other Must-See Examples of the Bay of Fundy tides
All along the New Brunswick side of the Bay of Fundy there are amazing examples of the impact these tides have. I've just focused on Hopewell Rocks here. However, there are 3 other examples I urge you to go and see.
Reversing Falls Rapids
Firstly, the Reversing Falls Rapids at Saint John. The falls are part of the Stonehammer UNESCO Geopark, and the point where two ancient continents collide. As the tide ebbs and flows, the rapids are created due to the force of the river against the forces of the tide. The river even flows upstream in high tide! There is an amazing video explaining the geology of the area and the tides at the Saint John Sky Walk. A must-see.
Old Sow Whirlpool
Next up is the Fundy Old Sow Whirlpool, the largest whirlpool in the Western Hemisphere. The whirlpool is caused by the extreme tidal exchange between the Bay of Fundy and Passamaquoddy Bay. It can be seen on most boat trips from St Andrews and Whale watching experiences, so make sure you check it out.
St Martins Sea Caves
My final must-see are the St Martins Sea Caves. You can access these on foot at low tide and walk right up to them. And like Hopewell Rocks, when the tide comes in, they can be viewed by kayak. Doing both just gives you the perspective of how enormous the tides are, and I fully recommend it.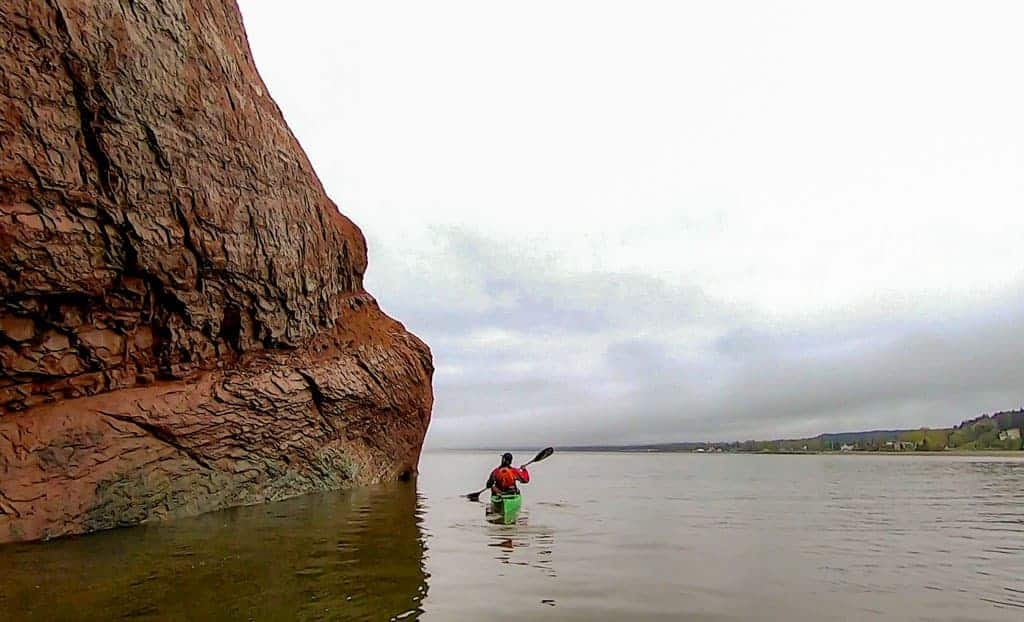 In terms of what to see in New Brunswick, I've just cherry picked a few. Look out for the next article, 10 things you Must Do in New Brunswick where I'll detail a few more. If you want to read more about the exact itinerary we followed, take a look at New Brunswick and the Bay of Fundy.
*My trip to New Brunswick was sponsored by New Brunswick Tourism. Nonetheless, the photos, video and opinions are all my own (as always). And honestly, Hopewell Rocks was one of those places on my bucket list and it didn't disappoint.
*Please note all prices quoted are not inclusive of Tax & true at the time of writing