Its great to see so many people looking to use their hard earned holidays in the UK. With Staycations and long weekends becoming the go to for searching on our homeland.
It will come as no surprise then that Cornwall is among the tops places we are looking for, so I've put together a few unique Cornwall Holidays and Cabins in Cornwall. You could also call these glamping spots in Cornwall. And the best part, they all have sea views.
Where is Cornwall?
Approximately 250 miles from London in a pretty remote part in the far southwest of England, Cornwall is a fascinating destination boasting some of the most dramatic and finest scenery in England.
Did you know Cornwall is also known as Kernow?
It's almost completely surrounded by the sea – it's bordered to the south by the English Channel, to the west and north by the Atlantic Ocean, and to the east by River Tamar which forms most of the border between Cornwall and Devon.
This made it easier to find those sea views!
Why holiday in Cornwall?
Charming fishing towns, quaint hamlets, and one of the longest coastlines in the UK, there are a thousand and one reasons to holiday in Cornwall. Maybe it's easier to ask why not holiday in Cornwall?
Beaches
Cornwall beaches are renowned the world over thanks to their clear waters, deserted coves, and thriving surf scene. The county boasts over 250 miles of coastline, with over 300 beaches to offer which means beach bums will be spoilt for choice.
Some of the best beaches here include Porthcurno in West Cornwall, Kynance Cove in the Lizard Peninsula, and Crantock Beach in North Cornwall.
In addition to beautiful pristine beaches, Cornwall is also one of the warmest counties in the UK which makes it an excellent beach vacation destination for most of the year.
Castles and heritage
Cornwall has a lot of different castles and citadels built for different purposes over the years – some are defensive structures while others are 13th-century settlements.
So if you're a lover of history or an architecture admirer, you'll have a lot of sites to add to your bucket list.
A great place to start is Pendennis Castle which was built in the 16th century by Henry VIII and played a major role in defending the entryway to Cornwall during both World Wars.
Another defensive structure that was built by Henry VIII is St Mawes Castle.
Scenic Railways
Cornwall boasts some of the most scenic rail lines in the UK. It has five main picturesque train lines weaving through the countryside and along the coast. Riding on the train in Cornwall is one of the most unique ways you can explore the county.
The railway lines are; the Looe Valley line, the Atlantic Coast line, the Marinetime line, the Tamar River line, and the St Ives Bay line.
Nature
Scenic cliff tops, lush countryside, rich wildlife, and diverse trails converge in Cornwall to make it one of the best places to visit for nature.
Lost Gardens of Heligan, St Nectan's Glen, and Deerpark are all viable choices for nature adventures.
Unbeatable food scene
Cornwall is also famed for its mushrooming food scene with top-tier restaurants and award-winning chefs making the county their residence.
Cornwall is also home to a profusion of fresh seasonal produce – fresh seafood, organic small-farm reared meat, and farm-grown veggies.
Whether you have a special diet or you're just a bit conscious about what you eat, you'll get a lot of farm-to-table eateries and organic markets that will help you keep up with your healthy eating habits.
5 Amazing Huts and Cabins in Cornwall
Here is a list of 5 amazing huts that will make your Cornwall staycations unforgettable;
Lynher Hut
Lynher Hut is a stunningly designed shepherd hut that offers the perfect glamping in Cornwall with sea views.
Located approximately 1.7 miles from the center of Torpoint, Lynher Hut is a rural haven set within the lush 865-acre Mount Edgcumbe Park and overlooking the sea.
Right beside this shepherd hut, there's a kitchen pod that's fitted with all kitchen essentials which makes it easy for you to make your favourite dishes right outside in nature.
There's also a BBQ area and outside furniture where you can chill and stargaze after a day of activities. The shower room and bathroom block are just a few meters away from the hut.
Lynher has two single bunks, and a double fold-out bed, so it can comfortably accommodate four people making it a fantastic choice for a couple or a small family.
The hut is just a short stroll from the twin seafront villages of Cawsand and Kingsand.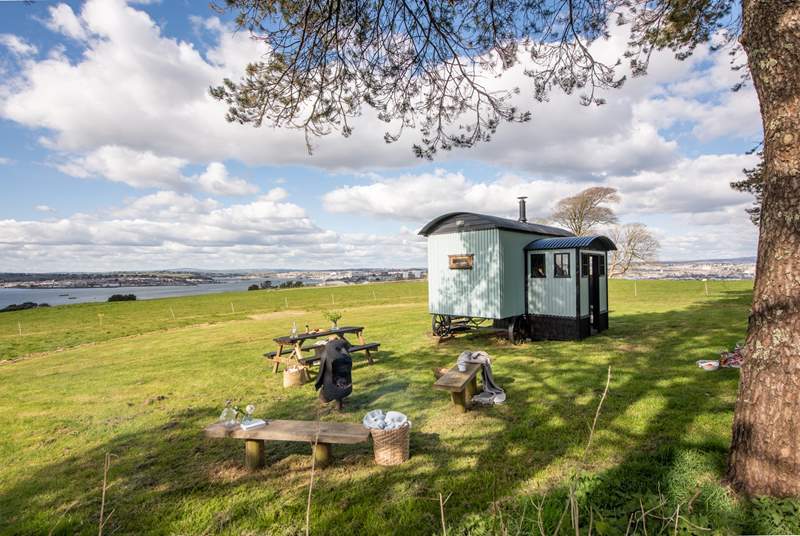 Gull Rock Cabin
If you're looking for a glamping experience with a little touch of luxury then you should try Gull Rock Cabin – it's hands down one of the best cabins in Cornwall. The cabin is set in a glorious secluded location facing Mount's Bay and offering breath-taking views of the ocean.
Gull Rock boasts an open-plan living space and it's fully equipped with everything you'll need for a self-catered escape. The kitchen is fitted with a microwave, oven, hob, fridge and even a washing machine.
There's a beautiful front door verandah where you can sit to enjoy the relaxing ambiance and watch the sunset.
It accommodates two people and the best part is that Gull Rock Cabin is dog friendly, so you're free to tag your furry friend along.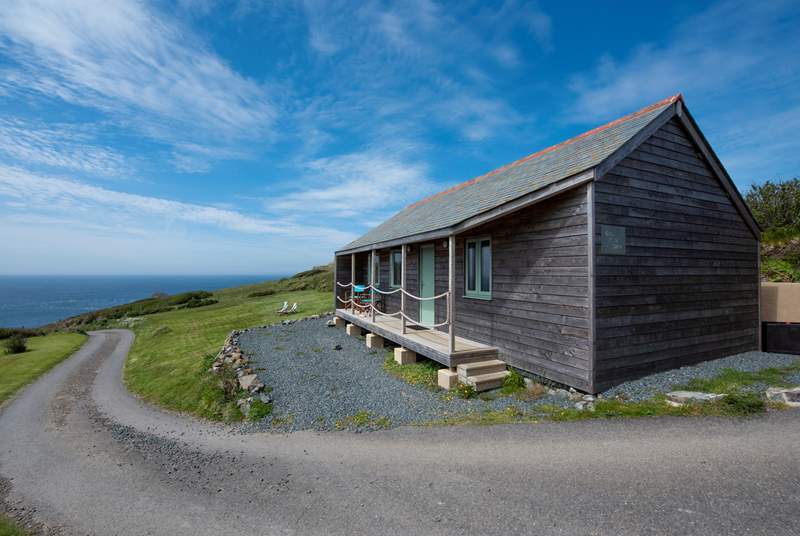 Mount Lookout
Mount Lookout is perched above the village of Ludgvan, atop Mount's Bay and a short stroll from Long Rock Beach. Mousehole is approximately 15 minutes drive away.
It's a little wooden pod that's designed with practicality, comfort, and luxury in mind. Despite being compact, it's uncompromising and it can comfortably cater to four people and a dog.
With a well-equipped kitchenette, open plan lounge area, an en suite shower room, and a sofa that transforms into a double bed, Mount Lookout is one of the best-equipped pods you can ever ask for.
The exterior of this pod boasts a modern hot tub that can be enjoyed with astounding views of St Michael's Mount and the ocean.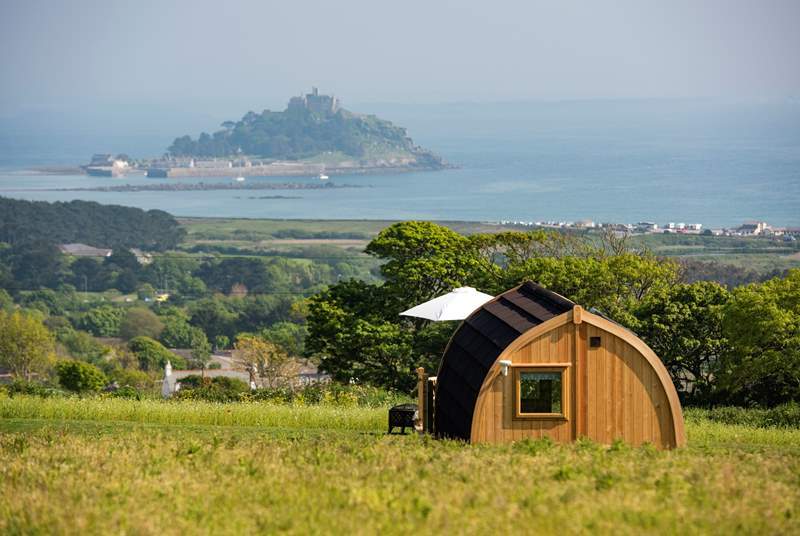 Tregwelan Shepherd's Hut
Tregwelan Shepherd's Hut is a little slice of heaven and one of the best glamping huts in Cornwall. It's located a few miles from Padstow town and overlooks the stunning Cornish coastline.
Although the hut is in an off-the-beaten-path location, it doesn't feel deserted.
The interior of this shepherd's hut is staggering with everything crafted to perfection. The bed can be folded away when not in use to create more room and the kitchen is set with everything you'd need to have a home-away-from-home experience.
There is also a log burner, so regardless of the time of the year you decide to visit, you'll enjoy a relaxing and snuggly spot.
On the outside, there's a fire pit, deckchairs, as well as a BBQ area so you can make the best of your evenings.
This hut accommodates two people which makes it a popular option for couples.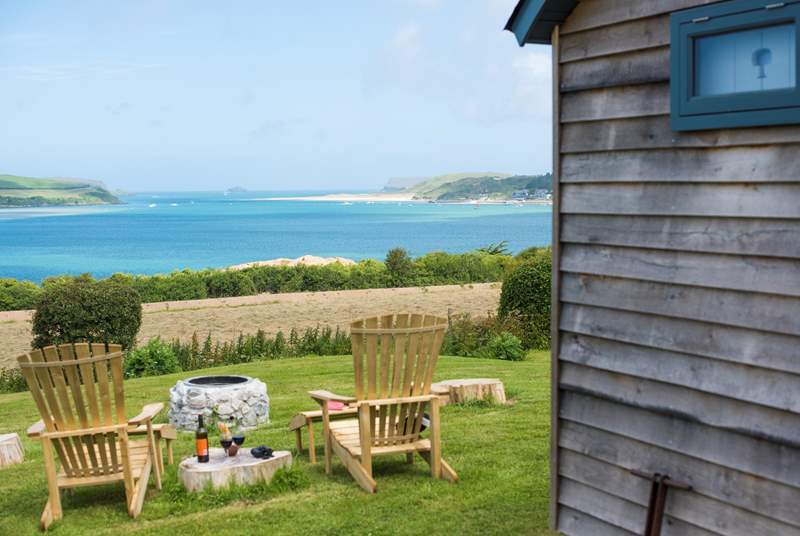 Rockwater Cabin
Rockwater cabin is nestled on top of a cliff at the edge of the Cornish coastline, overlooking the Whitsand Bay and not far from the dreamy villages of Cawsand and Kingsand.
With the master bedroom's window facing the ocean, you don't have to lift your head from the bed to get treated to beautiful views.
There's a small but perfectly equipped kitchen fitted with everything you'd need to fix a palatable dinner – a gas cooker, a fridge, a microwave, and even a barbecue.
There's also an outside seating and dining area which comes in handy if you're in the mood to enjoy alfresco dining with unbeaten views of the sea and the surrounding natural beauty.
Rockwater Cabin welcomes three people (plus a baby) so it's a wonderful choice for a small family.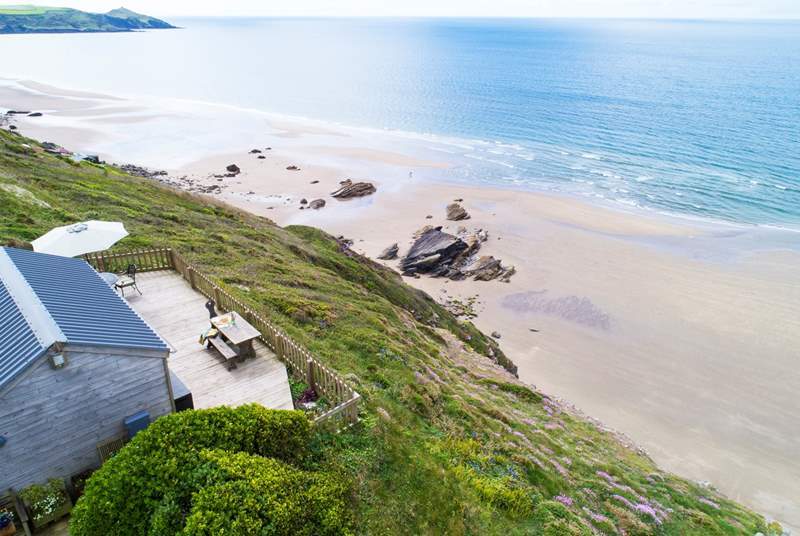 Summary
These huts offer an elevated glamping experience, especially for nature lovers. If you're always on the lookout for unique holidays in Cornwall, the county offers a variety of cabins with sea views and an incredible countryside vibe.
So whether you're looking for secluded romantic accommodation with no soul in sight or a seafront cabin where you can access the longest coastline in the UK with ease, you'll find a hut that suits your needs and preference.
For more inspiration have a read of Glamping in Cornwall with Sea Views.