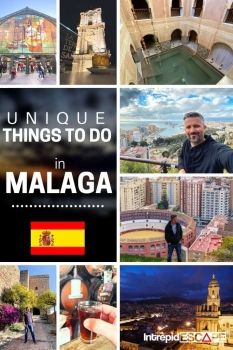 When I write my "Uncovered" guides I like to focus on unique tips and things to do for several types of travellers (see below). I usually find 2 or 3 for each person or category. It was my third visit to this beautiful city in Spain and it's somewhere I've always enjoyed coming back to. But I had never written about the things to do in Malaga on Intrepid Escape.
So, let's introduce the type of character I've split these sections into; and keep in mind you can be fall into more than one, or even all of them.
The Active Type – For anyone who loves the great outdoors
The Hopeless Romantic – Things to do as a couple
The Foodie – The best food or a local food
The Drink Lover – From craft beer to cocktails
The Culture Explorer – from history to museums
Active things to do in Málaga
I'm starting with a hike I did right from my hotel doorstep! You can hike or walk from the city centre to the Gibralfaro Castle and enjoy the views and hiking area at the top of the hill.
Start by strolling through Málaga Park and to Jardines de Puerta Oscura, a landscaped public garden. Then follow the path up Mount Gibralfaro. This starting point is conveniently next to Alcazaba (read more about this in the Culture section below).
The path is steep and involves a lot of steps but should only take 20-30 minutes. Allow some time to stop at the Mirador de la Costa viewpoint (one of many, you can't miss them). You can then visit the castle or spend more time hiking, there are a number of trails and a map if you head to "Sendero al Mirador de la Costa".
I found the whole area quiet and peaceful, even on a lovely day I saw very few people. Well worth the uphill trek. If you're not as active you can also stop here on the City Sightseeing bus tour.
For a more serious hike or even Mountain Biking, head to Montes de Málaga (Málaga Mountains). You might prefer to hire a car to get here, what a stunning National Park!
The park is mostly Aleppo Pine Forests, and as a starting point I recommend the Torrijos Trail, a 5km route that covers many popular spots, including waterfalls in the rainy season.
Finally, I love a good city beach! Yes, it can be busy. Yes, it can even be touristy. But in fact, Playa la Malagueta has a great blend of locals and tourists and has loads of activities to enjoy. From water sports, volleyball, stand-up paddle-boarding to jogging. This is a great starting point, at least ensure you're within easy reach of Malagueta Beach.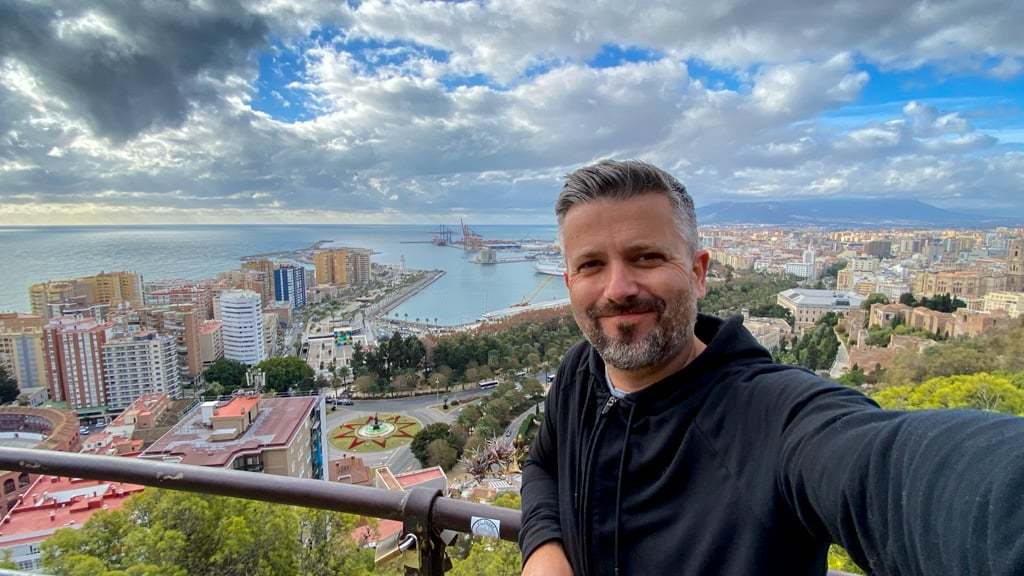 Solo Traveller Tip: try one of Malaga's super friendly hostels, which organise walking tours, bar crawls and have a social area for meeting other solo travellers.
Foodie things to do in Málaga
You cannot come to Spain without trying all the food! However, this isn't going to be a list of Tapas restaurants in the Old Town. Of course, there are plenty of lovely restaurants to explore in the Old Town. I wanted to focus on a couple of unique tips, so let's start with one you won't be expecting!
La Vegana is a small and cosy vegan restaurant in the city centre. I listed it because I love to see a new business breaking away from the norm. And starting a vegan restaurant in Spain is bold, as meat is a key part of the Spanish diet.
I'm not here to tell you what kind of food to eat but adding some vegan recipes to your weekly shop and cutting down on meat consumption has several benefits to you and the planet. And it's a great restaurant to see what is achievable with vegan ingredients, it has delicious food and a cosy atmosphere.
My next tip is visiting the Central Market, or Mercado Central de Atarazanas. Housed in a former shipyard with a spectacular stain-glass window. This stunning building is the place to find fresh fish, Spanish cheeses, olives and craft beer. There's small bar where you can order tapas with the fish you've already spotted on the stalls but be warned it can get busy!
And what kind of article would this be without a local delicacy? All along the beachfront you will see Sardines Espetos (skewered sardines). They are enjoyed as much by locals as tourists, and it is recommended with a beer or "Tinto de Verano".
You will find these in street food stalls by the beach, in most beach bars but they are famous in Pedregalejo, accompanied with a with pepper salad.
Why not also consider a Food Tour in Malaga or a Cooking Class?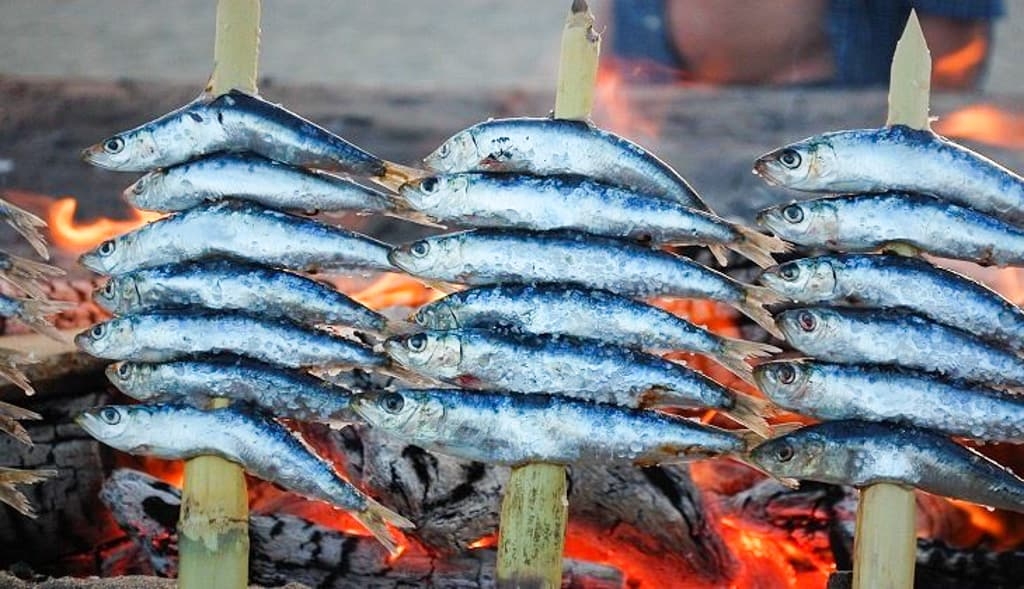 Pro tip: for a cheap and quick snack head to the chain restaurant 100 montaditos for Spanish mini sandwiches. Eating out in big cities can be pricey, so this was a nice option for a quick bite on a budget.
Couples and Romantics things to do in Málaga
Something I highly recommend and everyone visiting Malaga, is to get lost in the Old Town. Beautiful, cobbled streets, small tapas bars, stunning architecture. What's not to love?
My first proper tip is a fantastic way to unwind with your partner and switch off from the daily worries. Leave your phone at the hotel and relax in a classic Hammam. I visited the Arab Baths Hammam Al-Ándalus, which have a range of bath and treatments to "connect you to your inner nature".
Access to the baths start at €37, and you can add further treatment on at extra cost. Such as a relaxing massage or kessa treatment, for 15 minutes or longer. It's a fantastic place to slow the pace of life down, switching between the different baths, relaxation rooms, steam rooms and cold-water pools. You relax and drink tea until you're called for your treatment.
I took my photos when the bath was empty, as you can't take your phone. And why would you want to?
Next on the romance list is see a gorgeous sunset. Malaga has some spectacular sunsets, and you have a few places where you can really sit back and enjoy it. The first is the same place suggested for the sardines; Pedregalejo. Soak up the beach atmosphere, drink some sangria and watch the sunset, perfect.
Another option is one of Malaga's many rooftop bars which it's famous for. There are so many to choose from, each have their own unique view and perspective on this stunning city. I'll be discussing my favourite two rooftop bars in the next section.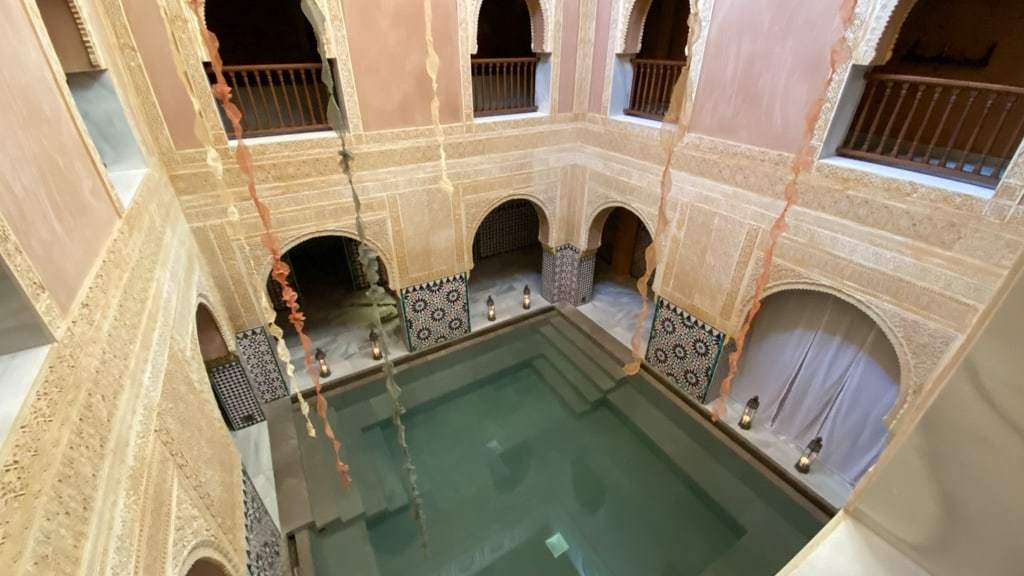 The Drink lovers' things to do in Málaga
I always try to find something very local and totally unique to the destination in this section. And Antigua Casa de Guardia is certainly that. Like many hotspots, it's become a little touristy over time, but it certainly hasn't lost its charm or the locals that frequent it.
Antigua Casa de Guardia is an old school winery in the Malaga Old Town, with caskets full of local sweet wines to taste. The bartender will barely crack a smile and scribble your bill on the table in chalk. It has an authentic feel to it, with the odd tourist there for the experience like me. The place really comes to life when you leave a tip, and they ring the bell, and everyone cheers. They even cracked a rare smile!
My next tip is something Malaga is famous for already, the rooftop bar. There are a lot to choose from, so I'll just keep mine to two suggestions. The first was part of my hotel, so I might sound biased but what a view! The ATICO Bar and Restaurant at the AC Hotel Málaga Palacio is stunning. 360 views including front row seats for the light show on the walls of the Catedral de la Encarnación (or Cathedral of Malaga). The cathedral is well worth a visit to marvel at the Roman Catholic architecture.
My second rooftop bar tip is the San Juan Terrace. Known for its cocktails and cosy but cool vibes, it also has fantastic coffee during the day. I loved the atmosphere here and views of the San Juan church. I wouldn't recommend coming here alone it has more of a romantic vibe. Perhaps I should put it in the couple's section?
Finally, I love a local or craft beer so can't write this section without a brewery tip. The First is Central Beers Craft Beer is a microbrewery with 15 rotating taps and 150 varieties of bottled beer. As well as a great tapas menu. Secondly although I didn't visit myself, next time I'd love to do a brewery tour at Victoria Malaga, as this is a lovely pilsner which I drank a few times. It's available in most bars and it has my seal of approval.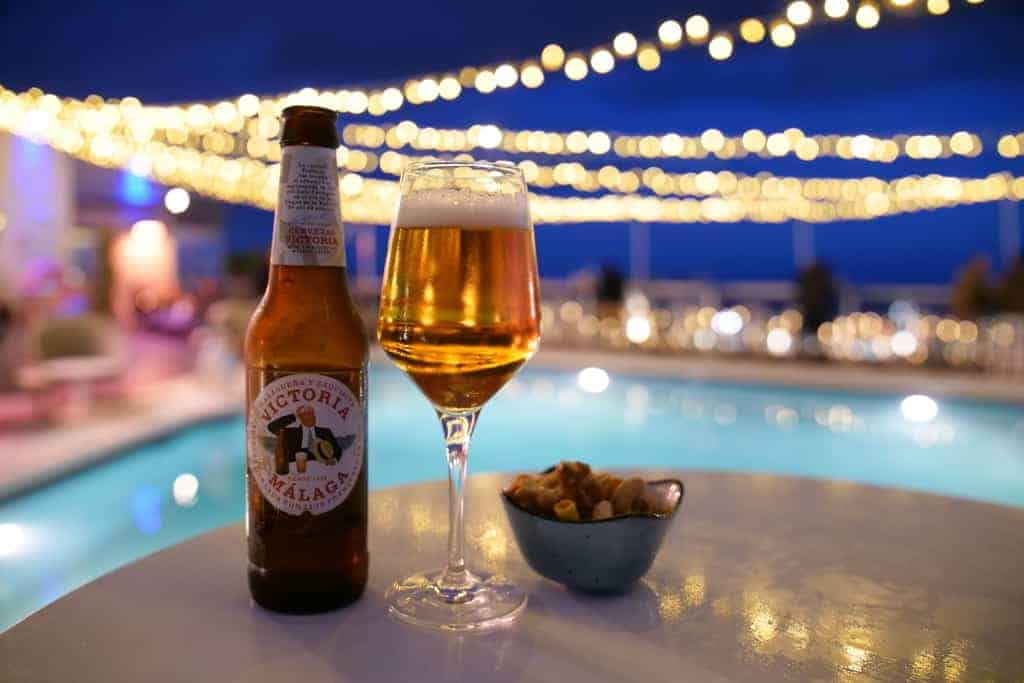 The Culture Explorer things to do in Málaga
There is certainly plenty of history and culture to explore in Malaga, I barely scratched the surface. My first recommendation and probably my favourite spot is the fortress of Alcazaba. Described as a "Hilltop Moorish-style medieval fortress overlooking the sea, with lush, fountain-filled gardens". I copied that as I couldn't find better words to describe it.
As you climb it you learn about the it's fascinating history from the Roman empire to the Muslim period, it's military importance and how advanced it was. Did you know Alcazaba means Citadel in Arabic? The best part is the view from the top, and the fact the entry is only €3.50. It's also right next door to the Roman Theatre, so you must visit that too.
Having already touched on it in the active section, I can't mention history and not talk about the Gibralfaro Castle. It was built in the 14th century to house the troops from Alcazaba, and it's one of the most popular attractions here in Malaga. Nestled at the top of the Mount Gibralfaro,you again get amazing views of the city, and the interpretation centre will tell you all about the history here.
Finally, it would be remiss of me not to mention the museums in Malaga. The first, respecting the home of Picasso is the Museo Casa Natal de Picasso, or the Picasso Birthplace Museum. It's located in Plaza del la Merced where you'll find the Picasso statue. This is also a lovely spot to grab a daytime coffee and watch the world pass by.
My final recommendation for culture is the Carmen Thyssen Museum, where you'll find the most comprehensive collection of 19th-century Andalusian paintings in Spain. This modern museum is in a fantastic building in the Old Town, the former Palace Chapel. Along with the collection of paintings, the museum has various exhibitions for local and new artists.
Finally, although I didn't stop here myself, try to stop by the Pompidou Art Centre for more contemporary art. You can't miss it, it's in the colourful giant cube right on the promenade.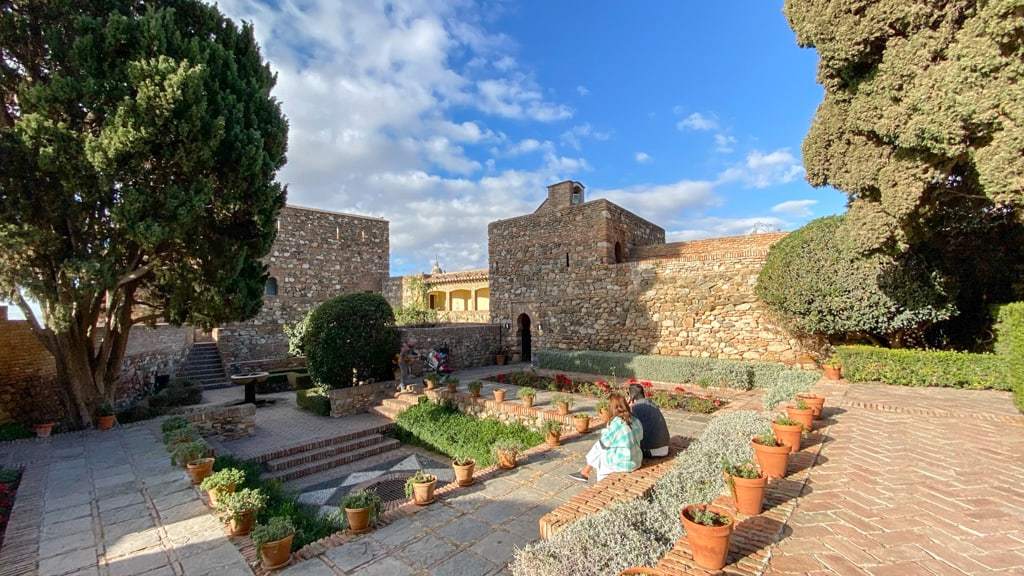 Where to stay in Malaga
I stayed at the AC Hotel Málaga Palacio by Marriott. It's certainly one of the top hotels in Malaga and has incredible panoramic views of the city. To get unrivalled private views go for a corner suite if you can, your dual aspect room will have two perspectives of the sea view, including a huge balcony.
I really loved the rooftop ATICO Bar and Restaurant, so even if you are not staying in the hotel, this is worth a visit. I recommend booking though as it can get busy especially at weekends. The rooftop pool must be extremely refreshing in the summer, but unfortunately my visit was in winter!
Finally, what a breakfast! 5-stars, always a great start to the day.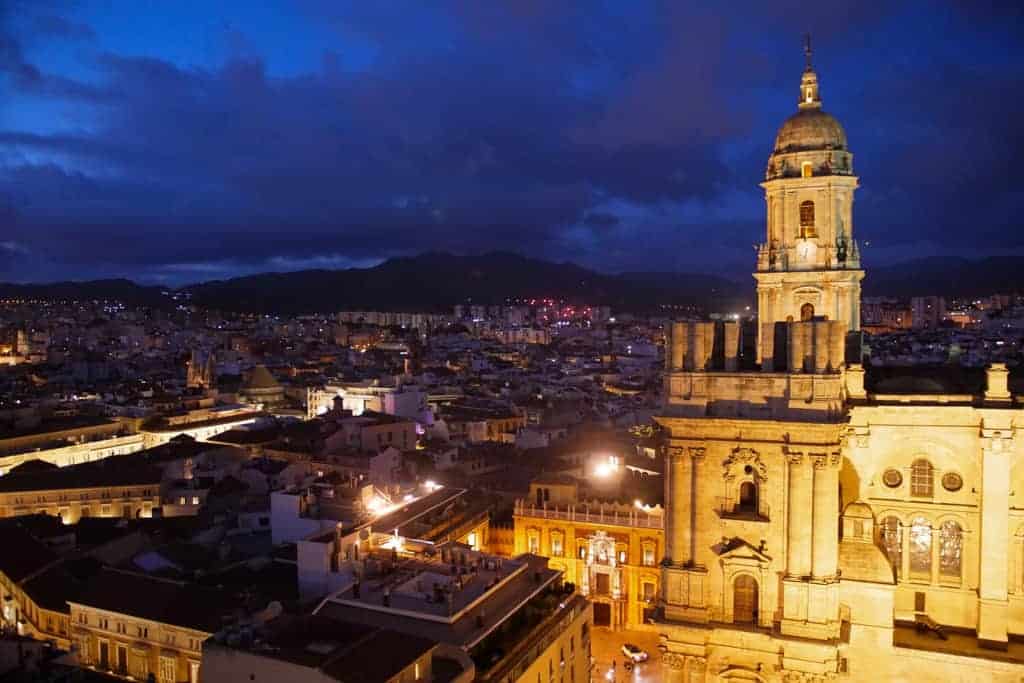 So that's my list for now (I might add to it later). What do you think? Do you have any top recommendations for Malaga? I'd love to hear about them in the comments below.