If there is one place that is true road trip territory, it's USA. I love to plan these mini breaks, itineraries of around 7-10 days with a flexible schedule and a lot to see. I then usually speak to the tourism board and create a content plan and work with them in various ways.
My Capital Region road trip was no different. After a few meetings, idea swapping and a last minute trip to the states in place, we had a plan. That was to pick up a car at Virginia Beach (or Norfolk Airport) and drive to Washington DC and Talbot County in Maryland. Let the adventure begin!
In this article I plan to give you an overview of what we did, a rough itinerary should you wish to plan the same trip. Our trip would be split into 3 parts; Virginia Beach, Washington DC and Talbot County in Maryland. We'd be travelling south to north, starting in Virginia Beach, but you can do this road trip either way.
We flew into Norfolk International Airport as we were previously in Orlando. But international visitors may prefer to fly into Washington/Baltimore. Before I move on to our itinerary, let me answer one common question.
Where is the Capital Region?
The Capital Region USA is made up of Washington DC, Maryland and Virginia. It's a huge region with a lot of the nations important historical and political sites, not least it's the capital city! There are 13 scenic byways, so it's fair to say this trip just scratched the surface of what's on offer.
Is the Capital Region Worth Visiting?
If you're looking for an off-the-beaten-path adventure that is sure to leave you feeling inspired, then the Capital Region USA is the place to be.
With idyllic landscapes, vibrant cities, and rich cultural heritage, this region is a true hidden gem just waiting to be explored.
Best Time to Visit the Capital Region USA
If you're a fan of fall foliage and crisp weather, plan your trip for September or October. The changing leaves are simply breathtaking, and the temperature is perfect for a cozy sweater or jacket.
If you're more of a summer adventurer, you'll love visiting between June and August – the warm weather is perfect for outdoor activities like hiking, kayaking, and exploring the area's numerous landmarks.
How to Get Around the Capital Region?
There are different ways to get around the Capital Region and it all depends on your specific location, destination, and preferences.
The most convenient way is to rent a car and drive around the Capital region, stopping in different cities and taking a tourist bus or Uber to explore in each of them
Alternatively, it's worth noting that the subway system connects DC, Maryland, and Virginia. It's a convenient option for traveling between major areas and tourist attractions.
How to Get Around Washington DC?
Using a hop-on hop-off bus tour in Washington DC is a convenient and affordable way to explore the city, especially for first-time visitors or those who are interested in seeing the major attractions.
In this guide, I'll go through some of the best tours you can join, but if that's out of budget, make sure to consider the bus, as it's cheaper than calling a Uber and more comfortable than walking around.
Best Tours in the Capital Region USA
Virginia Beach
I've wanted to visit the coastal city of Virginia Beach for a long time! Not only as it looks stunning, but there is a vibrant boardwalk that hosts all kinds of events, an amazing culinary scene, a creative district and of course the ocean.
Virginia Beach is where the Chesapeake Bay meets the Atlantic Ocean, so there is a huge amount of water sports and wildlife activity to explore. It's also home to some interesting history.
Here are my top things that you can't miss in Virginia Beach.
Oyster Boat Tour
The oysters in this area and specifically Lynnhaven Bay are world renowned and people have been coming here for oysters for years. Captain Chris from Pleasure House Oysters runs a small farm in the bay and cares for them entirely by hand. His oysters only go to a small number of restaurants in the area.
However Chris offers tours to his oyster farm, where he'll talk you through the history of oysters in the area, the process for fresh delicious oysters, and you can even get in the water and get hands on yourself. There are three types of tours found on his website, one of which includes a chef's tasting set up directly on the water.
When we arrived in Virginia Beach the tide was already in, so we couldn't wade in ourselves. But we did get to try the oysters and learn all about them (well Dave tried them, as I can't eat them, he verified how delicious they are!).
Go Kayaking with Dolphins
Hands down one of the best wildlife encounters I've had to date. The Chesapeake Bay is well known for the Atlantic Bottlenose Dolphins frequenting the waters to fish, and Chesapean Outdoors have been specialising in dolphin eco tours for 25 years.
It felt important to be with experienced an eco-conscious tour leader for an experience like this. The tour lasted around 2 hours, and after a little paddling out to sea we saw our first dolphins! Once we were in the right spot we must have easily seen 15-20 different dolphins including a pod of approximately 7 or 8. They swam right next to the kayak and were so curious.
Such an amazing experience I can't recommend this kayaking tour enough. You can also go Parasailing at Virginia Beach, which was great fun and gives you amazing views over the boardwalk!
Explore the Boardwalk
The Boardwalk on Virginia Beach is a great starting point if you don't know what to do. There is always something happening here. It's a 5km stretch from 1st to 40th street and you can bike, roller-skate, run or walk it.
During our visit there was Live on Atlantic music festival and a beach football (soccer) tournament. It really felt like the place to be, and don't miss the King Neptune statue on 31st Street.
Take a Tour of the Vibe Creative District
I wasn't expecting Virginia Beach to have such a thriving creative arts district! It really blew me away. Created to support the local economy and help artist and small businesses, it's also an important regeneration project for the area.
The Vibe Creative District is essentially a creative hub, and a huge number of public art spaces and projects. The Vibe Creative Vision really sums it up "To create and revive economic vibrancy in our neighbourhood with a remarkable local vibe."
The best way to see it is to take a tour, ours was a golf buggy tour with Director of Vibe Kate Pittman. But you can also pick up walking tour guides, and they have a number of events going on throughout the year. Such a commendable and important project for the city.
First Landing State Park & Cape Henry Lighthouse
The park that marks where the English colonists first landed in 1607! Since then Native American Canoes, Cargo ships and 20th-century schooners have navigated these waterways. Now it's a park for locals and tourists to enjoy. There are plenty of walkways, paths, cabins, yurts and campsites to explore, and Chesapean Outdoors also run kayaking tours here.
Nearby to First Landing and also in Cape Henry you'll find the lighthouse. The Cape Henry Lighthouse overlooks where the Chesapeake Bay meets the Atlantic Ocean, its also an important landmark for the First Landing. Please note this is an active military base so you must bring your passport for entry.
Where to Stay in Virginia Beach
One of the best hotels in town is Hilton Virginia Beach, and other than its premium beachfront location, they have an on-site restaurant, modern and clean rooms, and a rooftop infinity pool.
There's more, you'll be near the major tourist attractions and the hotel even provides a shuttle to get around the area!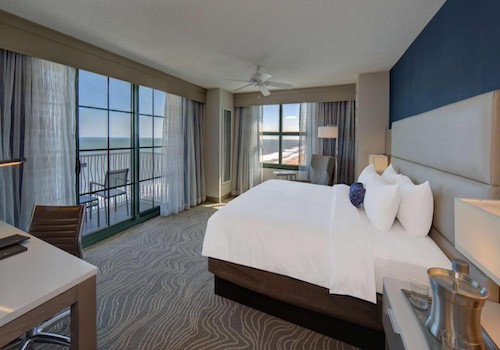 I recommend the Delta Hotel by Marriott Virginia Beach. Right next to the beach, beautiful sunsets and a fantastic onsite restaurant called the Tin Cup Kitchen and Oyster Bar. Read more about this in my next article on Virginia Beach.
Not far from the beach and its boardwalk, this budget yet spotless hotel has everything you need like a gym, a laundry room, beautiful guest rooms, and a delicious breakfast.
Also, they have hundreds of reviews, and it's a good choice if you plan to stay in Virginia Beach on a budget.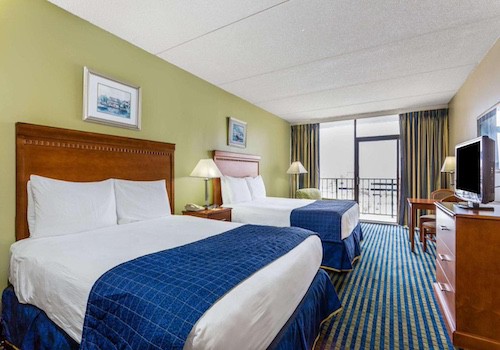 Washington DC
Our next stop needs no introduction, the capital of the United States of America, Washington DC. Home to the Capitol building, the White House and the Supreme Court. It's approximately a 3-hour drive from Virginia Beach, and expect to hit some traffic along the way.
It certainly is a city that needs no introduction, it's also famous for its monuments and memorials, it's unique neighbourhoods and it's museums and galleries. All of which I'll cover.
We stopped here for a couple of days, so clearly we were never going to see everything Washington DC has to offer. However, this is a good list to give you a flavour, or a starting point to your trip in Washington DC. I'd also call this your 'must do' list, grab a pen.
Galleries and Museums
What this should really say is visit multiple museums and galleries! Washington has so many different ones, you could really spend a week exploring them all.
Hirshhorn Museum
The first on the list has to be the Hirshhorn Museum, a national museum of contemporary and modern art. It's free to enter but expect a queue when it opens!
The exhibitions rotate but whilst I was there they had the excellent Yayoi Kusama's 'One with Eternity' exhibit, a glimpse into her amazing work and mind. Make sure you don't miss the Sculpture Garden and the Wishing Tree as well!
National Gallery of Art
A collection including 141,000 paintings, drawings, prints, photos, sculptures and art pieces. Please make sure you check out the Afro-Atlantic Histories exhibit, a detailed and moving look at the historical experiences of Black and African people since the 17th century.
I recommend allowing at least a couple of hours here, and admission is free.
ARTECHOUSE
I didn't know much about ARTECHOUSE, other than words like innovative, immersive, one-of-a-kind and ground-breaking. I rolled the dice and paid it a visit, and I am very glad I did.
ARTECHOUSE is a digital art space dedicated to showcasing experimental and immersive installations. The London born artist behind it is Vince Fraser, who 'bridges the gap between fantasy and reality'. His mission is to inspire and empower positive powerful imagery of the African diaspora, none more so than in ASE: Afro Frequencies.
Vince's work is combined with the words of poet Ursula Rucker, creating a powerful and immersive experience. I was lucky enough to meet both of them, as they were in the museum the day I visited. They really are at the forefront of new age digital art.
The Memorial's and Monuments
These are just some of the iconic landmarks you must visit in Washington DC, and they are all within walking distance from each other.
You can start at the Dwight D. Eisenhower Memorial, designed by architect Frank Gehry. Then head to the Washington Monument, built in honour of George Washington (the first President of the United States). To go up the tower you must purchase tickets in advance or queue at the kiosk first thing in the morning.
You'll get a great view of the Capitol building and from there you can stroll down to the Lincoln Memorial and Lincoln Memorial Reflecting Pool. A scene of many movies not least Forrest Gump's epic scene with "my Jenny"!
Honestly a tour of the Memorial's and Monuments could go on and on but we decided just to head to The White House and the viewing spot on Pennsylvania Avenue. That was before being tipped to have lunch at the VUE Rooftop at Hotel Washington, with its rooftop panoramic views over the White House.
Shaw Neighbourhood
As previously mentioned there are some really unique and diverse neighbourhoods to explore in Washington DC. Sadly we didn't have much time on our hands to explore them all, but thankfully did get a chance to experience the Shaw Neighbourhood. There are a few spots I recommend, then I suggest just getting a feel and finding your own favourite.
DC Alley Museum
An outdoor museum and great starting point. It's a collection of colourful murals all painted in the same area, including tributes to musicians Sun Ra and Erykah Badu. Make sure you drop into La Colombe Coffee Roasters for a brilliant caffeine hit, they were one of the early pioneers of direct trade coffee sourcing.
African American Civil War Memorial
You'll find the memorial in the plaza opposite the museum, which upon our visit was closed for renovation and expansion. But you can still see the Spirit of Freedom statue and the 209,145 soldiers names engraved on the memorial wall of honour.
They are the African American soldiers and sailors that served in the U.S. Army and Navy during the Civil War, their service helped end the war and free over 4 million slaves.
Right Proper's Shaw Brewpub
I love me a brewery! Especially one with colourful wall murals, vintage design and furniture and great food. The beer was great and the brew-master Lily showed me around and gave me a tour. Make sure you try something from the extensive list of artisan cheese from the inhouse cheesemonger.
Where to Stay in Washington DC
The AC Hotel by Marriott is an incredible hotel with a gorgeous lounge and great drinks, an on-site restaurant, a fitness centre and, you guessed it, stunning rooms.
Wake up in the morning in a great location to explore the area and a delicious breakfast to start the day off the right foot. It's one of the best hotels in Washington DC and you'll want to book it now!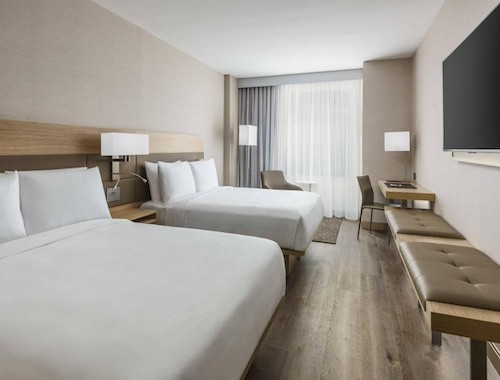 We stayed at the Cambria Hotel Washington DC Capitol Riverfront, in the rapidly developing area the Capitol Riverfront District. I loved the rooms in this hotel, they had a sleek design and everything you need, with a view! Not to mention the rooftop bar, which cannot be missed.
It's also right around the corner from GATSBY, an upscale American Diner right across the street from the Nationals Stadium.
Located just a mile from the White House, this hostel has all you need with clean rooms and dorms, shared bathrooms, a shared kitchen and terrace, and even vending machines for added convenience.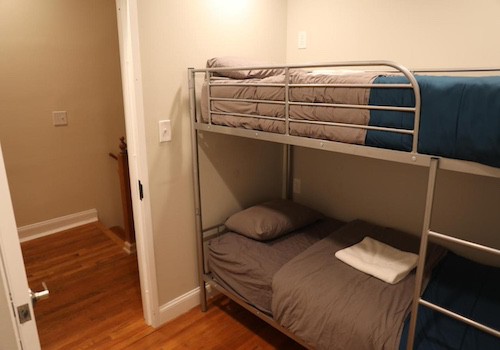 Talbot County, Maryland
Moving on to the Talbot County in Maryland, and here I will split our itinerary into places to visit, as we moved around a bit. Located in the heart of the Eastern Shore of Maryland, there is a lot of maritime history with it's 600 miles or shoreline!
Easton
We used Easton as a base to explore from, and it's a historic and delightful town and feels very typical of Maryland. There is a lovely Main Street (Harrison Street) with unique buildings and old American charm.
I suggest stopping at the Academy Art Museum before exploring the shopping district on Harrison, Dover, Washington, and Goldsborough Streets. Then stop for a lovely ice-cream at the locals favourites Storm & Daughters.
Or you can do that after dinner, as there are some great restaurants in town too. On our first night we ate at Legal Assets, serving craft food and spirits.
We stayed at Tidewater Inn, which also has a lovely looking onsite restaurant and great rooms. The people were friendly and the beds were so comfortable!
St Michael's
Known as one of USA's top 10 Best Small Coastal Towns, St Michal's has a unique and quaint charm to it. It's a beautiful harbour town with some fantastic restaurants and upmarket shops. Here are the places we visited.
We started with a tour of the Chesapeake Bay Maritime Museum, exploring the maritime history at this non-profit educational museum. It's goal is to preserve the history, environment and culture of the entire Chesapeake Bay region. There are some fantastic ships and stories from history here, including the 1812 battle of St Michael with the British.
Following that we hopped on a History & Folklore tour with St. Michaels Harbor Shuttle. The tour was with Captain Joe and covered Miles River and Long Haul Creek, talking about the folklore that fills the shoreline, including movie sets like Wedding Crashers!
Then it was time for some tastings! Along Talbot Street there is a distillery, an winery and a brewery within yards of one another. We started at Lyon Distilling Co, a local rum distillery with a fantastic dark rum.
We had a little tasting session before heading to St Michael's Winery. I can't say I felt as welcome as the distillery here, so after a short tasting headed down the road to Eastern Shore Brewing, the oldest brewery of Maryland's Eastern Shore.
If you know me you know how much I love a brewery and getting a flight for tasting. It's always a unique experience, and nothing beats finding out about how their craft beer menu came about. I loved their flagship Amber Ale and the vibe in the bar area, and we were welcomed and greeted by the brew-master. Highly recommend!
Finally on to the food in St Michael; I recommend The Galley St Michael's for dining or takeaway, Ava's Pizzeria & Wine bar for the pizza, and Crepes by the Bay for breakfast!
Oxford
We then headed to Oxford via the Oxford-Bellevue Ferry; America's oldest privately owned ferry route. Taking this tiny ferry itself is an experience in itself!
Once in Oxford, you can explore a few places such as The Oxford Custom House, an exact replica of the first Federal Custom House in the United States.
Right across the road is Robert Morris Inn, a river view house built in 1710 making it the oldest full-service Inn in America. And this is right across the road from The Strand Beach, a lovely spot to enjoy the Tred Avon River.
Finally we had dinner at Capsize which has the perfect spot overlooking the calm waters of Town Creek. You can tell it's popular with locals which is always a good sign. I recommend getting a table outside if it's a nice day and trying their fresh seafood.
Tilghman Island
Our final stop in Talbot County was a morning at the watermen's village of Tilghman Island. It's a scenic drive down there and it's another authentic Eastern Shore village.
We started with breakfast at Two if By Sea, a 'go-to' spot on the island for breakfast, before heading to the beautiful Tilghman's Pride Mural. Then we headed to the Back Creek Community Park which has a lovely viewpoint at the end of the park.
If it's open, I recommend a stop at the Tilghman Watermen's Museum and Dogwood Harbour to see the working crab boats and get a lovely picture of the harbour.
Where to Stay in Easton
Featuring beautiful rooms, delicious breakfast, and convenient location Hummingbird Inn is one lovely place where to stay in Easton. They've been open since 2017 and they have received dozens of excellent reviews since then, and I recommend you check them out!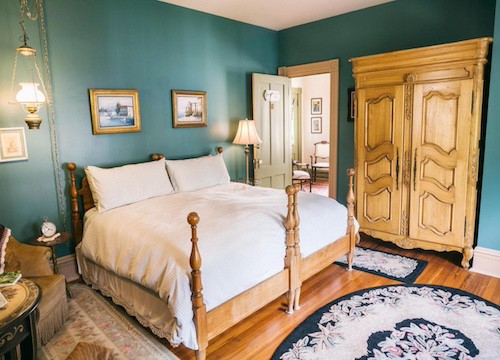 A mid-range option, but with luxurious facilities, is the Holiday Inn in Easton, and you'll love the modern rooms with a coffee machine, a 43″ flat-screen TV, a microwave, and a cosy bed.
They also feature a swimming pool, and that's a nice bonus when travelling in the summertime!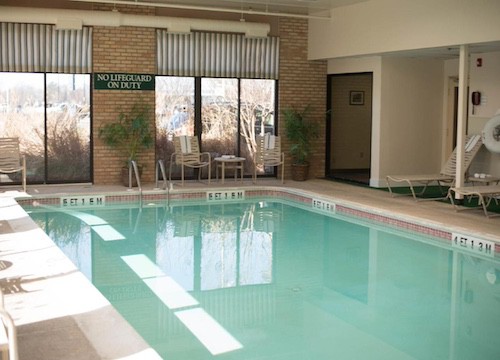 Looking for a budget hotel to spend the night on your road trip? Econo Lodge is a good option, with free breakfast, high-speed WiFi, and a great location.
They offer rooms for less than $100, and this is very convenient!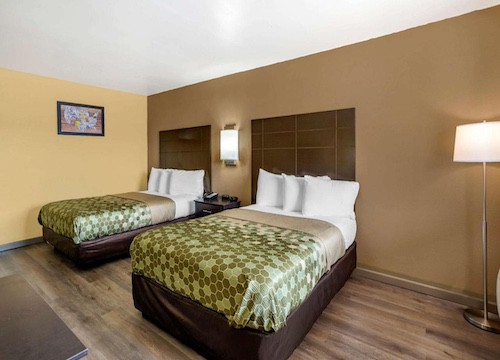 Conclusion
From there we headed back Washington way and flew out of the Baltimore/Washington International Thurgood Marshall Airport.
Needless to say there were plenty of other places that we could have included on this Capital Region road trip in the USA, such as Annapolis & Anne Arundel County, Williamsburg, Frederick City & County, Charlottesville and Baltimore itself! We'll just have to come back again soon.
My trip to the Capital Region was in partnership with Virginia Beach, Washington DC and Maryland. But as always the photos and opinions in the article are my own, and I loved every minute of this trip.