On a recent visit to the USA, I spent a fair bit of time in the Capital Region USA exploring 3 main regions; Virginia Beach, Washington DC and Talbot County in Maryland.
It was an eye-opening road trip. It showed me just how much there is to see in this region of the USA. It's a great road trip destination too, I travelled north from Virginia Beach to Washington DC and Maryland.
For this reason I put together a list of my 10 top things to do in the Capital Region USA. These were the things that stood out to me, and I recommend you do them on your visit to this awesome region.
Where is the Capital Region USA?
The Capital Region USA comprises Washington DC, which is the USA capital, and the four surrounding states of Maryland, Virginia, West Virginia, and Delaware.
From historic buildings, museums, and inspiring monuments to wonderful beaches and natural landscapes, this place has a lot to offer. It might be hard to see it all in one trip!
Capital Region is one of the best places to visit if you want to immerse yourself in a truly authentic American experience. Not to mention the abundance of natural beauty and history that abound in Capital Region.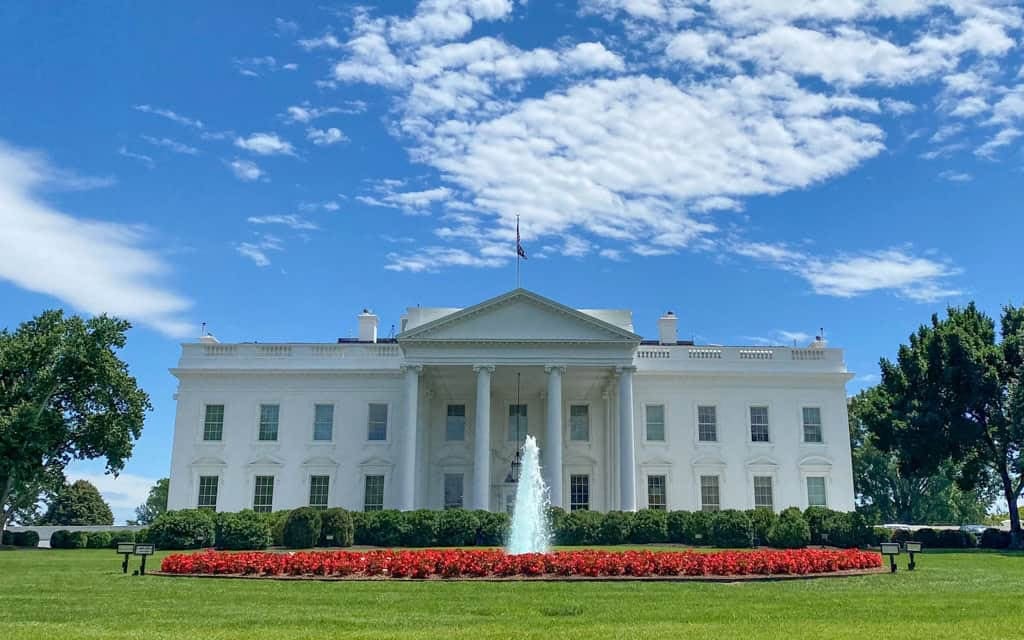 Is the Capital Region Worth Visiting?
If you're looking for an off-the-beaten-path adventure that is sure to leave you feeling inspired, then the Capital Region USA is the place to be.
With idyllic landscapes, vibrant cities, and rich cultural heritage, this region is a true hidden gem just waiting to be explored.
Best Time to Visit the Capital Region USA
If you're a fan of fall foliage and crisp weather, plan your trip for September or October. The changing leaves are simply breathtaking, and the temperature is perfect for a cozy sweater or jacket.
If you're more of a summer adventurer, you'll love visiting between June and August – the warm weather is perfect for outdoor activities like hiking, kayaking, and exploring the area's numerous landmarks.
How to Get Around the Capital Region?
There are different ways to get around the Capital Region and it all depends on your specific location, destination, and preferences.
The most convenient way is to rent a car and drive around the Capital region, stopping in different cities and taking a tourist bus or Uber to explore in each of them
Alternatively, it's worth noting that the subway system connects DC, Maryland, and Virginia. It's a convenient option for traveling between major areas and tourist attractions.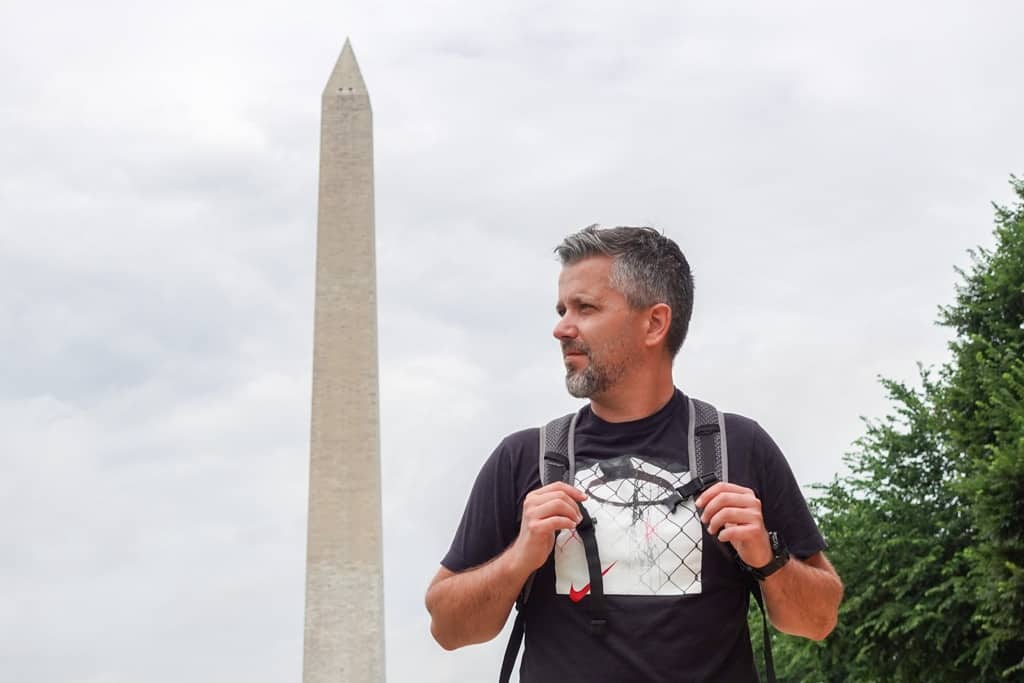 How to Get Around Washington DC?
Using a hop-on hop-off bus tour in Washington DC is a convenient and affordable way to explore the city, especially for first-time visitors or those who are interested in seeing the major attractions.
In this guide, I'll go through some of the best tours you can join, but if that's out of budget, make sure to consider the bus, as it's cheaper than calling a Uber and more comfortable than walking around.
Best Tours in the Capital Region USA
Best Things to Do in the Capital Region
I want to discuss the main topic of this article, which is the main things to do in the Capital region USA, and let me tell you, you're in for a treat.
Visit the Memorials and Monuments in Washington DC
There is a handful of must-see iconic sites in Washington DC and luckily, most of them are within a walking distance from each other.
You can begin your jaunt at Dwight D. Eisenhower Memorial, which was designed by the world-famed architect, Frank Gehry.
From there, head to the Washington Monument, a 555-foot obelisk that was erected in 1848 to honour the United States' first president, George Washington.
To get admission to the tower, you can get your free tickets on-site. But to avoid long queues, you can get an advance ticket which attracts a $1.50 service charge. Or make sure you are there well in advance of 8:45am, when the office opens.
Just under 5000 feet from the Washington Monument, is the Lincoln Memorial and the largest reflecting pool in Washington, Lincoln Memorial Reflecting Pool.
Lastly, you can head to the White House. While there are other places you can stand and admire this iconic structure the trick is to grab a meal at VUE Rooftop at Hotel Washington for unobstructed views over the White House.
While you can visit all these on your own, the best way is to join a sightseeing tour of Washington DC with an experienced guide!
Take a Brewery, Winery, and Distillery tour
This is should be on any itinerary of the 10 most amazing things to do in Capital Region USA.
Talbot Street is lined with a brewery, distillery, and a winery all within a stone's throw of each other. Taste some amazing rum at Lyon Distilling Co in a quaint and welcoming ambiance.
You can then head to St Michael's Winery where you'll get a selection of over 18 boutique wines.
After wine tasting in their canoe-inspired tasting room, head down the road to Eastern Shore Brewing, which is the longest continually operated brewery on the Eastern Shore of Maryland.
They offer several choices of draft brews including ale and with its eclectic setting, large seating bar area, and outdoor area, this is likely to be the highlight of your visit to St Michael's.
In case you don't feel comfortable going on your own, or you just want a more exclusive experience, then you can join a Guided Brewery Tour in Washington DC, which is not only affordable but covers 3 different breweries!
Go Kayaking with Dolphins at Virginia Beach
Probably one of the best wildlife adventures you can ever experience, kayaking with dolphins in one of the most resourceful estuaries in the world, Chesapeake Bay is among the 10 most amazing things to do in Capital Region USA.
Enjoy a thrilling experience of paddling alongside the Atlantic Bottlenose Dolphins which are a common sighting in this Bay.
Chesapeake Outdoors have specialised in dolphin eco-tours for over 25 years which makes them an excellent choice if you're an eco-conscious traveller.
There are also a lot of other water sports activities you can try. For instance, you can go parasailing at Virginia Beach which offers incredible views of the surrounding areas.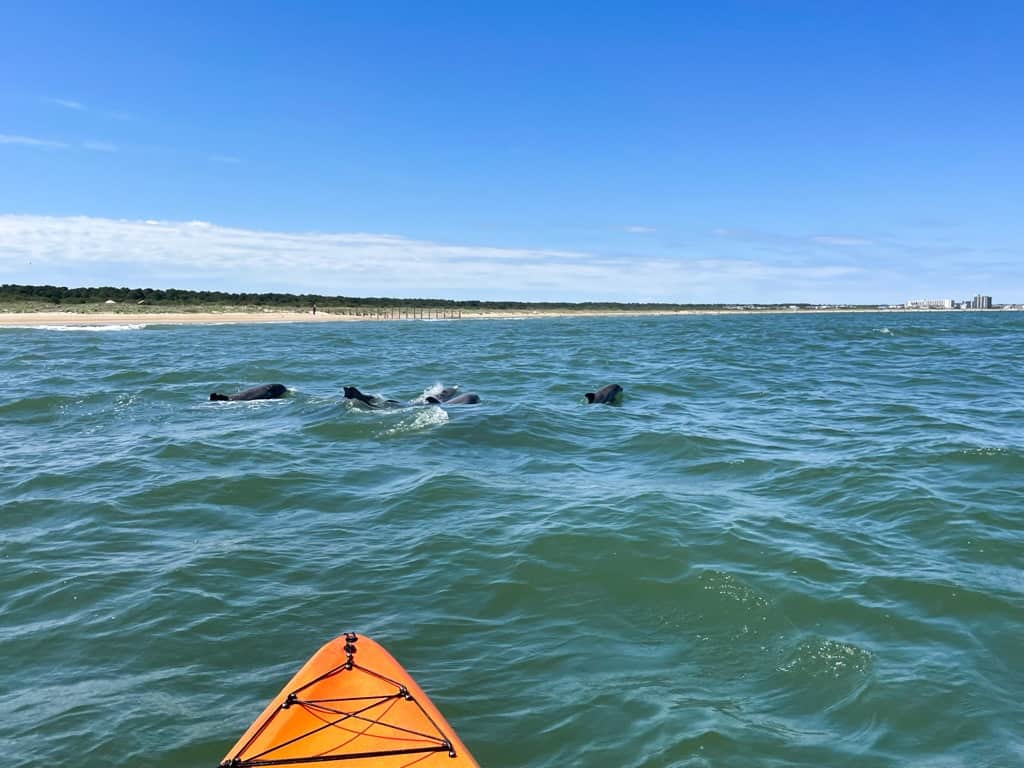 Visit the Shaw Neighbourhood in Washington DC
Historically home for middle-to-upper-class African- Americans, and one of the oldest neighbourhoods in the city, Shaw has been the heart of Washington DC's cultural and economic hub for centuries.
It's located in the Northwest quadrant of the city and it's known for its thriving bar scene, plenty of eateries, and shops. It's also popular for its architectural and visual appeal.
The streets here are lined with historical buildings and monuments such as African American Civil War Memorial which details the history and the soldiers that were involved in the war.
Next is the DC Alley Museum, an outdoor museum that displays street art and murals from local artists.
Another great place to visit right next to the historic Howard Theatre is Right Proper Brewing Company which started out as a neighbourhood brewpub in 2013.
Lastly, if you're a coffee lover, be sure to check out La Colombe coffee, a superb neighbourhood coffee shop offering a classic café menu and outside seating.
For a more comprensive tour of such an interesting spot, I suggest you sign up for a tour, which will cover some of the places I listed above and more!
Take a tour of the Vibe Creative District in Virginia Beach
If you're a public art lover, you might want to spare some time to explore this area that boasts a huge display of street art, paintings, sculptures, signs and so much more.
Perched on the Oceanfront near Virginia Beach this creative arts district comes as a surprise to many. The Vibe Creative District is in essence a creative hub where local artists display their projects.
The goal is to connect, inspire, support, and promote the creative industry and arts to boost the local economy while also revitalising the city.
There are lots of special events that take place in The Vibe District throughout the year and you can have a guided tour by golf buggy.
This is the Best Tour in the Capital Region
Want to make the most of your time? Check out the Guided Tour in Washington DC!
It includes transportation, live commentary, and a local guide!
Visit First Landing State Park
The 3 ships which brought the first English colonists landed on this spot in 1607, hence the name.
But besides being a historically significant park, it's also the most visited in Virginia thanks to its remarkable coastal habitat and amazing attractions such as the dazzling Rainbow Swamp.
Spanning 2888 acres First Landing offers lots of exciting activities. You'll find plenty of hiking trails, walkways, campsites, and of course a beach with calm waters.
Chesapean Outdoors also offers kayaking tours from here.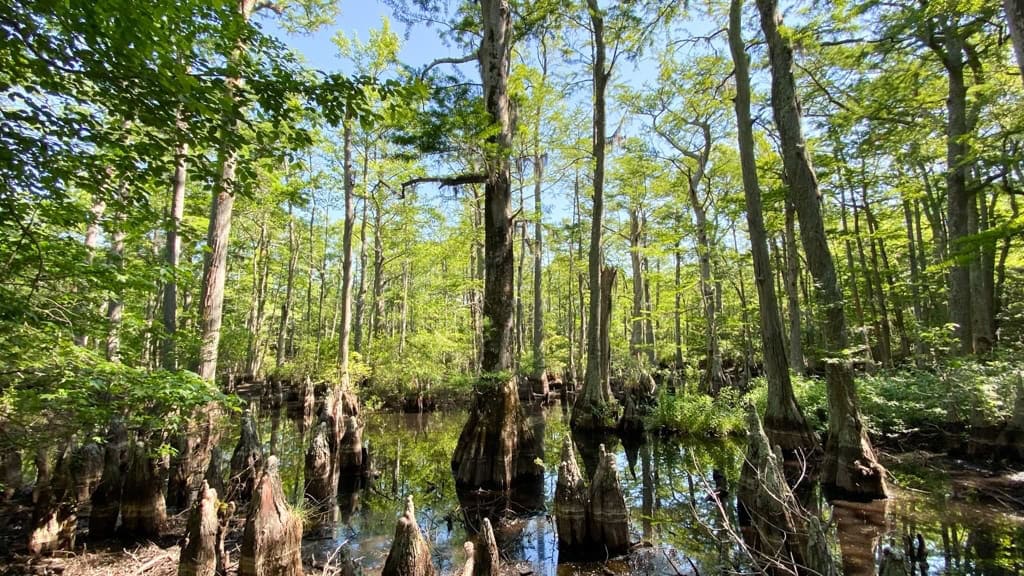 Take the Ferry to Oxford
Believed to be the oldest continuously and privately operated ferry service in America, boarding this small ferry for a short nice trip from St Michael's to Oxford is an experience in itself.
Once you get to Oxford you'll realise it is a true throwback in time. This quaint neighbourhood boasts a few amazing places to explore, such as The Oxford Custom House, a replica of the first US custom house.
Just across the street, you'll find the oldest operating Inn in America, Robert Morris Inn. Initially, it was built in 1710 as a river view house. However, it's mostly known as the childhood home of Robert Morris who rose to popularity as the 'Financier of the Revolution.
Right across the road, there's The Strand Beach, where you can stand and marvel at the Tred Avon River.
Be sure to check out Capsize, a waterfront restaurant with an outside seating area and astounding views of Town Creek.
Explore the Virginia Beach Boardwalk
If you're visiting for the first time, the boardwalk is an incredible place to start and should top your list of the 10 Amazing Things to do in Capital Region USA.
Built in 1888, Virginia Beach Boardwalk has evolved from a five-block wooden promenade to a 3-mile and 28 feet wide esplanade where all the fun activities in town are held.
There are so many activities and events that take place on the boardwalk. From live music, and festivals, to races and games this is the place to be for any fun-loving person.
Visit the museums and galleries in Washington DC
Washington DC is one of the largest and most popular cultural hubs in the US filled to the brim with interesting relics and artefacts.
You can start at the National Museum of Natural History which is over a century old and one of the most visited among the Smithsonian Institution Museums in America.
With a huge array of old specimens of animals and plants, this museum is a captivating place to visit.
Another great museum you should visit is the United States Holocaust Memorial Museum. It details the atrocities and the harrowing experience of the victims of the holocaust during WWII.
If you're an art lover, be sure to visit The National Gallery of Art, located at the National Mall. With an astonishing collection of over 141, 000 drawings, paintings photographs, and sculptures this museum has the most diverse artwork on the planet.
Finally make sure you read about the Hirshhorn Museum and ARTECHOUSE in my Capital Region Road Trip article.
This is the Best Hotel in Washington DC
Check out Hotel Madera for the perfect stay!
They provide world-class service, stunning rooms, and incredible amenities.
Learn about the history at St Michael's
With its charm and laidback harbour town vibe, St Michael is famed as one of the USA's top best coastal towns. It boasts amazing eateries and upscale shops but it's also steeped deep in history so it can be a delight for any history geek.
Chesapeake Bay Maritime Museum is an educational museum and an incredible place to learn about the history of the bay, boatbuilding, fishing, and seafood processing in the area. In essence, this 18-acre waterfront museum is dedicated to displaying the culture and water life on the bay.
This is a working museum and it's not alien to find boats on site being restored which can be interesting to watch.
Aside from the marine life history, this museum touches on the 1812 battle and on how the town gained popularity as "the town that fooled the British".
Having been warned that the British boats were set on the bay ready to attack, the residents of St Michael hoisted their lanterns on the trees. This trick saved the town! It made the British soldiers overshoot and only one house was struck. Since then the house is dubbed 'Cannonball House'.
And don't miss the History & Folklore tour with St. Michaels Harbor Shuttle.
Conclusion – Things to Do in the Capital Region
That concludes my top 10 things to do in Capital Region USA. Make sure to check out my full and detailed account of my Capital Region USA Road Trip, including an Oyster Boat Tour in Virginia Beach, one of the highlights of the trip and could easily have been top of this list!
Do you have any to add? Please drop them in the comments below, and take a look at my other USA articles.