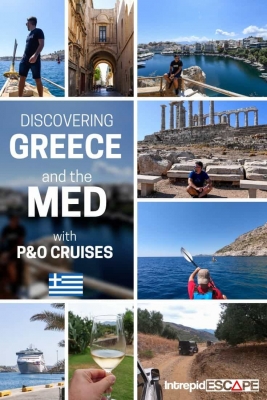 I think it's been more than 15 years since I went on a cruise, back in early 2000s with family and friends. There are some key things that have stuck with me since. I remember sail away at sunset. I remember waking up excited to get off the ship and explore a new destination. I remember eating amazing food at any time of day. And I remember feeling like I was staying in a moving hotel taking me from place to place.
Well I'm pleased to say most of those things haven't changed, but I have. I'm older, I mostly travel solo, and I have an appetite for adventure that needs to be fed. So, my biggest question was would I want the same things this time? Are cruises aimed more for family and couples? Would I get bored? All my questions were answered. I was in effect experiencing this cruise alone, albeit with journalists and a P&O Cruises host to spend time with when I wanted. So, this is a day-by-day account of my experience cruising the Greek Islands with P&O Cruises, and spoiler alert; I bloody loved it.
[su_youtube url="https://youtu.be/wUrkNhQeXhc" width="300″ height="200″ autoplay="yes"]
Arrival in Malta
Most of the Mediterranean routes start and finish in Malta. Its capital Valletta is well equipped to deal with the big cruise ships, and it's a perfect destination to explore no matter how much time you have. For me I'd ideally want to spend a couple of days here, before of after the cruise. But most find themselves with a day or even just a few hours. You can still find some things to do, all within walking distance of the ship.
But first let's talk logistics. Your charter flight is usually included in your cruise package and doing it this way means things can run very smoothly. I flew with Tui from London Gatwick, my luggage was taken care of and would meet me on board. For this reason, it's worth packing some things for the day, as it won't typically arrive when you do. Meaning you'll need things for Malta in your carry on. Once we landed in Malta, a coach took us directly to MV Oceana for check-in, and our luggage was collected for us. It's a slick and well-practised operation. It's here you pick up your cruise card, which is basically your credit card and passport combined into one! You pay for drinks, book tours, check in and out of the ship, pass security, and open your cabin door with one card. It makes life so easy.
We didn't have much time to explore Valletta, so if you can get a flight that leaves you with some time that's a bonus. With the time we did have though, we chose to walk around Valletta and take a gondola boat tour. The ship docks right next to the city, so it means you can do it. The gondola ride was a cost-effective way to see the harbour, and if you have time St John's Cathedral is a must! It is also in general a lovely old town to walk around, admire the views and enjoy some food. Take a look at my friend Evan's top places to visit in Malta for more inspiration!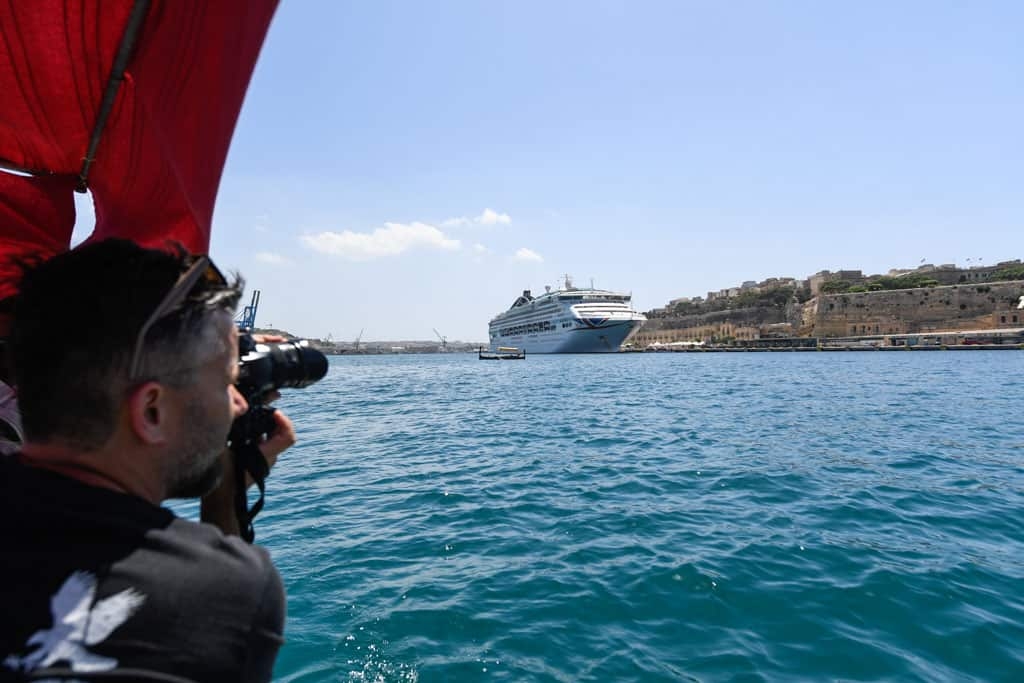 Day one: Sea Day
Starting with a sea day is perfect. It gives you a chance plan and prepare your week. You can explore the ship, learn where everything is, read the schedule and look up the offshore excursions. Most people relax and sunbathe knowing that the other days are for exploring, whilst chilling out to the toe-tapping acoustic sounds of Frankie Urbano, one of the entertainment team. The Oceana is completely at your disposal.
For me it was about seeing what Oceana has to offer. I'm not much of a sunbather. I ordered breakfast to my balcony (yes, I had a balcony, highly recommended), read all the information and planned my week ahead. I decided to start with a spa treatment. The ship has a fully equipped spa, a gym, sauna and steam room. Oceana feels huge to me, but it's a mid-size ship that caters for around 2000 passengers. I'd say it's a great option especially for your first cruise, plenty big enough for a week but not so large you get lost easily. Photo below by Mike Odywer.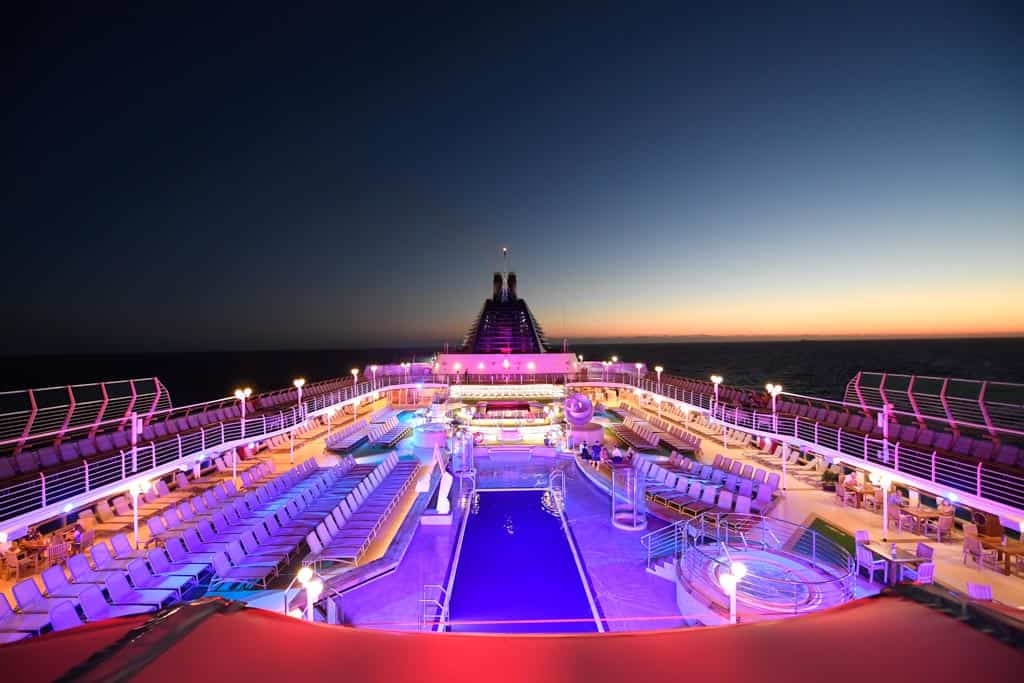 Day Two: Piraeus & Athens
When you stop at each destination, you usually have the choice of exploring completely on your own, taking a fully organised offshore excursion, or a shuttle bus somewhere. It all depends on the location. I'd suggest trying to do a combination throughout your week.
Piraeus is the official port, but it's the close to the Greek capital of Athens, so there are some amazing options for exploring. From the 2,500-year-old Parthenon, the Theatre of Dionysus or to the stunning Acropolis. Athens is a fascinating place to explore, a modern city with an ancient history. If you've never been, I'd highly recommend the Acropolis, it's just one of those things you must do once in your lifetime. I would also suggest the Athens Panorama tour as an alternative. Take a look at my things to do in Athens for some inspiration.
Having been here before, I opted take a trip to the Temple of Poseidon, somewhere I've always wanted to visit. It also had a beach stop thrown in for good measure. The perfect combination of culture and relaxing. The Temple of Poseidon is an iconic ruin perched 60 metres above the Aegean Sea. We had time to take our photos and enjoy the stunning views. On the way back we stopped for a few hours at Yabanaki Beach, a popular sandy beach with crystal clear waters. It felt like a nice balance between culture and relaxing, and a perfect start to this Greek adventure.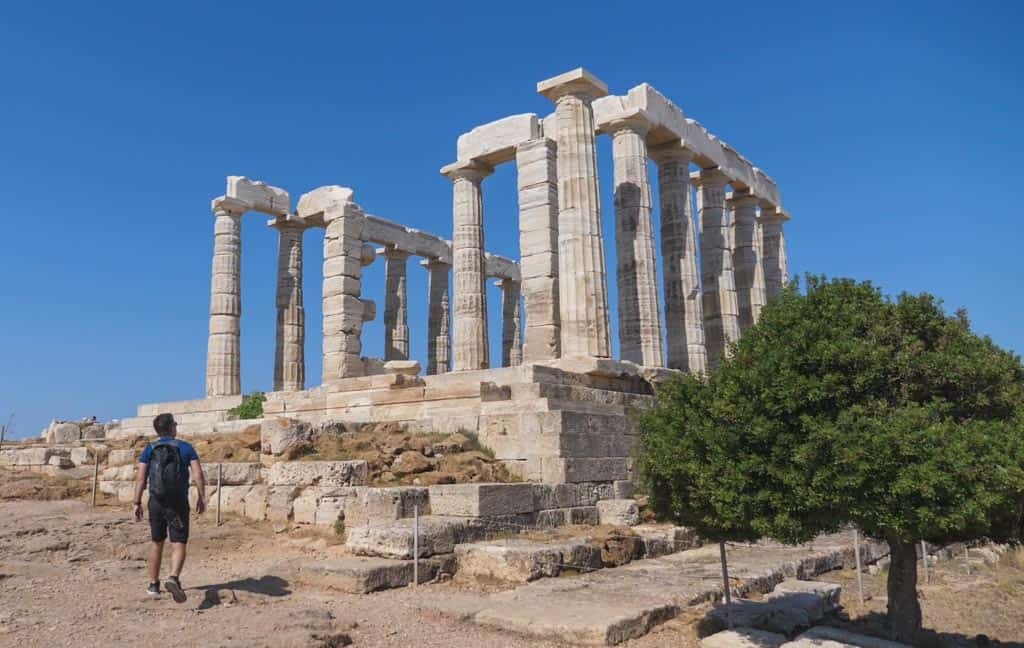 Day Three: Heraklion, Crete
The next morning, we woke up in Heraklion, the largest city and capital of Crete. Most people don't spend time in the city itself but choose an excursion to the beach or somewhere cultural. One option is the remains of Knossos, the Palace of King Minos and the Minoan Miracle. There is even a tour taking in the "best of Crete" which includes Knossos and the town of Agios Nikolaos, where we opted to go.
I'd heard a lot about Agios Nikolaos, a charismatic seaside fishing village with a stunning lake at its core. Today I didn't want a tour, so we simply took the bus to and from the town, with the rest of the time for exploring on our own. Voulismeni Lake was the main attraction, and I wanted time to walk around it and take photos. The lake is lined with a number of restaurants and shops, and we took the advice of a local for some of the best Greek food dishes (another reason I wanted to come here!). We ate at Chez Georges, which I can highly recommend!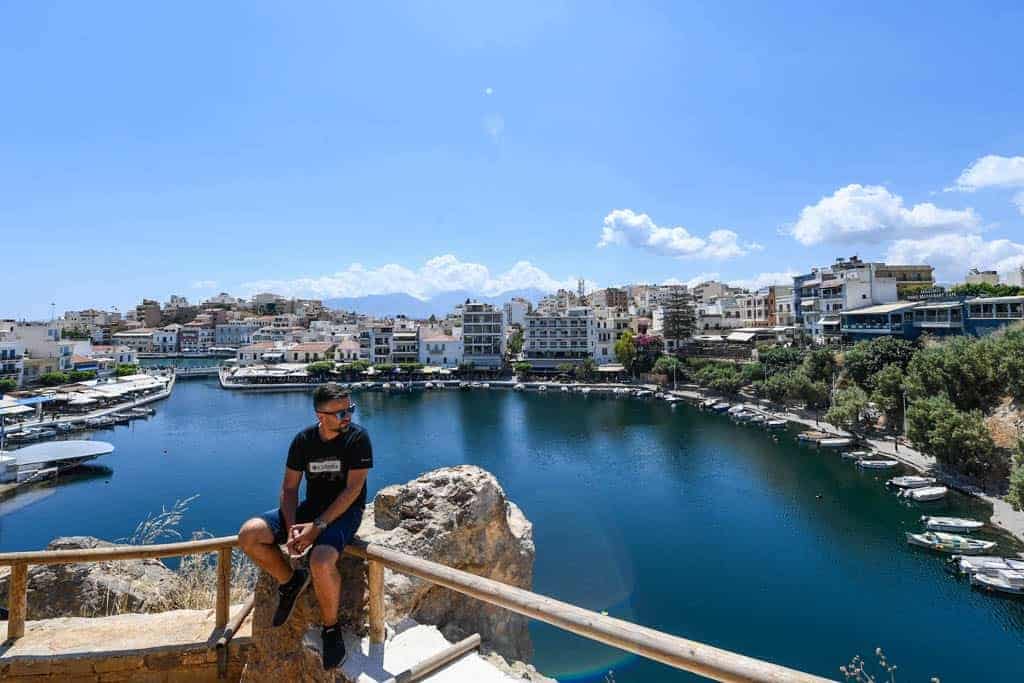 Day Four: Rhodes
In Rhodes you dock right at the town, meaning you can walk into Rhodes town to explore the Turkish Market. However, a word of warning, on a busy day the town centre is my worst nightmare! It's just so busy. However, don't worry, Rhodes is a beautiful island with a lot of options for excursions. You can see the Acropolis of Lindos, Tsambika beach, Filerimos or go kayaking. There are also options like Panoramic Rhodes and Discover Rhodes that cover a few places.
I was ready to be active! One of my absolute favourite ways to see somewhere is on the water, and even better in a Kayak. Rhodes is also one of those islands that looks great from the sea. We were picked up from the ship and taken to Kathara Beach in Faliraki, where the kayaking adventure began. We paddled out to sea passing some unique bays and stunning rock formations, including the famous Anthony Quinn Bay. Finally, we made it to the crystal-clear waters of Traounou Beach. Here we had one of many opportunities to swim, and the water was so clear here we could do some snorkelling. This was followed by one of my highlights; a delicious homemade picnic on the beach, with some of the best Greek salad I've tasted.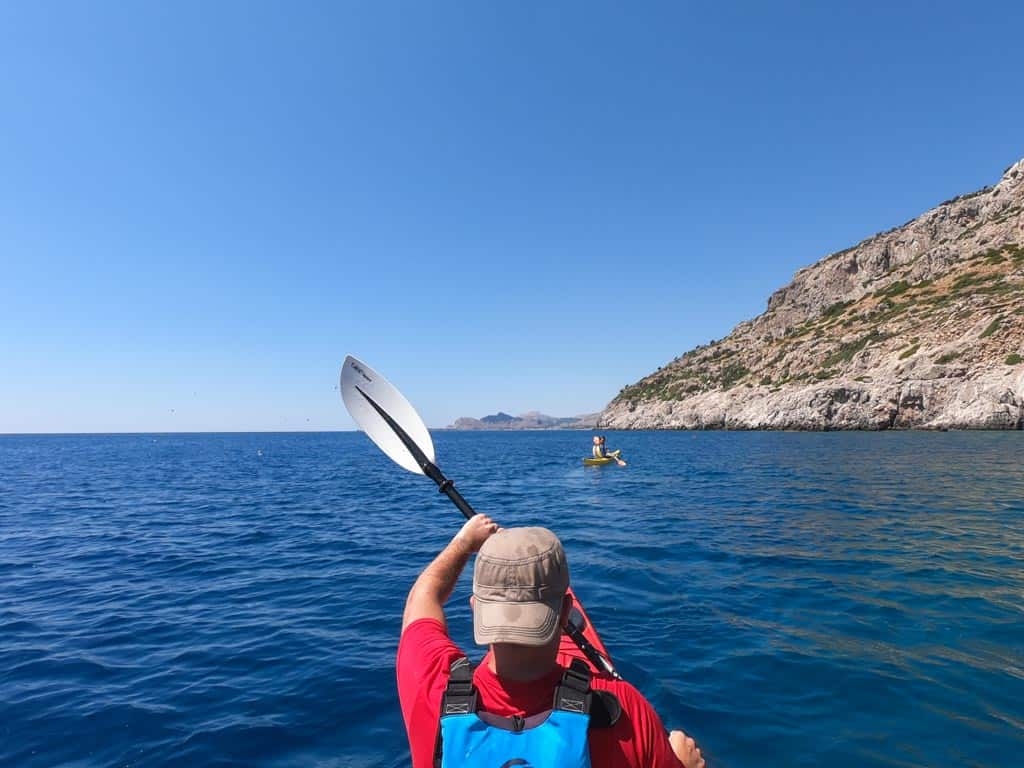 Day Five: Souda Bay
For our final port we are back on the island of Crete in the natural harbour of Souda Bay. It's a place with a really interesting history, from the Greeks fighting the Ottomans to the fortresses that stand tall watching the harbour. As you'd expect for Crete, there are also plenty of beaches to relax on and explore. Either way, this is one place I would recommend taking an excursion. One option is the old Venetian town of Chania, with cobbled streets and colourful houses. Another is the "taste of Crete" tour (which almost had me) or maybe a visit the Arkadi Monastery is more your cup of tea?
I opted to take a Jeep safari and wine-tasting experience, pretty much two experiences for the price of one! The Jeeps (or Land Rover's to be exact) picked us up right from the ship and took us high into the Vatolakos Hills. The panoramic views from over 600 metres were worth the trip alone. We then headed to the Manousakis Winery, a family run winery founded by Ted Manousakis. He was told the vineyards would not work on the island, but along with a team of experts he found a spot on the hills around the village of Vatolakkos. The chosen grapes thrived, and they now produce over 150,000 bottles a year. Our tour included a tour of the grounds, the factory and of course we tasted the wine.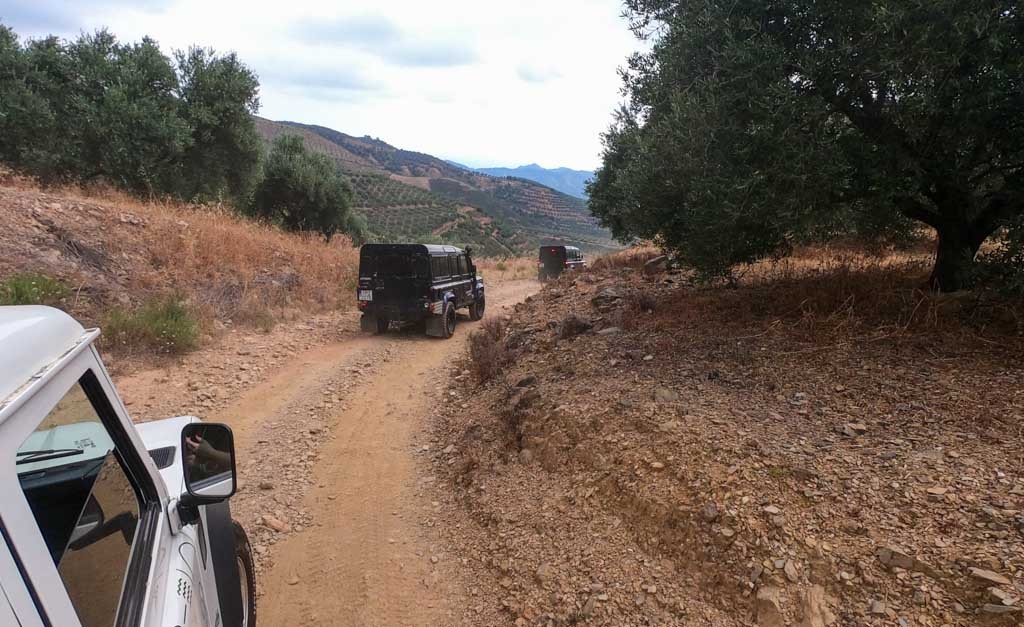 The final day of the cruise was another sea day, which gave us the perfect chance to relax on board again as we sailed back to Malta. If you have the time, I'd suggest either booking an excursion (if the timings fit with your flight) or staying on a couple of extra days. Either way, forget what you think you know about cruising and give it a try. I found it a fantastic way to see new places, and if I like them, I plan to go back for longer. To answer my questions at the beginning, I didn't get bored at all and it wasn't all families and couples. You're basically on a hotel on the water, waking up in a new destination every day. Brilliant.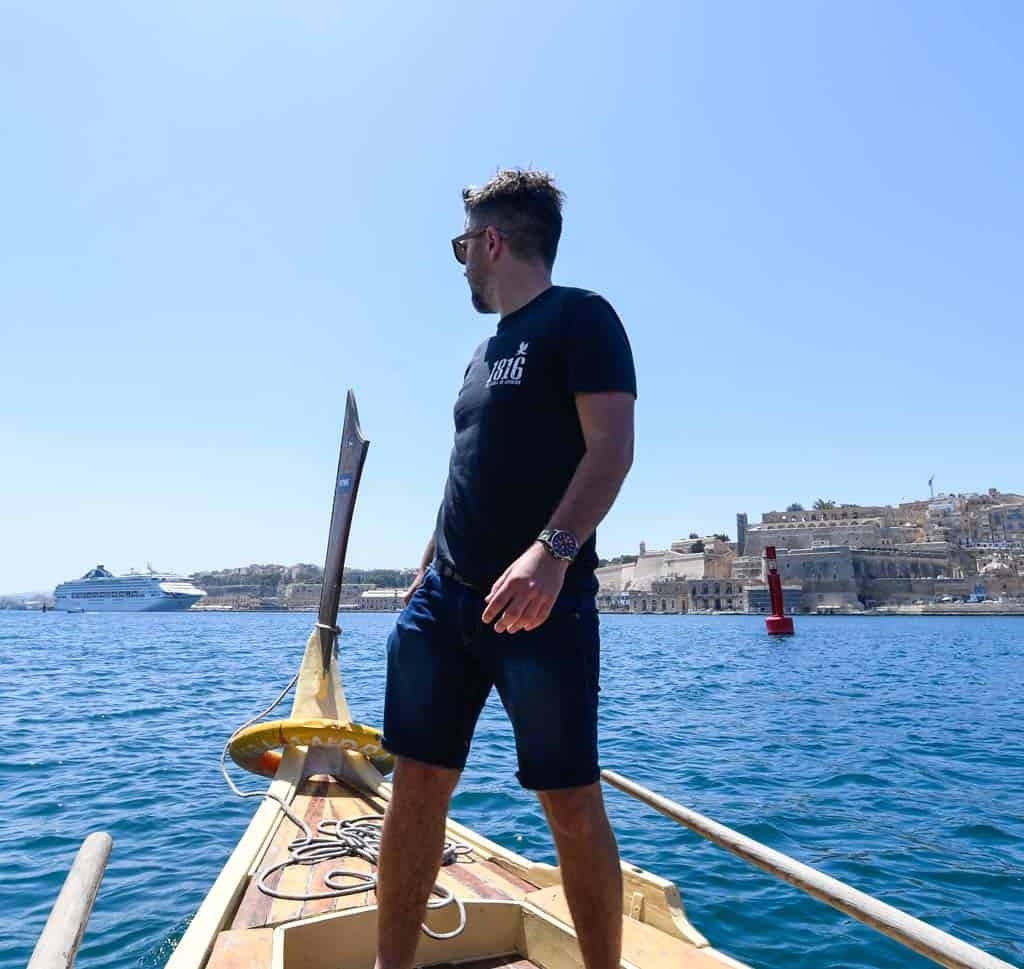 *My cruise around Greece and Malta was sponsored by P&O Cruises. Nonetheless, the photos, video and opinions are all my own (as always). And quite honestly, I really loved it! Click here to find out more about P&O fly-cruises around the Mediterranean.