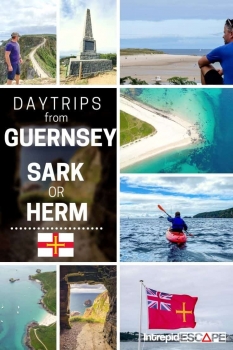 You are certainly not short of things to do in Guernsey but taking a daytrip to one of the smaller islands is a must! There are plenty of day-trip options, but the two stand out options are Sark and Herm. But if you just have one day, how do you choose?
Well, let me start by saying you must find time to visit both if you can! And spoiler alert, there is no winner in this article. Both Sark and Herm are winners. Nonetheless, I am going to break down the islands into a few useful categories, so you can see which one is for you.
Let's start by looking at a few facts and figures about each island. Firstly, Sark is the much larger of the islands, with a population of 500 and an area just over 2 square miles.
Both islands have banned cars but being the busier of the two Sark still has horse and cart, bikes, and tactors. Generally, you don't see any of these in Herm, as most travel is on foot.
Herm is less than half the size and only has 65 residents who live on the island all year round. So, you start to get a picture of the difference in the islands. Famously, Sark was declared the world's first dark sky island in 2011, making it a fantastic place for stargazing.
Outdoor Adventure in Herm and Sark
When is comes to the islands of Guernsey, adventure really begins out on the water. From kayaking to coasteering, there are plenty of choices for water sports.
I went kayaking in Sark, and then hopped on a bike to explore the island. The kayaking with Outdoor Guernsey was a brilliant way to see the coastline, and we kayaked in and out of some stunning caves. You can also go caving and coasteering here. But most beaches are only accessible with a bit of a hike, so that might not suit everyone.
In Herm you can also go kayaking or paddle-boarding, but the beaches are far more accessible. There isn't quite as much rocky coastal terrain to explore.
For hiking, Herm has a clear route all around the island. This takes around two hours with the first hour being the more interesting coastal route (assuming you go anticlockwise). The second half is more for exploring the beaches.
Hiking in Sark tends to be centred around Little Sark, and you'll mostly get around by bike unless you have time to walk it. I have read you can hike the whole island in one day and take in most of the sites (it's around 10 miles). I think that would be very tight. If you have couple of days here, then hiking some of the coastal routes is the way to go. Herm on the other hand is not bike friendly.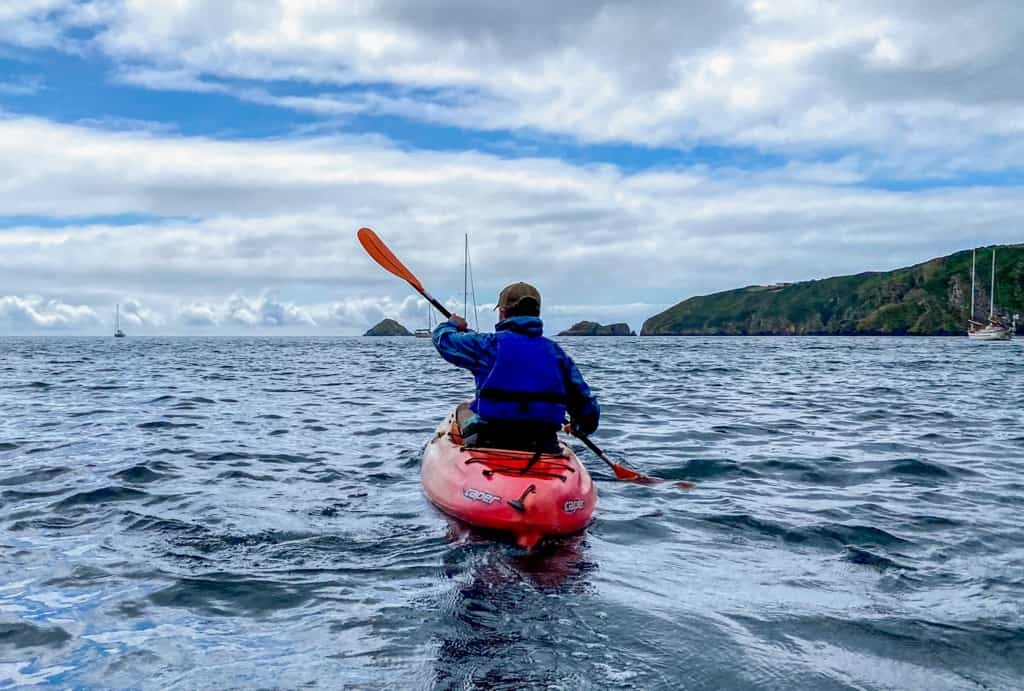 Nature in Herm and Sark
The showstoppers on both islands are the Puffins, which can be spotted from March to July. In Herm they can be easily seen from Puffin Bay, via the hiking path, by boat or kayak. The Puffins in Sark are found on a small islet called L'Etac, and you can only see them on a boat trip. You're also likely to spot Guillemots and Razorbills.
Speaking of the islets, you can find a Seal colony on Herm but again that can be seen by boat. I saw these seals on the Herm Explore Wildlife Voyage with Island Rib Voyages. It's not possible to kayak to them, as it's very far from Herm with a lot of tidal currents between the islands.
Nature isn't just limited to the wildlife, for me it's the stunning landscapes. From the Window in the Rock in Sark to the views over Jethou in Herm. There is quite literally nothing to chose between the islands in this department.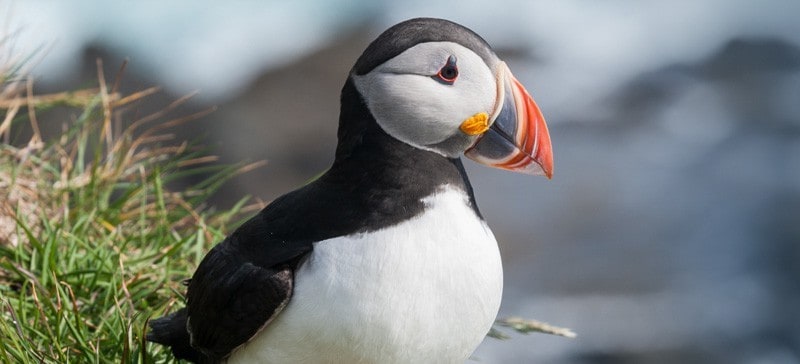 Things to do in Herm and Sark
Being the smaller of the islands, you are limited on things to do in Herm. In my opinion you visit Herm to do one of a few things; relax on the beach, go for a short hike, or relax on the beach!
Obviously, the beach also comes with many options like kayaking or paddle-boarding. And let me just say Herm's beaches must be seen to be believed. Stunning. You can also do archery, clay-pigeon shooting, well-being retreats, garden tours and Annette Henry tours in Herm.
Sark on the other hand almost had too many things to do, I couldn't decide where to start. I've already mentioned the outdoor activities, but how about the war-time exhibition to learn about Sark's interesting history? Or find out about chocolate-making at Caragh Chocolates?
You can also spend your time exploring the gardens of La Seigneurie. But the rest of the things to do I suggest doing by bike. My top spots are Window in the Rock, Dixcart Bay, La Coupée and Pilcher's Monument.
On Herm, you absolutely must take the coastal hike from the Rosaire Steps round to Shell Beach, passing Belvoir and Puffin Bay. When it comes to the beach, take your pick! If you walk along Shell Beach to Alderney Point, you'll find somewhere completely to yourself.
Food, drink and overnight in Herm and Sark
Both islands have a nice variety of dining options, from beach cafés to sit-down restaurants. Starting with Herm you can grab pub grub at the Mermaid Tavern, which has a lovely courtyard to sit outside. I recommend this one.
For a more formal dinner look at the White House Hotel (the rooms here also have fantastic views!). The Ship Inn is another pub alternative, right next door. Then you have two beach cafes serving sandwiches and salads, and a totally refreshing (and highly recommended) Herm Gold lager.
Sark as you'd expect has a few more pubs and restaurants, and you'll find a few along The Avenue. Nicole's has a lovely garden and fresh seafood, the Stocks Hotel has fine dining and uses local produce, and La Sablonnerie has the best reputation and a lovely traditional setting.
Both islands have campsites with pre-erected tents if you don't have your own, and both have a couple of pubs to grab a pint. Sark is known for its cheap pints due to the tax laws, and I recommend going to the Bel Air Inn for one. I found the Bel Air Inn far more tourist friendly than the Mermaid Tavern (on Sark).
Please note both Sark and Herm have a pub called the Mermaid Tavern! I liked the one in Herm.
Travel to Herm and Sark
For Covid travel requirements to the island of Guernsey please see the section below.
Pretty much all main boats and ferries go to and from the capital of Guernsey, St Peter Port. That's true for these islands too. Herm is the closest island, so the ferry just takes 20 minutes, however Sark is further and takes around 50 minutes.
Both journeys were short and hassle free, and the prices reflect the distance. I can't fault either service, comfortable, on-time and both boats are big enough that you shouldn't get too sea-sick (I cannot guarantee that!).
An adult day return to Sark costs £29.50 with Sark Shipping and an adult day return to Herm is £14.00 with the Herm Trident. Please use these links for more info and the sailing schedule.
You can fly to Guernsey from many UK airports, or take the ferry from Poole as I did with Condor Ferries. This was an really easy journey taking just 3 hours, and gave me the flexibility of having my own van on the island. I loved having not limit on luggage (I took my paddle-board!), and relaxing with some food onboard. It's also the best way to take your pet.
Covid Travel Requirements in Guernsey
As things can change rapidly I encourage you to check up-to-date travel information on the Visit Guernsey website and the UK Government.
Recent update!!
As of 17th February 2022, all restrictions to enter Guernsey have now been dropped. This is due to the high vaccine uptake on the island, alongside the community acting responsibly. There is also no requirement to complete the Travel Tracker.
They do still strongly request people stay at home should they feel unwell, and positive Covid tests for 10 days with early release should they become negative again.
For more reading about Guernsey, I recommend reading my other articles Reasons to Visit Guernsey and 10 Things you must do in Guernsey.
As you can tell, both islands won me over and I would find it impossible to pick. They both offer a different experience. I hope you found this comparison useful, what are your favourite things about Sark and Herm? I'd love to hear about it in the comments below.
This article was supported by Visit Guernsey but as always, the opinions and photos in the article are all my own, and I think it's clear to see I loved every minute of my trip!