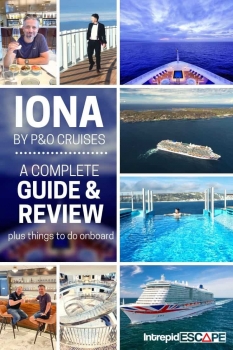 It's not often you get a chance to be on a Maiden Voyage. Especially not one as huge as the launch of the new P&O flagship Iona. It was made even more special because I've been involved with the launch of this ship for nearly 3 years. From my first trip to Norway, to promote the excursions Iona will be doing there, to watching Gary Barlow live at a London launch.
But this article isn't about me, that was just me highlighting my connection with Iona. This article is about you, and everything you can do onboard Iona. In this article I will cover everything this ship has to offer. And I mean everything.
Our Maiden Voyage was a cruise around the UK, meaning it didn't stop anywhere due to Covid restrictions. That had one major benefit, it gave me a whole week on board to see and do as much onboard as possible. I still didn't cover everything. I think it's been designed that way, so you come back for more. That's a smart strategy.
I don't plan to specifically focus on the Covid rules in this article, however to stay up to date with safety protocols, vaccination requirements and FAQs, please see the P&O Cruises Cruise with Confidence.
Facts about Iona
Before I get into a few facts and figures. The real show-stopping fact for Iona is it's powered by Liquified Natural Gas. This makes Iona one of the most environmentally friendly cruise ships in the world. She has zero sulphur and nitrogen emissions and produces 20 per cent less carbon than ships running on marine diesel.
That's impressive. It's so important to see a huge player in the cruise industry setting the standard. So, onto the facts:
Iona is the largest ever cruise ship to fly the UK flag
She can hold 5,200 guests and 1800 crew
There are more than 30 places to eat and drink onboard
There are 4 swimming pools (2 infinity pools) and 18 hot tubs
Iona has the world's first gin distillery at sea (more on that later)
Dining on Iona
As you'll see from my video above. P&O Cruises has really set the bar high with dining onboard Iona. This isn't just some of the best food I've eaten at sea, it's some of the best I've ever experienced. Quite frankly, I don't know where to start when it comes to the cuisine.
Well firstly, there is freedom dining throughout the ship included in the price. There are four main dining areas and a few other casual places included in this. This food is of fantastic quality. Some restaurants have a traditional buffet selection; albeit no longer self-served due to CoronaVirus protocols. And having no self-service is no bad thing in my opinion.
Personally, I love a buffet when I want an informal setting and I'm short on time. However, my favourite of the 'included' or 'free' selection was The Quays. Three restaurants in a small piazza offering Asian cuisine at Fusion, fish and chips at The Hook or American dining at Boardwalk Diner.
Moving onto the speciality restaurants, which you must try. These incur an extra charge, but for good reason. Usually, the charge isn't that much and believe me when I say it's worth it. I suggest you budget for that pre-trip. Here's a couple of my highlights (keep in mind I did not have time to try every restaurant).
The Glass House: a light tapas style menu in the Grand Atrium with wines selected by Olly Smith (who happened to say hello when I was there for lunch!)
The Olive Grove: Mediterranean style food with a small surcharge. Probably my top tip, it wasn't busy and the value for money is amazing. I recommend the Tagine.
The Keel and Cow: if you like your steaks and burgers then look no further. The Prime-minister burger is known as the "best burger at sea", and I love the fact that the blue cheese comes from the Isle of Wight.
Epicurean: fine dining with British / Norwegian inspired dishes at £28 a head. This is one of many destination-inspired restaurants onboard, a lovely touch.
The Limelight Club: a three-course meal combined with entertainment. Brilliant. An elegant venue with a cabaret show, we saw the singing plus comedy drag-queen La Voix.
Sindhu: Authentic Indian food with a British twist.
When it comes to the bars, I've included these under things to do below.
Things to do on Iona
I should probably just have a separate article focusing on this alone! And if you've not watched the video above, please check that out. My main line in the video is "you won't get bored onboard". That couldn't ring truer, especially when cruising returns to normal and you'll be getting off most days.
You'll most likely find you haven't even scratched the surface when it comes to exploring Iona.
I'll break it down into day and night, starting with daytime. Firstly, relaxing. Try 4 swimming pools (two of which are infinity pools) with sunlounges, indoor and out plus 18 hot tubs, enough choice? There's usually live acoustics around and always a waiter on hand for drinks.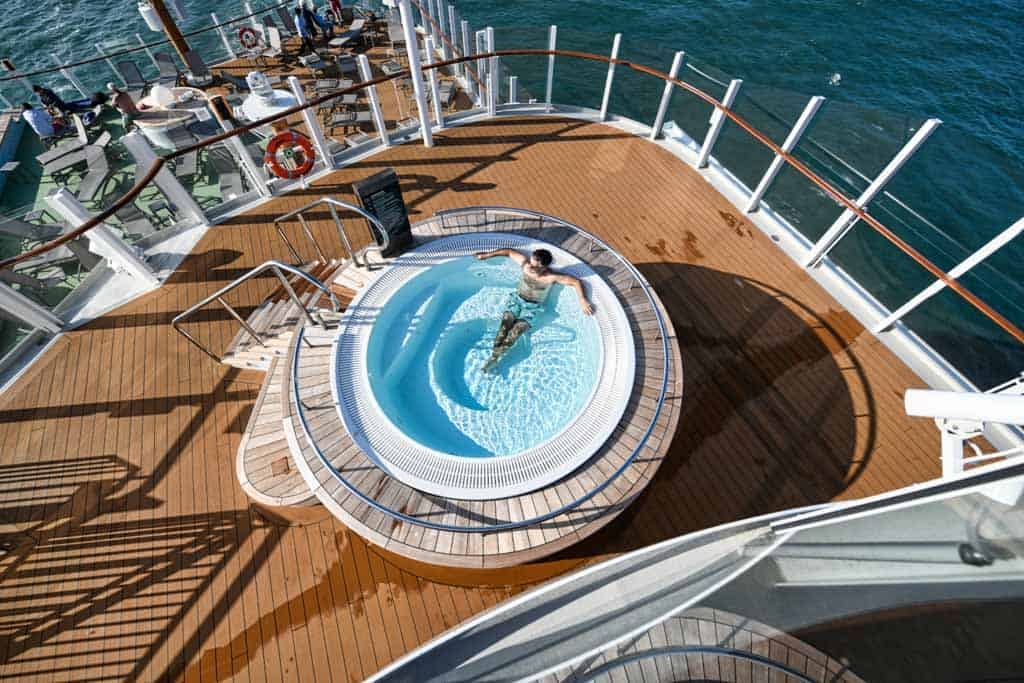 Daytime entertainment
For a tranquil setting, there's the adults-only Retreat. It offers some of the best views onboard. For even more relaxation book yourself into the Oasis Spa, complete with jacuzzis, sauna, salt room, steam room and hydrotherapy pool. I had the hot stone massage which was incredible. Please book early as this was mostly fully-booked on my trip.
I was also impressed with the size of the gym onboard, which has daily fitness classes and yoga.
For Children
For the children you have "The Reef", which is organised into age-specific clubs with outdoor play areas, and entertainment such as puppet shows and treasure hunts.
Evening entertainment
In the evening your first option is aerial displays and laser shows in the SkyDome. It blew me away how an indoor swimming pool by day was transformed into at acrobatics entertainment area by night.
Your second option on Iona is the two-story auditorium the Headliners Theatre. They host live music, stand-up comedy, and theatre performances such as the new "Festival" show which was a fantastic spectacle.
Bars and Drinking
Personally, when cruising I love to spend my evenings in a smaller bar with some live music.
There was no better live music venue than the 710 club (if you can get in). The cosy and very intimate venue has partnered with no other than Gary Barlow as the musical director. But get there early or book in advance, as (rather frustratingly) these were the hottest seats onboard.
There's also the Crow's Nest cocktail bar, which has lovely views but wasn't my favourite atmosphere. Instead, I preferred the Emerald Bar in the Atrium, where I had an exquisite cocktail called 'The Smoke that Rocked'; a smokey cherry bourbon Old Fashioned. I also found the live music at the Club House, and the informal setting at Brodie's more my style.
Brodie's is also conveniently next door to the casino too. However, I was a little disappointed with the Casino, there's a limited selection of games and just a small number of tables. When the ship is full, I doubt you'll get much chance to play.
Finally, movie lovers will enjoy Ocean Studios, four cinema screens running throughout the day with the latest surround sound and a mix of classic flicks and recent blockbusters.
Rooms and Suites on Iona
I have always said that once you have a balcony on a cruise, you can never go back. Clearly the inside cabins are friendlier on the wallet. But once you step out of bed and onto your private balcony, with a coffee and the crisp sea air, you won't go back.
I had a Balcony Suite, which is far more spacious than any previous cruise with P&O Cruises. With a small working and sitting area, a big screen TV and plenty of wardrobe space it's hard to know what more you need. Oh wait, brand-new for Iona is P&O Cruises very first Conservatory Mini-Suite. These suites have a stunning conservatory style roof over a casual seating area, bringing in loads of natural light and perfect for entertaining or relaxing.
You can also choose from sea-view cabins, inside cabins and solo cabins. I found the inside cabins surprisingly bright and spacious considering there is no natural light, and they also have a small seating area.
The World's first Gin Distillery at Sea
That's right, Salcombe Distilling Co. have curated the sea inspired Marabelle Gin which will be distilled onboard, right there for the guests to see. I met Angus from Salcombe Gins to learn about Marabelle. He took inspiration from the Isle of Iona itself, foraging botanicals around the island.
The sea inspiration doesn't stop there. The label has similarities to the sunset logo from P&O Cruises and star constellations on the inside. But importantly, it's a stunning gin. I know as I've already had a bottle at home, and a few more G&Ts on board. It's a fresh gin with a distinctive flavour, which coupled with citrus and apple gives you the perfect G&T after a long day exploring the Norwegian Fjords or Canary Islands.
The Gin Distillery is found at Anderson's Bar and Library, a classy venue to sip a G&T and watch the distilling process in action. All Marabelle bottles with a gold top have been distilled at sea.
Other Unique Features on Iona
All around the ship you can see that every effort has been made to design a ship that feels bright and spacious. It's a sense of space that you don't expect on a ship, where space is a premium.
This starts in the stunning 3-story Grand Atrium, the first place you see when you embark. It has floor to ceiling windows (yes spanning all 3 floors), making it the perfect spot for watching the world pass by. It also houses several bars and restaurants, not least the Glasshouse mentioned above.
Next, we have the SkyDome. A huge dome roof gives you the comfort of an indoor pool and somewhere to relax whatever the weather. But the impressive part is how it's transformed into an entertainment zone in the evenings. With a retractable stage over the pool, we saw aerialists and laser shows late into the night. I can see this having the party atmosphere when the ship is full, especially with DJ sets produced by Blur's Alex James.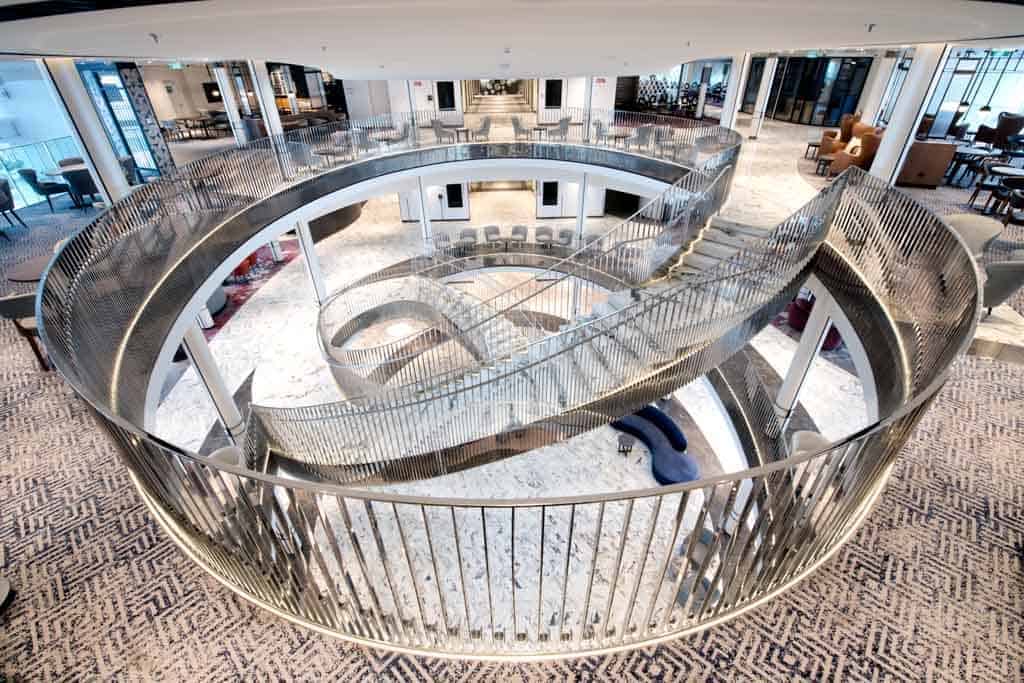 Iona Destinations
Iona will sail to the Norwegian Fjords in the summer, starting in 2022. To me you can't find a more perfect partnership. As I've mentioned above, she is designed to let the outside in, and what more perfect place to marvel from the comfort of the Atrium than the majestic Norwegian Fjords? I even wrote about all the fantastic Norwegian Fjords Excursions you can do, in advance of Iona's launch.
During the winter Iona will sail to the Canary Islands, another fantastic destination to compliment the ship. We spent our week on the coast of Scotland in summer, a temperate climate and sunny most days. But being around 20-22 degrees meant it could get a little chilly. Well Iona has that covered. Hot tubs dotted all round and the cover pool of the SkyDome mean you can still enjoy some bathing, whether inside or out.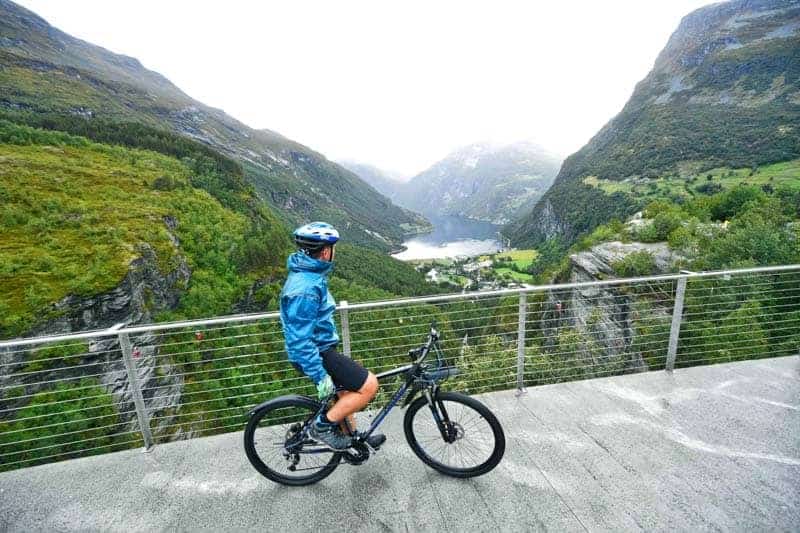 Final thoughts on Iona
On a personal note, I have been excited for the Maiden Voyage of Iona by P&O Cruises for some time. It was a privilege to be onboard and presenting a tour of the ship. Iona has been designed to be different, and to appeal to a younger generation of cruisers. The original launch was due to showcase that with a weeklong festival, one of many plans scuppered by Covid.
Nonetheless Iona will get there, back where she belongs exploring the world. She's a bold eco-friendly cruise ship with a vibrant atmosphere, targeted at a younger audience. And when she is sailing through the awe-inspiring Norwegian Fjords, I can't think of a better place to be to witness it.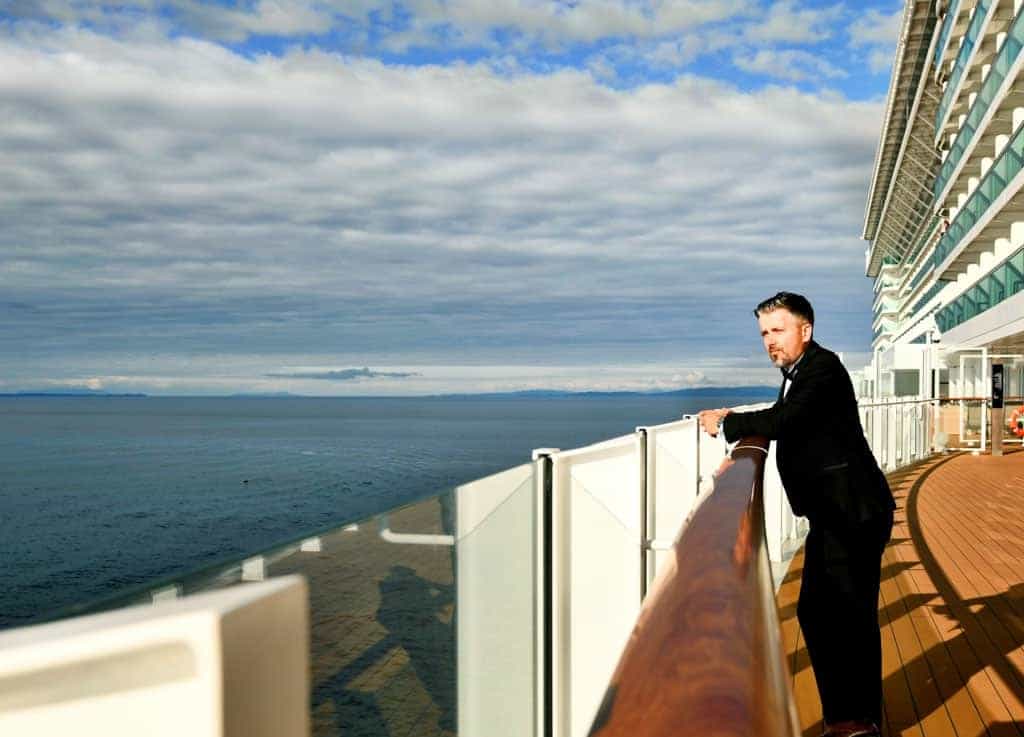 This article was supported by P&O Cruises but as always, the opinions and photos in the article are all my own, and I think it's clear to see I loved every minute of my time onboard!