I am continuing my bucket list road trip itineraries with another epic one in the USA; from Jersey City to Philadelphia, and covering a fair few stops on the Jersey Shore. This however is only part one, which covers Jersey City to Cape May, so make sure to read Part Two which ends in Philadelphia.
I've always loved this style of travelling, and nothing beats an A to B road trip. That means picking up the car in one destination (in this case Newark) and dropping it off at another (Philadelphia).
I'd be doing this trip in just over a week, so this itinerary could be adapted to be anything from 5/6 days, to 10. As is often the case, I could have easily stayed longer in some places, and recommend doing your own research depending on what you're into.
Otherwise, grab a hot drink, and see my suggestions below.
Why Take a New Jersey Road Trip?
If you're looking for a thrilling adventure that combines culture, history, and natural beauty, then a road trip in New Jersey is exactly what you're in for.
With its year-round destinations and attractions, the Garden State offers a diverse range of experiences that will leave you wanting more.
From hiking in the lush forests of the Pinelands to exploring the sandy beaches of the Jersey Shore, the possibilities for outdoor exploration are endless.
And if history and culture are more your speed, you can visit the charming colonial town of Princeton, tour the historic homes of famous New Jerseyans like Thomas Edison.
What is so special about New Jersey?
New Jersey is a state full of hidden gems and diverse experiences. From hiking in the beautiful Appalachian Mountains to exploring the historic boardwalks of Atlantic City, there is never a dull moment.
And let's not forget about the food – New Jersey boasts some of the best pizza, bagels, and diners in the country!
But what truly sets New Jersey apart is its people. They are kind and definitely proud of their state. And let me tell you, you'll notice that as soon as you get to the Garden State!
Best Time for Road Trips From New Jersey
It all depends on your personal preferences. If you're someone who loves the heat and the beach, then the summer months would be the perfect time to plan your adventure.
From the Jersey Shore to Cape May, the Garden State offers plenty of beautiful beach towns and scenic views for you and your road trip buddies to explore.
But, if you're more of an autumn foliage fan, then planning a road trip in October or November will provide you with astonishing views of the changing leaves as you travel through the state's national parks and forests.
Not only will you have the chance to witness nature's beauty in full effect, but you'll also get a break from the summer heat and enjoy the cooler temperatures.
Best Tours in New Jersey
New Jersey Road Trip – From Jersey City to Cape May
From the moment you set foot in Jersey City, the adventure begins. This bustling metropolis offers a unique blend of urban charm and historic landmarks.
And it doesn't matter if you plan a 5-day or 2-week New Jersey road trip, as you'll definitely be in for a treat.
Here below, I'll go through the itinerary in order by city and will go through the best things to do in each place, as well as some tours to join if you have more time available. Let's go!
Jersey City
Flying into Newark perfect for a stopover in Jersey City. And what a gem it is. People often forget just how convenient New York is from here, its just a 20 minute ferry ride across the Hudson River.
As we sat looking over Manhattan, it felt calmer. Having the Big Apple right there, but having none of the stress. Life here is more relaxed, and there is a vibe to Jersey City that felt far more chilled. It might have been the police road block to let the geese cross the road, who knows!
There are so many things to do in Jersey City, for a start you have New York. But if you want to stay closer to home, here are a few suggestions.
Liberty State Park
Called a green oasis in the heart of Metropolitan New Jersey, I couldn't agree more. It has amazing views over the Hudson River, the Statue of Liberty and Manhattan. It also hosts some of the transportation history for New Jersey, including the Central Railroad New Jersey Terminal, an impressive building.
My favourite spot was the 'Empty Sky' 9/11 Memorial, remembering the 750 people lost from New Jersey in the World Trade Centre and Pentagon attacks. From here you can get the ferry to the Statue of Liberty and Ellis Island.
The Statue of Liberty
Did you know the Statue of Liberty is a Jersey girl? Yes she is officially in New Jersey! There are a few ways to visit, such as taking a ferry from Liberty State Park, like I mentioned above.
Alternatively, I'd also recommend a helicopter tour if you have the budget! What an incredible experience flying over New York and the Statue of Liberty.
That being said, all in all, when planning a New Jersey road trip, you'll want to check out this 6-hour sightseeing tour around New York City, which includes a stop at the Statue of Liberty, Ellis Island, the 9/11 Memorial, and more.
American Dream
So much more than a shopping mall! American Dream is an entertainment and shopping complex which fuses a mix of world-class attractions with unique dining! Their website boasts the headline "American Dream – Fantasy, Fashion, Food, Family and Fun!"
So what are we talking? Well for a start; a huge indoor ski slope, massive waterpark and wave machine, an ice-rink, a theme park and lots more other games and attractions. There is genuinely enough to do here if you had a week, let alone a day.
Where to Stay in Jersey City
Here's a list of great places to stay in Jersey City to make the most of your time:
Canopy By Hilton Jersey City is the perfect place where to stay in Jersey City if you plan to spend the night here. With a fitness centre, a terrace and bar, and gorgeous rooms, you're really in for a treat.
Talking about the rooms, you'll find a coffee machine, a fridge, a safe, and a beautiful bathroom where you'll love spending some me-time. All in all, an excellent luxury choice if that's your cup of tea.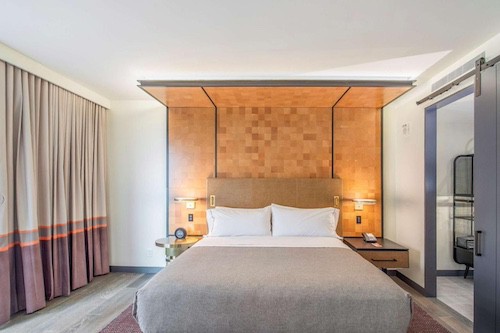 A beautiful mid-range hotel in Jersey City that won't break the bank is the Courtyard by Marriott, which offers not only spotless and modern rooms but also a swimming pool and more.
After a day exploring around on your New Jersey road trip, you can come back and enjoy a meal at their on-site restaurant that offers dinner and delicious cocktails!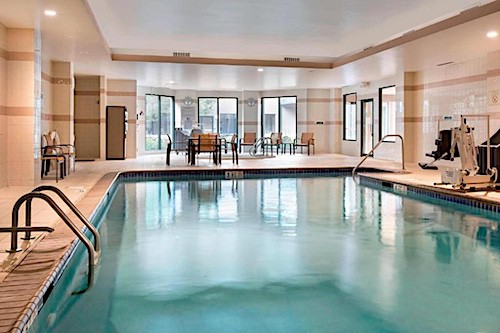 Want to stay in town for the night but don't want to spend hundreds? Haiban Inn Jersey City has got you covered.
This 3-star hotel offers minimal yet clean rooms with air conditining, a private bathroom, fast WiFi, and excellent service.
This is a great property with good reviews and I couldn't recommend it enough when in New Jersey.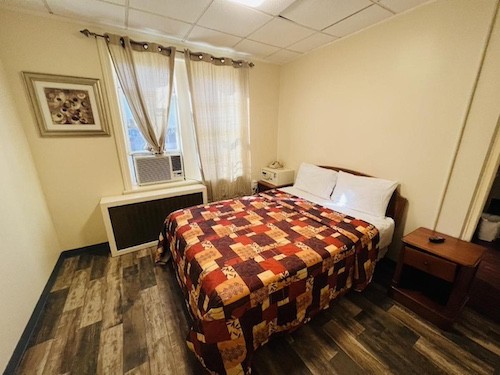 Other tips
Drink here: NoHu Rooftop bar. What a stunning spot to start our road trip adventure at, amazing views over Manhattan and a fire pit, they also serve great food. The bar and restaurant are part of the EnVue Collection hotel.
Have breakfast here: Sam AM is nestled in a little Jersey City side street, and really felt like an authentic local's experience. They are known for their carefully crafted coffees and comforting breakfasts, either in the comfy café or to go.
Sussex County
Just one and a half hours west of Jersey City, before we head t the Jersey Shore we visit Sussex County, a region known for its soft adventure.
There are two main resorts to stay at, 6 award winning golf courses, a mining museum with florescent rock, and unlimited hiking and horse riding.
Grand Cascades Lodge
We were staying at Grand Cascades Lodge, one of the two main resorts and part of the Crystal Golf Resorts, which means it has 3 world-class golf courses, yes 3!
This resort is very family friendly, with huge apartments as standard, equipped with all you need to be totally self-catered if you want. But that doesn't mean there isn't plenty of eating and drinking in the resort. We ate at Crystal Tavern which has a locally sourced menu and stunning views, as well as artisan cocktails and microbrews.
It's situated right on the Appalachian Mountain Range meaning you have a lot of things to do on your doorstep, as well as a number of things organised by the lodge itself. This includes axe-throwing, poolside movie nights, marshmallow roasting, horse-riding and forest bathing.
And please make sure you do a tour (organised or self-guided) of the magnificent cellar, that's a seriously impressive collection of wines. They also have an inhouse spa, which looks amazing but sadly I didn't get a chance to sample it for myself.
Atlantic City
The next stop on the journey is going to be a good one, Atlantic City. It's approximately a 3-hour journey from Sussex County. I'd heard mixed things about Atlantic City so was excited to find out for myself!
I always love to go by my first impressions of a place, which for Atlantic City were great! A huge beach, lovely boardwalk, Vegas-style casinos, and great nightlife. It's also a wonderful place to catch some of the best comedy acts or music performances, attracting the top names in the business.
This is all in addition to the amazing restaurants, so make sure you don't miss the 'Where to Eat' section below. Here are a few of my favourite things to do in Atlantic City.
Dolphin boat cruise
One of the most popular activities on the water is to go on a Dolphin watching Cruise. Ours was with Atlantic City Cruises and set sail from Historic Gardner's Basin (there's a great little bar there called the Back Bay Ale House!).
The tour lasted around 2 hours and there is a 90% chance you'll see dolphins. The good news is that even if you don't, they will give you a free ticket to come back the next day, and the views over Atlantic City are breath-taking.
The Boardwalk and Steel Pier
If you're planning a visit to Atlantic City, you simply have to allow some time to explore the Boardwalk. I prefer to just around without a plan, soak up the atmosphere, watch the world pass by or grab an ice cream.
The beach here is huge, with a number of lively bars with a party atmosphere. We headed to Steel Pier specifically to take the wheel and get the best views over Atlantic City. Its right next door to the Hard Rock Hotel and offers fun for everyone.
For me, relaxing on the wheel was the main attraction, but there are plenty more rides and fairground stalls and games to explore, whatever you age.
It's also worth mentioning that just a short walk from the Boardwalk you'll find The Orange Loop; three blocks of one-of-a-kind restaurants, bars, coffee and live music.
Outlet Shopping
Before this trip if you told me I'd be going Outlet Shopping I would have laughed! However, Atlantic City is known for having several streets of tax-free shopping for clothes and shoes.
People travel down from New York City just to shop here, and the deals are amazing. All the big brand names are here. You can join the Tanger Outlets membership, along with the shops own mailing list to unlock even more savings.
Atlantic City Casinos & Nightlife
The hardest part will be picking which casino to visit! Atlantic City has some of the big names in the industry, such as Caesar's Palace, Bally's, The Golden Nugget, Hard Rock Café and Tropicana. At least these were some of the names I remembered.
When it came to my favourite, it was Hard Rock. They just did things right, always someone on hand to help or serve you drinks (which are free when you are gambling). I had heard Borgata was also impressive and hosts the best poker games. However, there are some right on the boardwalk and some are nearer Venice Park.
For the nightlife we were recommended Wild Wild West Casino, which had a very fun vibe and live music, I really enjoyed that. And I was also suggested Gypsy Bar, a rock bar at Borgata. I would have loved to spend more time at Ocean Resort and get tickets to one of their pool parties. Next time!
Where to eat in Atlantic City
I had two amazing meals in Atlantic City. The first at Nero's Steakhouse, which is now unfortunately closed.
If you want a real gem, head to Chef Vola's. My first warning you must book in advance!
It's a tightly packed Italian restaurant with a great history, serving some of the best Italian food (and biggest portions) you'll find in New Jersey. So, if you're visiting make sure you book ahead of time!
Where to Stay in Atlantic City
Here's a list of great places to stay in Atlantic City to make the most of your time:
We stayed at the Sheraton Atlantic City Convention Centre Hotel. It's perfectly located in downtown, so still 10 minutes' walk from the action but also has reasonable parking across the road.
The rooms have a spacious executive feel to them, and amazing views over Atlantic City. I'd also recommend getting the Club Room access, for a quiet place to enjoy a coffee and some free snacks.
Located just minutes away from Atlantic City Beach and its Boardwalk, you'll get a stunning room with modern amenities like fast WiFi, an LCD TV, and an en-suite bathroom.
There's a Starbucks Coffee for breakfast and dinner, a gym, and much more, and I'm sure you'll have a pleasant stay here.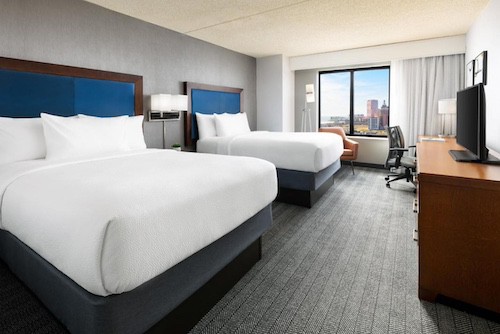 When traveling on a budget, the Rodeway Inn is a great find that is perfect for a night out. Other than free WiFi and a delicious breakfast, the motel is well located, not far from Steel Pier and Tropicana Casino.
All in all, it's a nice place for a night in Atlantic City, and it'll cost you no more than $100 per night!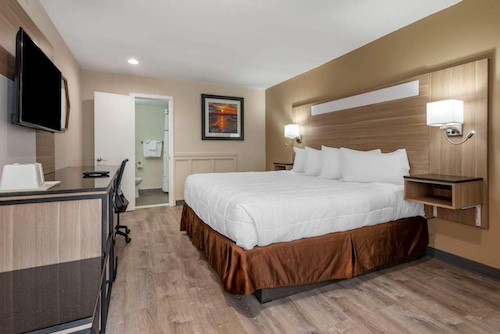 Cape May
Heading south down the Jersey Shore now to Cape May, one of the places first on my list when planning this road trip. It's approximately a one-hour drive from Atlantic City, and 1.5 hours from Philadelphia.
As the name suggests it's located on the end of the tip of the Cape May Peninsula, making it known for one main thing: pristine beaches! But it was the late-Victorian architecture and old-fashioned charm that I noticed first, it felt like we had stepped back in time a little.
And this is no bad thing. A lack of fast-food chains and high-rise hotels gave Cape May an amazing first impression. It's also known for a host of fantastic restaurants, year-round festivals and incredible opportunities for spotting birdlife.
So, whilst it's not on the list below, going to one of these stunning beaches is a must in Cape May.
Water sports
Naturally given its location, where the Delaware Bay meets the Atlantic Ocean, there will be fantastic water sports on offer!
Our first stop was at East Coast Water Sports. They offer jet ski rentals, parasailing, stand-up paddleboarding rental and speedboat dolphin tours on a highspeed jet boat. We were booked in for parasailing, which turned out to be a great choice as we spotted dolphins on the way home.
There are some views that really must be seen from the skies, and Cape May is one of them. Parasailing gave us a chance to see how long the Peninsular really is, and just how stunning this coastline and its beaches are. We had two great guides with East Coast Water Sports too, and as mentioned were so lucky seeing dolphins.
It's worth noting that Cape May is (as you understood by now) a great spot for seeing dolphins, and I highly recommend you book a Whale and Dolphin Watching Cruise before leaving!
Cape May Winery
Cape May is known for its vineyards and fantastic wines, so where else to stop than the oldest Winery and Vineyard in New Jersey.
We had a fantastic tour around the grounds and were lucky enough to have our own private tasting and trying a cabernet sauvignon straight from the barrel. There is an interesting story behind the winery, and I fully recommend the tour.
Or just stop by for some amazing food from their tapas menu. They have a mouth-watering selection of sliders, burgers and flatbreads, of course served alongside a glass of house wine (which you can also try with one of their flight tasters).
Rail-biking with Revolution Rail
When I first saw this, I thought the same as you're probably thinking now, what on earth is rail-biking? Let me enlighten you.
Rail-biking is using specially adapted seated bikes that run on disused old railway tracks. It's a pretty unique idea, utilising what is otherwise derelict grounds. They come in double and quadruple bikes, meaning you get to team up. And don't worry about your level of fitness, the railways are basically completely flat, so you don't break much of a sweat.
Our tour lasted approximately 1.5 hours and took us four miles out of Cape May, passing the countryside and reaching a river view. Before turning around and heading back and stopping at the Nature Conservancy's Garrett Family Preserve for a lovely little nature walk.
Where to stay in Cape May
How about staying overnight in a historic mansion built circa 1860, and set on award-winning gardens? Well let me introduce Southern Mansion. This Bed and Breakfast has some luxury features in every room as well as amazing service and a fantastic breakfast.
Eat here: we had a lovely meal at The Ebbitt Room. Known as the town's most beloved restaurant, it serves award winning fresh ingredients and an amazing setting. We sat on the terrace and let the pianist set the scene next to the cocktail bar. The cocktails did not disappoint either.
Conclusion – New Jersey Road Trip
And that's where part one of this epic road trip ends, there's only a short part of the route left, however there was a lot to see in Philadelphia and the Philadelphia countryside. So, make sure you check out part two, and my other USA articles.