Philadelphia has been a city on my hit list for many years. Before visiting I felt like I had a connection here, and kind of knew I'd love it.
I've said it a few times, but I get a feel or a vibe for a city almost instantly. This feeling is rarely wrong, and I had that feeling again when I arrived in Philly.
I arrived here from Cape May, and at the end of a epic New Jersey Road Trip, which finished in Philadelphia. If you haven't read that yet, please have a read after this one.
It's approximately a two-hour drive from Cape May, and Philadelphia is a great place to drop your car rental off. We did an A to B road trip, starting in Jersey City and ending in Philly. I can't recommend this route enough.
We had 3 days in Philadelphia, which isn't enough to truly immerse yourself in a city or write a comprehensive guide. So, these are my 10 things you must do. Sure, there could be plenty more, but this article might just be a work in progress, and I am sure I'll be back again soon.
If you have some suggestions, please drop them in the comments below. One thing for sure I'd love to add is seeing the Philadelphia Eagles or the 76ers, so that's a bonus tip; watch an American Football or Baseball match.
Other than that, let's crack on with the things you must do in Philadelphia list.
1. Visit a Brewery (or a few)
I've always been impressed by the craft brewery scene in the United States, and people are slowly starting to realise how much better a locally brewed, craft beer is versus a Bud or Coors.
It was always my intention to spend some time exploring this side of Philadelphia, so I have a few top brewery suggestions. But first, consider a tour! We took a brewery tour with City Brew Tour; an all-inclusive tasting tour experience that would cover 3 breweries and transport us in between.
The breweries we covered were Dock Street, Love City and Triple Bottom. All three had their own vibe to them and great beer. We got a little behind the scenes and private tasting at each one, so you felt like a bit of a VIP.
However, my favourite brewery was Yards Brewing Company, not part of our brewery tour. We had a private tour from the owner Tom, and it was really interesting to hear about the connection to UK beer and how the brewery has grown over the years. It's certainly not a microbrewery any more. It had a great vibe to it and the amazing selection of beers was complemented by great food.
Another brewery highly recommended is Victory Brewing, a modern and trendy taproom right in the heart of Philly in Logan Square. There were some brilliant beers on offer and given it's location, it's a must visit in my opinion.
We managed to grab a photo with the Beer Week Hammer at Cartesian Brewery, a cool little microbrewery on Passyunk Avenue. The legendary hammer signifies the start of beer week and is passed around a number of local breweries, we desperately wanted to catch it but sadly weren't going to be in the city for beer week.
Finally, a couple of recommendations that I didn't get to visit. Human Robot was a top recommendation by a few people, and Evil Genius. Add those to your list. And check out Parks on Tap, a travelling beer garden stopping at various locations around the city during the summer. Check the link to see where it is next.
2. The Philadelphia Magic Gardens
This was a place that I knew very little about before my visit to Philly. An immersive, mosaic covered, indoor and outdoor museum made up of mirrors, tiles, bottles and all kinds of other random pieces of handmade art.
It's the brainchild of artist Isaiah Zagar who dedicated his time to "beautifying the South Street neighbourhood since the late 1960s". The Magic Gardens started when Zagar worked on the vacant land, spending years mosaicking the buildings either side.
When the owner found out, they planned to sell it and insisted it was dismantled. However, the community came to Zagar's aid and supported the artist. Since 2008 it's been known as Philadelphia's Magic Gardens, a non-profit organisation that preserves the artwork of Zagar and allowing him to further decorate the site.
They run numerous events such as art workshops, concerts, exhibitions and tours.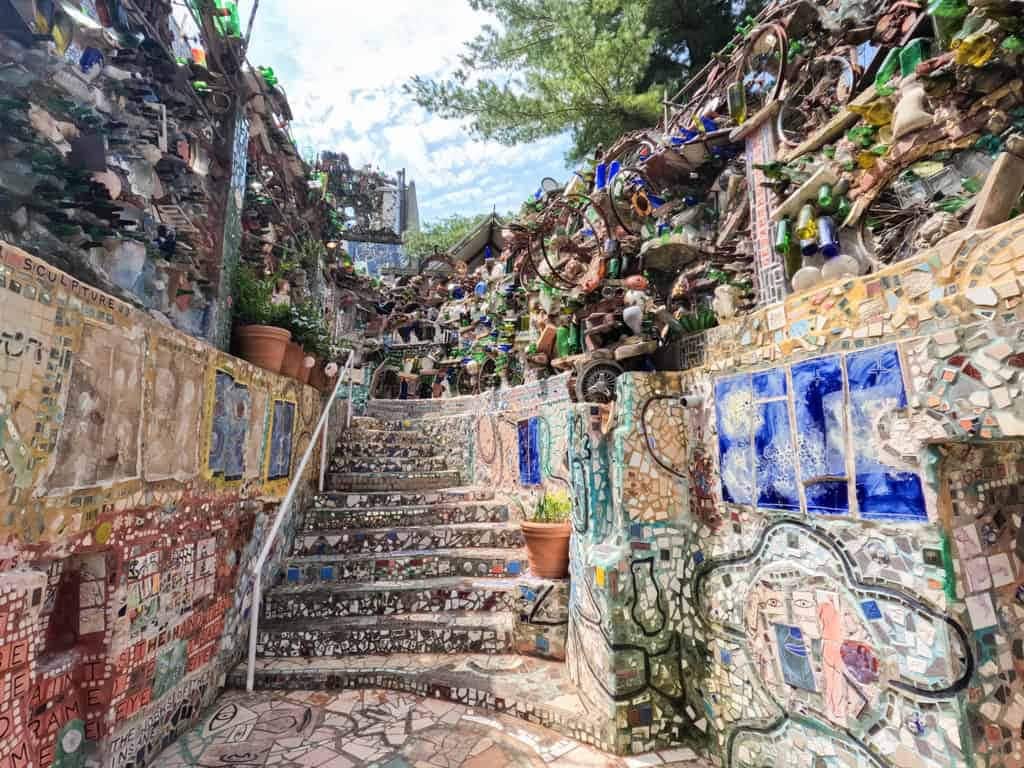 3. Take a Mural Tour
With over 4,000 murals across the city Philadelphia has firmly established itself as the "Mural Capital of the World", so taking in some kind of mural tour is a must for any visit to the city.
Mural Arts Philadelphia started as an anti-graffiti program in 1984 and has become part of a much wider community development program and invoked pride in many neighbourhoods. Even now around 50-100 new pieces are commissioned each year.
There are a number of ways you can see the murals, self-guided tours by foot or bike, or a segway or as I did on a trolley tour (a bus). The trolley tour means you get to see a lot of murals in a short space of time, whilst learning about them from the guide, however it does mean you have to take your photos through the window. And if you're on the wrong side, you'll either miss the mural or have to make friends with the person opposite you very quickly whilst reaching over them!
You can also download the mobile app from Mural Arts Philadelphia, which covers 40 city centre murals on a self-guided tour. You might even choose to do this as a joint brewery tour – now there's a business idea for someone.
4. The Historic District
Visiting the historic district is quite simply a must in Philadelphia. We had a guide who took us from the National Constitution Centre, giving us all the detail about the story of American Independence and the formation of The Constitution as we know it today.
A few key stopping points are the Liberty Bell and Independence Hall, but in total there are more than 20 important historical sites. I recommend also doing a separate tour of Independence Hall, where America's founders signed the Declaration of Independence.
5. Eastern State Penitentiary
This former prison is known as one of America's most historic prisons and was once the most famous and expensive prison in the world. Why? Well, you'll just have to visit to find out, or read a little below.
When it opened in 1829, it was the largest building in the United States and two miles out of the city (not the case now). It was intended to deter crime, and the architect said it should "strike fear into the hearts of those who thought of committing a crime."
The world was watching as the Eastern State Penitentiary was the world's first purpose built Penitentiary for solitary confinement, so it's famous in reforming the prison systems all over the world. And it even held the gangster Al Capone for 8-months.
6. Valley Forge National Historical Park
The next two stops are in the Philadelphia countryside, and within easy reach of the city and via public transport. The first stop is Valley Forge National Historic Park, where you can retrace the footsteps of George Washington and the Continental Army.
The park is open all year round and has 3500 acres to explore. Back in 1777-78 the Continental soldiers built hundreds of log cabins, and you can see the reconstructed Muhlenberg Brigade Huts. Other popular attractions include the National Memorial Arch and Artillery Park.
Visitors can also wander the museum discovering a number of artifacts from the Continental Army. Or if you'd rather get active then you can cycle, hike or horse-ride around the 35-miles of designated trails. You can even kayak on the Schuylkill River.
7. Longwood Gardens
Longwood Gardens is one of the most popular public gardens in the United States and enjoyed by millions of visitors a year. It was easy to see why. Usually, this wouldn't be high on my list of things to do, but it didn't take me long to realise just why this is such a huge attraction.
Longwood is a mix of horticulture, education and art, and the attention to detail in meticulous gardens is astonishing. They have a number of districts to explore, from the conservatory, with 19th century architecture and otherworldly plant species, to the main fountain garden district, a classical garden with fountain shows that have to be seen to be believed.
The best way to see it is for yourself, or otherwise check out my video above, which features a few shots of Longwood Gardens, including a drink at my favourite spot, the beer garden.
And they have some impressive sustainability pledges too.
8. The Rocky Steps & the Rocky Statue
Another must do, not only as it's an iconic landmark in Philadelphia but also as it has some of the best views in the city. The steps are outside the Philadelphia Museum of Art (mentioned below), and are constantly busy, so if you want to have it to yourself get there early.
People run from the bottom to the top, around 72 steps, recreating the legendary scene in Rocky. At the top you need to raise your arms aloft, just like Sylvester Stallone does in the movie. The view down Benjamin Franklin Parkway is spectacular so don't forget to get a snap here, and the Rocky Statue below.
9. See the Museums
Philadelphia is a great place for museum lovers, so if that's your thing please allow a couple of days just for this. There's even a 'Museum Mile' along Benjamin Franklin Parkway, which also has a lot of the city's famous monuments.
Along the Museum Mile you'll find the Philadelphia Museum of Art, The Rodin Museum, The Barnes Foundation, The Academy of Natural Sciences of Drexel University, The Franklin Institute, The Moore College of Art and Design and Free Library of Philadelphia. So, there's quite a selection.
We found the Mutter Museum fascinating, a collection of medical oddities, wax models and anatomical and pathological specimens. Yes, it's just as strange as it sounds and must be seen to be believed, it's not for the feint hearted. You can't take photos inside, the ones below are courtesy of the museum.
We really wanted to visit the Neon Museum and Penn Museum. The Neon Museum collects and preserves the neon signs that form part of Philly's history. And the Penn Museum is home to over a million artefacts and archaeological treasures all over the globe that date back to 3,000 years ago.
10. Try a Philly Cheesesteak
Now ask any local what thing you must do in Philly, and I guarantee you this will be one of, if not the first thing they mention. And they all have their favourite spot they want to share with you, so make sure you choose wisely.
The famous so called rivalry is between Geno's Steaks and Pat's King of Steaks. But that's known as a bit of an over-hyped tourist trap, so we opted to go to Campo's which had the backing of nearly every local we spoke to.
Campo's has been serving Philly specialties since 1947, so I felt like we were in safe hands, and they also offer vegetarian options. They serve the famous cheesesteaks, hoagies and speciality sandwiches and are a family run business.
Campo's also has a selection of local craft beers, and let me and Dave have a go at cooking the steaks. You can't ask for more than that. Oh, and the Philly cheesesteak was so good, it was naughty and greasy, but really tasty.
Where to eat in Philadelphia
Speaking of food, there are a few places that deserved a mention despite not making the official list above, I suggest you pop these on your Philadelphia hit list too.
McGillin's Olde Ale House
Known as the oldest continuously open tavern in Philadelphia! It opened in 1860 and is an authentic Irish Pub with 30 beers on draft and a selection of microbrews too. The food it great during the day and at night it becomes quite a party spot, with karaoke on the first night we arrived. Brilliant.
Reading Terminal Market
Bringing in the history, Reading Terminal Market hosts 80 renowned merchants offering the best Philly specialties. They have fresh and local produce and include international cuisine like Pennsylvania Dutch specialties and the 'Best sandwich in America', Tommy DiNic's roast pork sandwich. Stop here for breakfast or lunch.
Good Karma
Freshly baked pastries, made to order sandwiches, organic fair trade coffee, vegan and gluten free options. All sounds good right? Another fantastic spot for breakfast or lunch.
Chris' Jazz Café
Technically Chris' Jazz Café should fall under nightlife spots, but they also had amazing food here. I am going to save my Philly nightlife guide for my next visit. I love a jazz bar, and Chris' Jazz Café is the longest continuously operating jazz club and has hosted a variety of superstars.
The food is "soulful southern influence" and was delicious. A great ambience and classy setting.
For my next visit to Philadelphia
I always like to list the places I didn't get to see, and what I'd like to do next time around.
When you visit somewhere like Philadelphia, however much time you have it's never enough. Ideally, I'd like to spend a couple of weeks here to really discover the different layers to this city. In reality, I won't have that long when I come back.
I'd like to discover the nightlife scene, from rooftop bars to nightclubs, and get a feel for the live music scene, writing a detailed guide as I go. And of course, find more breweries, and write about my top ones. I'll be making sure I don't miss the highly recommended Human Robot and Evil Genius.
I also heard great things about Philly's favourite speakeasy Blind Barber. A three-chair genuine barbershop disguises an unmarked door to a 70s inspired cocktail lounge. Very cool.
Finally, if ever there is a summer beer and food spot it's Spruce Street Harbor Park. We did get to see it, but it was chucking it down with rain. Located on the Delaware River Waterfront, you'll find colourful hammocks, floating gardens, local craft beers and delicious local food.
Where to stay in Philadelphia
We stayed right in the heart of downtown Philadelphia, walking distance to City Hall and many of the things to do on the list above. The Cambria Hotel Philadelphia Downtown has stylish hotel rooms, and whilst my first room wasn't very clean, they dealt with it well and upgraded me to a huge suite with stunning views.
The Cambria also has a Rooftop bar and restaurant, which certainly had a party vibe at the weekend.
For Valley Forge and Longwood Gardens, we stayed outside the city centre at Element Valley Forge, a health-inspired hotel. There's an indoor pool and gym on site, and the rooms were fantastic, probably one of my favourite rooms on the trip.
That concludes my 10 things to do and places to see in Philadelphia, if you have anything to add or any suggestions, please drop them in the comments below.