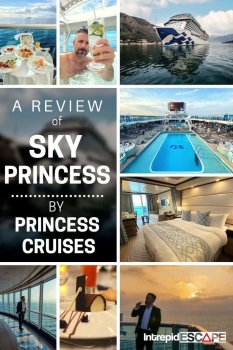 I'm becoming quite the Cruise Blogger lately. I've always loved this style of travel, ever since going on a cruise when I was younger. Waking up in a different country, opening the curtains or balcony onto a new view, usually a new country. I'd never felt so excited to get up in the morning.
Cruising for the last few months has been a little different. To get going again following the pandemic Princess Cruises set off with their Seacation Cruises, cruising non-stop from Southampton. It is a chance to have a break without worrying about any international changes, and importantly it is time to enjoy everything onboard. From now they move onto Scenic Seacations, with UK stops and then onto Europe and the Caribbean. See more under Destinations below.
Being on a Seacation gives me more time on the ship, time you don't usually get when you're getting off every day. Of course, that comes with the sacrifice of stopovers. But it works perfectly for this article, having the extra days onboard gave me all the time I needed to explore Sky Princess.
Princess Cruises is a premium cruise line based locally to me in Southampton. My trip was onboard Sky Princess, one of the newest additions to the fleet. A ship that "elevates the distinctive, contemporary design and luxurious attractions of our renowned Royal-class ships to even loftier heights". Well, we are about to find out.
Facts about Sky Princess
One of the newest ships in the Fleet, Sky Princess has some impressive facts. It makes her large enough to get lost, but not so large it's overwhelming.
Sky Princess can hold 3660 guests and 1346 crew
Built in October 2019
She has 19 decks
The length of Sky Princess is 1083 feet (330 metres)
Sky Princess's length is more than the height of the Eiffel Tower!
Food & Dining on Sky Princess
Dining onboard cruise ships has come a long way in the past few years, not least onboard with companies like Princess Cruises which pride themselves on a luxury dining experience. As with any cruise, you have some things that are included and some that are an additional charge. My advice is always to try a mixture of the two.
I was blown away with the dining on Sky Princess. Not just with the inclusive options, but also the value of the additional charges. The Dine My Way option on the App allows you to order to the room, book tables and work it around your schedule. I've detailed a few of my highlights below.
Sabatini's Trattoria: An Italian speciality restaurant serving freshly prepared handmade pasta and some amazing recipes from renowned Italian chefs. The surcharge is $25 (approx. £18.50) per person.
Cielo Main Dining Room: My favourite dinner onboard, and the best part is it wasn't an extra charge. Fine dining and waiter service can be included. I also love that you can choose to dine here with other guests, making friends along the way. They also have a wonderful breakfast menu.
The Crown Grill: My favourite setting and décor onboard. This steakhouse features premium steak and fresh seafood, with an open kitchen and classy setting. The surcharge is $29 (approx. £21.50) per person.
Bistro Sur La Mer: French bistro style dining with a modern twist created with Chef Emmanuel Renaut. Extra charges apply to this restaurant.
*$ is USD and conversions are approximate at the time of writing (September 2021)
There's also the Ocean Terrace Sushi Bar which has excellent reviews and a minimal surcharge (but I can't eat much Sushi), a pizzeria which was lovely, and gelato (at a small surcharge). Oh, and a 24-hour International café! I told you the I was blown away. The International café and Pizzeria are also included, so no extra charge.
Finally, I had to dedicate a whole two paragraphs to the Ultimate Balcony Breakfast. Firstly, you can always pre-order breakfast to your room, which I love doing. There's no charge for that and the selection is usually cereals, fruits, and croissants. However, for one morning of your cruise, go all out with the Ultimate Balcony Breakfast!
This really is something special, or a romantic surprise for your partner. Fresh salmon, a selection of meats, pastries, fruits and of course champagne. As if that wasn't good enough, I had bright sunshine and dolphins playing in the sea in front of me. I just didn't have anyone to share it with, don't get the violins out, it meant I had double the amount of food! The surcharge is $45 (approx. £33.50) for two people.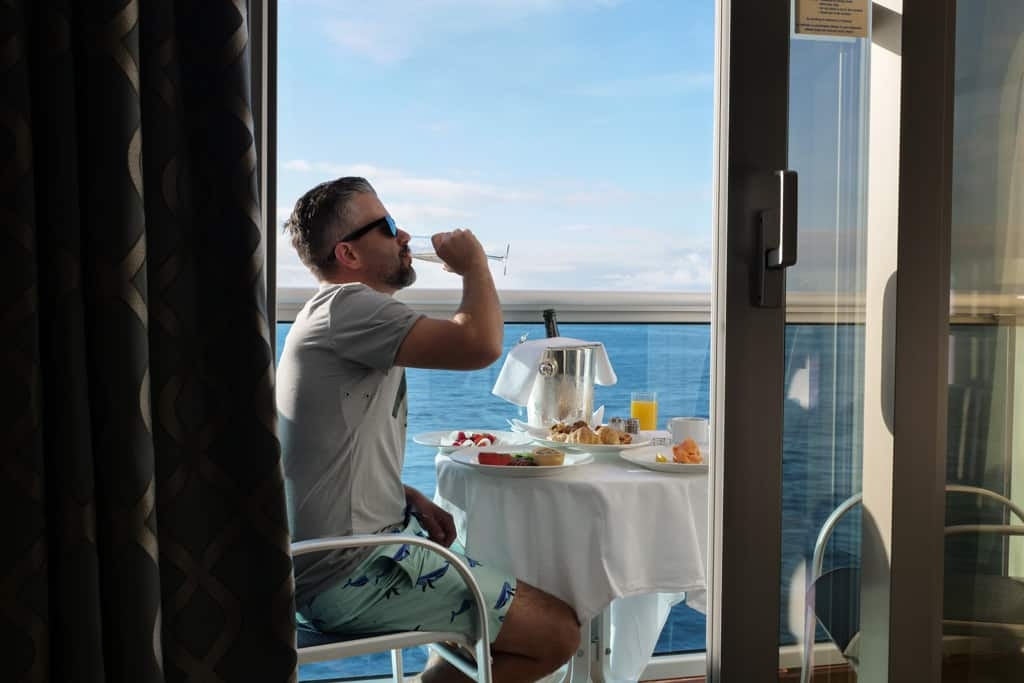 Things to do on Sky Princess
There's no shortage of things to do onboard Sky Princess. Let's start with the daytime. You have two main pools, a Wakeview Pool, and the Retreat (it's adults only, but not extra). Along with several hot tubs. The main pools are more family friendly, with entertainment whilst the others are more relaxed. I liked the Retreat.
The Lotus Spa is fantastic. A range of treatments such as facials, aroma stone therapy massages, detoxifying ocean wraps and an aromatherapy suite. As well as a beauty salon. I had the hot stone massage, and it was one of the best I've had.
Allow some time to relax in The Enclave too, featuring a hydro-therapy pool, rain shower, heated stone beds, a Hammam steam room, the Caldarium steam room and the Loconium (a heated dry chamber which helps with detoxing the body).
If sport and fitness is your thing there is a huge sports court and the usual table tennis and a golf putting green (not really a mini golf). The fitness centre or gym onboard is one of the biggest I've seen on a ship and includes personal training classes such as cycling, Pilates, yoga, and a boot camp.
During the evening, after dining you have lots of options. There are original musical shows at the Theatre, which really make you feel like you're in the West End. During our trip they were performing the Rock Opera which I loved. There was also live music in here another night.
A popular spot was the Take Five Jazz Bar, we found that hard to get a seat so get there early. Make sure you try a gin cocktail, curated by master mixologist Rob Floyd. My favourite was the Vista Bar. The live band got everyone dancing and most evenings it felt like the best atmosphere. Although the cocktails here were nowhere near as good as Take Five or Good Spirits.
For the best cocktail head to Good Spirits at Sea, where they have cocktail shows where the bartenders talk you through various cocktails and where they came from. If you make your way through the entire menu, you get a free t-shirt. I particularly like the location overlooking the Piazza where there is nearly always some live music.
Guests on Sky Princess can get all-inclusive drinks, crew gratuities, and unlimited WiFi when you upgrade to the Princess Plus Fare for £30 ($40) per person per day. Not bad hey?
For a more relaxed vibe, one of the most popular experiences on Sky Princess is Movies Under the Stars, where they show classic films on the top deck. The loungers are covered with luxury cushions, and you can wrap up in a blanket and enjoy a film.
Failing that there is always the casino, which was much bigger than other ships, and good fun. The only shame was there was not enough people for Texas Hold'em Poker, and I never win at Blackjack!
Rooms and Suites on Sky Princess
I've not seen such a selection of Staterooms onboard before! Talk about a room to suite every budget. I always bang on about having a balcony, once you have one you can't cruise without it again. It makes such a difference to wake up and open the door to your latest view.
So, let's start there. I had a Balcony Mini-Suite, possibly the finest room I've had onboard yet. It was generous on space and so comfortable. As you enter the room you have a large dressing room with a good size bathroom and a bath. Yes, a bath! Then you step into the bedroom and notice how the room has been carefully partitioned off to a bedroom and sitting room. There's a TV in each and a curtain to separate it.
This is perfect for either entertaining your new friends onboard, or for when your partner of roommate wants to sleep, and you don't. I loved this feature. There's a good workspace, a fridge and huge doors that leads to a large and very private balcony. This is where I had the aforementioned 'Ultimate Balcony Breakfast'.
For those with a larger budget, you must consider the Sky Suite. With just two onboard this exclusive two-bedroom suite comes with your own Suite Manager who will make sure everything is just right for your arrival. Your 1,000-square-foot suite can host up to 5 guests. But the real showstopper is the 270-degree wrap around balcony with its own view of movies under the stars.
The selection continues with the Club Class Suites, Standard Balcony Suites, Premium Oceanview, Interior Suites and Wheelchair-Accessible.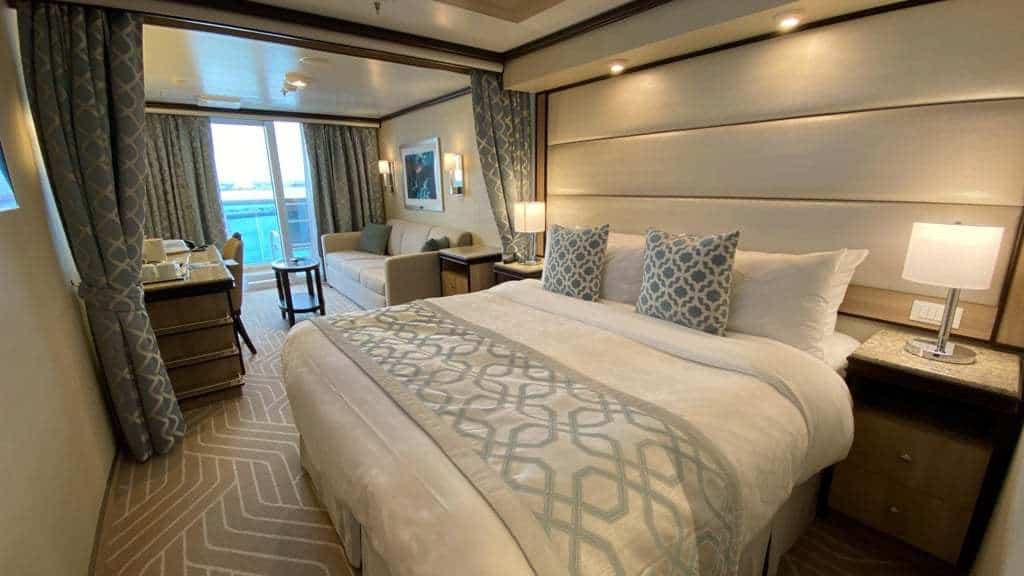 Sky Princess MedallionClass & OceanMedallion
I had to dedicate a section to the onboard WiFi, and the technology used on Sky Princess. This was again something I've not experienced before and will be new to a lot of cruisers.
Firstly, let's start with the OceanMedallion; a small wearable device a little bigger than a 50p piece that becomes your wallet, key, and location device onboard. It's also a nice little souvenir of the trip. You use it to enter the room and pay for anything onboard.
This is linked to the MedallionClass App, and as Princess claim the "best WiFi at Sea". A bold claim. It was good, but I'm not sure that good. However, the App was brilliant. Once you take some time to learn it, it really adds to your cruise experience (I know this kind of technology is daunting for some people).
Upon boarding, look out for the MedallionClass Orientation meeting, which gives you a tour of the App and how to use it. There are also many stations on board with people who are happy to help.
If the App isn't for you or your phone doesn't support it, there are countless touchscreen terminals allowing you to access virtually the same information from touching in your OceanMedallion. So, what can you do on the MedallionClass App that makes it so amazing? I've listed a few of my favourite features below
GPS route planning: We all know when you first board a ship it's easy to get lost, well the App has a handy GPS route planner to get around! You can also add a "shipmate", so you always know where your friends and family are onboard.
Order food and drink, anywhere: You can see the menus, and order a drink to wherever you are onboard or to your room. I loved this, when you know you're ready to head back to the room why not make sure there's a cold beer waiting. A lot of this is included in the standard package too, with no service charges.
See what's happening with JourneyView: the live events planner shows you what's happening right now and coming up, so you can make sure you don't miss anything and can check how busy it is.
Please note use of the App is free but WiFi packages are extra, starting at $9.99 (approx. £7.50) per day. I recommend getting the Princess Plus Fare for £30 ($40) per person per day. This includes all-inclusive drinks, crew gratuities, and unlimited WiFi.
Destinations on Sky Princess
As mentioned, the pandemic has mixed things up a little. Princess started with Seacations, a cruise with no stops and a chance to enjoy the ship and the entertainment. Now it's moved on to Scenic Seacations taking in UK stops only.
There are options for the Mediterranean as early as the end of October! Did you think it was possible to head to the Canary Islands, Portugal and Spain as early as October 2021? Well, it is, and all from Southampton. 11-days start at £769.
From November Sky Princess will sail to the Caribbean, and there's some really mouth-watering options on offer there. Starting from Fort Lauderdale, you can head to places like St Kitts, Dominica, St Lucia and Antigua (that's just a few). And 11-nights start from £1,199.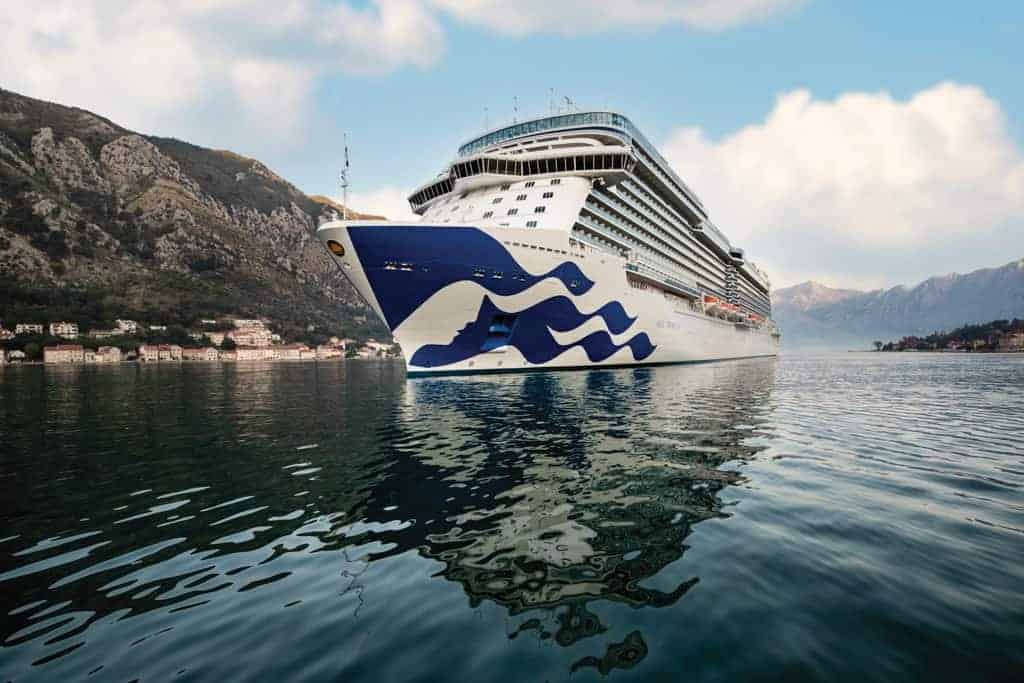 Unique Features & Experiences on Sky Princess
Let's start with the centrepiece of Sky Princess, the Piazza. It's a useful landmark to never get lost and a hub for many of the ship's bars, cafes, shops, and restaurants. But most importantly, it gives the feel and charm of a classic ship with some stunning modern features. Certainly, as bold as it is striking.
Vines Wine Bar has not only been voted one of the "Best Wine Bars at Sea" in USA Today but also hosts Wine Tasting and Wine Blending. Wine Blending was something I've never done before, we blended our own mix of red wines from Napa Valley, making your own unique flavour. It was a lovely experience and something I highly recommend, and you won't all like each other's blends either.
Wine Blending is $37 (approx. £27.50) per person and includes a lot of wine to blend and the cheese board. Great value.
Finally, at extra cost I recommend an afternoon at The Sanctuary. You can get general entry, which will include a choice of Bento boxes for a snack, private stewards, a hot tub, and a generally chilled and tranquil vibe (with amazing views). You can also order al fresco massages and private cabanas. And the reason I said spend an afternoon here, as they have Afternoon Tea brought right to your sunbed. Bliss.
You can book a half day in the Sanctuary for $20 (approx. £15) per person and a full day at $40 (approx. £30).
Final thoughts about Sky Princess
The biggest thing that hit me from the first moment I stepped onboard was the staff. Every single member went above and beyond to say your name, greet you and get anything you needed.
It was also my birthday onboard, which they made very special. It's certainly worth considering booking a cruise for a celebration. Finally, I was so impressed with the MedallionClass App! It really made things easy, I just loved ordering a beer to my room before I got there, and the food selection that's included is fantastic.
Once you have all these features and know how to use them, you'll get off. But the clever part is that will make you come back for more, to make the most of it. It's no wonder Princess Cruises has a lot of returning guests.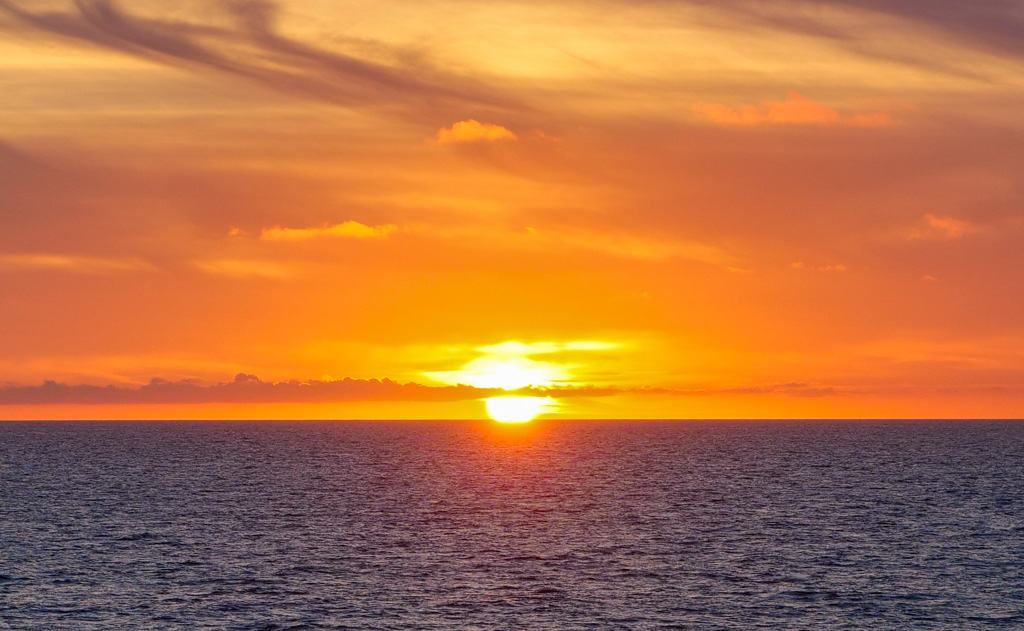 This article was supported by Princess Cruises but as always, the opinions and photos in the article are all my own, and as you can see I loved every minute of my time onboard Sky Princess!