Cruise Ships around the world share several common features to make them successful; The swimming pools, hot tubs, theatre shows, cocktail bars and fantastic dining options. At least I'd expect all of these with a quality Cruise line like Princess Cruises. These are kind of a given.
However it's the unique features on each ship that make your holiday really special. These are what make us book the same ship time and time again. It's also common for regular cruisers to experience each ship in a fleet, and explore all the features before choosing their favourite.
This was my first cruise with Princess Cruises, so I can only talk about Sky Princess. However, the features in this article were the things that I loved the most. The features that made my trip special. Some of them are unique to Sky Princess, and some you'll find on other Princess Cruises vessels. Either way the trip wouldn't have been the same without them.
Movies under the stars
This was the most talked about feature onboard Sky Princess! The guests I spoke to seemed to love watching movies on deck, and so did I. The top deck on Sky Princess is transformed at night to an open-air amphitheatre. The sunbeds are covered with luxury cushions and blankets, and you can relax with a classic movie.
This was a definitely one of the experiences you have to try if you go on holiday on Sky Princess. I can only imagine how romantic that would be on a clear night when you can see the stars with your other half.
And what made it even better is you can order food and drink right to your sunbed (see the MedallionClass App and Dine my Way below). I watched Bohemian Rhapsody on the big screen and ordered a whisky sours to my sunbed, a fantastic night.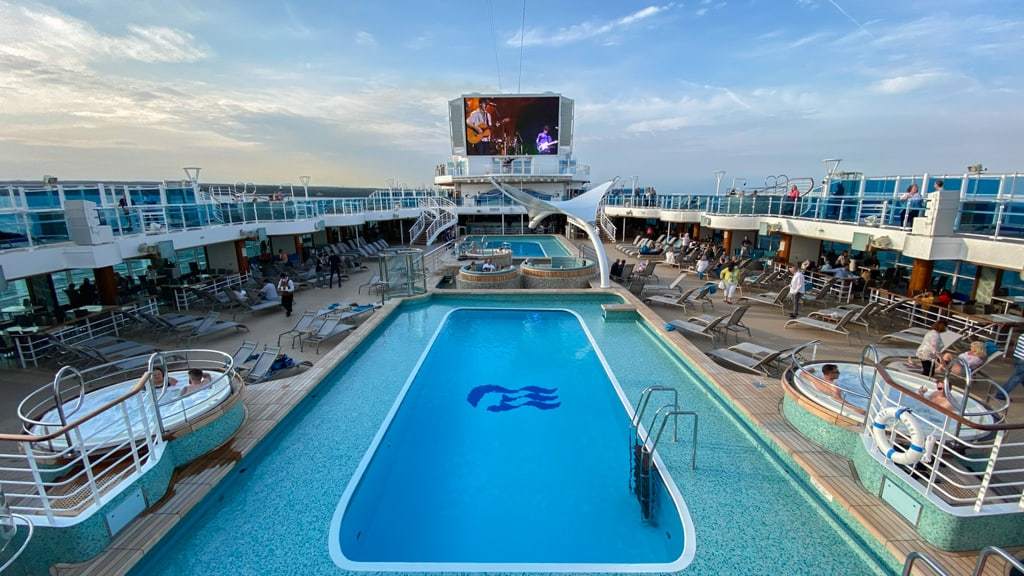 Vines Wine Bar & Wine Blending
There are some standout features of Vines Wine Bar. Firstly it's been voted one of the "Best Wine Bars at Sea" by USA today. It has an extensive collection of wines, champagne and sparkling wines. All of which you can try by the glass or by a wine flight (for tasting).
And secondly Vines Wine Bar offers Wine Blending. That was a first for me. The experience started with some wine tasting of a mix of wines from Napa Valley. The wines were Malbec, Cabernet Franc, Merlot and Cabernet Sauvignon.
We wrote down the different notes and flavours from each wine and had a go at blending our own after being shown how it's done. My favourite blend was 20ml Merlot, 5ml malbec and 5ml Cabernet Franc. But we found it was such a personal experience and you won't like each other's blend. You get so much wine to drink and it also includes a cheese platter. Great fun.
Wine Blending is $37 / £27.50 per person.
OceanMedallion & Medallion Class App
This was the first time I'd had a small fashion accessory to wear around the ship! Not only that, but it becomes your souvenir and GPS tracking device too. You use your OceanMedallion to pay for anything onboard, it lets you into your stateroom and also checks you on and off the ship. Speeding up the boarding process.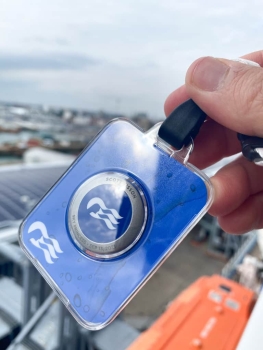 The really great part is how it links to the MedallionClass App below, so you can locate your friends and family. And when I said fashion accessory, by default it comes with a lanyard but you can also purchase bracelets, sports bands and necklaces to make it more of a fashion accessory.
The MedallionClass App was another feature that is a real gamechanger. It doesn't sound exciting on paper, but it is! The App links to the OceanMedallion and acts as a portal for nearly everything onboard.
This kind of technology isn't for everyone, so I recommend going to the MedallionClass Orientation meeting to understand the features that will help you most. If the App isn't for you or your phone isn't compatible, there are also TouchScreen terminals all around the ship that give you a very similar experience.
The key features for me were the GPS route-planning, which enables you to get anywhere onboard with a simple route planner. The Shipmate feature, where you can add family and friends and see where they are at any time. And the JourneyView, a live events planner making sure you don't miss the shows or music you've been waiting for.
MedallionClass also supports the 'Dine My Way' feature, discussed in the next section.
Using the App is free but WiFi packages are extra, starting at $9.99 (approx. £7.50) per day. I recommend getting the Princess Plus Fare for £30 per person per day. This includes all-inclusive drinks, crew gratuities, and unlimited WiFi.
OceanNow & Dine My Way
Another brilliant feature allowing you to customise and plan your meals, and it's all via the MedallionClass App. You can make reservations and order food and drinks to pretty much anywhere on the ship.
I really loved this feature. At anytime of day, have a look at what you fancy and order it to your sunbed or stateroom via OceanNow. Most of the food is included, as are the drinks if you have the Princess Plus Fare package I mentioned above. I loved ordering a beer to my room so it was there when I got back.
There is some real quality fine-dining onboard Sky Princess, some restaurants have a surcharge and some are included. My favourite dining experience was at the Cielo Main Dining Room (included) and The Crown Grill (a very reasonable surcharge of $29 / £21.50 per person).
Take a look at my Sky Princess Review for more on the restaurants and bars onboard.
Ultimate Balcony Breakfast
I love having breakfast in my room (which is included in all packages). Maybe it's because I'm not a morning person! Either way eating at my leisure whilst I get ready and watch a bit of TV is right up my street.
However, if you want the true Stateroom Breakfast Experience you must try the Ultimate Balcony Breakfast. You get a huge spread of salmon, croissants, pastries, fruits, cold meats and champagne, all set up romantically on your balcony.
If you can hide it from your partner it would be the perfect romantic morning surprise.
It was honestly one of my favourite things to do and a great way to indulge, you are on holiday after all. The cost for the Ultimate Balcony Breakfast is $45 (approx. £33.50) for two people.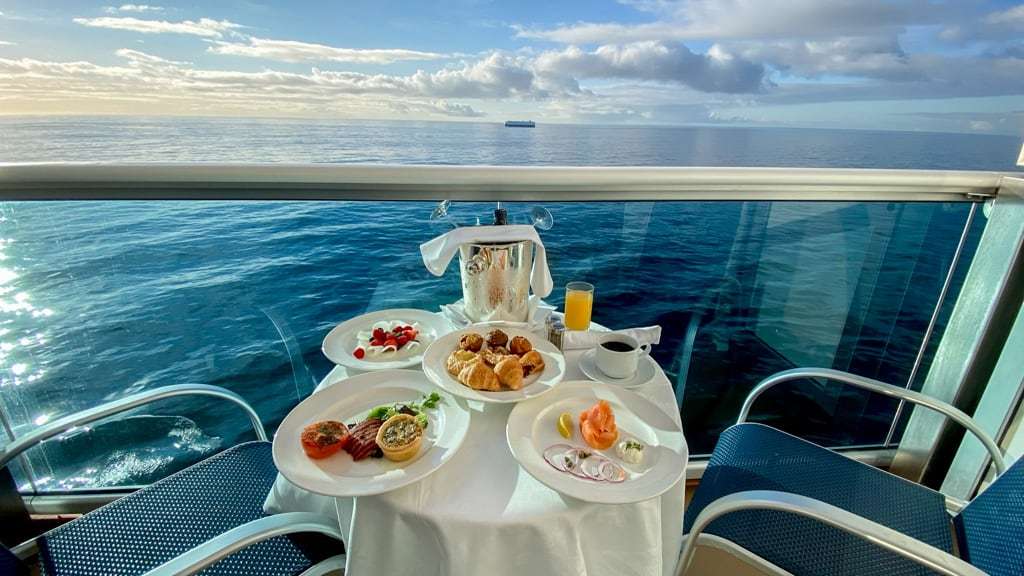 The Sky Suite
Speaking of indulging. Let me introduce you to the Sky Suite! As Princess Cruises says "Unparalleled Service & our Largest Balcony". Well I can verify that balcony, it's huge.
The Sky Suite is the most exclusive option in the Princess Range, there are only two suites onboard Sky Princess and if you're really fancy you can get them both and link them on the balcony. The Sky Suite comes with it's own Suite Experience Manager to deliver "your every desire".
The rooms are huge and have two bedrooms (both with en suite) that sleep up to 5. There is a kitchen and communal area in the middle, with the real show-stopper outside. The 1,000 square-foot wrap-around balcony provides 270-degree panoramic views, so you really won't miss a sunset. And you'll also have views over the pool and the Movies Under the Stars screen.
It's luxuriously furnished and the biggest suite in the Princess Cruises fleet. If you book this suite after reading this article please let me know!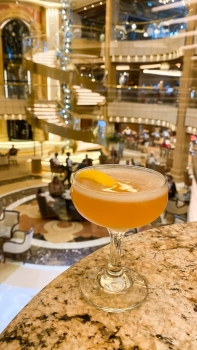 The Piazza
Most ships have their onboard centrepieces, and the Piazza is Sky Princesses. It's a stunning 3 story European style hub of activity with many bars and café's overlooking it.
The spiral staircase acts as a stylish photo spot and meeting point, and there's usually some background music to enjoy your cocktail too. There was always a nice mix here, from acoustic guitar to a pianist.
Some of my favourite spots overlooked the Piazza; such as the Good Spirits at Sea cocktail bar and Vines Wine Bar. If you drink all the cocktails at Good Spirits you get a t-shirt! You'll also find the International Café, the Gelato and a selection of boutique shops at the Piazza.
The Sanctuary
Well again I must remind you that you're on holiday so you're allowed to indulge. And what better place to do it than the Sanctuary? It's a private adult-only retreat away from the hustle and bustle of the rest of the ship.
You can spend the whole day here or just half a day, and even rent one of the eight private cabanas. The Sanctuary has signature drinks, bento boxes to snack on and afternoon tea served right to your sunbed. And there's a hot tub with panoramic views over the bow.
A half day in the Sanctuary is $20 (approx. £15) per person and a full day is $40 (approx. £30).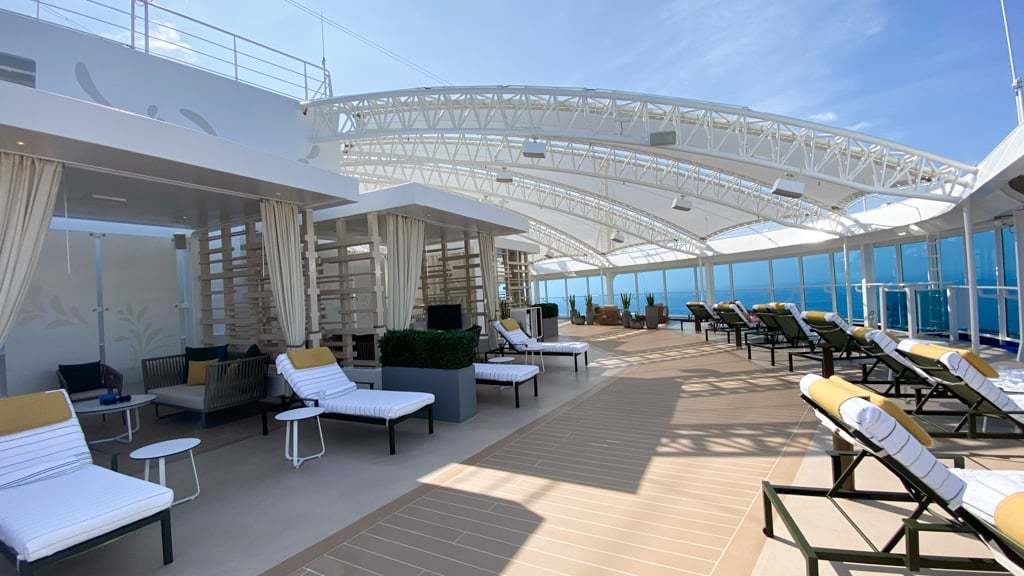 Take Five Jazz Bar
If you want to chill in a sophisticated bar with live Jazz Music this is the place for you. Personally I prefer a cocktail and some live music. And the atmosphere they create here is the best onboard.
It's a chance to relive jazz from legends throughout the decade. If that's not enough, the cocktails here are the best you will find on Sky Princess. They are curated by Master Mixologist, Rob Floyd and I had a few different varieties and all of them were fantastic. I'm a fan of anything with whisky.
Make sure you get here early as it's often hard to get a seat. Usually a good sign. And if you can't get in here then head to Vista Bar, as you'll end up there later anyway!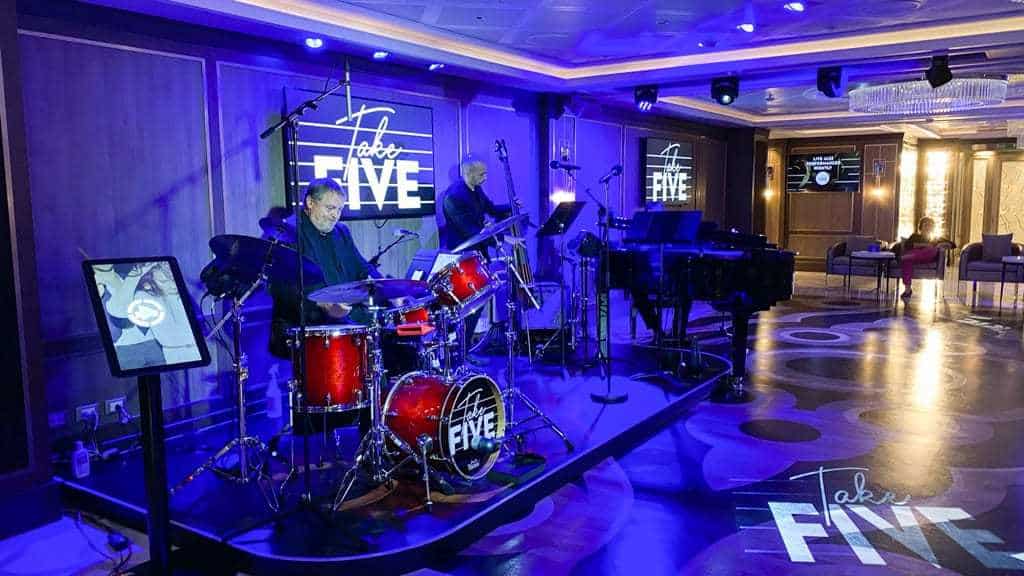 Chocolate Journeys
"Indulge Your Chocolate Fantasies" as Princess Cruises puts it. If that's not sold it for you I don't know what will! Throughout Sky Princess there are a range of desserts and pastries that fall into their unique Chocolate Journeys program.
Like they say, few foods inspire as much passion as chocolate, and the chefs have poured all of this love and passion into the design of the Chocolate Journeys. So what does this mean? Well imagine every restaurant, café and even the buffet having mouth-watering chocolate desserts.
Or even imagine getting a selection desserts served at the end of your meal, desserts with rich chocolate, exclusive flavours and artful designs. Chocolate lovers, this is for you.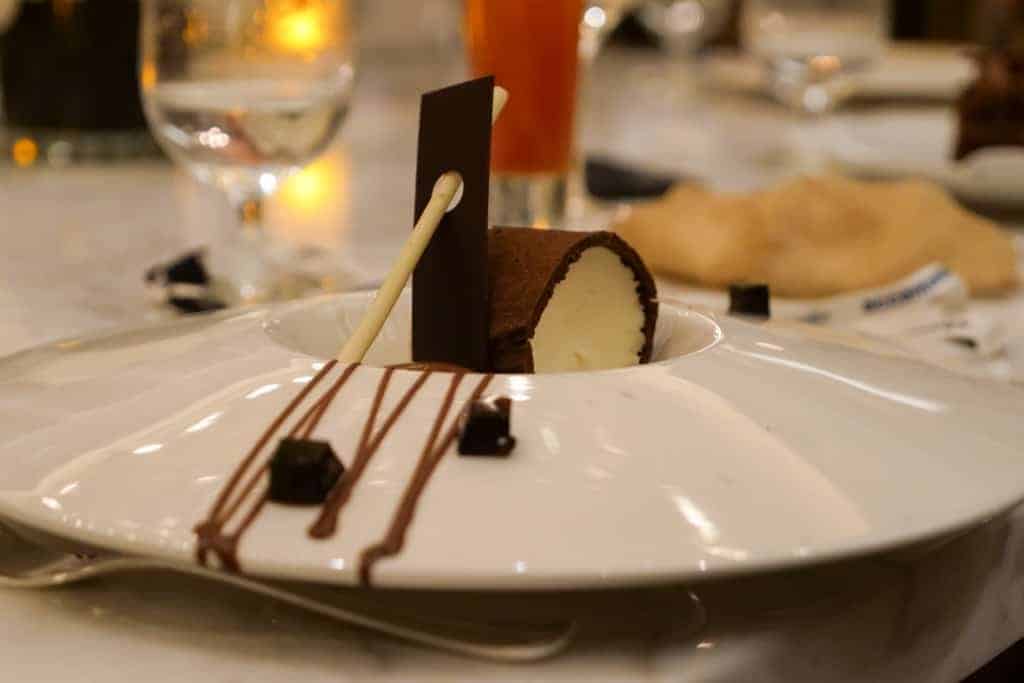 So, what do you think about these unique features onboard Sky Princess? Which one would you look forward to the most? If you would like more information or a full review of Sky Princess please take a look at my Sky Princess Review article, or take a look at Sky Princess by Princess Cruises for further information.
This article was supported by Princess Cruises but as always, the opinions and photos in the article are all my own, and as you can see I loved every minute of my time onboard Sky Princess!