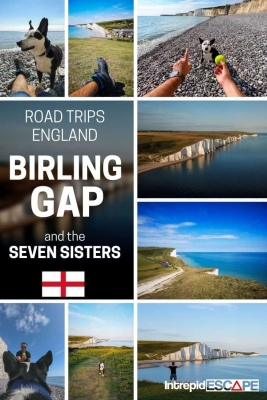 We all know the feeling; it's a beautiful day outside and you want to do something, but you just don't know what? You know you want it to be different but are lacking inspiration. A lot of us are guilty of not exploring our backyard enough. Myself included. I've seen more of New Zealand than most Kiwis, yet when my Kiwi friends come here, they know more hidden gems than I do! It was spontaneous adventure that inspired this trip, coupled with using the Sat Nav Roulette tool by The AA. I had a car, my partner in crime (Balou the dog), nice weather and a whole day spare.
The Sat Nav Roulette Tool allows you to pick a destination selecting either coast, countryside or the city. You tell it your maximum driving distance (mine was two hours) and I was in the mood for countryside. There are hundreds of new and exciting places to explore within the tool. You quite literally spin the wheel and away you go. I was so happy to get Birling Gap and the Seven Sisters. It's somewhere right on the coast (Balou loves the sea) with stunning natural beauty. The best bit, if you don't like it you can always spin again. It a brilliant idea and encourage you to have a go yourself.
Birling Gap
I live on the South Coast on England, close to Portsmouth. And to be fair, I have explored a lot of the coastline. But never Birling Gap and the Seven Sisters. The National Trust describes it as "An ever-changing landscape, where the South Downs meet the sea". It's just that, and a truly stunning spot. It's close to Eastbourne and not far from Brighton, and it would honestly be a crime to visit either and not check out this spot. Birling Gap acts as a starting point; it is home to a visitor centre and the start of many of the trails. If you aren't arriving by car there are great bus links between Eastbourne and Brighton (look for the 13X).
From here, you can access the pebble beach (dog-friendly for responsible dog owners) and the remarkable Seven Sisters (more below). You can also walk the trail up to the Beachy Head Lighthouse, passing the Belle Tout Lighthouse and many other spectacular viewpoints along the way. But please be careful not to go too close to the cliff-edges, there are warnings, but I saw some people stupidly close. That selfie is absolutely not worth your life. Especially when you do not know how much erosion has occurred in that spot, or if you're on an overhang. You also need to keep your dog on a lead at all time near the cliffs.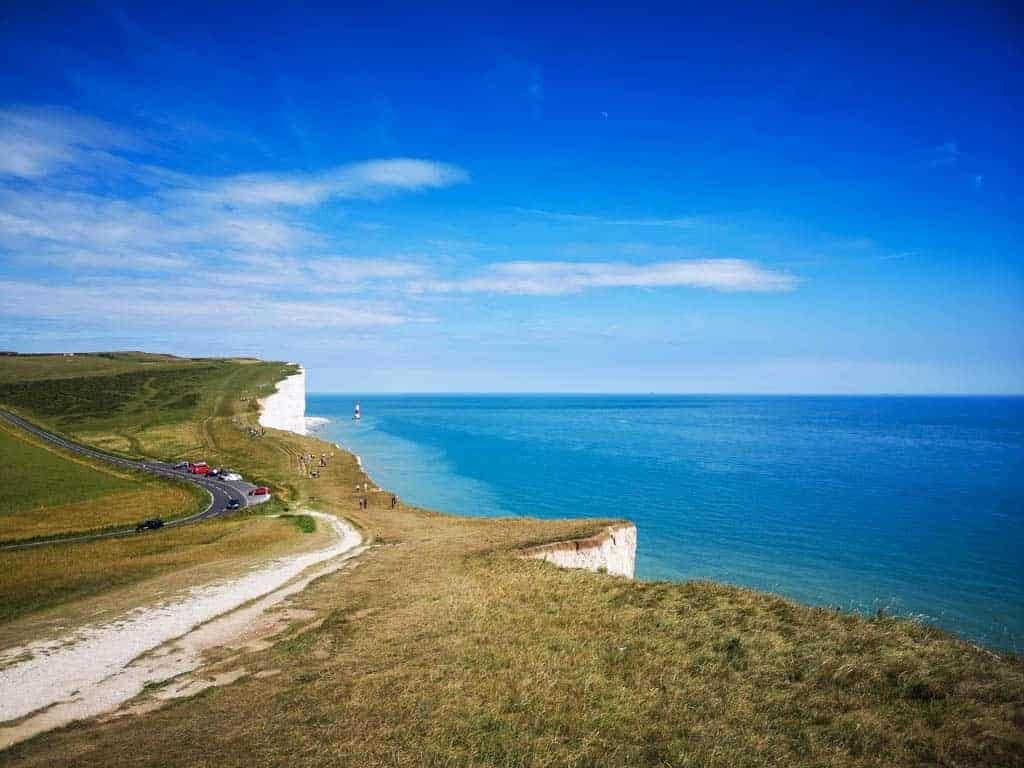 Seven Sisters
The Seven Sisters refers to the majestic chalk cliffs that run from Cuckmere Haven to Birling Gap. It has a fascinating geological history that stretches back to the time of the dinosaurs to the time of mammoths (some 84+ millions year ago). The short version is since the end of the last ice age, there was a subsequent rise in sea levels (prior to the ice age it was 200 metres lower). It's around the time Britain split away from Europe and the English Channel was formed. Who would have thought we were about to split away again, in the form of Brexit!
The cliffs are constantly changing today, there is a photo of where the land was only 100 year ago. It's eroding by one metre per year through cliff falls and landslides, which can happen at any time hence the safety advice below. That's what makes it such a fascinating landscape, it changes so much in just a few years.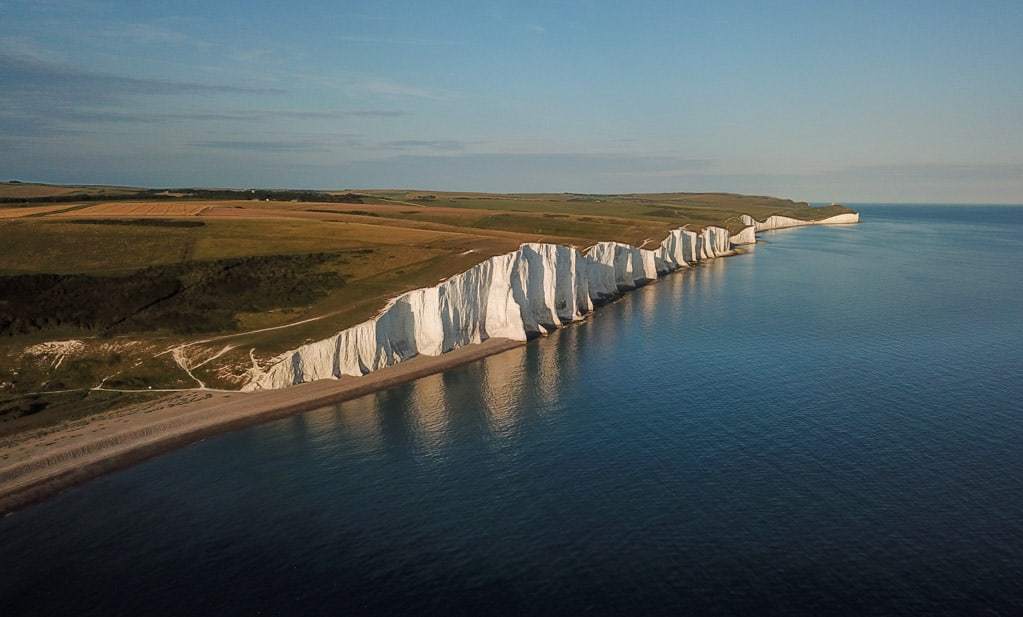 Grab a packed lunch: at the Beehive on the Green, an independent delicatessen and café with award-winning local bread and cheese. If you don't want to take your lunch away, enjoy it overlooking the green.
Walking
You are quite literally spoilt for choice when it comes to walking at Birling Gap and the Seven Sisters. You can start with a few of the easier and family friendly routes or tag it onto something that includes more of the South Downs Way (a 100-mile route that runs from Winchester). The first and shortest family friendly path takes you East towards the Belle Tout Lighthouse. Here, you can choose if you want to turn left through the fields and back (taking around 1 hour), or continue on to the Beachy Head Lighthouse (which I recommend). The other suggestion is heads west from Birling Gap to Exceat and takes around 2 hours. You have fantastic views over the Seven Sisters and can also continue that one up to Seaford Head (my sunset tip below). For more ideas head to the 'Wonderful Walking' section on the National Trust website.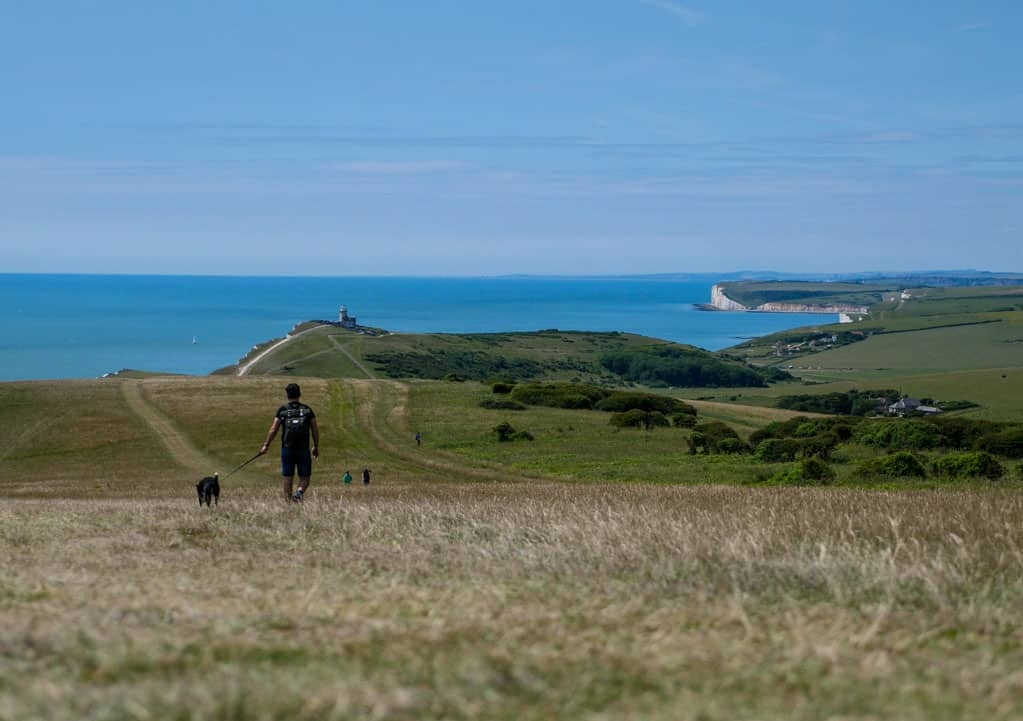 Pub Grub: What better (and more British) way to top off a day's walking than pub grub and a pint? I recommend the Tiger Inn at East Dean (opposite the Beehive) or The Cuckmere Inn at Exceat.
Seaford Head
My top tip is to get to Seaford Head for sunset (or sunrise), there are incredible views over the Seven Sisters and Cuckmere Valley. But it's not your traditional sunset spot, because the sun sets behind you, and it was the colours that made it so spectacular. During a sunny day it just doesn't look the same, and in the evening, it was so quiet with most of the visitors gone for the day. It would also look amazing at sunrise, if you have the chance. Please note that Seaford head is a Local Nature Reserve, and part of the Sussex Heritage Coast. It homes many nationally rare and significant species of plants, birds and insects.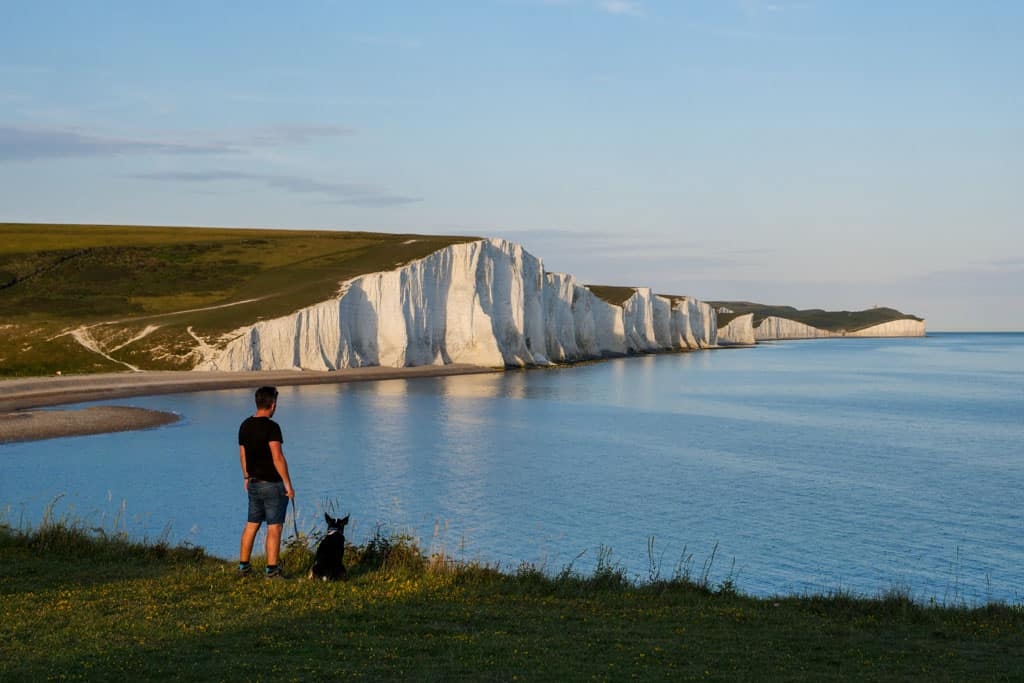 Tips for Dog owners & general safety
Firstly, responsible dog owners are very welcome at Birling Gap and Seven Sisters. They are welcome in café's, shops and the visitor centre. However, this is a sensitive landscape and National Park and it needs to be protected. Here are some of my tips, alongside some from the National Trust.
Always keep your dog on a lead along the cliff top walks
Always consider any wildlife and other dogs before letting your dog run off the lead. Such as sheep (they may be about to lamb) and ground nesting birds (such as skylarks).
Always pick up after your dog and use the dog waste bins. I always carry doggy poo bags.
Always carry water and a bowl or cup to drink out of, especially in hot weather. Check the weather before you go.
Keep an eye out for local notices advising of certain precautions during the season
Stay away from the base of cliffs: rock falls can happen.
Be aware of the tides on the beach. It is possible to get cut off by the incoming tide or forced up against the cliffs in some areas.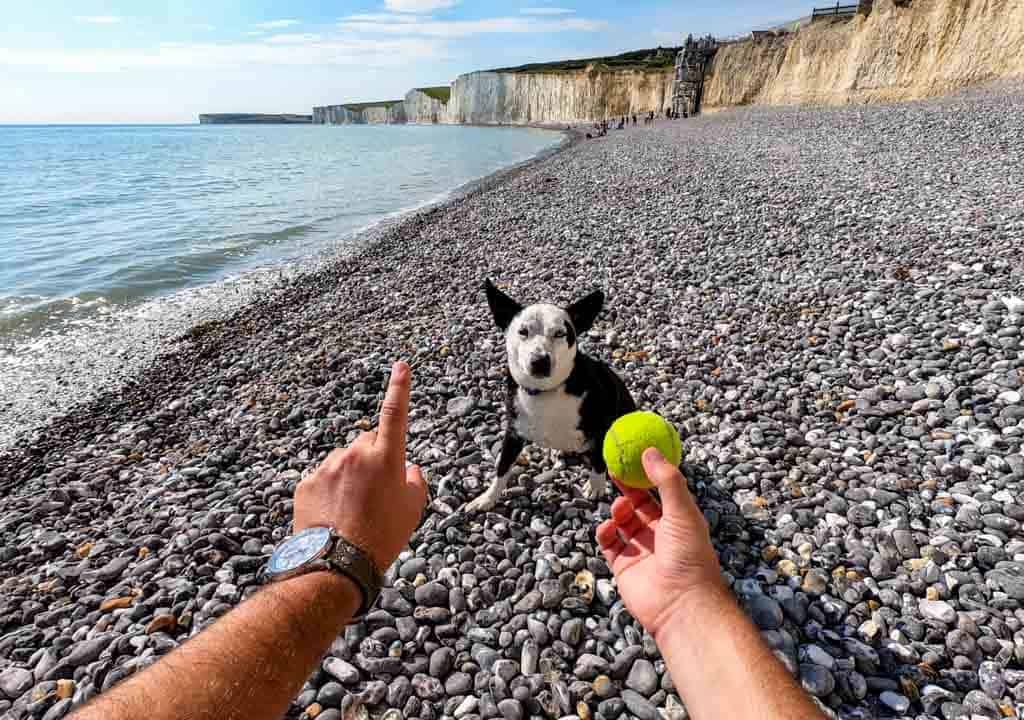 But with all these reasons, 1000 of species of plants, an abundance of wildlife and activities such as rock pooling for the kids. It's an amazing place to visit. Please put on your list for the south coast, and make sure you let me know how you found it.
*My trip to Birling Gap was sponsored by the The AA. Nonetheless, all the photos and opinions are (as always) my own, and quite simply this area is beautiful, and I (and Balou) loved it!