Staycation certainly seems to be the buzz word lately, and for good reason. Many of us are now considering a Staycation or Cottage Holiday in the UK, and I love to see people are exploring more of our beautiful country.
Therefore it gave a lot of pleasure to research and write an article on somewhere so local to me (I am based near Portsmouth). It brought back some memories and also gave me a few new places to try. So let's start with answering a few common questions, before my top recommendations for cottages in Sussex.
Where is Sussex?
Sussex is located in South-eastern England and approximately 54 miles from London by car. It's a fascinating county with a diverse natural landscape, quaint villages, and laidback towns.
In addition, it's home to Chichester, a city that consistently tops the list of the sunniest places in the UK.
Sandwiched between the counties of Kent and Hampshire, Sussex is divided into two counties; East Sussex & West Sussex and one unitary authority of Brighton and Hove (which was awarded city status in 2001) following the 1972 local government Act.
The split was solely for administrative purposes – to make the whole county efficiently governable.
Why holiday in Sussex?
Sussex boasts a perfect combination between picturesque countryside and a stunning coastline.
Each part of the county has a unique charm but you can expect to see alluring medieval towns, dramatic chalk cliffs, and miles of unspoiled woodland.
Enthralling history, otherworldly terrain, ancient battlefields, and the beautiful architecture, are the main reasons why Sussex cottage holidays have spiked in popularity in recent years.
More and more people want to explore this surprisingly pristine locale. Some of the best places to visit in Sussex include;
Hastings Castle and 1066 story
The ruin of the Hasting Castle is probably the most photographed site in Sussex. It's one of the three Norman castles built by William the Conqueror when he first invaded Britain.
The castle played a major role in the Hasting Battle that left the last Anglo-Saxon king of England dead.
In addition to the engrossing history, the ruin of the Hasting castle offers beautiful views of the sea and the surrounding areas below.
The Long Man of Wilmington
Carved into the chalk hill of the South Down, The Long Man of Wilmington is a gigantic 235ft tall ancient figure near the village of Wilmington.
Dating back to the 17th century, this faceless figure is the largest illustration of a human form in Europe.
Birling Gap & the Seven Sisters Chalk Cliffs
This series of chalk cliffs are among the most popular attractions in Sussex and they're undeniably geological phenomena.
Aside from their bewildering beauty, Birling Gap and the Seven Sisters Chalk Cliffs have an equally interesting story of how they came into existence.
They were formed over a period of 20 to 30 million years and under a climate similar to the Saharan desert.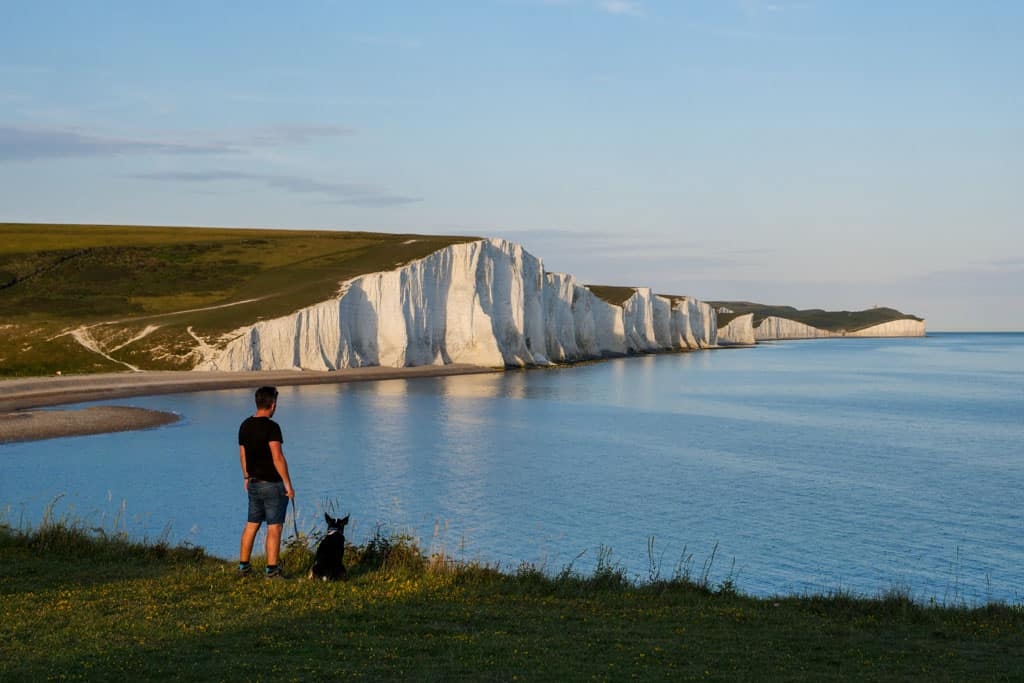 Cottages you must visit on your next Sussex staycation
1. The Piggery at John Bulls House
Situated at the base of South Downs National Park, The Piggery at John Bulls House is the perfect option if you're yearning for a relaxing and romantic escape in Sussex's countryside.
Perched within lush woodland, this single-storey property is set in a tranquil location where you can easily detach from the fast-paced world and take a private moment to rejuvenate.
It constitutes an open-plan living area with classy bi-fold doors and a well-equipped kitchen area with all essential amenities you might need for your self-catered stay.
The bedroom is roomy with a comfy king-size double bed as well as a sofa where you can snuggle down and enjoy the chic ambiance of this luxury cottage.
The Piggery at John Bulls House takes opulence to the next level with the private garden boasting astounding views of a natural pond. There is also a Scandinavian wood-fired hot tub which can be a great antidote to your aching muscles after a long day.
In addition, the property's proximity to the A 23 London to Brighton road sets it in a perfect location from where you can venture further to explore other parts of Sussex as well as the neighbouring counties.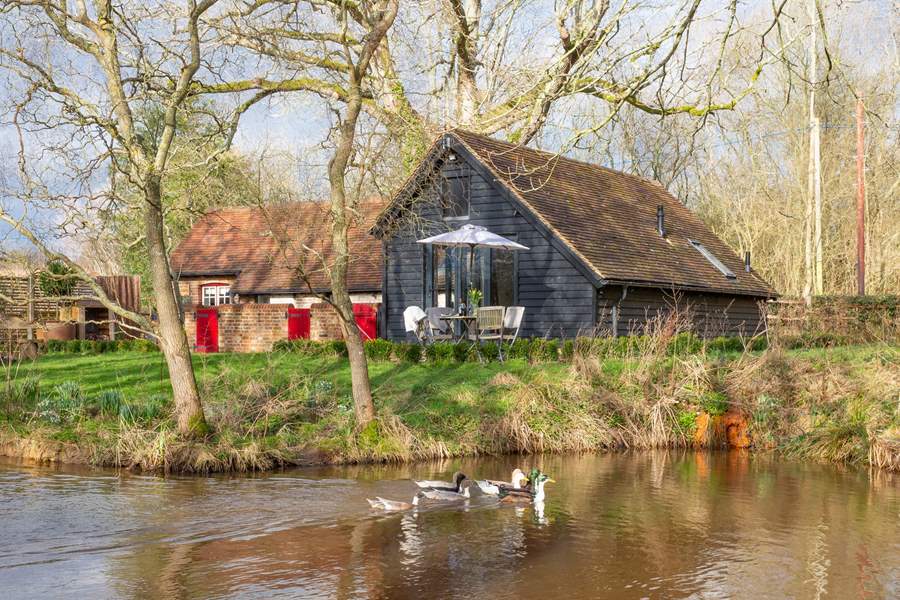 2. The Roost
The Roost is a stunning two-bedroomed property located approximately 100m from the centre of the historic town of Battle and a place where rustic glamour with a generous dose of comfort awaits you.
Being so close to the town means you can easily take a stroll around its wonderful streets. And, despite being almost at the heart of Battle this property offers you a quintessential countryside getaway.
With a great mix of traditional and contemporary design, the white ceiling contrasts perfectly with plenty of the exposed wood beams giving the interior a rustic yet elegant finish.
The property features a spacious well fitted open-plan kitchen and a large dining table, slap bang at the entrance.
The living area is fitted with beautiful sofas and there's a double door that leads to a stunning balcony where you can kick back to enjoy a cup of coffee or simply sit and watch as the world goes by.
Winder stairs lead you to the main bedroom that boasts unrivalled views of the town, a family bathroom, and the second bedroom which has two single beds.
This luxury cottage accommodates up to 4 people, which makes it perfect for a small family or a group of friends.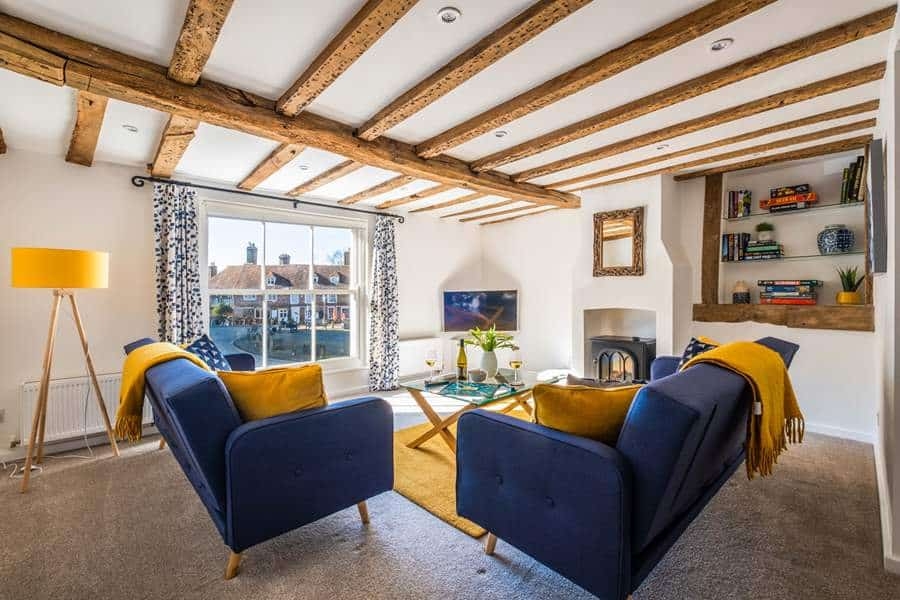 3.     4 Robert's Row
Located close to the renowned town of Rye, Robert's Row is a great choice for your Sussex staycation.
Situated within a short driving distance to wildlife, castles, and secluded trails, this quaint accommodation is fascinating even to the most discerning vacationers.
The terraced cottage is revamped with trendy furnishing and amenities but it has retained its authentic looks including its endearing fireplace, stone floor as well as wood-beamed ceiling.
The front door leads you to the spacious living area that's characterised by a wood-burning stove, and tasteful comfy sofas where you can sit for entertainment, bonding with your loved ones, or just relaxing.
Whether you're a foodie or not, the country kitchen design with a touch of modernity is well-equipped and will inspire you to prepare your favourite dishes.
Upstairs you'll find a bathroom, and well-appointed bedrooms – the main bedroom and a slightly smaller double bedroom.
If you enjoy sitting outdoor, there is a beautiful lawned garden with a patio where you can sit to unwind after a long day of exploring the area.
Robert's Row sleeps three people, and it's a popular option among small families as well as small intimate groups of friends.
Also, if you're looking for Sussex cottages dog friendly accommodations, you can tag your fur babies along provided they have a small stature (a maximum of 2 small dogs).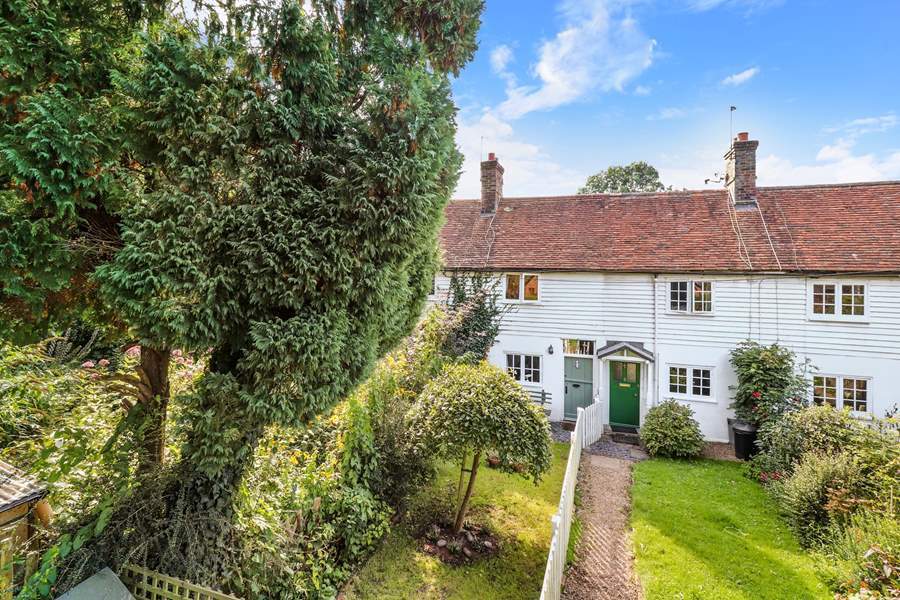 4. Gunbanks Forge
Nestled within the reposeful landscape of the famed High Weald Area of Outstanding Natural Beauty, this Gunbanks Forge is one of the cosiest places on the Sussex coast where you can go for a countryside escape.
The spacious living area has stylish large windows that allow ample natural lighting leaving the whole room looking its best – airy, elegant, and oozing with a relaxing ambiance.
Plus, with its elevated position, on the first floor of the cottage, the living area boasts striking views of the lush woodland scenery.
The comfy sofas are also a great and useful addition especially when you want to catch up with our favourite shows.
Gunbanks Forge has two minimally yet modestly furnished bedrooms – the main bedroom with a king-size double bed and a second bedroom with twin beds.
The kitchen is fitted with all appliances and amenities you'd hope for, so you can expect to have a home-away-from-home experience as you make your meals exactly as you like them.
After a day full of activities the outdoor seating area is the perfect place to sit and usher the evening while enjoying an ultra-cosy atmosphere created by the outdoor fire pit.
Gunbanks accommodates a maximum of 4 people.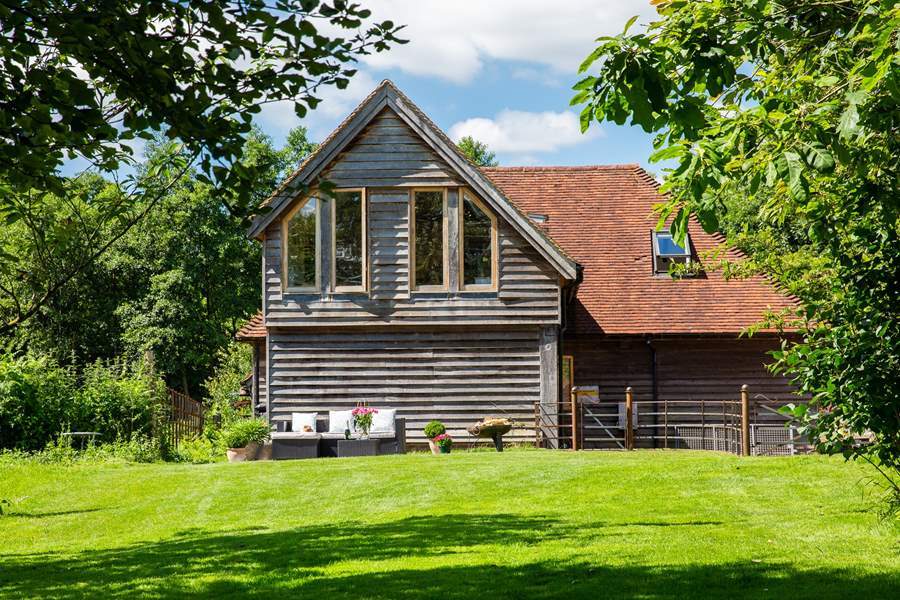 5. Hill Farm Cottage
If you're looking for a small haven for a romantic getaway where it's just you, your loved one, and the countryside, then Hill Farm Cottage will tick all your boxes.
Set in a location not far from the coast, this cottage is tactfully designed to meet all your needs while making you and your significant other as comfortable as possible.
The barn boasts an open plan kitchen living room floor layout which makes every moment intimate whether you're just chilling on a sofa or preparing dinner in the kitchen.
With floor-to-ceiling windows and double glass doors, this small but charming cottage offers unbeatable views of the surrounding areas.
The bedroom is fitted with a king-size double bed.
The roof window is strategically situated right at the top of the bed, so the room gets flooded with natural lighting during the day, and at night you can enjoy stargazing from the comfort of your bed.
The bathroom is en suite and classy with a spacious walk-in shower.
When you've had enough of relaxing, there are miles of scenic walks to explore right from your doorstep.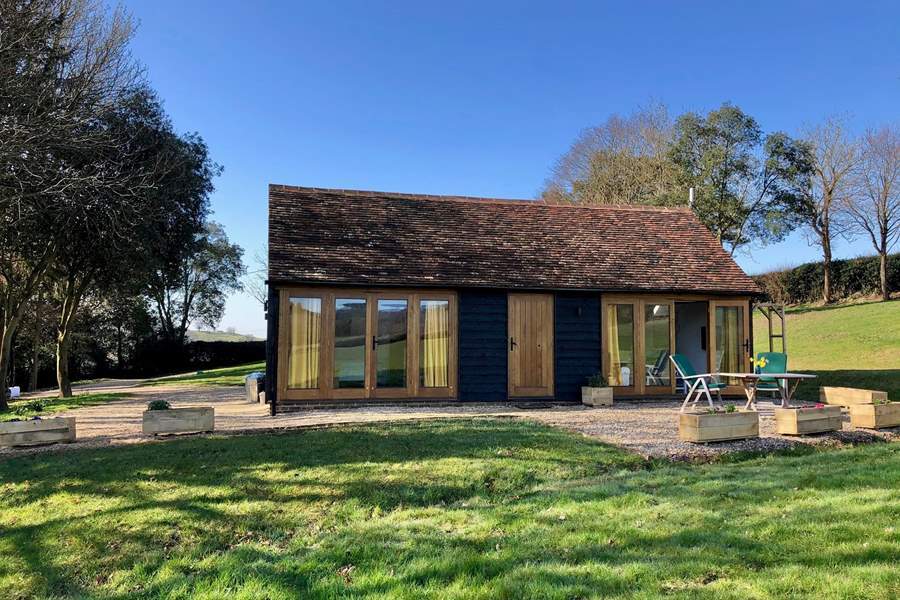 You can find each of these cottages at Sussex cottage holidays.
This county is home to beautiful rolling hills, brown sandy beaches, and villages full of charm. Sussex cottage holidays offer relaxing retreats but also fun-filled activities such as hiking, biking walking and so much more.
Regardless of your taste and preference, Sussex has the perfect cottage and activities that can be tailored to your liking. See more of the United Kingdom on Intrepid Escape.
This article was written in partnership with Classic Cottages, however all thoughts and opinions are my own. All photo credits and rights to Classic Cottages (excluding the cover photo which is my own).