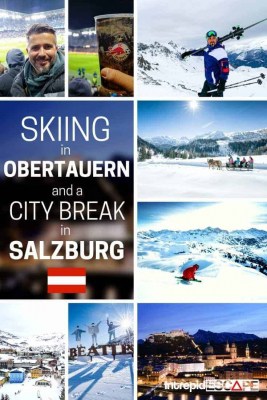 Let's start with one very important fact. Obertauern is the Ski Resort with the best snow depth in all of Austria! It's often nicknamed the "home of snow" or Snobertauern, and it's easy to see why. It's usually open early in the season and if there is one place that's guaranteed snow, it's here. Scientific studies have even proved this! It's thanks to the unique weather conditions in the Tauern mountains, and the way the clouds hit from the north and the south!
Something else I am starting to find is increasingly popular, particularly for me, is a ski resort close to a big city. Austria is blessed with a lot of them. I absolutely love a 2 for 1 holiday; spending a couple of days in a city before or after the slopes. And that's even better around Christmas. I travelled to Salzburg for a fantastic combination of skiing, city views and football, perfect.
Getting to Obertauern
Obertauern is very easily accessed from Salzburg and is located just 90km to the south of Salzburg. So easy in fact that I took a flight at 7am from London Gatwick and was skiing by 11:30am (UK time). That's with checking in and picking up my rental skis! It takes around 45 mins to drive from Salzburg Airport to Obertauern. Brilliant.
There are regular flights to Salzburg with a few operators from all over the UK, so that part is easy. From the airport you can either use the hotel transfer service or direct shuttle bus. There is also a Ski Transfer helicopter!
It's also only 220km from Munich and 320km from Vienna. Should you be arriving by train, the closest station is Radstadt (20km away), then there is a bus from Radstadt.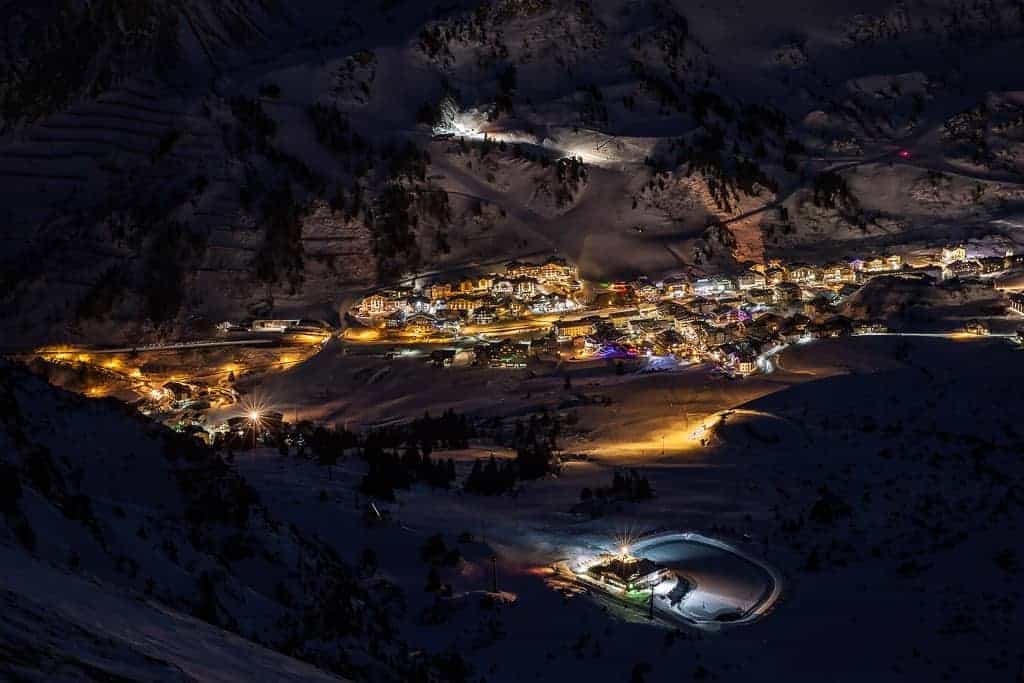 The Skiing in Obertauern
There are over 100km of groomed pistes for skiing in Obertauern. Supported by a huge gondola and 18 chairlifts. It has the perfect blend for beginners and the more experienced. 61km of the runs are blue trails (see the facts below for the full breakdown). At the top of most of the lifts, there is usually a red and a blue option. Meaning if you're skiing in a mixed group you can take the run that suits you and meet at the bottom.
Obertauern also advertises that skiing is available from November to May, and better than that, they guarantee it!! Let me just repeat that… November to May! That's a massive window for skiing, one of the longest seasons I've seen in Europe. Oh, and if 100km isn't enough, you can also explore the nearby Grosseck-Speirereck resort, giving you a further 50km to explore.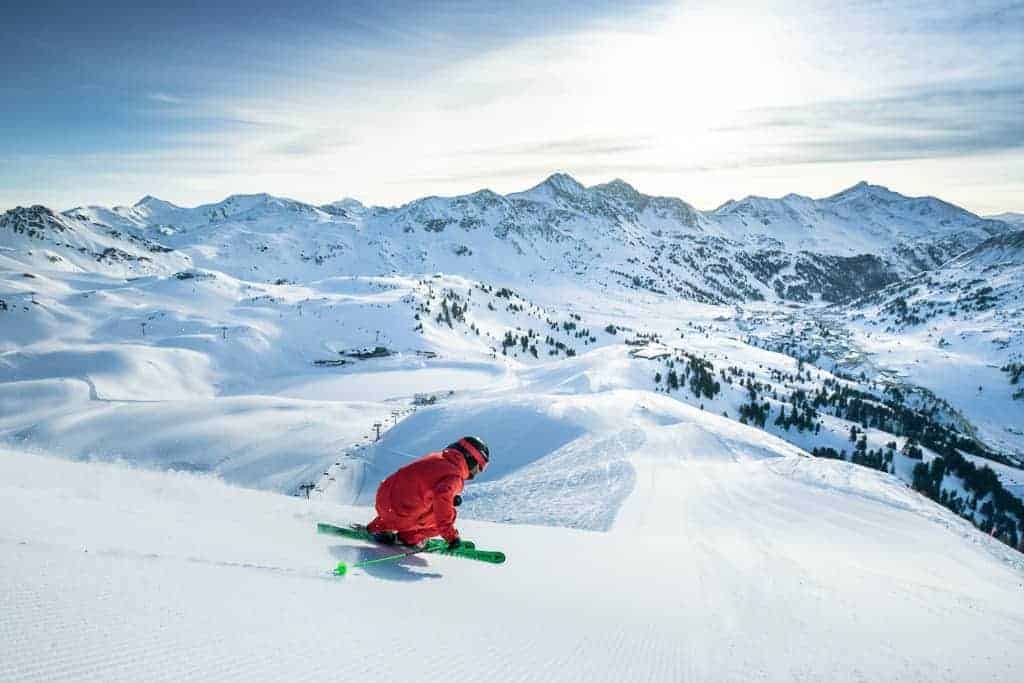 Obertauern Facts
Obertauern Altitude: 1740 metres
Ski Area Altitude: 1630m to 2313 metres
Accommodation: 150 hotels or guesthouses and 6 Hostels
Season: Late November to the beginning of May
Ski lifts: 26 cable railways
Ski runs: 100km of runs, 61km Blue (easy), 25km Red (medium) and 4km Black (difficult)
Average snow depth: 264cm
Snow Parks: The Spot with lines, rails, boxes and jumps
The Village of Obertauern
The charming village of Obertauern is Austria's snowiest village! Once you've skied right back to your hotel or lodge (did I mention ski-in/ski-out?), there are plenty of things to keep you occupied. It's known for having some pretty lively Après Ski, from international DJs to a more relaxed pub culture, and even some craft beer.
In the 1960s the Beatles came to town to shoot a music video, with some of the locals standing in as stunt doubles. It's a claim to fame not forgotten in this region. They even performed a private concert in one of the hotels, and certainly helped put the village on the international map.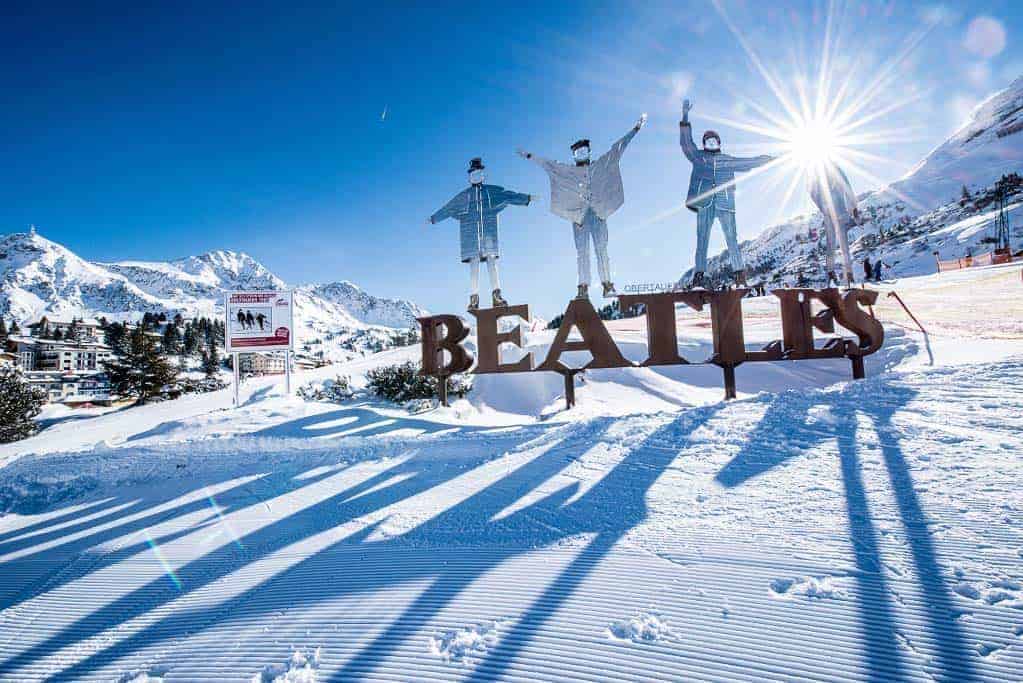 What else can you do in Obertauern?
I always love a ski resort that has some other things to do away from skiing or snowboarding. Obertauern is absolutely one of those places. For the more relaxed activities they offer horse-drawn sleigh rides, snowshoe hiking and a spa and wellness centre. However if you're still looking for adventure, take a look at this list:
Snow-kiting: a new sport taking the slopes by storm. Obertauern has a Snow-kiting school.
Snow Touring: requested via the ski schools.
Night Skiing: From Monday to Thursday the Edelweiss run is illuminated until 10pm.
Airboarding: Taking on the more conventional sledding, you lie on your front and shoot down the mountain.
Electric Fat Bikes: A great way to see the valley, fat-tire bikes are designed for riding on snow.
Tobogganing: a 1.5km and 5km taboggan run, even with night tobogganing!
Ice Climbing: on the frozen Johannes Waterfall.
Segway Tours: an extraordinary way to see Obertauern.
Cross-country skiing: with 5 trails from easy to difficult, Obertauern is known for its stunning Cross-country skiing.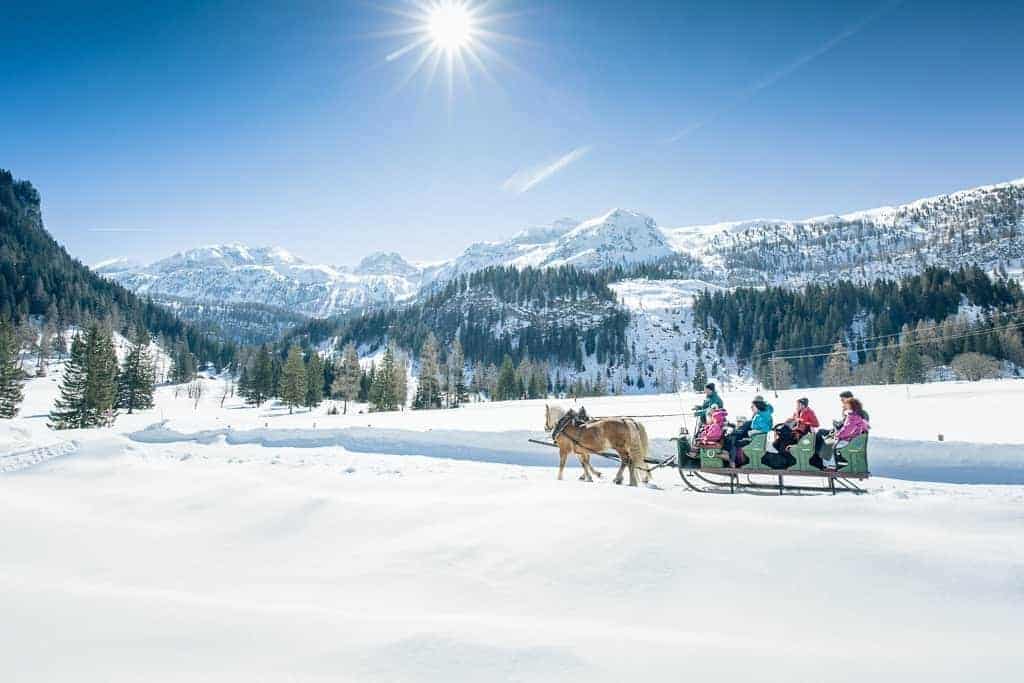 A city break in Salzburg
As I mentioned, I love combining my ski breaks with a city break. And Salzburg is one of the best places to do it. I've now been a few times, as you can see my previous article about Salzburg and Salzburgerland. I had an instant connection with this city, and this was my first time visiting in winter.
Salzburg is a small city and getting around and seeing the main attractions is made easy with the Salzburg Card. I find it one of those cities where taking a walking tour is really important, not only to get to know your surroundings, but to appreciate the history and finer details. It gave me the perfect overview so that I could decide what I wanted to explore more of.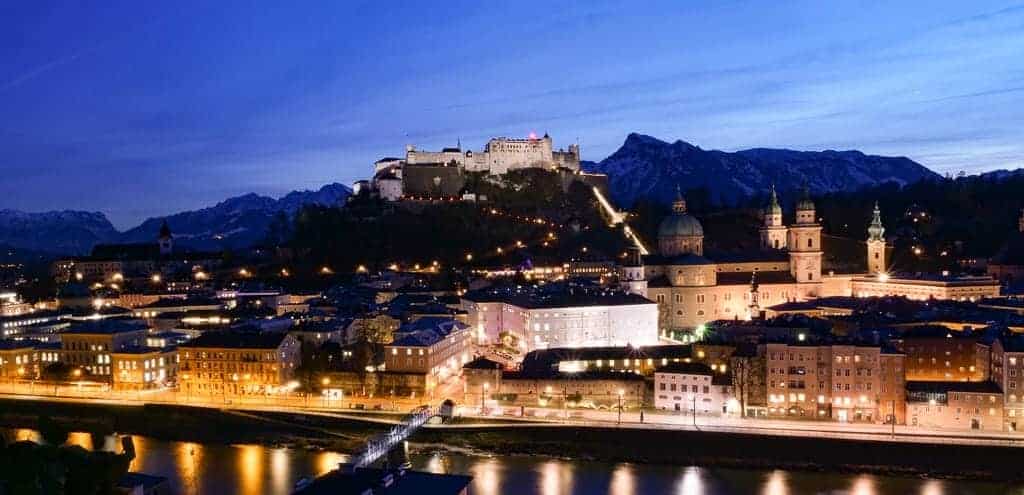 3 top tips for Salzburg
I wouldn't say these places are necessarily lesser known, but they're far from the obvious. Your city tour will take you to the castle and the home of Mozart. But it might not take you here.
Walk the Castle Walls – I only discovered this on my most recent visit, as it's not that clear where the walk begins. If you head to the Aussicht Kapuzinerberg observation deck (not the north one 'Aussicht Kapuzinerberg Nord'), there is a small pathway towards the wall and all along the wall. The view over the river and castle are incredible. Check out the photo above.
Untersberg Mountain – panoramic views at an impressive 1775 metres high? Yes please! There is a ton of hiking to do from this viewpoint, including a short one to 1853 metres. The views across Austria and Germany are breath-taking and it's only €25.00 for a ticket on the gondola (or it's included in your Salzburg Card).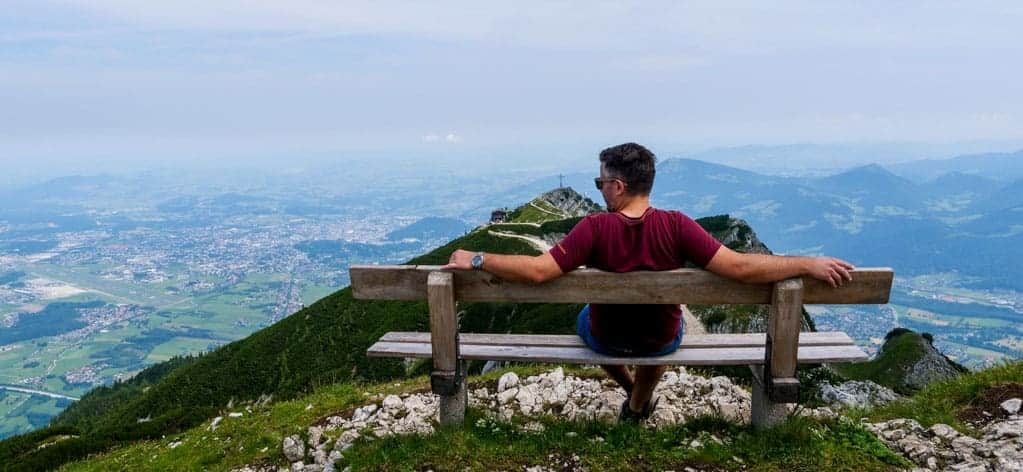 Augustiner Brewery – OK let me give you my best recommendations for food and drink. Firstly Augustiner Brewery is a huge beer garden for over 1400 people, mostly full of locals and the odd tourist. It's been a traditional meeting place for locals since 1621!
Gasthof Goldgasse – Onto food. Hidden away in one of the most romantic alleyways in Salzburg, in a 700-year-old house is Gasthof Goldgasse. It's known as a culinary insiders tip! Well let me tell you, it's amazing. A lot of the recipes come from the 1719 legendary cookbook of Conrad Hagger, and have since been reimagined and modernised. Honestly just go, and have the Deep Fried Chicken in a copper pot. You might be thinking, what? Fried chicken?! Trust me, it's one of the tastiest meals I've had in a long time!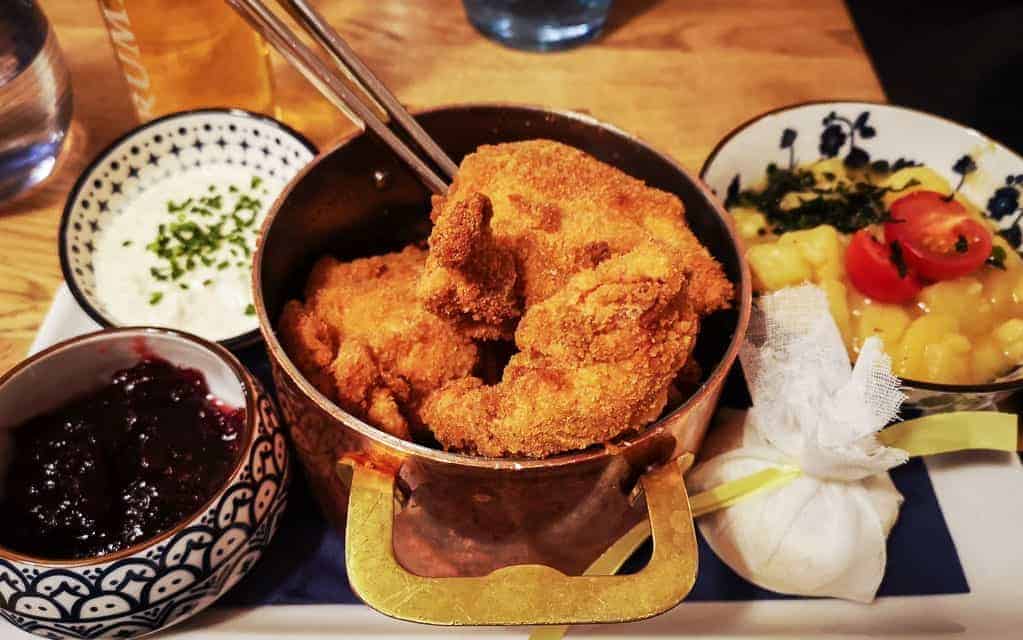 FC Red Bull Salzburg
Having dominated Austrian football over the last 10 year or so, FC Red Bull Salzburg have been causing quite the stir. With a huge list of domestic records to their name, FC Red Bull Salzburg finally made it to the Champions League Group stage this season after many attempts of trying.
It's a huge achievement, an achievement the fans and players weren't taking lightly. It was also another reason I was here. The final group stage (FC Red Bull Salzburg vs Liverpool) was to be played at the Red Bull Arena. After a tough group draw saw them face Napoli and Liverpool, incredibly they could still qualify on the final group match. But they had to beat Liverpool, the 2018/19 Champions League Winners.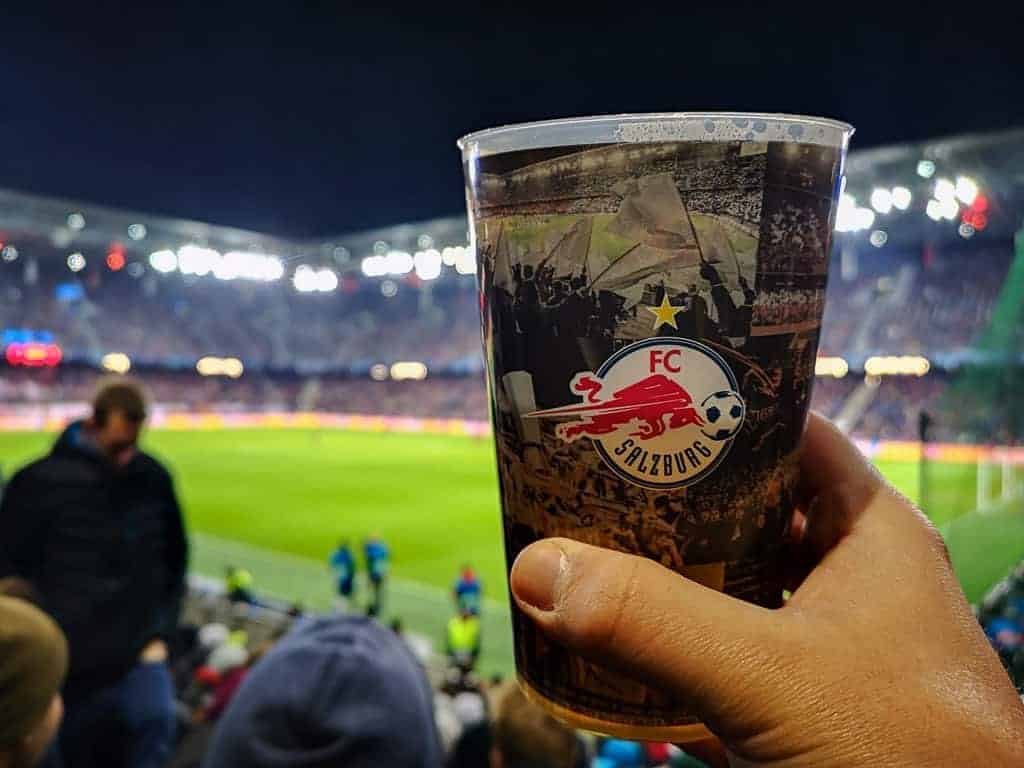 It was all set up for a thrilling match, and whilst I usually support English clubs in European football, today I am a FC Red Bull Salzburg fan! The atmosphere in the 30,000 seater Red Bull Arena was amazing, from the colours to the flags. If ever the team needed a 12th man, this was it; the fans. The game started a little cagey, and for the first half, it looked like they might just do it. With chances either end Salzburg had the better opportunities and were playing great football. However, half time came and it was 0-0. Time for a beer to ease the tension.
The second half began and Jürgen Klopp (the Liverpool manager) had made some tactical changes. And before we knew it these changes had taken effect. Two goals in less than two minutes from Keita and Salah for Liverpool on 57 and 58 minutes silenced the crowd. Liverpool were showing the quality that won them the Champions League in the first place. They simply don't miss their chances.
So it was a bit of a missed opportunity for FC Red Bull Salzburg, who will be rueing their first half chances. Yet what a massive achievement, look how far this club has come. They only missed out on the knockout stages with a narrow defeat to the Champions. The atmosphere in the Red Bull Arena was electric, and this is a club on the rise. I am sure we will see you in the Champions League next year Salzburg, and I hope to come along and watch.
All in all what a fantastic way to combine a skiing holiday with a city break. With the home of snow mixed with the city of viewpoints (as I call it). And don't think this is a city to visit once, Salzburg has more surprises each time I visit, and I seem to uncover more hidden gems as I go.
Have you combined Skiing with another holiday? Have you got any tips for Austria or Salzburg? I'd love to hear about it in the comments below.