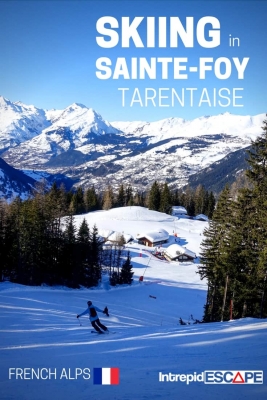 There aren't too many ski resorts in the French Alps that I haven't come across before, having either been there myself of heard someone else talk about it. But Sainte-Foy-Tarentaise is one of those, I hadn't even heard the name mentioned. After some research I realised why, it's widely referred to as the hidden gem of the French Alps. Sometimes in the shadow of its neighbouring larger resorts such as Les Arcs, Val d'Isere and Tignes. And that's just how Sainte-Foy likes it. It's like a well-kept secret that visitors have kept for years, and then I come along and ruin it all. Sainte-Foy I'm about to spill the beans, sorry not sorry!
So before I even get on to the skiing, I want to explain what makes Sainte-Foy so different. From the moment you arrive you get a small, cosy resort feel. Most ski resorts fall victim to overdevelopment, whether it's too many hotels, crowded runs or queues for the lifts. Sainte-Foy has none of the above. From the moment I arrived it felt stress free, easy, relaxed. Everything is in walking distance, easy to find and the locals are very friendly. The resort itself is limited to a few thousand beds, and has no risk of overdevelopment, it's no wonder this place can attract the odd celebrity or rugby team wanting to get away from the crowds.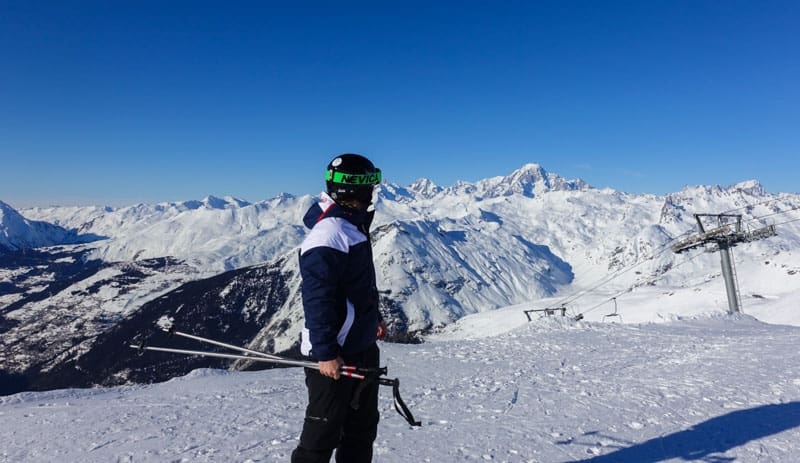 Skiing & Snowboarding
Every skier and snowboarder dreams of ski-in-ski-out accommodation, and that's the first thing I look for! Being small has its advantages, you can see the chair lift from our chalet, and the whole resort is within 5 minutes' walk of my bedroom. The ski rental, chair lift, coffee shop, ski school, beginner's slopes. We could see it all from our amazing Premiere Neige balcony. Then there's the skiing. It's an area known for it's 'natural ski', which isn't skiing in the buff, it's beautiful off-piste, powder, scenery and very few people. On my first day on the slopes I could see what they meant.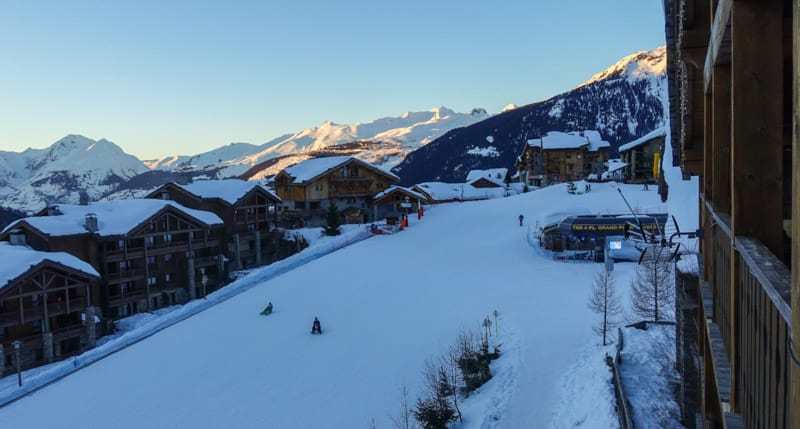 The nature and heritage of the area is protected, and the resort has an excellent snowfall record. It's also somewhat protected from the wind, and it's many runs through the trees can be kept open even when local resorts close due to bad weather. The lower half of the resort it perfect for beginners, scenic soft flowing blue runs through the trees, with only one place they all end. It means it's impossible to get lost. Yet the top of the L'Aiguille chairlift has only red and black runs, and endless off-piste and fresh powder, not to mention the incredible views as far as Italy. For a small resort, I couldn't believe the variety and quality on offer. Also please make sure you ski my favourite run, a sweeping yet wide red run through the trees which opens up to amazing views of Sainte-Foy, Creux de Formeian (number 4 on the map), you won't regret it.
If the skiing isn't enough, you can don snowshoes and get away from, well anybody. If you've never snowshoed before, try it. It's a chance to really see and feel the nature of the Alps, enjoy the sound of nothing and (if you go with a guide) learn about the fragile forest eco-system and the animals that call it home.
Why you should choose Sainte-Foy
Fantastic off-piste skiing & powder snow (always with a guide)
Ski-in-ski-out chalets
Very easy to find everything
Runs for all levels
Lifts often stay open during bad weather
850 hectares of ski area
Very few (if any) queues for lifts
"No queues, no stress, no worries. This is stress-free skiing in spectacular scenery"
Where to stay
The Sainte-Foy resort is full of authentic alpine chalets, built in a traditional style and designed to look like they've been there years. Yet once you get inside you have all the home luxuries your heart could desire; a log fire, outdoor hot tub and fully equipped kitchen. Our chalet was 'The Peak' one of the flagship chalets run by ski holiday specialists Premiere Neige. You can choose from self-catering or catered chalets, and The Peak offers an 'enhanced' service.
We were incredibly well looked after, and there's no better feeling than relaxing in a homely chalet after a long day on the slopes. The catered chalets come with two chefs, and our head chef Lee prepared a mouth-watering 4-course meal including champagne and canapes. It was 5-star quality, as was the wine chosen especially for our dinner by the chef and chalet manager. After dinner you can pick from the balcony hot tub, sauna, steam room, fitness suite, log fire place, or even book a massage in the dedicated massage room.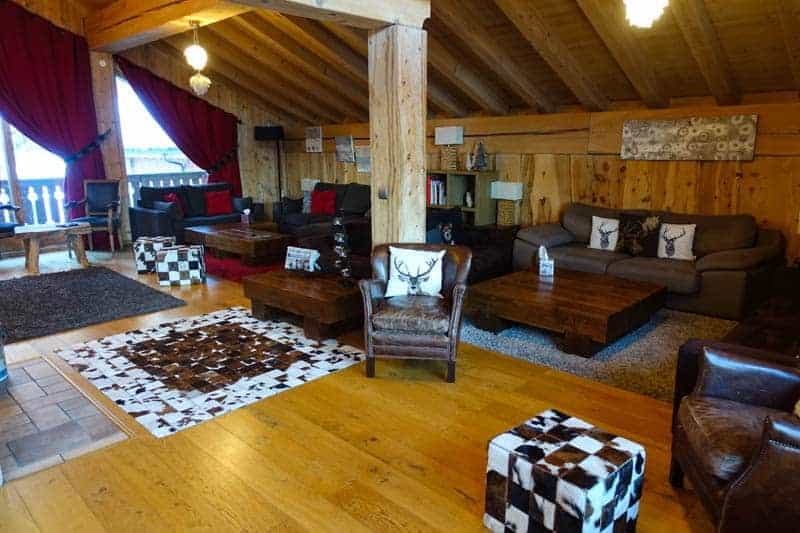 Our chalet had 8 bedrooms, each equipped with everything you could need, very spacious and with an en-suite. You can hire the whole chalet if you have a group, or share with other guests, which I really love. The chalet is big enough to find yourself some quiet time, yet sociable enough to meet like-minded people and discuss your favourite run over afternoon tea and cake (yes that's included too!). And when you're ready to ski, grab your skis from the heated boot room, you're a two-minute walk from the chair lift. Yes, it is that close, in fact you can see the beginner slopes from the hot tub.
I think it's exactly this kind of accommodation that keeps people coming back to Premiere Neige, and Sainte Foy itself. Once you ski this way, in this kind of relaxing environment, with 5-star quality, a small welcoming community, with everything on your doorstep, why wouldn't you come back? That coupled with a beautiful variety of slopes, few (if any) queues for lifts, and a relaxed nature to the skiing really justifies Sainte-Foy's title of the hidden gem of the French Alps.
Share Me
Sharing this article with your family and friends on Facebook, Pinterest or Twitter really helps keep Intrepid Escape going, thank you!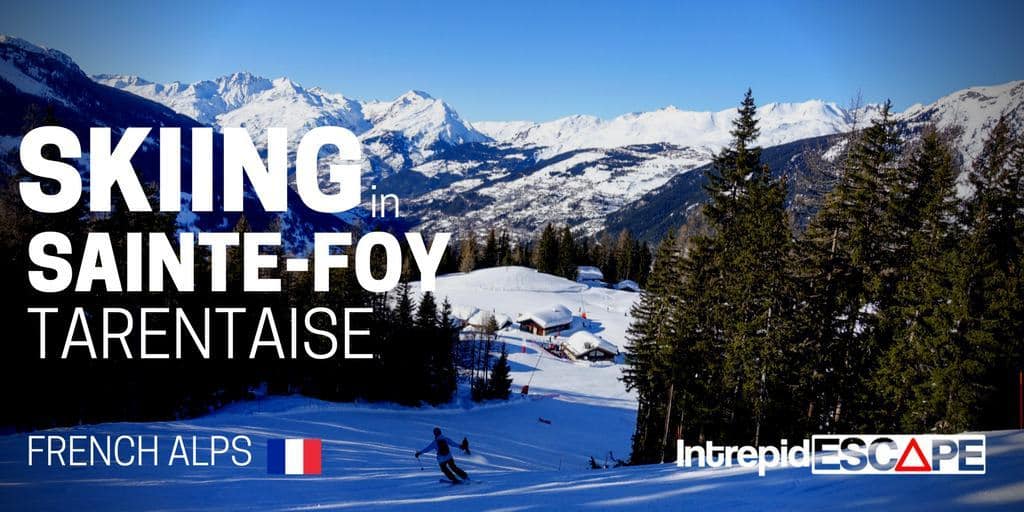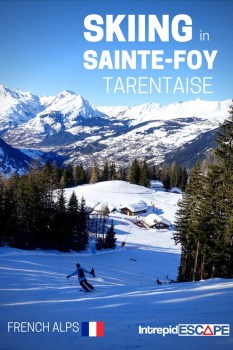 Have you been to Sainte-Foy? Did you like it? If you end up booking please tag me in your photos on Instagram (@IntrepidEscape), or I'd love to hear about it in the comments below 🙂