When you think of Europe, the stunning country of Latvia might not come to mind, far less the charming town of Kuldīga. Having been there myself on a few occasions, I can honestly say it should be one of the top places on your list.
As Latvia's newest UNESCO World Heritage Site, it's no surprise to hear that you'll find a wealth of historical buildings and striking architecture here. In fact, the town's historical centre dates as far back as the 13th century.
Kuldīga is just a 2.5-hour drive from the capital city of Riga. So if you don't have time to stay here, I'd at least suggest heading to the town for a day trip.
In this guide, I'll take you through the very best things to do in Kuldīga based on my own experience, where to stay, and other helpful tips and tricks.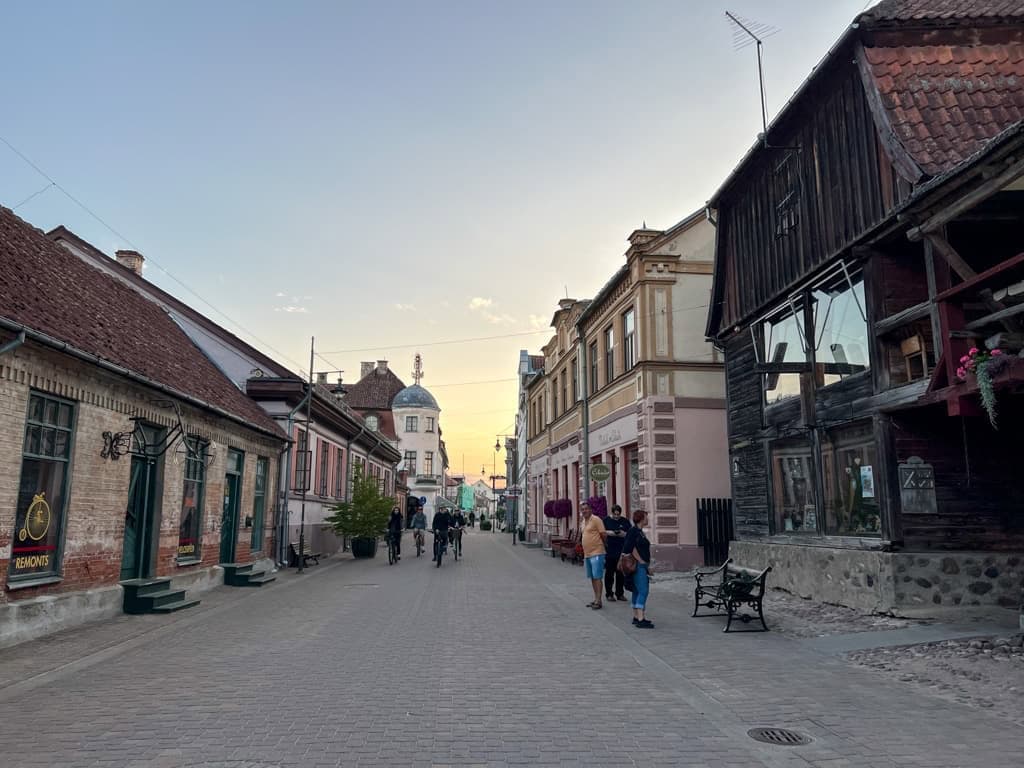 Frequently Asked Questions about Visiting Kuldīga, Latvia
Is Kuldīga Worth Visiting?
Yes, I absolutely loved my time in Kuldīga! It's a town with real charm, historical attractions, and natural wonders, this town has so much to offer travellers.
As well as being a UNESCO World Heritage Site, Kuldīga is home to the tallest and widest waterfalls in Latvia. Honestly, it's unlike any other place I've ever visited.
How do I Get to Kuldīga?
Kuldīga is a 2.5-hour drive from Riga so I'd suggest flying to Latvia's capital first, where you'll find plenty of car rental companies.
If you don't want to hire a car, then there are daily bus services between the two costing around €8. The journey by bus typically takes around 3-3.5 hours.
When is the Best Time to Visit Kuldīga?
April to September offers the best weather, where you'll experience the highest temperatures, although July is considered to be one of the rainiest months.
January to February can see temperatures drop into the minus, but you'll get lovely winter vibes. I don't think it matters when you visit, as you're sure to have an amazing time whenever you visit.
Best Tours in Kuldīga, Latvia
How Much Does it Cost to Visit Kuldīga?
The Baltic countries are known to be some of the cheapest in Europe and Latvia is no different. During my trip, I found everything from food to accommodation very affordable.
For those on a backpacker budget and who are splitting costs, I think you could easily get by on €50-60 per day. However, this will depend on where you stay and eat.
Things to do in Kuldīga, Latvia
Let's now talk about this blog post's main topic, the best things to do in Kuldīga, Latvia! From visiting waterfalls to enjoying the old town, you definitely won't get bored here.
Visit the Kuldīga Latvia Waterfall
During my visit to Kuldīga, I headed to Venta Waterfall (also known as Venta Rapid). At just 1.8-2 metres tall (6-6.5 feet), I admit, it doesn't sound too impressive at first, but wait until you see it!
The Venta Waterfall is the widest waterfall in Europe with a width of around 100 metres (328 feet). Not to mention, if you head here during spring and autumn, you'll get to see flying fish go over the rapids.
What is the Largest Waterfall in Latvia?
Venta Waterfall is the country's largest waterfall with a width of 100-110 metres (328-360 feet). It's also the widest waterfall in Europe, making it a must-visit.
Kuldīga is home to Latvia's tallest waterfall as well, Alekšupīte Waterfall. In my opinion, no trip to this charming town is complete without heading to both.
Where is the Best Place to See Venta Rapid, Kuldīga?
Lucky for all of us, the Venta Waterfall can be viewed from both sides of the river. There are walking paths alongside where you can admire the scenery.
However, I'd also recommend heading to the town's Old Brick Bridge. Yes, it's located further downstream, but I still found this spot to offer fantastic views. If you want to make the most of your time here, I highly recommend booking a tour to the River Venta Waterfall, you'll love it!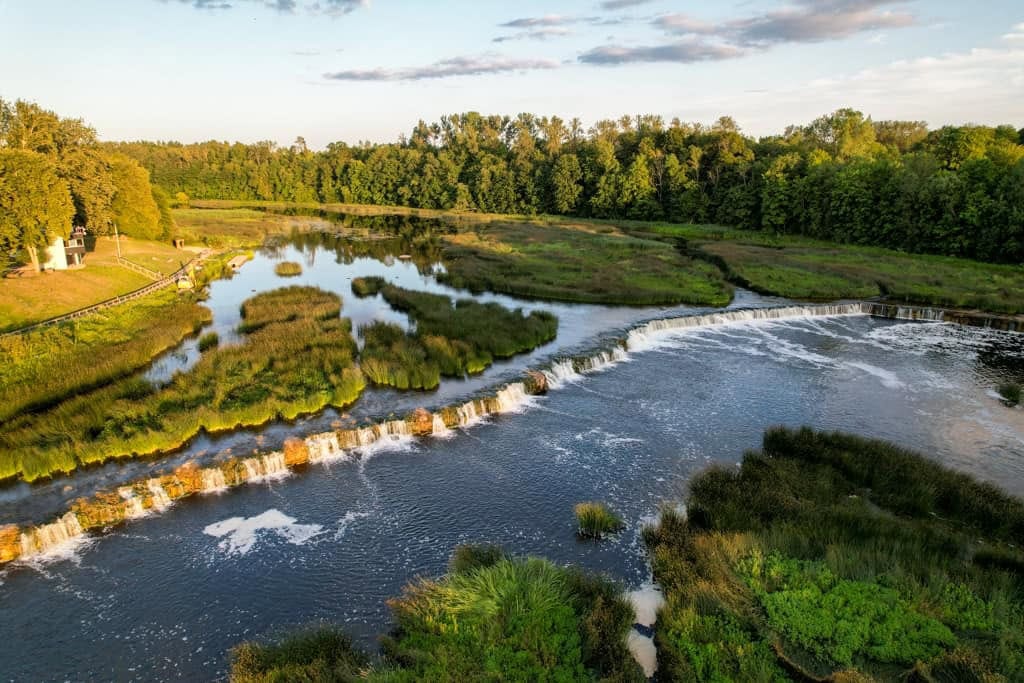 Explore the Kuldīga Old Town
The Old Town of Kuldīga is Latvia's newest UNESCO World Heritage Site. I'd say it's one of the best places to visit in town, with its striking architecture and history.
Below, I've included some of the best places to visit. This is to ensure you make the most of your trip, just as I did.
Kuldīga Old Town Hall and Town Hall Square
A highlight of my trip had to be the Old Town Hall Square which is home to Kuldīga Old Town Hall. This 16th-century wooden building has been renovated and now holds the tourist information centre.
The Town Hall Square was originally used as a market square, but today, it's known for its striking architecture.
The Old Brick Bridge
This superb bridge connects the Old Town with another area of Kuldīga. It dates back to 1874 and at 164 metres long (538 feet), it's Europe's longest road bridge of its kind. It's also the largest brick bridge in Latvia.
Walking over this bridge is an experience for sure, and I loved the views from here.
The Alekšupīte River and Waterfall
Kuldīga is often referred to as the 'Venice of Latvia'. This is due to the Alekšupīte River which winds itself through the town.
You'll also find Alekšupīte Waterfall here, which is the country's tallest waterfall. It's definitely worth a visit, but don't expect thundering water cascades as the falls stand at just 4.2 metres (13 feet) high.
This is the Best Tour in Kuldiga
Want to make the most of your time? Check out the Venta Waterfall & Kuldiga Town Tour!
It includes transportation, stunning stops, and a guide!
Explore Kuldīga Latvia by Vespa motorbike
In my experience, there's no better way to explore than by your own vehicle. Personally, I love a good Vespa too, so what's not to like?
Rent Vespa Kuldiga is a great place to grab a rental, especially as they have an awesome Google Map showing all the area's best Instagram spots. Here's the Google Maps link.
I had so much fun whizzing around on my little Vespa exploring this stunning little town.
Stand-up Paddle Board in Kuldīga Latvia
Getting out on the river and exploring via a stand-up paddle board is a must while in Kuldīga. This experience offers a great way to admire the town and its scenery.
The best way to do this activity is to SUP along the river to the rapids (where you'll then walk around them). From there, head downstream.
My rental was organised by SUP Kuldīga. They explain everything you need to know about the river and the waterfall, and pick you up later downstream.
What an experience, paddle-boarding along the widest waterfall in Europe. This is a must-do on your Latvia bucket list! You can see more of the SUP experience in the video above.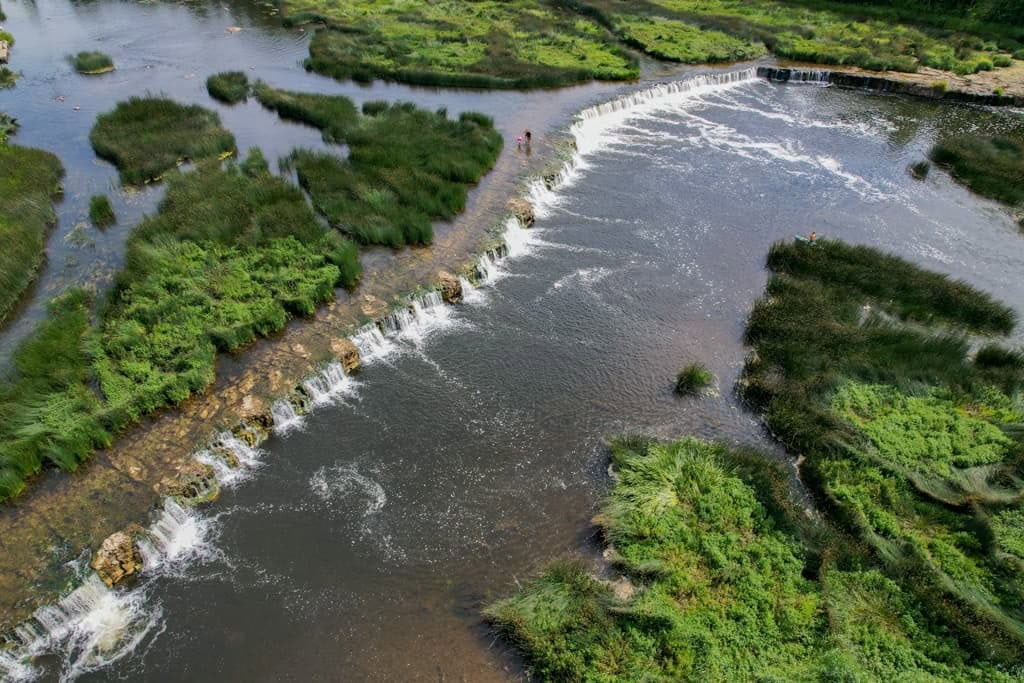 Visit Liepaja Seaside Park
Under a 1.5-hour drive from Kuldīga, you'll come across Liepaja Seaside Park. I loved my time here, thanks to its variety of flora and tourist attractions.
The place covers an impressive 3 km (1.8 miles) making it one of Latvia's largest planted parks. Situated alongside the Blue Flag Beach of Liepaja, it's a great place to relax, and I highly recommend coming here.
Riežupes smilšu alas (Sand Caves)
I can't recommend Riežupes smilšu alas (The sand caves of Rižupe) enough. Just a 10-minute drive out of Kuldīga, you'll find Latvia's longest cave system.
Boasting a length of 2 km (1.2 miles), these caves were dug for over three generations, around 100 years ago so they've got plenty of history. With their unique colours and shapes, I found this place to be mesmerising!
The Live Museum
Often referred to as "The Story of Ancient Kuldīga" Museum, this place is a must-visit. Here, you can go on a guided tour which will take you through the town's history.
With the help of your guide, and through interactive elements and holograms, you'll learn all about important periods of history. This includes the town's trade plans and Duke Jacob's Ships.
Visit Sabile and the Latvia Countryside
The charming town of Sabile is a 35-minute drive from Kuldīga and can be visited on the way from/to Riga. You'll find this place in a gorgeous valley, with the Abava River flowing through its small streets.
Sabile Wine Hill is one of the town's most popular attractions, yet there are also plenty of beautiful buildings to be admired as well.
Sabile Cider
I just couldn't visit Sabile without heading to the town's cider brewery. The cider here is only brewed once a year using traditional methods and is made using freshly picked apples.
If you have the time, I'd highly recommend going on a tour of the brewery or at least doing some cider-tasting. You won't regret it.
This is the Best Hotel in Kuldiga
Check out Boutique Hotel Virkas for the perfect stay!
They provide world-class service, stunning rooms, and incredible amenities.
Hiking from Sabile
I love a good hike in nature, which is why I'd recommend hiking from Sabile to Kandava. This forest trail will take you through one of the most beautiful nature parks in Kurzeme so what's not to love?
The hike is considered easy and will take around 5-7 hours to complete. The total distance is 21 km (13 miles).
Best Places to Eat in Kuldīga, Latvia
Now that we covered the best things to do in Kuldīga, let's focus on one of the best part of the day – eating! These are the best places to eat in town.
Goldingen Room
I highly recommend Goldingen Room when in Kuldīga. If you're a foodie like me, then this is the place to be, with its selection mouth-watering dishes.
I think the pizzas are by far the most popular, although there are other mains and pasta dishes available too. The restaurant is linked to the 2Baloži hotel, where I stayed, I'll talk about this more below.
Riverside Cafe
Across the river from Kuldīga, but still a short and picturesque walk from the town you'll find Riverside Cafe. A cosy atmosphere and homely food on the menu, this place really impressed me. Especially the cocktail at the end!
Rezidence Kafe Venta
I am not sure you'll find a better spot to look out over the Venta Waterfalls than Rezidence Kafe Venta. Even if you just stop by for a coffee or a beer, trust me it's worth it. They offer a variety of pastries alongside a grilled selection.
Where to Stay in Kuldīga, Latvia
Planning to spend the night in Kuldīga? Here are the best places to consider:
Another fantastic option is Boutique Hotel Virkas Muiža as its surrounded by the Venta River and a park. It's the perfect place for a peaceful getaway, yet you'll be just a 20-25 minute walk from the town centre and Venta Waterfall.
The great thing about this hotel is that no two rooms are identical.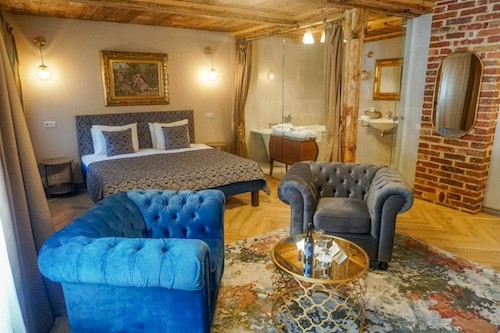 In case you're after a more affordable choice, this apartment is an excellent option. Nestled in the Old Town, you'll be near the Ventas Rumba Waterfall with all the amenities you have in mind.
With a kitchen, a fridge, and a seating area with a fireplace, you're really in for a treat without breaking the bank.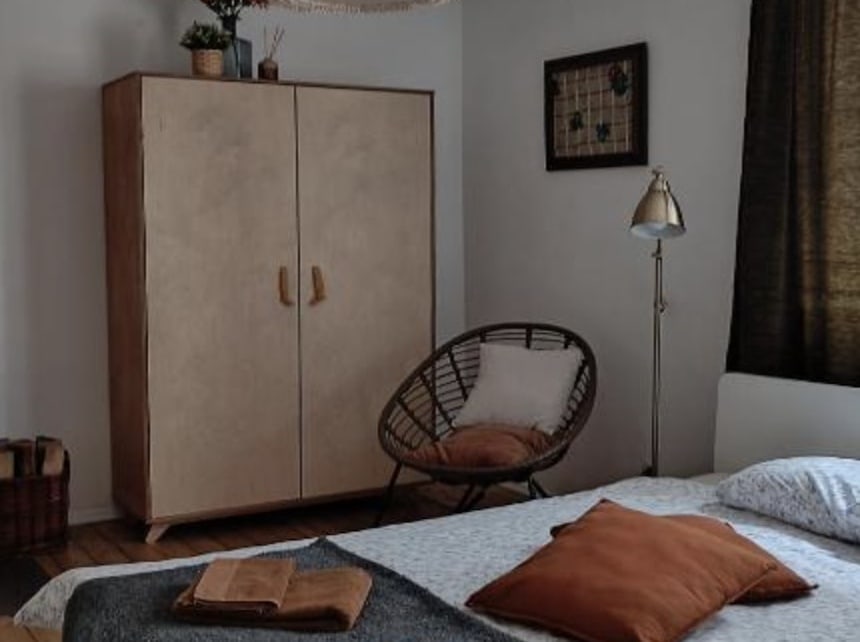 Staying at the 2Baloži is one of my top tips for visiting Kuldīga. The first thing you'll notice about this place is its stunning architecture as it's set in a gorgeous building.
The spacious rooms are a highlight, but having breakfast at the Goldingen Room was my favourite part, sat outside watching locals pass by with a delicious spread. What a great start to the day.
And if you want a lovely local pub, head across the road to Pagrabins.
My Summary of my thing to do in Kuldīga, Latvia
By far this is one of my favourite places I've visited in Latvia. You'll be charmed by Kuldīga from the moment you drive across the bridge and see the waterfalls. This is a true hidden gem in Latvia and even Europe.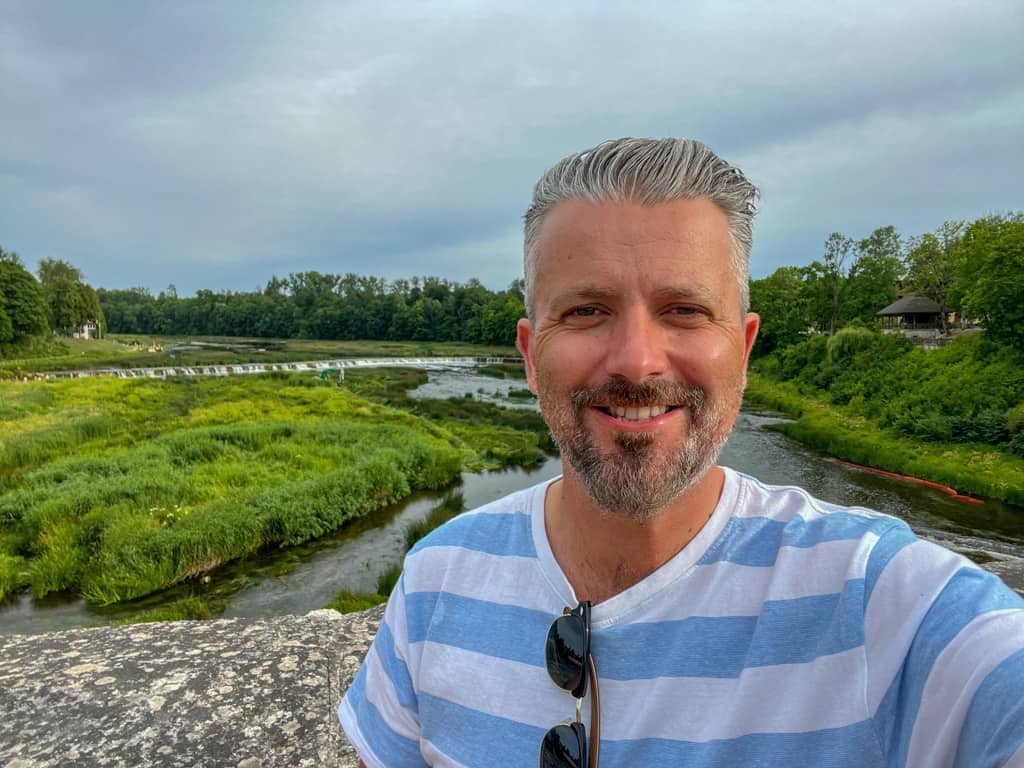 This post was in partnership with the Development and Investment agency of Latvia, and may contain affiliate links (at no extra cost to you). As always all thoughts and opinions are my own.