When you think of Florida, Pensacola and the Northeast Panhandle probably isn't always at the forefront of your mind. But it should be. It's easy for us in the UK to be swayed to the theme parks of Orlando, Miami's party scene or the beaches within easy reach of Tampa.
But over the last few years I've been learning about a different side of Florida, a side with a diverse history and links to Louisiana, Mississippi and Stateline neighbours, Alabama. This is known as the Florida Panhandle, which effectively includes Navarre, Destin, Panama City Beach and Pensacola. On this trip I'd be visiting two of these, Pensacola and Panama City Beach. But let's start with fun things to do in Pensacola.
Introducing Pensacola
My trip to Pensacola has been a few years in the making, I've wanted to come to the "city of 5 flags" for quite some time. Not least after being within touching distance when I visited the city of Mobile, Louisiana and learnt about the historic links to New Orleans.
So, I was interested history and culture, sure. But it was more than that. I hadn't heard a bad word about it in all the people I've talked to or the research I had done. It was also about the emerging culinary scene and the vibrant nightlife. The appeal of being in an exciting historic city with everything you'd expect from a destination in Florida, ie world class beaches and fantastic nature.
I'll talk more about the history later in this article, as well as a further article linking the Florida Panhandle with the other destinations on of the Gulf of Mexico. For now, let's look at my fun things to do in Pensacola.
Best things to do in Pensacola Video
Watch the Blue Angels in Pensacola
Possibly one of the most iconic sites in Pensacola, and a great nod to its history. No visit to Pensacola would be complete without seeing the Blue Angels. You can usually expect to see them on Tuesdays and Wednesdays, when they rehearse their drills. But there are a host of dedicated shows that run throughout the year. You can see the full schedule here.
It's an impressive spectacle, swooping manoeuvres, tight formations and thundering fly-bys! The Blue Angels fly F-18 Super Hornets and were formed in 1946 right after World War II. They could fly into combat at just 72 hours' notice. The team must have a huge amount of flying experience and is changed every two years, with this squad having the first ever female pilot.
There's something magical about seeing the Blue Angels over the Gulf of Mexico.
Visit the Historic Village & Downtown Pensacola
You can't go far wrong starting a morning, afternoon or evening at Palafox Street. This is the heart of Downtown Pensacola, and you'll find all the restaurants, bars, art galleries and boutique shops you need. Taking a stroll down Palafox will give you a sense of the city, it was where I first felt whether Pensacola had vibe I was looking for. It did.
Then before you head into the Historic Village, I'd encourage you to visit the Pensacola Museum of History. There are 3 floors of history and exhibitions inside the former City Hall, a beautiful building itself. Seeing the City of Five Flags permanent exhibit is a must, to give you an appreciation of the unique nearly 500-year history of Pensacola, and where this nickname comes from. Clue: it's because of how many flags have flown over this city in that time!
Did you know Pensacola has changed ownership several times? The Spanish, French, British, Confederate, and American flags have all flown over Pensacola, hence the nickname "The City of Five Flags".
Behind the museum begins Historic Pensacola, with 28 properties in a huge range of styles such as Mediterranean Revival, French Creole and Folk Victorian. 11 of these properties are open to the public, and some have interpretations and re-enactments from a particular time period such as Colonial, Victorian or 1920s Pensacola.
You are also right on the America's 1st Settlement trail, which consists of 20 stops and starts at Plaza Ferdinand VII, known as the site where the formal transfer from the rule of Spain to the United States.
Explore the Gulf Islands National Seashore
Being home to some of the longest federally protected seashores in the United States means one thing to me: pristine beaches and nature! That's what you get here on the western tip of Santa Rosa Island. Some people will come here just to relax on untouched beaches, and others will want to explore by bike, kayak, hiking or snorkelling. You can also camp here overnight.
There are nearly 300 bird species that frequent here, along with bottlenose dolphin and gopher tortoise. And for a slice of history head to one of the forts, the largest being Fort Pickens, one of four military forts built to protect Pensacola in the 1800s.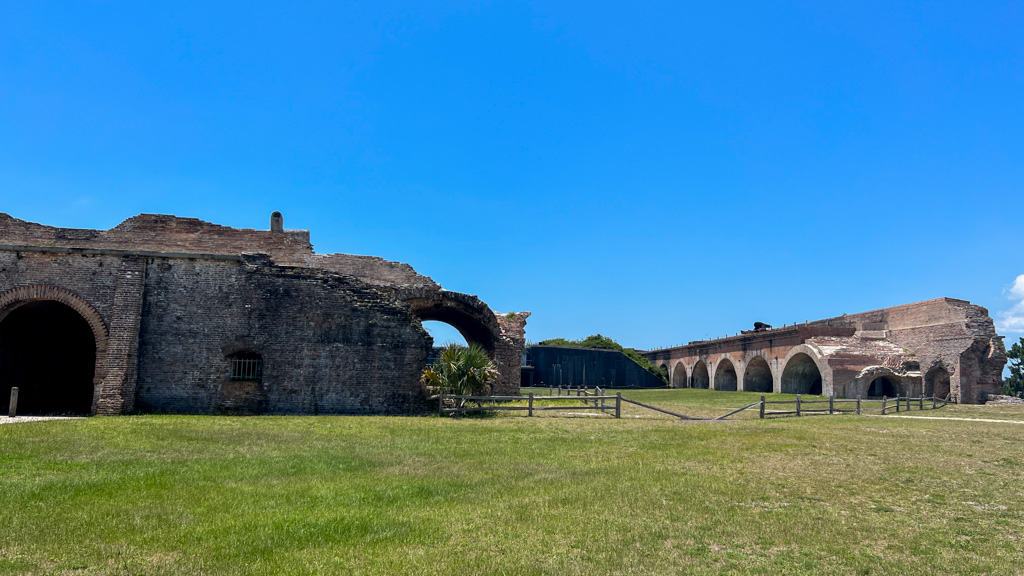 Glow Paddling in Pensacola
Kayaking at nighttime or sunset in glass-bottom kayaks with LED lights? Sign me up! This is the experience offered by Glow Paddle, based at Lagunas Adventure Park.
You can hire kayaks or Stand-up Paddle boards and take them out into the Sabine at Margaritaville for a kayaking trip like no other. We went out at sunset, which was beautiful, but you can also head out after dark. The glass bottom kayaks, and LED lights offer a fantastic view of the sea life below, and you can paddle up to the sandbars in the Sabine.
You can also hire the kayaks during the day as regular glass-bottom kayaks.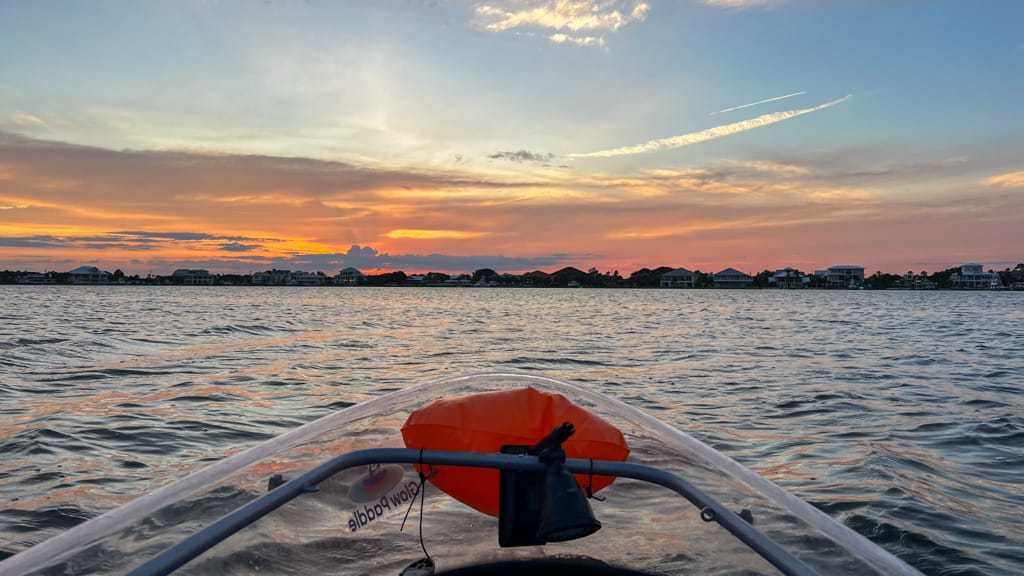 Visit Perdido Key and Flora Bama
Perdido Key is neighbourhood of Pensacola and it quite honestly a must visit on any trip here! Perdido Key is a barrier island and another federally protected seashore and crosses the Stateline into Alabama. It's somewhere you could stay a few nights if you wanted, and you certainly won't be short of things to do.
For entertainment at any time-of-day head to Flora Bama, I heard it called the 'last great American Roadhouse'! Flora Bama is like an institution; the main hub has 6-7 bars with live music throughout the day and into the evening. They host live concerts on the beach and give a lot back to the local area and charities. You can also access the beach here, grab a drink and watch the acoustic set right there on the beach. Lookout for Flora Bama Yacht club in the restaurant section below.
Getting out on to the water and exploring the Perdido Bay is a must, either by kayak, Stand-Up paddleboard, boat or Jet-Ski (as we did). I mean we jet-skied to a sandbar island in Alabama! It's not often you can say that. We opted for Jet-Skis as the bay is quite large, to see the most possible, which was not only great fun but the scenery was beautiful too.
Fun Fact: the name Perdido Key is from the Spanish for "lost island"
Shop at the Pensacola Palafox Market
Every Saturday morning between 9am and 2pm the myrtle trees of Martin Luther King Jr Plaza on Palafox is transformed into a bustling market street. There are seamlessly endless market stalls from local farmers, arts and crafts and organic food suppliers.
I honestly wasn't expecting such a vibrant fun place to go on a Saturday morning, I could have spent hours here. All of the venders are local, as are their produce. The market is spread over 3 blocks, so allow a bit of time and make sure you have some cash and an empty stomach! This is a must visit if you are here on a Saturday.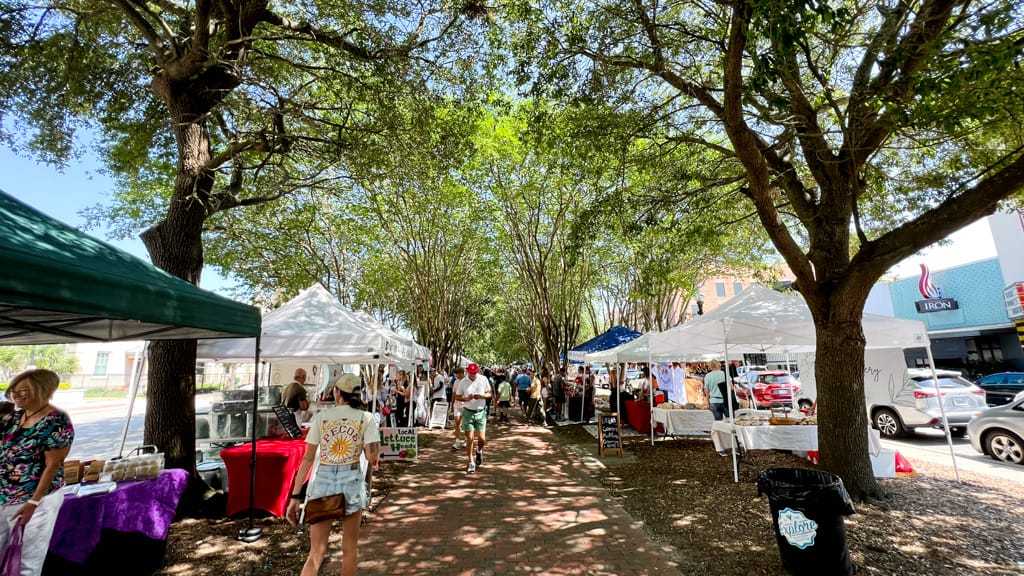 Visit Pensacola Beach
You can't come to Pensacola without crossing the Pensacola Bay Bridge onto Santa Rosa Island and exploring the world-famous Pensacola Beach!
My first stop was to take a stroll along the Pensacola Beach Pier, 1471 feet long and an unexpectedly great place to spot wildlife. Right from the pier I saw bottlenose dolphins, a giant sea turtle and a shark. Pretty impressive. It also offers great views up and down the beach and across the Gulf of Mexico.
Or just find your spot to relax on the pristine white sandy beach and crystal-clear waters or stop at one of the beach bars for a Bushwacker and some fresh seafood.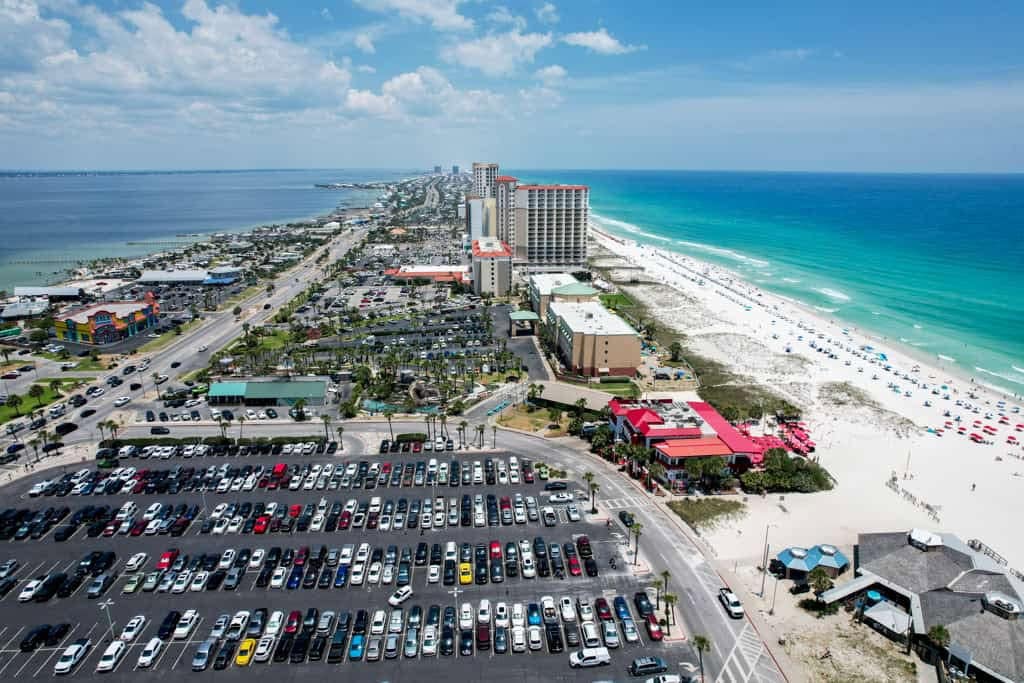 Eat at the Pensacola Restaurants
If you want a city with fresh seafood, culinary festivals and farm to fork restaurants then look no further. I was blown away by the food scene here and the number of top-quality restaurants on offer. This is by no means a complete list, but here are some of my top picks!
Angelena's Restorante Italiano
My first tip is right in the heart of downtown Pensacola, and as you can probably guess is famous for its Italian cuisine. The restaurant's history come from Sicilian influence, Giatano Giardina and his wife Angelena setting their routes in Pensacola and establishing their restaurant with local produce in the 1880s.
Now run by executive chef James Briscione, the first two-time winner of Food Networks show 'Chopped'. Chef Briscione has brought his craft for wood-fired pizza and Italian fine dining to Angelena's and the food is top-notch.
If you're dining as a pair, I recommend getting a wood-fired pizza and sharing that alongside the Doppio Ravioli, which was absolutely delicious!
The Dog House
The Dog House has become a locals favourite in downtown Pensacola since it opened in 1977. Famous for its hot dogs, the menu also combines coastal flavours with southern style, and owner Nathan has put his own twist on a few dishes.
I found this a really relaxed, comfortable and casual environment, which is often just as important as the food. I tried a few from the hot dog menu for lunch, along with a smoky old fashioned (please ask them about their cocktails).
You must try: the Rubble Rage Hot Dog, with Fruity Pebble cereals. Yes it's a thing!
Casino Beach Bar & Grill
You can't find somewhere closer to the beach, that's for sure. It's also right next to the Pensacola Beach Pier, so you have a plenty to do before or after eating here. Think island vibes, live music, beach views, and Caribbean inspired plates!
You must try: Tuna tacos and a Bushwacker (described as an adult milkshake!)
Flora Bama Yacht Club
Over in Perdido Key now and part of the Flora-Bama institution that I talked about earlier, this restaurant really blew me away! Fresh seafood, more live music, waterfront views and cultural flavours. You're right on the Stateline with Alabama here, and that influence along with Mississippi and Louisiana is clear to see.
The District Lounge
Back to Downtown Pensacola and some fine dining with a slice of Jazz. My biggest mistake here is that I didn't chose to sit upstairs in the jazz club. I went up with my Old Fashioned after dinner and didn't want to leave! Nonetheless, downstairs the food and service were amazing, and the District Lounge is known for its steak and seafood.
It also happens to be right opposite (and part of the same company) to my first nightlife recommendation below, The Seville Quarter. So, once you're done in the jazz club, just head across the road there to continue the night.
The Nightlife in Pensacola
I was impressed by the nightlife here, a mixture of generations, music types and people all enjoying a few drinks together. Here are my favourite spots.
Seville quarter
Right across the road from The District Lounge and open since 1967. The Seville Quarter is a huge complex of seven rooms and courtyards with all kinds of different music types. There's also a dancefloor and games rooms. I felt right at home here as it attracted all ages, just watch out for Thursdays as the colleges can take over.
Old Hickory whisky bar
The Old Hickory whisky bar is a huge library of 750 whisky's, artfully crafted cocktails, all in a relaxed and sophisticated atmosphere. It's named after the 7th US president Andrew Jackson. One thing I liked is you could sit here alone, on a date or with some friends, and the bartender's knowledge of whisky and bourbon was impressive.
Perfect Plain
Did you know Pensacola was once described as a Perfect Plain by Rachel Jackson (Andrew Jackson's wife)? Well, this microbrewery is located in Downtown Pensacola and has 3 bars, a welcoming open feel and lots of beers to try.
And if you are more of a cocktail person, then 'The Well' next door is owned by the same people and has a fantastic cocktail menu with a laid-back atmosphere.
I was also highly recommended Old Colony brewery and Pensacola Bay Brewery, but sadly ran out of time to visit.
Brother Fox and Sister Hen
The latest venues the locals are talking about! Located in the newest place in town, Lily Hall a boutique hotel in Old East Hill. Brother Fox is their onsite restaurant serving wood-fired cuisine courtesy of head chef Darian Hernandez. And Sister Hen is a speakeasy around the other side, in an unmarked entrance. I guess you'll have to ask around to find out where!
Where to stay in Pensacola
As I mentioned earlier, I was staying in the charming boutique hotel of Lily Hall. The location is just a short walk to Downtown and the rooms and décor are fantastic.
I had a lovely stay here, there are small social areas within the hotel to relax, such as Lily's Parlour, and nice touches in the room such as a record player.
The hotel is a converted church and keeps a lot of that character. And don't forget to try the onsite restaurant Brother Fox or finish the night with a cocktail in the speakeasy Sister Hen.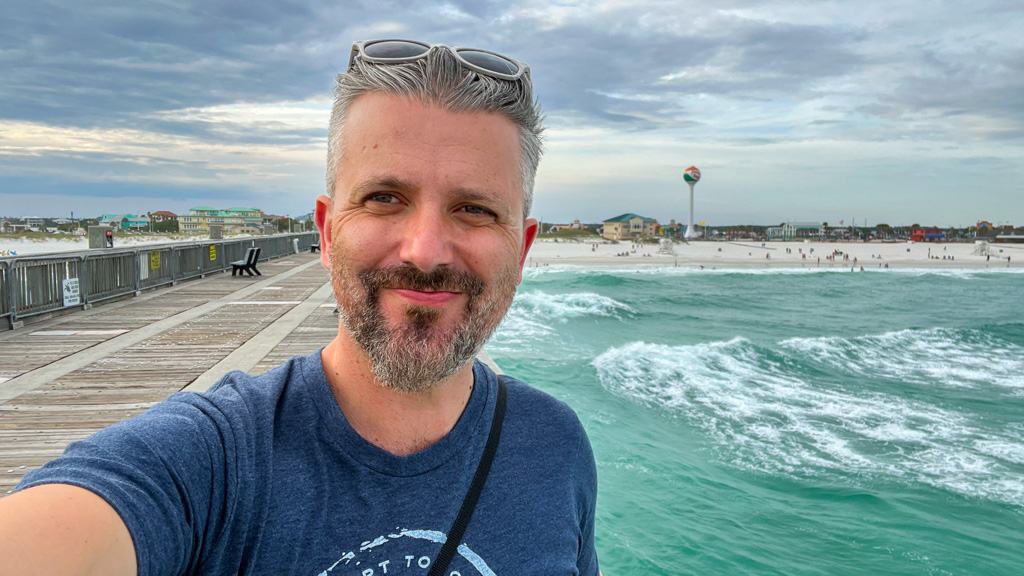 That concludes my incredible few days in Pensacola. I can't express enough how much there is to see here, I'd love to spend more time exploring the historic Downtown and possibly a few days in Perdido Key. It's easy to see how Pensacola is a local's favourite. See you again soon.
If you liked reading things to do in Pensacola, next have a read about other places in Florida, including Panama City Beach and Sarasota!
This trip was in partnership with Visit Florida and Visit Pensacola, however as always, all of the photos and views are my own.