Hello Panama City Beach! The next stop on my Florida tour is known for its white sandy beaches, crystal-clear emerald waters, and its selection of outdoor activities. And it's mostly on the outdoors that I focus this article, with a few unique things to do in Panama City Beach.
Don't get me wrong though, you could spend your entire time in PCB sat on the beach, there are after all 27-miles of pristine beaches stretching along the Gulf of Mexico. But that's not my style, if you follow these tips, you'll be getting active and seeing a whole new side of PCB you might not have expected.
You could always draw on some of these things to do to make the perfect blend of nature, adrenaline, adventure, fitness and relaxation. Sounds exactly like how a holiday to Panama City Beach should be.
Helicopter Tour at Panama City Beach
If there's one way to see Panama City Beach, it's by helicopter! This is simply the only way to get an appreciation of the unique layout of all the national and state parks, alongside beautiful white sandy beaches. And it's one for the adrenaline junkies.
My flight took me along what they call the 'miracle strip', where I saw the jetties and even dolphins swimming below. However, you can also fly westbound passing Laguna Beach and Lake Powell. We also did a lovely 360 around Pier Park and the Skywheel, which is talked about later. The best part is I saw nearly everything I planned to do, but from the air, giving me a new perspective on where I was going.
My pilot was Dylan, and I flew with Panhandle Helicopter, who were amazing. They are a family run business and offer flights from just $55. JR Hott, one of the owners, explained everything in advance, including introducing me to the team and showing me around. They even plan to have their own flight school there soon.
Take a look at the Panhandle Helicopter Tours here.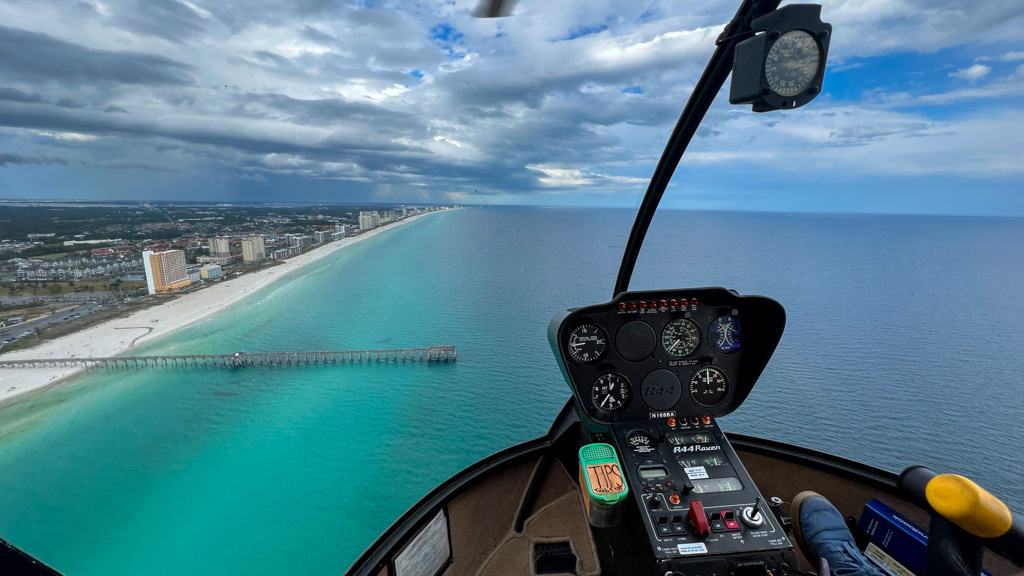 Spot roaming deer at St Andrews State Park
Sure, loads of people come here to sit on the beach, but why not grab a bike and spot some nature. I hired a bike from the camp store and cycled around this 1,200-acre State Park looking for wildlife.
There is a lot of different wildlife to be found, from alligators at Gator Lake, to wild deer roaming freely. Not to mention a host of migrating birdlife and butterflies. It was the deer that caught my eye, not everyone will be lucky enough to spot them in the open, but to see them grazing next to some impressive birdlife was astonishing.
I did get a chance to relax on the beach for a bit, and you can rent kayaks and Stand-up Paddle Boards to explore by sea. And the best bit? It's just $4 for a vehicle with one occupant, and only $8 for a single vehicle with between 2-8 people.
You can also launch boats from here and camp overnight.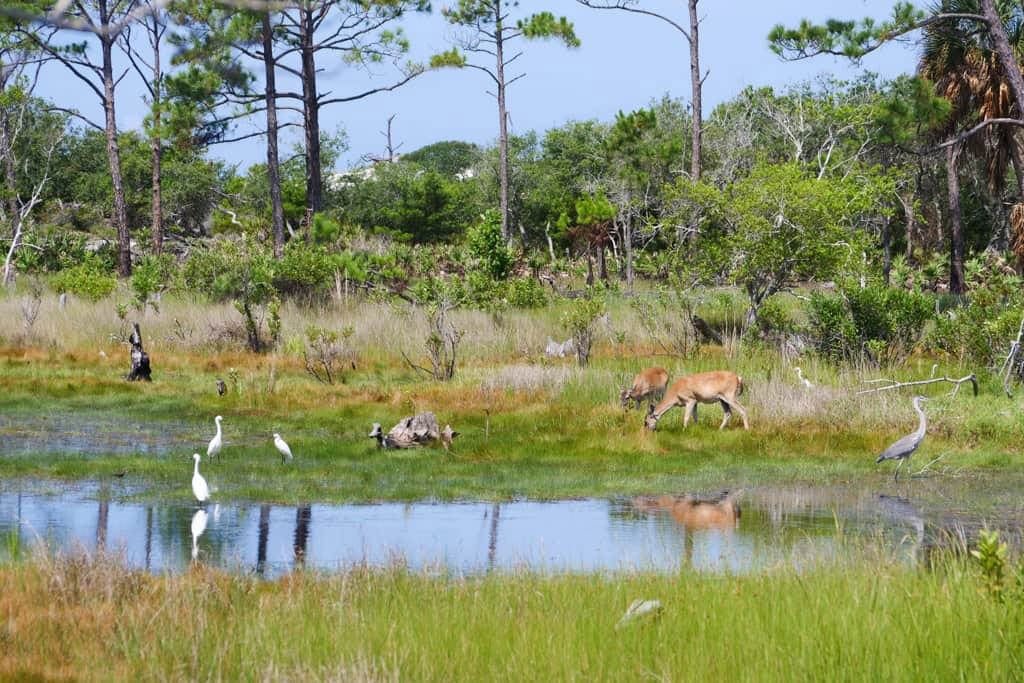 Go snorkelling at Shell Island
Shell Island is an undeveloped barrier island stretching for 7 miles. It's completely protected and undeveloped, meaning great wildlife and snorkelling opportunities. Although I was a little unlucky, but we'll come back to that.
I love a pristine white sandy beach with no toilets, no beach bar, and no human interference. The dunes are also protected, and it's forbidden to walk on them. You can get a shuttle to Shell Island from St Andrews State Park or from Port Lagoon. If you can't find it search for 'Off the Hook Bar and Grill'. You might need to park across the road at Captain Anderson's, as parking is often a problem.
My shuttle ticket included my snorkelling equipment and 'Diver Down' flag, a requirement for snorkelling in Florida.
As I explained, I was a little unlucky with what I saw, or didn't see. But often you can see turtles, sharks and even Reef Manta Rays! Make sure you read about the Sunset Dolphin cruise to learn about that.
Kayak to the Gulf at Camp Helen State Park
Get ready for a busy morning, as at Camp Helen State Park you don't want to miss the kayaking or the hiking because there's lots to see. Camp Helen is surrounded by water, the Gulf of Mexico on one side and Lake Powell on the other.
I spent my first couple of hours kayaking along Phillips Inlet which leads you to the sandbar which connects to the gulf. It's also popular with birdlife, and they have protected nesting sites for the endangered Least Turns, which are increasing in numbers along the Florida Panhandle. I also saw protected sites at Gulfport in Mississippi!
The sandbars are a beautiful spot alone, and you can also walk here on the hiking routes. I highly recommend you do one of the two hikes or trails. There is a loop trail which is the longest, and a short canopy oak trail, which can also lead you to the beach. I barely saw any people on either of these trails, perfect.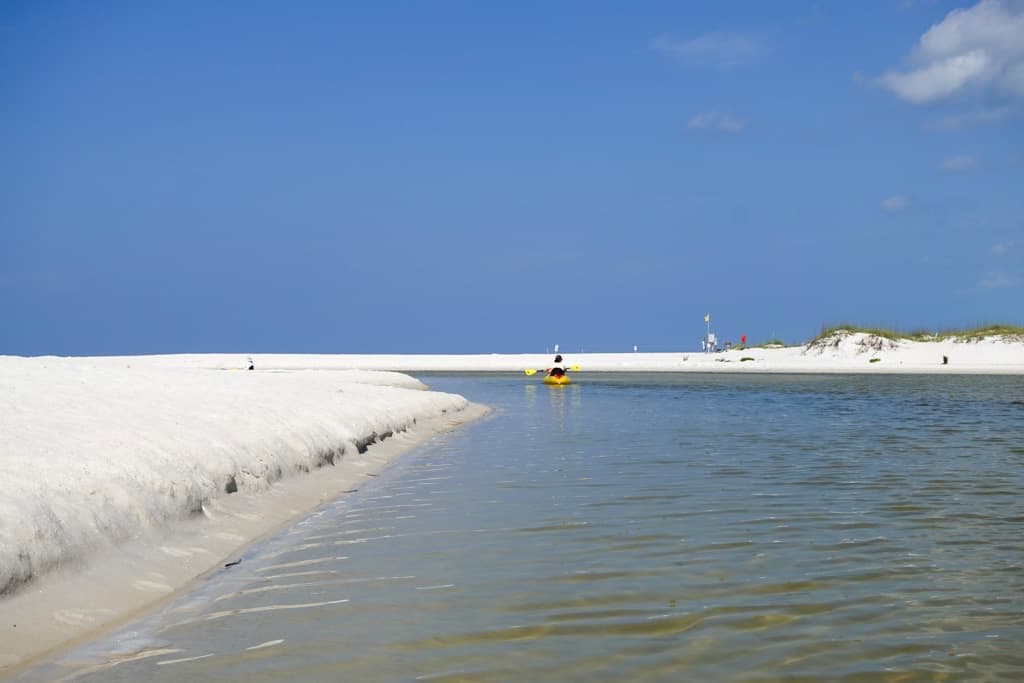 Ride the SkyWheel at Pier Park
For your shopping and family entertainment, head to Pier Park! Where one of the main attractions is the SkyWheel. It's often regarded as a must-visit as you can see the beautiful coastline and panoramic views of Panama City Beach and the Gulf of Mexico. The SkyWheel stands at 200 feet tall and features 30 climate-controlled gondolas, each holding up to 6 people.
Pier Park itself is a large outdoor mall that offers a variety of retail stores, restaurants, bars, and entertainment options. It spans over 900,000 square feet and attracts both tourists and locals. You can relax with some mini-golf, traverse rope swings, play laser tag or go to the IMAX theatre!
Take a Sunset and Dolphin Cruise on a Catamaran
I've left this to last as not only did it pass a lot of the famous spots we've talked about, but it was also one of the highlights of my time in Panama City Beach.
We set off with Paradise Adventures PCB who have several different catamaran options during the day and evening. This one included dolphin spotting and a free drink. It was a chilled start as we cruised passed St Andrews State Park and Shell Beach and wasn't long before we spotted our first dolphins!
No long after that was the best part, a Reef Manta Ray swimming around 100 yards off the shore at Shell Beach. They only frequent the Florida shores twice a year, so it was a real treat to see the second largest species of ray right next to our catamaran. It looked huge and they typically range from 3 – 3.5 metres in length.
After watching a beautiful sunset and getting to know our captain Justine we started to head back to the harbour before seeing our next treat. There were wild deer roaming the beaches of St Andrews State Park! Not far from the spot I saw them earlier, we saw 4 deer casually walking up the beach, incredible. That was a fitting end to my time in Panama City Beach.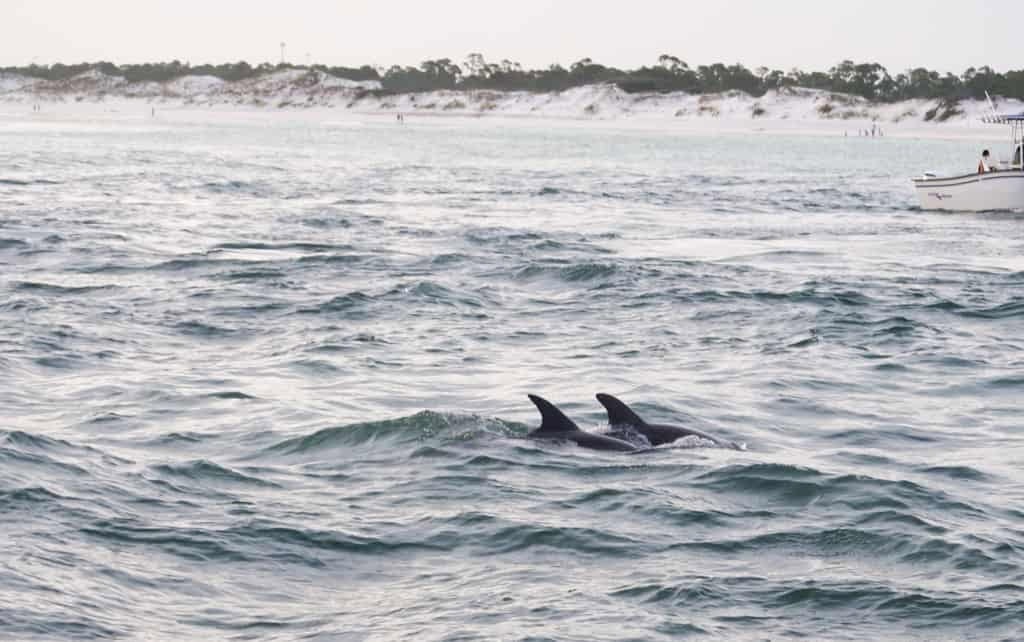 Try all the seafood at the many amazing restaurants
I would say there are some of the best restaurants in Florida here in PCB. I'm going to run you through some of my favourites below and I urge you to try them all. Please note I don't eat shellfish so these are mostly the white fish options.
Dinner recommendations at Panama City Beach
The Grand Marlin – I really loved the relaxed atmosphere and sunset views over the Grand Lagoon. They have an award-winning chef Gregg McCarthy and all the seafood you'd expect. I ate the jerk swordfish with coconut rice and pineapple salsa, and highly recommend you do too!
Captain Anderson's – another award-winner with a great reputation among locals and visitors. It's been named among America's top 50 restaurants, and I had the Snapper and the house salad.
Firefly – for a little bit of casual fine-dining so they call it. They are best known for their steaks and seafood, and I had the honey glazed salmon, that was delicious. I recommend trying one of their cocktails and taking it into the library once you've finished dinner.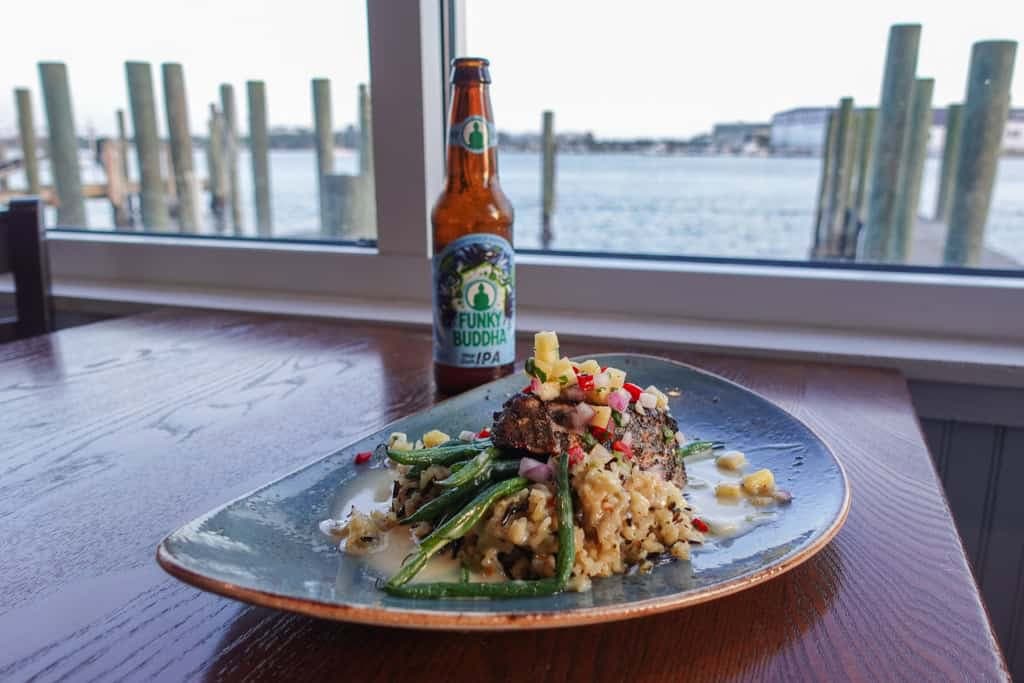 Lunch & Breakfast suggestions at Panama City Beach
Hook'd Bar and Grill – they say come and experience real flavour at this PCB-style restaurant right on the beach. It's next to Pier Park, so I recommend combining the two. And what I love is that it's run by locals, it's always nice to support locals when you travel.
Runaway Island – This one could be included in the dinner options as well. It has a fantastic spot on the beach, so bring your swimmers. You can enjoy fresh seafood on their open deck, and they also offer live entertainment and frosty cocktails! I had the blackened fish tacos, lovely.
Finns Island Style Grub – home to Finns original style tacos, their motto is keeping it fresh. They also serve breakfast burritos and pancakes. Sadly, they were closed on the day I was meant to go there, but I heard really good things about Finns.
Thomas Donut & Snack Shop – open for breakfast and lunch only and another family-owned business. It's right near the beach and on the way to Camp Helen State Park. They are known for the donut, breakfast biscuits, sandwiches and kolaches. I took a donut out on the kayak with me at Camp Helen.
Andy's Flour Power – also open for breakfast and lunch only, Andy's has freshly made pastries, muffins, omelettes and the ever-popular breakfast potatoes. Get there early or be prepared to get yours to go as it can be really busy, always a good sign.
Where to stay in Panama City Beach
I stayed at the SpringHill Suites at Panama City Beach. Directly on the beach, tick, amazing swimming pool, tick, and stunning views all ticked. You can't beat a good coffee on your balcony as the sun rises over the Gulf of Mexico.
The suits are spacious and comfortable, with a separate living and working area, always important for me. They also have some nice amenities such as microwave, fridge and coffeemaker. The general facilities include the fitness centre, 24-hour mini-market, hot tub, and complimentary buffet breakfast onsite parking which is rare in Florida.
You are also centrally located for all of the activities and attractions I've mentioned above. All-in-all it was a great stay here at SpringHill Suites.
And that brings an end to my Panama City Beach adventures, which activity are you looking forward to trying most? If you liked reading unique things to do in Panama City Beach, next have a read about other places in Florida, including Pensacola and Sarasota!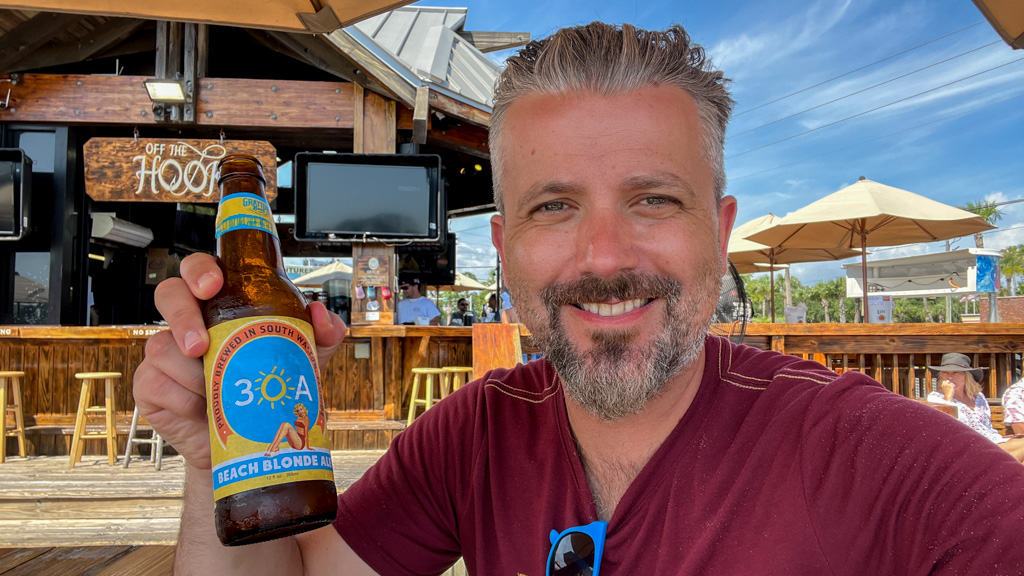 This trip was in partnership with Visit Florida and Panama City Beach, however as always, all of the photos and views are my own.