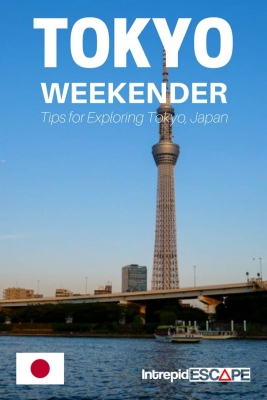 It was my first time in Japan, so I was a complete Tokyo novice! So I basically wanted this article to help out someone like me, visiting for the first time. It's by no means a comprehensive guide, so I've started off with a few of the general things to do, including Parks & Gardens, Viewpoints and nightlife. And I've started with a handy 'Tips for exploring Tokyo' section, if you read one part of this article before your visit, make it the tips section. It then moves on to things I recommend doing…
Tips for Exploring Tokyo
Passes: I'd recommend the Suiza Pass for getting around Tokyo, you can top it up and then use it for nearly all public transport and even some vending machines. I'm not sure it saves you much money, and it cost ¥500 (*£3.30/$4.50) but you can get that back when you return it. For getting around Japan, check out the JR Pass and save money by buying it before you enter Japan.
Water: Fill up at fountains around the city to save money and look after the environment.
Language: it's a pretty obvious one, I always intend to learn the basics, but in Japan it goes a long way and is an instant sign of respect. Start with Hello (Konnichiwa) and thank you (arigato).
Google route planner: navigating the public transport system(s) was tough, no matter how well planned I thought I was I still messed up, a lot! But route planning on Google first gave me a good starting point, screenshot the directions so you can get them if your wifi drops (at present you can't download Tokyo offline on Google Maps).
Rubbish: Japan is one of the cleanest and tidiest countries I've ever been to, but there are no rubbish bins (trash cans for Americans) anywhere. It really doesn't make sense, so to not litter I carry a little plastic bag in my bag for mine and I recommend the same for you.
Wifi: most public places and stations have public wifi, although the connection is sporadic, it can be a lifesaver when you've taken the 3rd wrong train in a row.
Meetup: if your hostel is mostly locals, it's not that easy to meet people. So for solo backpackers I recommend joining a couple of groups on Meetup, there's a mix of tourists, expats and locals looking to practise their English all meeting regularly.
Get out of Tokyo – all of my spots below are in and around Tokyo, once you've finished them, these Amazing day trips from Tokyo will keep you occupied! And if my tips aren't enough my friend Cory has over 50 Fun And Cool Things To Do In Tokyo.
Asakusa
Asakusa is a must visit in Tokyo, a few people told me it was too touristy and not very authentic. I'm not sure I agree. Although the usual shops and stands have sprung up in the area, Sensoji is a Buddhist temple built in the 7th Century, you can't get much more authentic than that. It's also close to the Skytree, another site worth seeing even if you don't get a chance to go up it.
Shibuya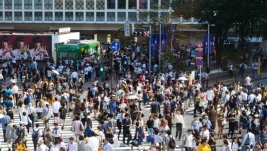 Everyone told me to check out the Shibuya Crossing, and for that reason you should. But don't expect much more than a big junction. Personally, I couldn't care less and really didn't understand why so many people ranked it as a 'must see' attraction! If this does float your boat then head to Starbucks for a coffee and a view of the crossroads. Aside from that Shibuya is a fascinating and vibrant area to visit. A mixture of locals and tourists, it has some of Tokyo's best nightlife, shops and restaurants. It gave me that buzz that made me realise I was in Tokyo!
Riverboat Cruise
Riverboats and river taxis run up and down the Sumida river. I travelled back to my hostel from Asakusa this way, as the sun was setting, it was a peaceful and relaxing way to get home, and in a hectic city like Tokyo, a very calm way to watch the city lights.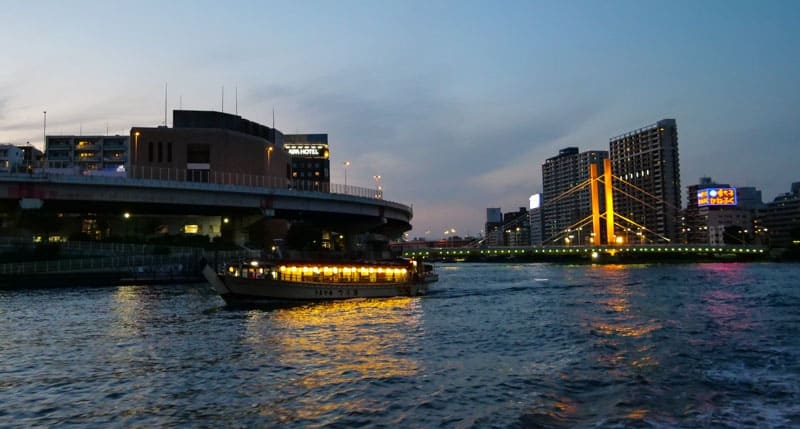 Maricar
Get dressed up as Mario Kart characters and drive on the main roads of Tokyo in Go-karts? Yes please! This ever-popular attraction is growing rapidly as one of the hottest activities in Tokyo, but make sure you get your International Driving Licence permit as that's required by law to drive on the roads in Tokyo. Check your licence here. For UK drivers you'll need to pick up an International Driving Licence from the local post office, which currently costs around £5.50. For more information take a look at the article I wrote solely on Maricar Mario Kart on the Streets of Tokyo.
[su_youtube url="https://youtu.be/WZ2rx1ibVEA" width="300″ height="200″]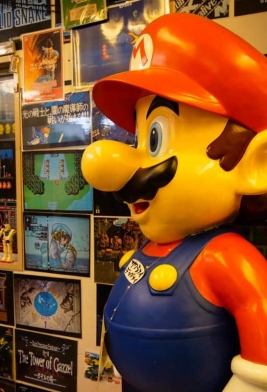 Super Potato
A gamer geek's paradise! I'm not really a gamer, but this shop in Akihabara has arcade games from my childhood and a huge selection of retro consoles and games on sale. A lot of people visit it more as a museum and I have to say it is well worth dropping by especially if you're into your games.
Mount Fuji
Only a short trip from Tokyo, you must visit Mount Fuji or at least Lake Ashi for stunning views of the mountain. And the sad thing is, I didn't get to do it! The season for climbing it finishes in mid-September, just before I arrived and I planned to go to the lake on my last couple of days and the tail end of a typhoon halted all my plans. Next time I'm here I'll make sure I climb it.
Parks & Gardens
There are many parks and gardens in Tokyo, giving you a welcome break from the madness of this huge city. I didn't get a chance to explore them all, but here are a couple well worth the visit!
Yoyogi Park & Meiji Shrine: I always love finding peaceful gardens and green in big cities, and Yoyogi Park and the Meiji Shrine is a perfect spot for this. The entrance is marked by one of the typical Japanese torii gates, around 40 feet tall! You'll find beautiful tree lined pathways leading to the Shrine itself, and a pay to enter Meiji Garden.
Imperial Palace Gardens: As the main residence for the Emperor of Japan, the Imperial Palace and Gardens has beautifully kept lakes and flower displays all around the park. Along with stunning views of the traditionally Japanese looking palace itself. Make sure you get to the grounds before 4pm though, as the gates will be closed!
Metropolitan Government Building
There are a few areas listed to get that spectacular view of Tokyo, and I only went to one, for the simple reason that it was free! The Metropolitan Government Building offers great views of the city, and gives you a real sense of just how huge Tokyo is. I have a couple of tips for you, if you want to eat or drink at the fancy, overpriced restaurant you can't get in alone (can you tell how much this annoyed me?), and if you want to go at night avoid going there at sunset or even just after sunset. There was a huge queue so get there an hour or two before sunset and relax with the free wifi.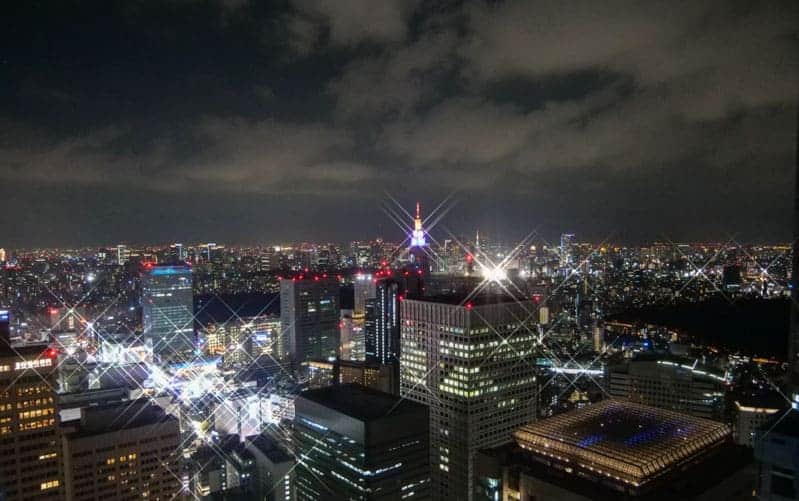 I was also keen to check out the views from Roppongi Hills, and of course the Skytree, so if you find yourself in these areas check them out. If you have any other nice viewpoints to suggest, please let me know in the comments below.
Photography tip: for a reflection free night shot, take a black jacket to cover the camera and the window around it. I actually used the waterproof cover for my backpack, I've always got it with me and it wraps around the camera perfectly. For more tips check out our 5 photography tips for beginners.
Nightlife
Due to not being too well and struggling with the jetlag, I didn't get to see as much of the nightlife as you'd usually expect from me! I also found it a bit of a minefield, in such a large city where do you start? It also occurred to me that not too many places are that tourist friendly, so after some trial and error here are the places I recommend checking out:
Golden Gai: I loved it here. An area of tiny streets and even smaller bars in Shinjuku. Most of them are tourist friendly and many don't have a cover charge. My favourite was H.O.D Bar, a British punk rock theme with a menu of music to pick from the jukebox!
Shibuya: You can't generally go wrong in this area, the only thing is plan ahead! I was a little clueless at first, and it's intimidating and a bit hectic. Be sure to check out the Shibuya Crossing at night, and if you're not sure where to start there's an Irish bar called Failte with a terrace that's a good starting point!
Camelot: When it comes to clubs, I'd heard this had a good mix of locals and tourists, and a lively atmosphere.
Robot Restaurant: It's doesn't necessarily have to come under nightlife, but if you can afford it (tickets start at ¥8000 Approx £54/$70), then it is an impressive show.
So as you can see this nightlife section needs some more ideas, can you suggest anywhere? Please put them in the comments below.
Where to stay
On the Marks Hostel: if you really want to live like a local head to somewhere like Kawasaki, where you really are the only non-Japanese person around. I stayed at On the Marks, an excellent, clean and friendly hostel with the two most important things to me when I travel; quick wifi and powerful showers! They also have a variety of room choices, from bunk beds (in a capsule style), and private rooms with or without en-suite. Finally there is a brilliant restaurant and bar downstairs with craft beer! If you book say hello to Lukas.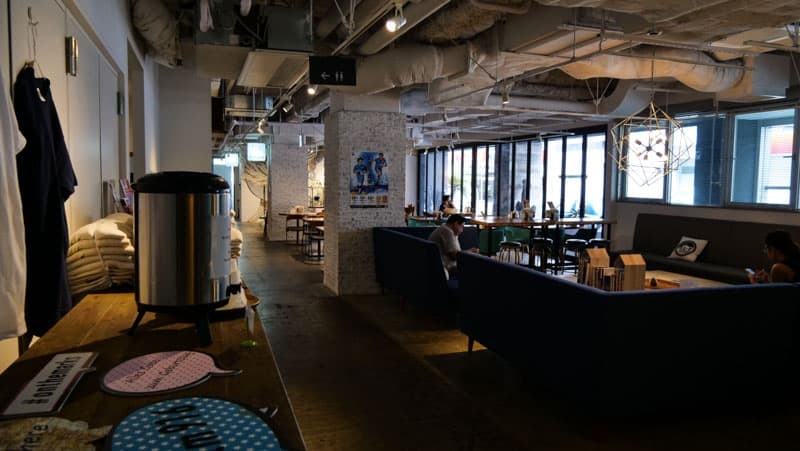 Nui Hostel & Bar Lounge
: For a lively option in the Taito area check out Nui Hostel. It was a nice mix of backpackers and Japanese and the bar and restaurant area gives a nice social feel making it easy to meet people.
If hotels are more your thing, or you want to take a look at the famous capsule hotels then take a look at the options below (coming soon…)
Getting there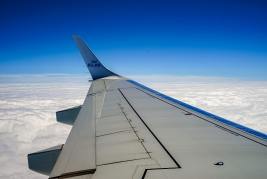 KLM UK flies to Tokyo, using Amsterdam as a hub (why not stopover here too?). Going via Amsterdam allows you to fly from 17 UK based airports, rather than only travelling from Manchester or London. I flew from Southampton, which is hugely convenient for me as my local airport. The changeover in Schiphol is smooth and straightforward, KLM will inform you which gate (sometimes from the arrival plane) your connecting flight will depart from, and you won't need to collect and check in your luggage again.
For more travel inspiration, take a look at the KLM Hub, a collection of photos and videos from talented travel bloggers.
I flew to Tokyo as a guest of KLM UK. My flights to Tokyo were complementary, but return flights from the UK start at £406, including taxes. All of the content, opinions and photography are my own. Please take time to visit KLM UK's websites to support me on more adventures like this one!
Share Me
Sharing this article with your family and friends on Facebook, Pinterest or Twitter really helps keep Intrepid Escape going, thank you!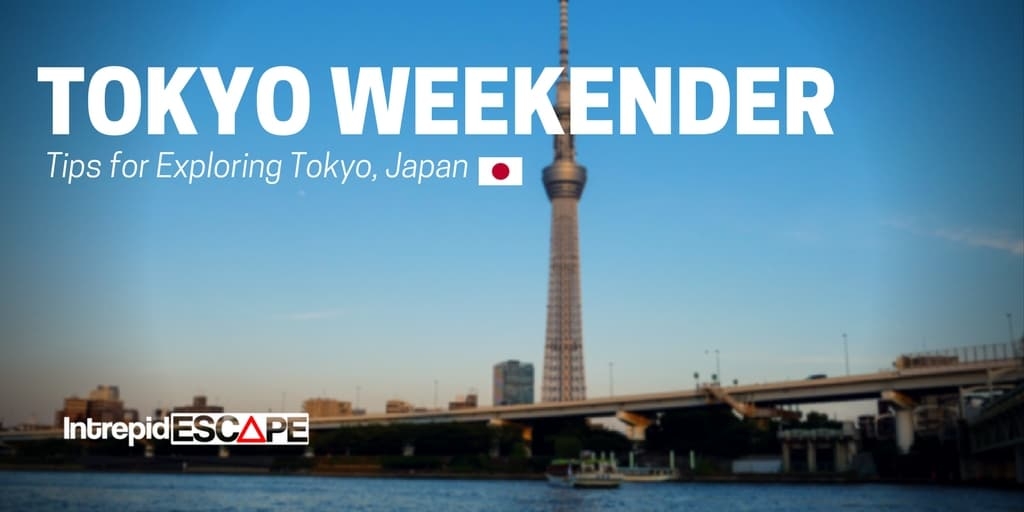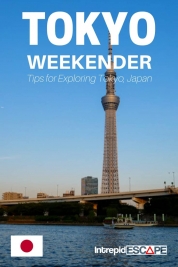 Have you been to Tokyo? Can you suggest anything to add to the tips for exploring Tokyo section or places to see? I'd love to hear about it in the comments below 🙂