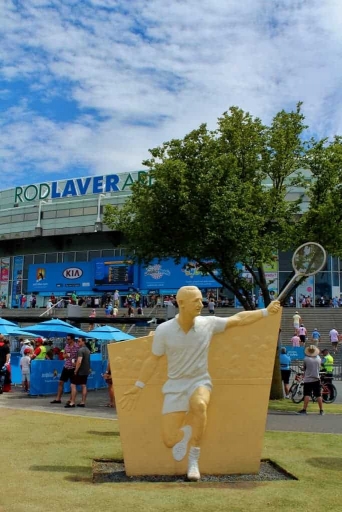 I've been a big tennis fan since I was young, and going to all four Grand Slams has always been high on my Bucket List. Having already ticked off the Wimbledon Championships, my next opportunity was the Australian Open in Melbourne, the home of Australian sports. After the long break in the tennis season, the anticipation for the Australian Open tennis Grand Slam is always high, so here's what I learnt from going two years ago, and what you can expect from this spectacular event at Melbourne Park.
I was in Melbourne for two weeks, firstly to play poker in the Aussie Millions, and secondly to tick another Tennis Grand Slam off of the list. It wasn't my first time in Melbourne, I'd spent about 4 weeks here a couple of years before, and I just love it. There's something about Melbourne that makes me feel at home, out of all the great cities I've visited, Melbourne is top of my list to go back to and I can't get enough of it. When it comes to the tennis, I was initially happy to get tickets to an early round on an outside court, I just wanted to see Andy Murray, Britain (and Scotland's) main interest in men's tennis. Getting tickets to one of the earlier matches is relatively easy, most of the tickets are on general sale so you can either go online (through Ticketek) or head to one of the official booths situated around Melbourne city centre, or at Melbourne Park itself.
The tickets we bought were for the Men's singles Round 4, one step before the quarter finals, between Andy Murray and crowd favourite Giles Simon on Court 2. I was surprised that tickets like these were available this close to the match, and now whatever happens I've seen a big match at the Australian Open. In incredibly hot and humid conditions we watched Murray win comfortably in three sets, and in the interview following the game he seemed confident in his form. After this there was a chance to watch Novak Djokovic on the practise courts before Caroline Wozniacki's victory over Donna Vekic in two straight sets. A great day out and amazing to experience one of the world's greatest tennis venues, I was delighted to tick this off the Bucket List. But I didn't quite feel satisfied that this was enough…
Refresh!
[dropcap]T[/dropcap]he majority of Australian Open history happens at the Rod Laver Arena, the nearly 15,000 seater stadium is the Wimbledon Centre Court equivalent, I had to see this for myself. I followed Andy Murray's progress to the semi finals on TV, he faced tennis legend Roger Federer. You can watch tennis everywhere in Melbourne, there are screens in Federation Square, along the Yarra River board walk or in the enormous Crown Casino Complex. I'd heard from an opposing poker player that they sporadically release unused corporate tickets to the big matches, and if you're lucky they might just become available online within 24 hours of the game. I wasn't sure how accurate this was, but nonetheless spent the entire evening on my phone trying for tickets, laboriously refreshing my screen checking for availability. And then there was hope, I'd made it through to the next screen, ticket confirmed and held! Then on the payment details screen something went wrong. Either the erratic free wifi dropped, or the website crashed, I'm not sure, either way I was agonisingly close to having Australian Open Semi-Final tickets. But still there was hope, I was nearly successful.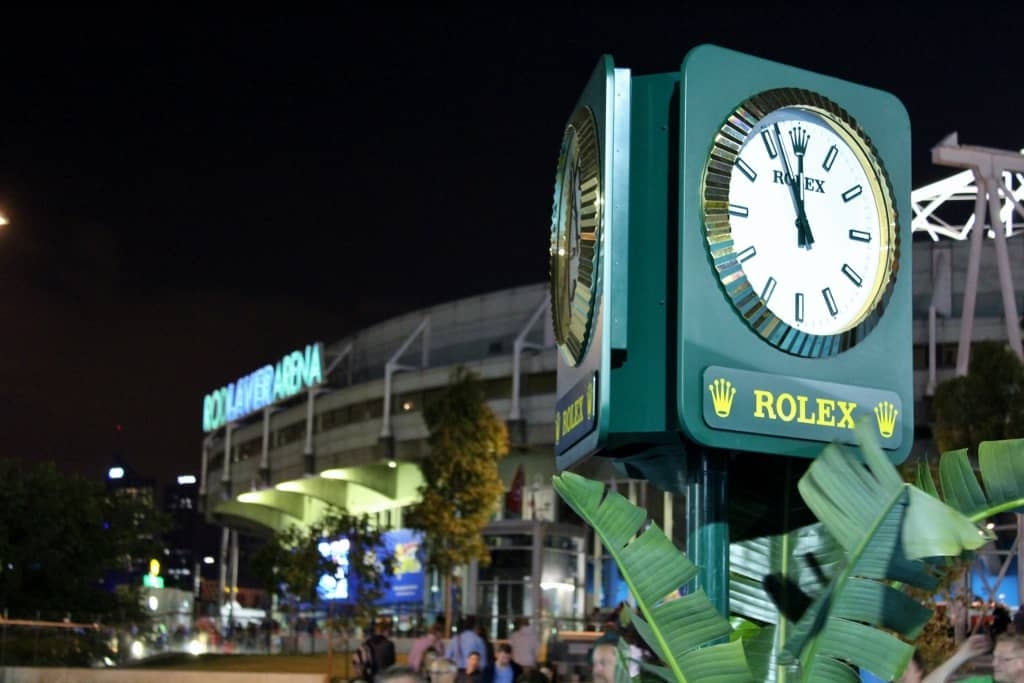 The following day, and morning of the match I went to Melbourne Park for 9am and waited for the ticket office to open. No one liked my chances, and the ticket office staff gave me the impression I was wasting my time, most people queuing were after general admission into the grounds, to watch the big screens and soak up the atmosphere in the Melbourne sunshine. Later in the morning it got quieter, and by this point I'd made friends with one of the ticket ladies. All the while there was no queue she was happy for me to stand there while she hit refresh on my behalf. After an hour of this I must admit I thought all hope was lost, and then BOOM! Her eyes lit up and she said she had a ticket, what's more, it was the front of the second tier, a bloody perfect seat! As if that wasn't lucky enough, I was sat next to a Photography loving surgeon, sat by herself she had a Canon with three lenses. Having only recently purchased my Canon DSLR, I only had the stock lens, and she was more than happy to let me use hers.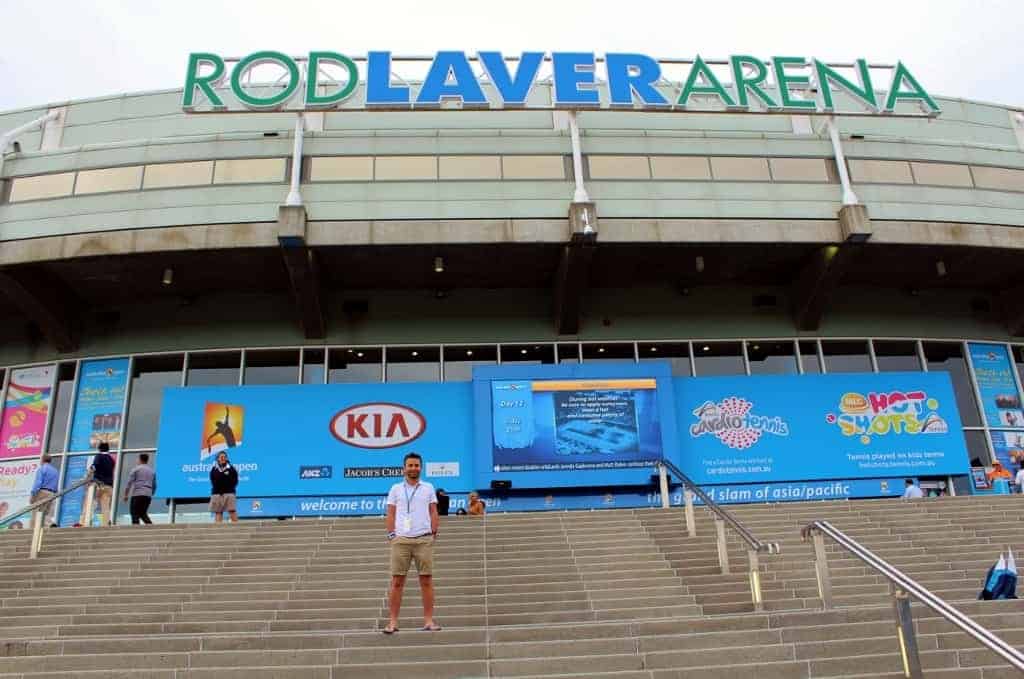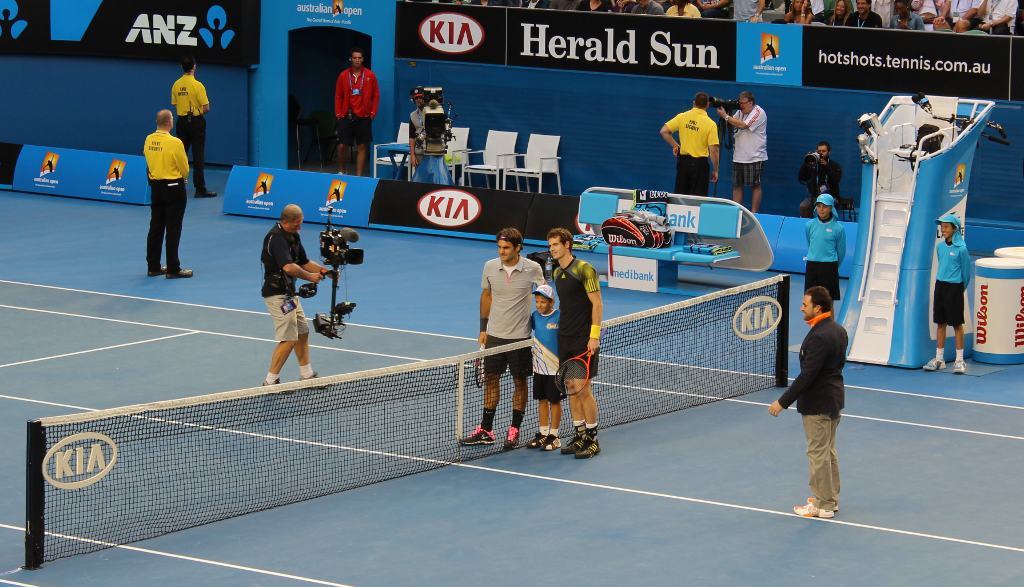 Rod Laver Arena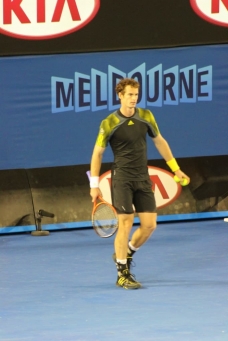 [dropcap]I[/dropcap]'ve been to a fair few huge sporting occasions in my time, cup finals, test matches and Grand Prix's, but there was something totally unique about the Rod Laver Arena. I'm not sure if it was the tension in the air or my own nervous excitement, or possibly both, but the atmosphere was electric. A clash of two of the big four in Men's tennis, Murray seeded 3rd at the time taking on Federer the tournament's 2nd seed, this was by far the biggest tennis match I'd ever witnessed. I was supporting Murray, of course I was, I'm a great admirer of Federer, his graceful approach makes the game look effortless, but I'm supporting the Brit, who had just won his first Grand Slam at the US Open the year before. There weren't many of us, Murray was generally not that popular in Australia, and facing Federer, possibly the most popular player in tennis history, I was very much in the minority supporting the underdog.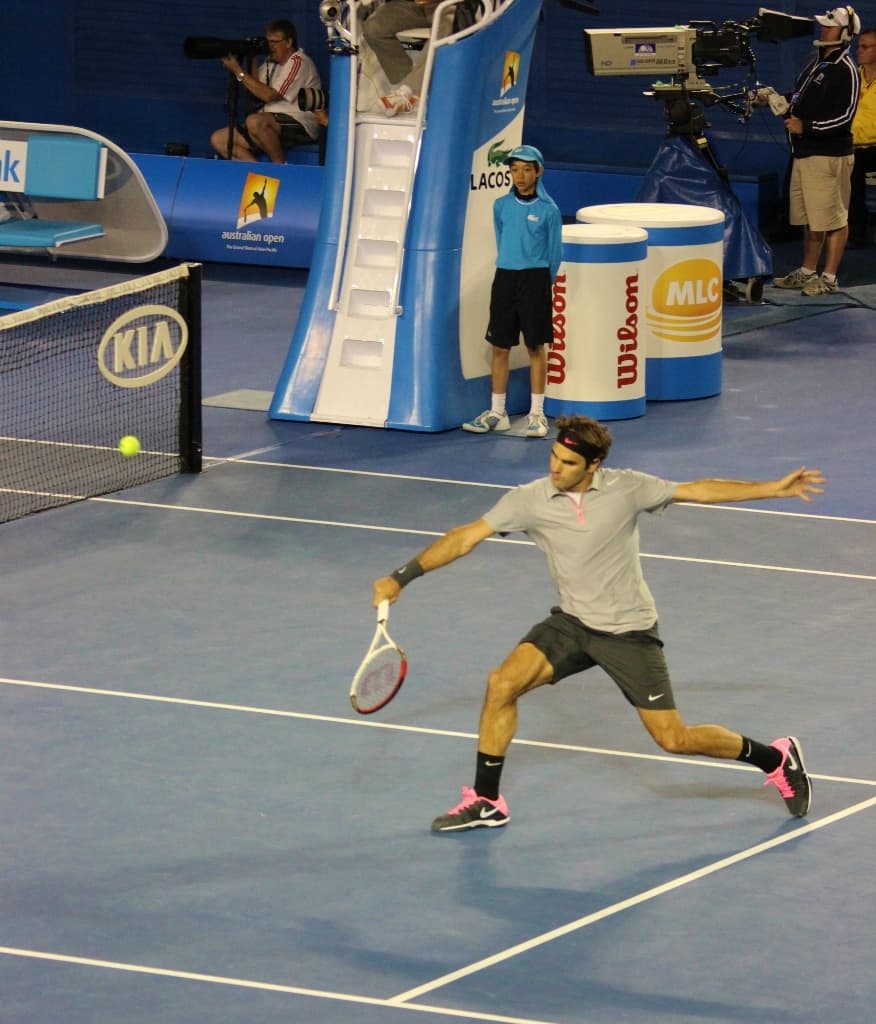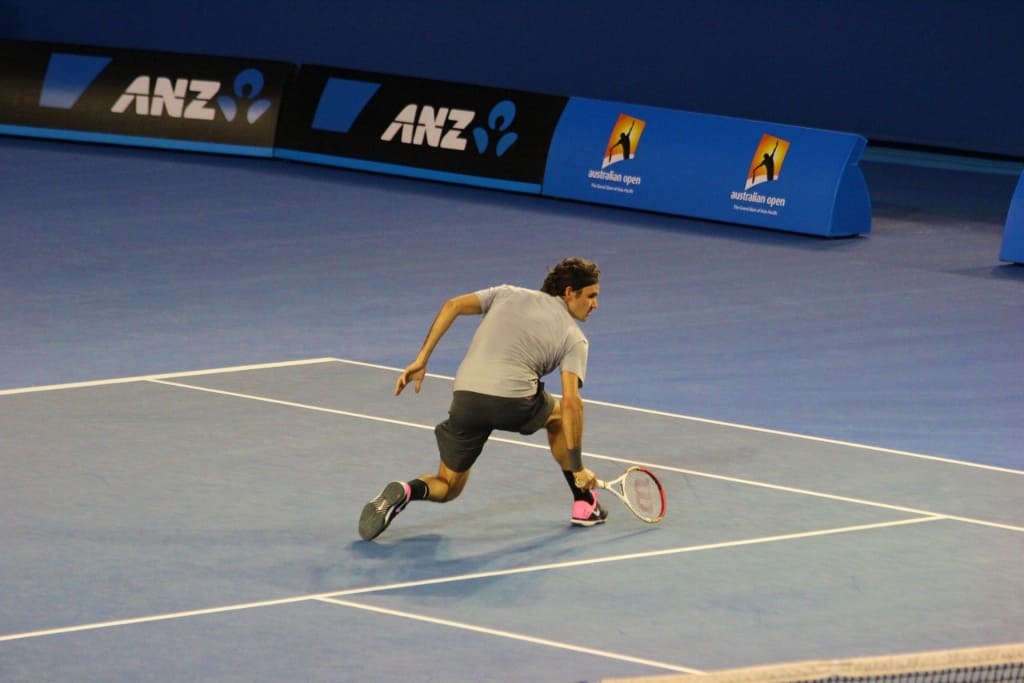 When you watch a big tennis match, you generally want a closely fought, competitive match, preferable 4 or 5 sets, and an example of the quality in Men's tennis these days. We certainly got that. There was nothing between these two, Murray on top form and Federer showing the control and experience, and of course THAT backhand. There was never much between them, Murray took the first set 6-4, Federer the second in a tie-break, then Murray led 2-1, and again Federer levelled with a 4th set tie-breaker. The 5th and final set Andy Murray took control, he was hungrier than Federer and triumphed 6-2 breaking Federer's serve twice. A great finale to a truly breathtaking semi-final. The Rod Laver Arena didn't disappoint and neither did the Aussie crowd, I can't think of a better atmosphere in sport. If you're in Melbourne in January, be sure to get yourself a ticket. The 2015 Australian Open runs from 19th January to 1st February. Incidentally, Murray didn't go on to win his second major at the 2013 final, he was defeated by the mighty Novak Djokovic in four sets.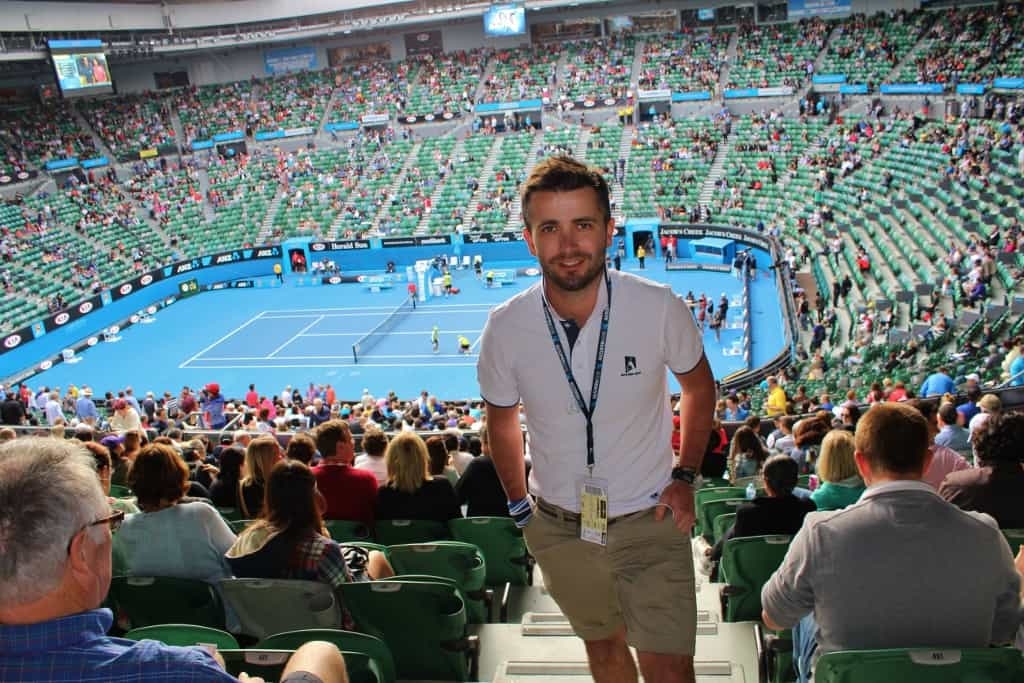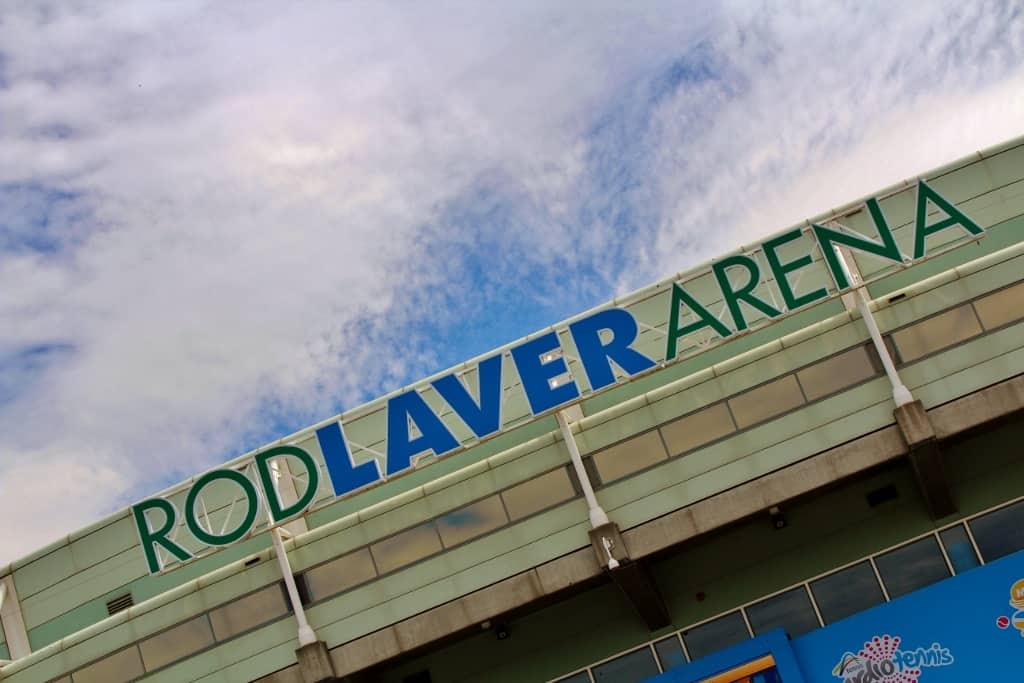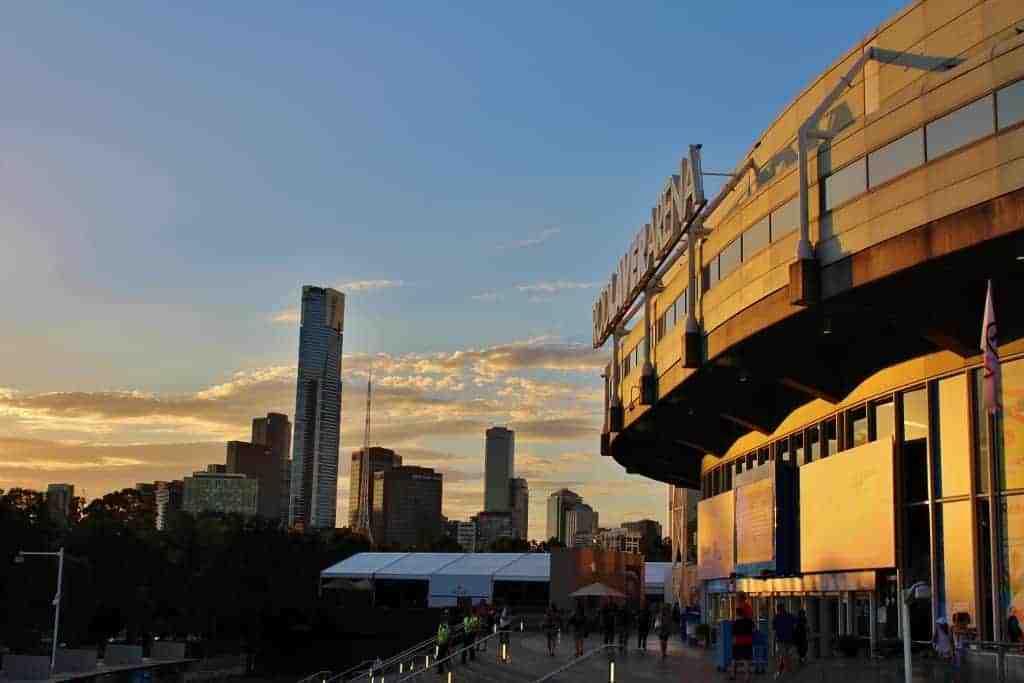 Have you been to a tennis Grand Slam? Which one would you love to see most? I'd love to hear about your experiences in the comments section below. Thanks for reading.