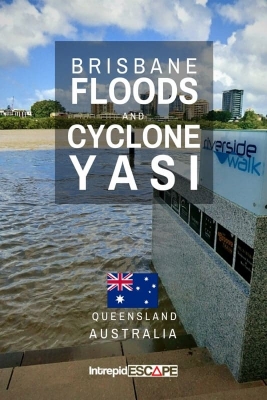 During a round the world trip in 2011, I followed the route most backpackers take in Australia and headed up the East Coast. It's a well-trodden path and with highlights like Fraser Island, the Great Barrier Reef and Whitehaven Beach it's easy to see why. Most of us spend the majority of it in the state of Queensland, and I planned to make my way from the Gold Coast up to Cairns.
Brisbane Floods
My first day in Brisbane, Queensland's capital, was normal. I went for a nice walk around the city taking lots of photographs as I went, there were no flood warnings at all. It was when I woke on my second morning that the 's*** hit the fan'. Brisbane had severe flood warnings due to the amount of rainfall in Queensland over the past few days, it was estimated that over 20,000 homes could be under water. It was interesting seeing people's reactions, the floods weren't due to hit for a day or two, meaning that you could hop on a flight if there was one, but naturally seats were selling fast. I had a tough decision, fly to Cairns from here at a hefty price and make my way back down the East Coast, or wait it out in Brisbane. The reality was I was unlikely to make it back as far as Fraser Island, something top of my Bucket List for years.
Before the Floods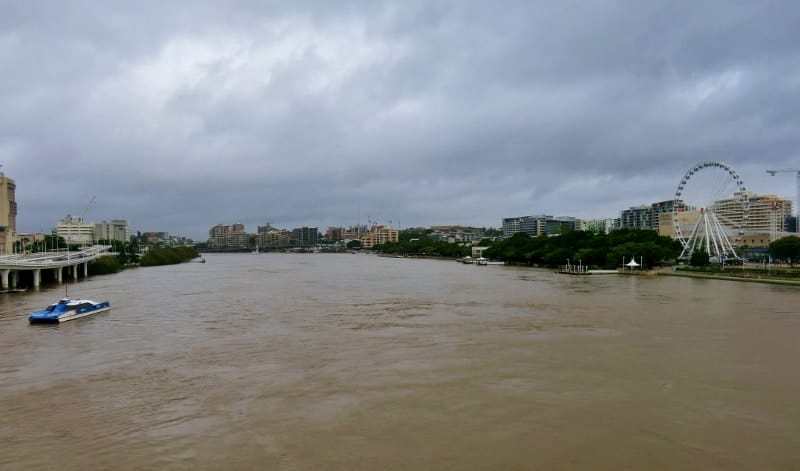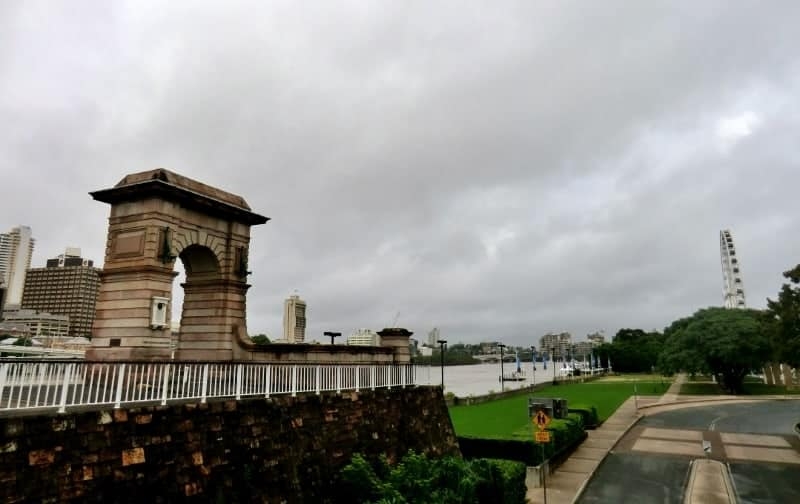 I chose to stay put, the hostel wasn't in the flood risk zone, and we were pretty safe unless the Wivenhoe Dam, built to protect Brisbane after the 1974 floods, collapsed. Thankfully it didn't! The day of the flood was a surreal experience, due to the steady rise of the Brisbane river it wasn't too dangerous to walk around the city and see what kind of affect it had on river bank and Central Business District.
You can see from the photos that the sheer volume of water is astounding. If you want to take a look at the extent from a different angle, ABC News published a really interesting perspective from before and during the floods, which you can see by clicking here. The Queensland floods had a truly devastating impact on the area, causing an estimated $20 billion Australian Dollars.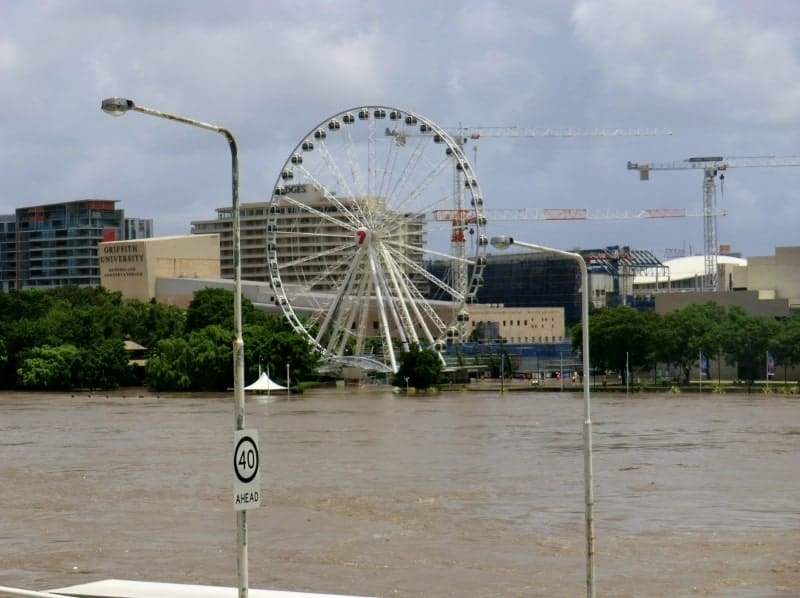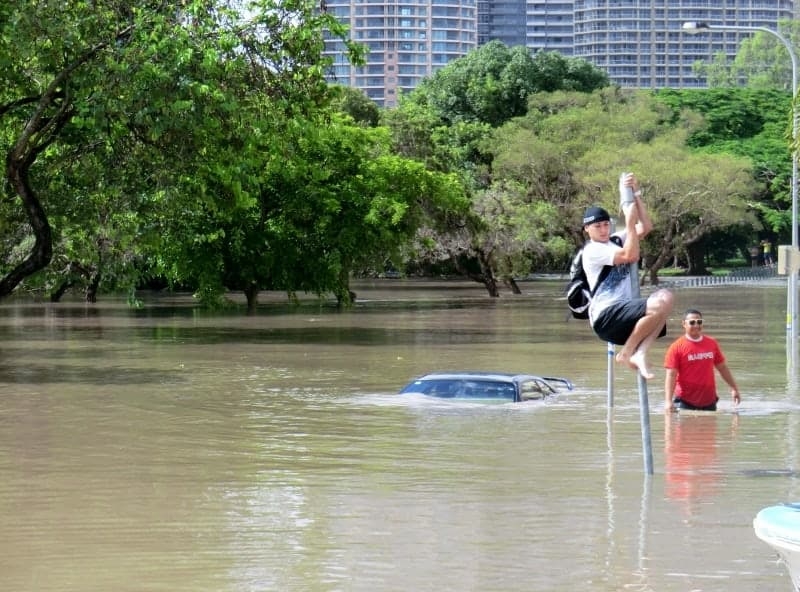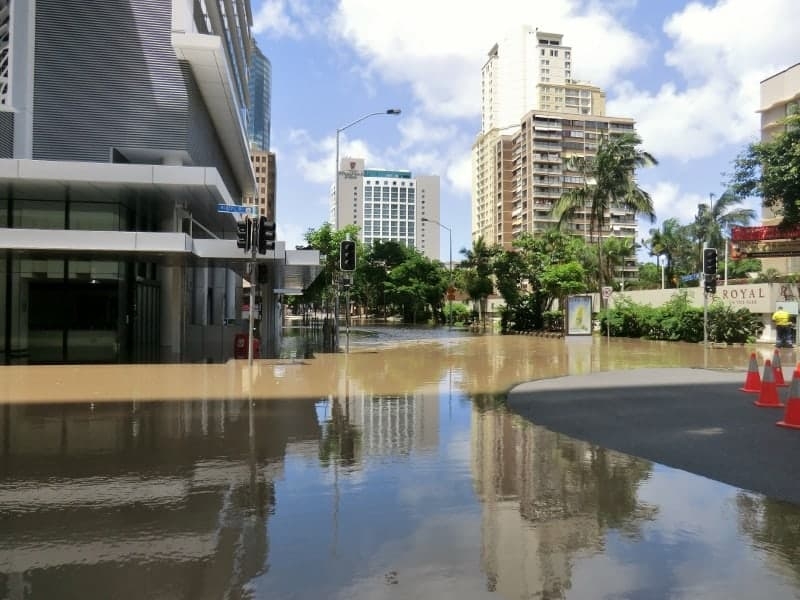 Flood Facts
Three quarters of Queensland was declared a disaster zone, an area larger than France and Germany combined.
At the peak of the floods in Brisbane 11,900 homes were flooded and 14,700 partially flooded.
The Brisbane River rose by 4.46 metres (14.6 feet)
2.1 million people were affected, with the majority in the flash floods in Toowoomba and Lockyer Valley Area.
Damages in excess of $20 billions Australian Dollars.
Source: Liberal Sprinkles
Cyclone Yasi
Just a couple of weeks later, after a few stops in between I found myself in Cairns. After experiencing the brilliant Whitsunday Islands, Whitehaven Beach and Scuba Diving the Great Barrier Reef the plan was to enjoy the town, beach and take a couple of day trips away from Cairns. But just like Brisbane, news came in that Cyclone Yasi, a tropical cyclone was due to make landfall in Queensland and was heading straight for Cairns. Each day the cyclone progressed, from a category 3 – "some roof and structural damage", to a category 4 – "significant roofing loss and structural damage", to a category 5 – "extremely dangerous with widespread destruction". It was the largest cyclone recorded since records began, and we were in a guesthouse, right next to the beach!
Category 5 = Extremely dangerous with widespread destruction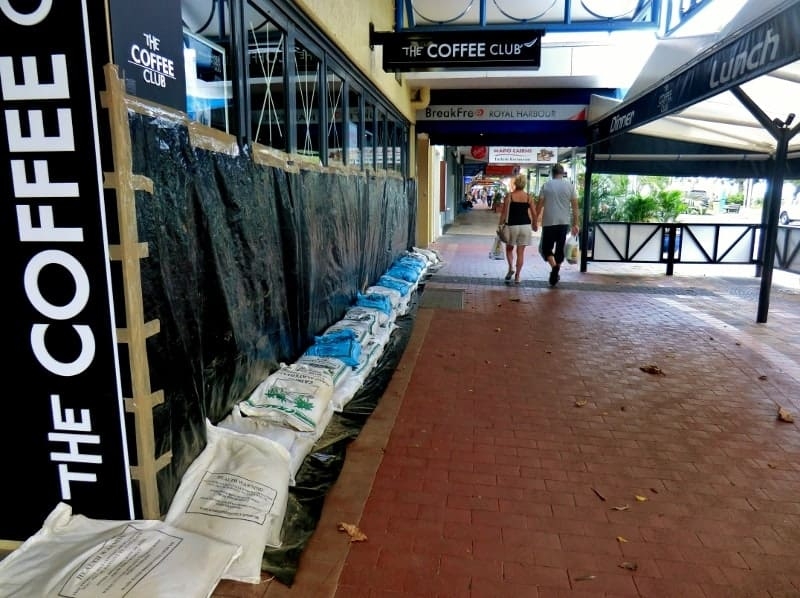 Needless to say we were evacuated from this guesthouse, mainly due to the risk of tidal surges any where near the beach, with waves predicted as high as 12 metres. Again I was faced with a crucial decision, there were a number of evacuation centres in schools and shopping centres, or a hostel called Gilligans in the centre of Cairns which was declared 'structurally safe' as it was built recently. We chose the hostel, but had no idea if we were doing the right thing!
You can see me in a very short interview with ABC news on this video, if you skip to 1:20, but I do get cut off at the end… How rude!
[su_youtube url="https://www.youtube.com/watch?v=zhZupZpm8Io" width="300″ height="200″]
The atmosphere in the hostel was all a bit tense, no one really knew what was going to happen. We joked about having a 'cyclone party', and being forced to remain inside meant all we could really do was drink and play games. Thankfully for us, and Cairns in general, Cyclone Yasi passed further south of Cairns than previously predicted, so damage here was minimal and ironically I had one of the best nights sleep in a few weeks. The majority of the damage happening in Tully and Mission Beach, where I was just a few days earlier.
Cyclone Yasi facts
Wind speeds recorded at 180 mph (290 km/h) on Mission Beach
A storm surge 7 metres high reached 300 metres inland
The Eye of Cyclone Yasi measured 22 miles (35 km) in width
The associated weather activity was spread over 1200 miles (2000 km)
Local media estimate that Yasi would cover the entire United States
Source: Terra Daily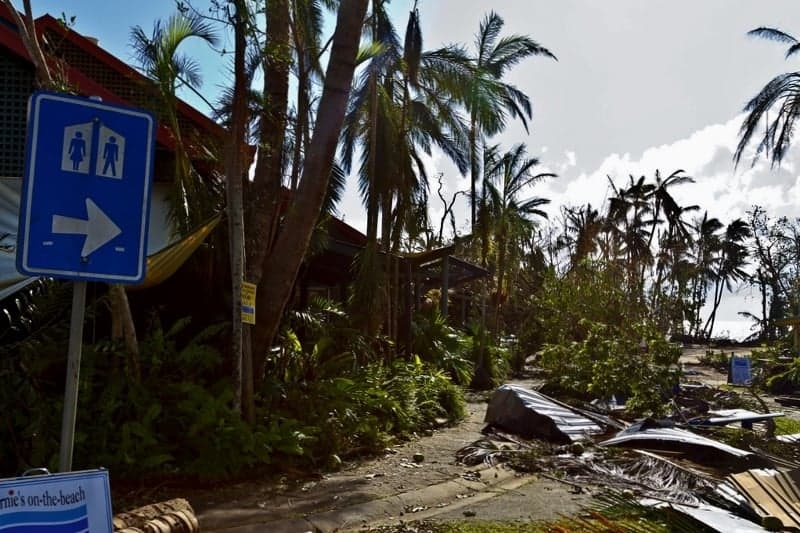 Photo above: Flickr Michael Dawes