When planning my trip to New Zealand, there was one thing that cropped up time and time again, in all the travel guides, all the bits of advice I had scribbled down on random bits of paper; the Tongariro Alpine Crossing. There's a reason why this is known as the best one-day hike in New Zealand, and it wasn't something I was going to miss.
Useful Information
[dropcap]T[/dropcap]he Tongariro Crossing is a 19.4 kilometre trek in the middle of the North Island, it crosses the Tongariro National Park, a World Heritage Site, and passes over volcanic terrain past Mount Ngauruhoe and then Mount Tongariro itself, both of which can be climbed as a side trip. We started in Mangatepopo and finished Ketetahi, which is the most common way to walk the crossing, and its estimated to take between 6 and 8 hours without any of the side trips. Make sure you have your transport back from Ketetahi planned in advance. There are plenty of warnings about fitness levels needed and when you're climbing to an altitude of nearly 2000 metres, its perfectly understandable! Truth is, I wasn't massively fit at the time after travelling for nearly 6 months and was also feeling under the weather, but I still managed it just fine. You might also notice that I was somewhat ill-prepared in terms of hiking gear, having decided to send some things home in South East Asia I was left with trainers and jeans, a big no-no if rain is predicted! For a list of 'Must Have' items for the crossing take a look here.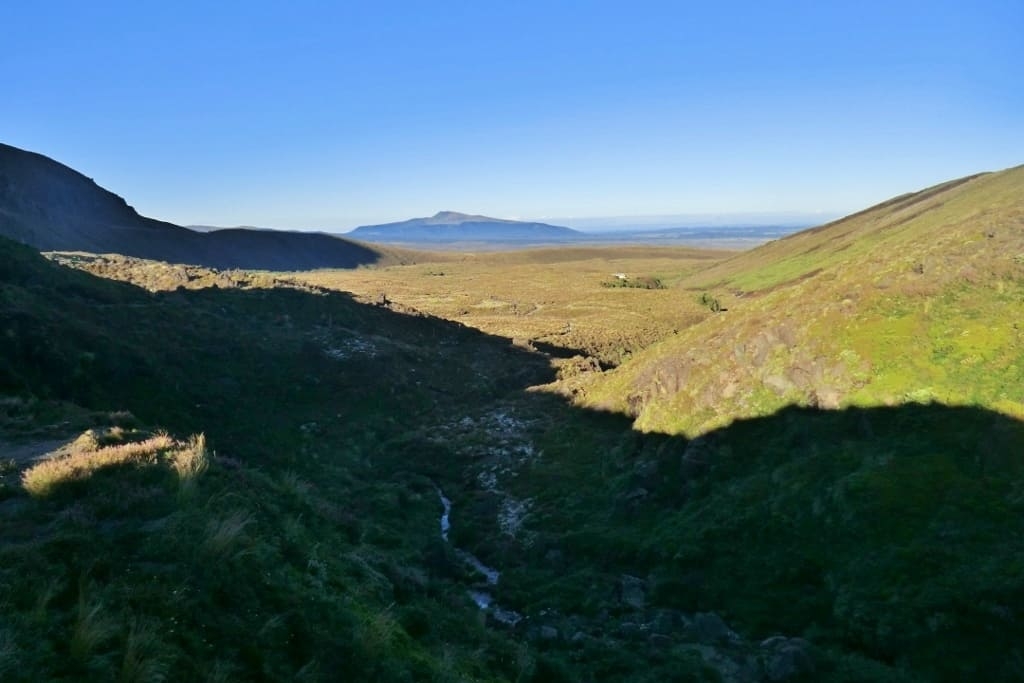 And so it begins
[dropcap]F[/dropcap]or the first hour or two, the walk seemed relatively simple, well-made pathways take you up a steady incline to the Soda Springs, and its suggested this part of the walk is suitable for the elderly and children with lesser levels of fitness. If you are continuing along the full trek my advice is to be sure to take a break and have some water at Soda Springs, as next up is the aptly named Devil's Walkway, a tough 300 metre relentless climb to the South Crater. The views along the way are simply stunning, I like many other ramblers took hundreds of photos, and although later the clouds smothered us in a thick mist at the height of the climb, it still looked breathtaking (although I would love to go back and do it with pure blue skies). Crossing the South Crater you really feel like you're in Lord of the Rings, I've not seen a photo that does it justice, a vast open space overlooked by Mount Ngauruhoe. It's a flat walk and a chance to build some energy for the toughest part of the walk.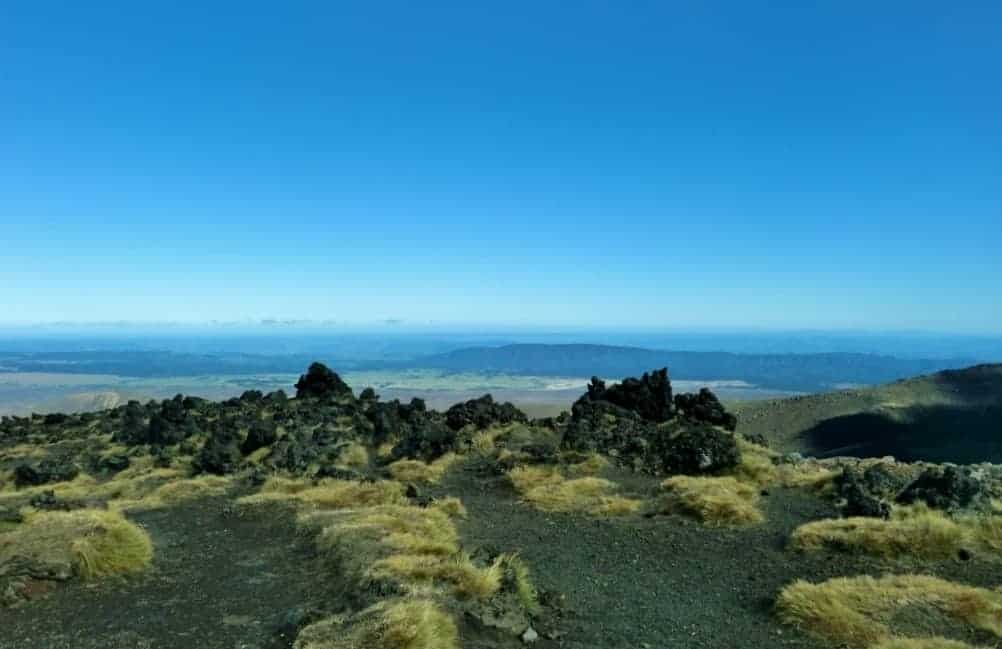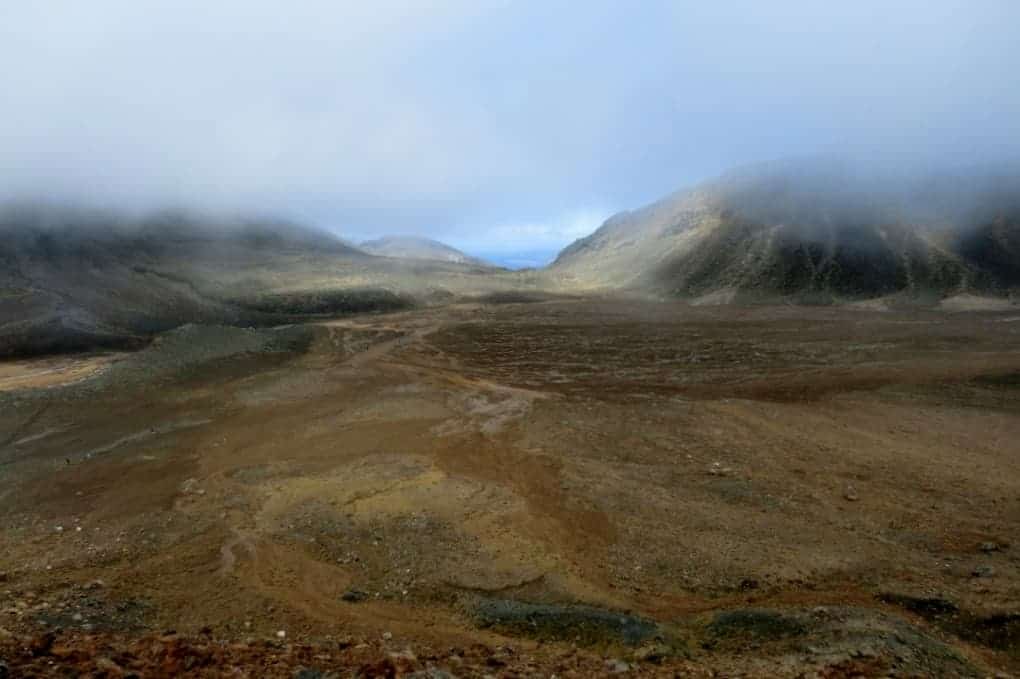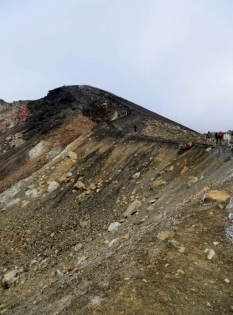 Tough Terrain
[dropcap]T[/dropcap]he climb up to the Red Crater is the hardest, the temperature had significantly dropped, visibility was poor and the crumbling rock beneath your feet make the route slippery and somewhat treacherous. As you climb up narrow passes you really need to stick with someone who can help you out if you fall, and its at this point I started to regret wearing jeans and trainers! I suggest following their advice. Having said that I did make it without too many difficulties, and for us the weather was cold, but not unbearable, nothing that a penguin dance won't fix (a good way to warm your hands up!).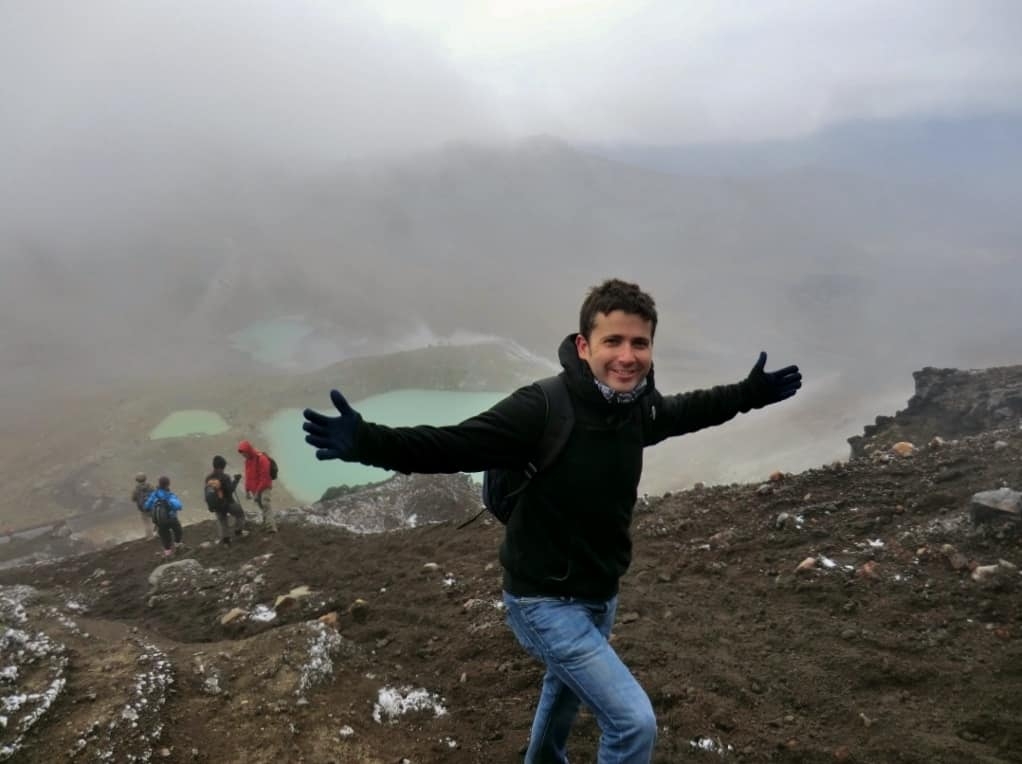 Sulphur Lakes
[dropcap]A[/dropcap]fter this climb the next part of the hike makes it all worth while, as the cloud cleared we started to understand why this is ranked as one of the best one-day hikes in the world. You pass by the sulphur Emerald Lakes, Central Crater and Blue Lake and you just can't take enough photos. We were lucky as the blue skies appeared again giving us some great photos, its worth stopping a while to take in where you are, this really is what travelling is all about. 6 months prior to this I was wearing a suit stuck in rush hour traffic on London's M25, now I'm stood at 1800 metres in New Zealand over-looking an insanely beautiful Blue Lake on an active volcano, does it get much better than this?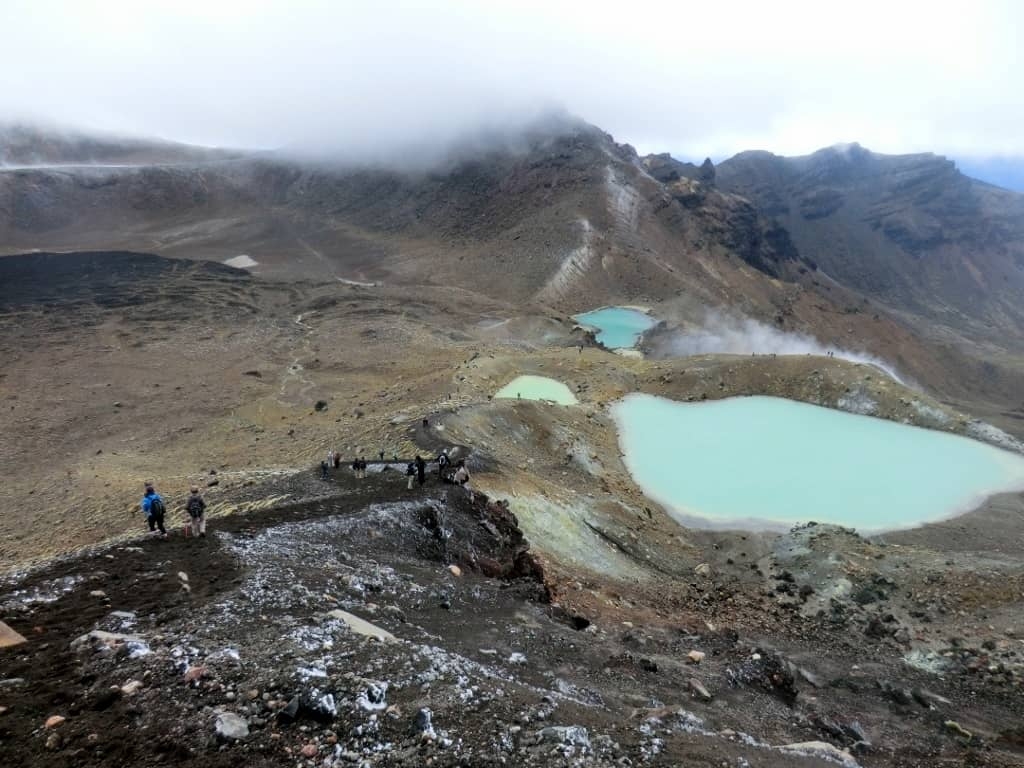 #SelfieSunday from the #Tongariro Crossing in New Zealand, an incredible one-day hike!
Lake Taupo
[dropcap]Y[/dropcap]es it does, well almost. The walk down to Ketetahi is a steady one that feels like it lasts for ever, with every turn you expect to be there already, but there's one more stunner on this walk, the view over Lake Taupo. It's someway in the distance, but just looks fantastic, hard to believe I was sky-diving there just a few days prior. So there's a fair few more photo opportunities along the way yet, and it gets warmer and warmer as you strip down to just a t-shirt it feels hard to believe just how cold it was a couple of hours earlier.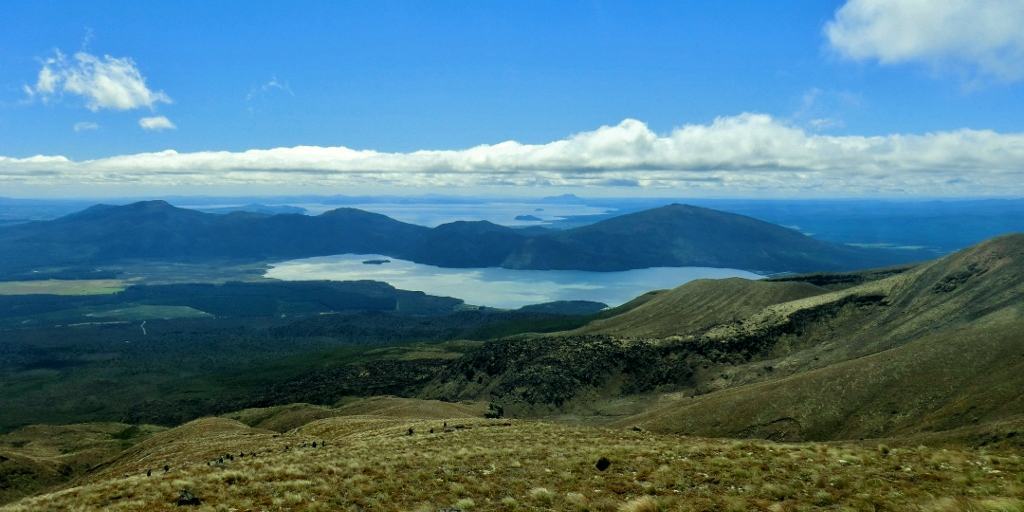 Scottie Suggests
A decent pair of hiking boots, it sounds obvious but don't send them home like I did and find you only have trainers for the walk! For more information on the Tongariro Alpine Crossing click here.
Want more of New Zealand?
Ice-climbing the Franz Josef Glacier, New Zealand
10 things you must do in New Zealand
Have you done the Tongariro Alpine Crossing? What were your essentials items? I'd love to hear from you in the comments below. Thanks for reading.