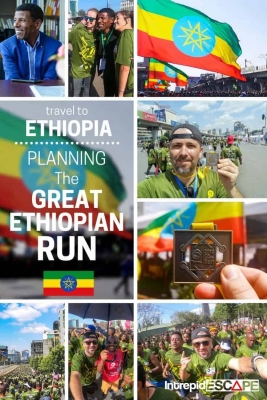 I'm going to make a wild assumption. Registering for The Great Ethiopian Run is probably not on your bucket list. Not yet at least. Although if you find yourself here, reading this article, you are either interested in the event, in Ethiopia, or interested in running. So, here's my chance to convince you why it should be!
First thing's first, the Great Ethiopian Run is a carnival. You don't need to think about training plans and running your personal best. I mean you can if you really want to, but I wouldn't recommend it. You'll miss out on the good stuff.
Think about the Great Ethiopian Run as a massive street party. A chance to enjoy the music, the colours, the party atmosphere and running (well walking) in the biggest road race in Africa.
It's then and only then that you have more of an idea about what's involved in the Great Ethiopian Run. So, let me give you some info about planning, registration and some juicy facts to whet your appetite.
Facts about the Great Ethiopian Run
Where is it? Addis Ababa, Ethiopia. Starting at Meskel Square.
How long is it? 10km.
Who is it open to? Everyone! Although there is a shorter race for children the day before the big event.
What is the altitude? Addis Ababa is the world's highest capital city, at 2355 metres.
How many people do it? 2019 saw 45,000 participants and it's set to be higher in 2020.
When is the 2020 Run? 15th November 2020 (November is a fantastic month to visit for the weather in Ethiopia)
If that's not enough reason it's been created by the great Haile Gebreselassie himself, and you'll most likely get a chance to meet him (if not see him at a distance!). He created the Great Ethiopian Run along with Richard Nerurkar, a British marathon runner and Peter Middlebrook, an economist.
Then there's the fundraising efforts. This year the Great Ethiopian Run raised over 2 million Birr (Around £50k) to help several fantastic causes. And each year they have a strong message to promote, this year being about equality for women with the message "'Girls Deserve to be Equally Seen, Heard and Valued". A message supported by some very positive changes in the country.
The run is supported by 500 volunteers who are fundamental in the organisation of the event. You might think an event like this in Ethiopia would be lacking security or organisation. But that wasn't true at all, each one of us felt secure and safe, and I was extremely impressed by the organisation of the Great Ethiopian Run.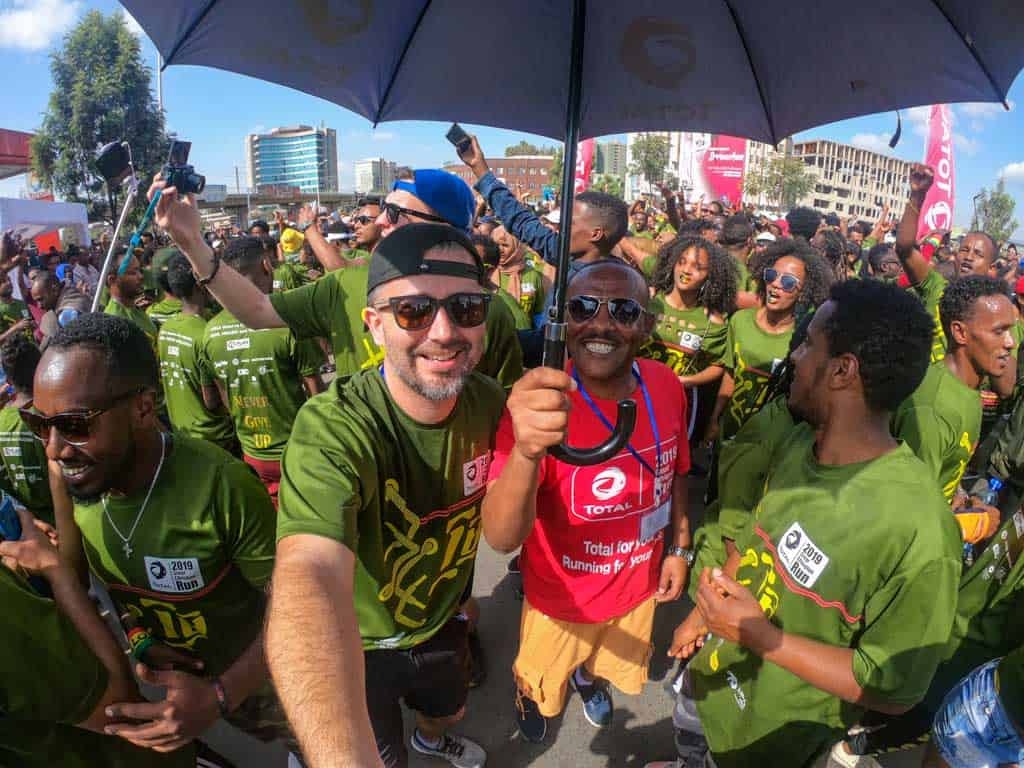 International Registration
Many of the participants are Ethiopian, which is even more reason I encourage International entries. Especially right now, before the word spreads and international registration increases. Readers of this blog often ask me, "What do the locals do?" or "What's the most authentic experience you can do in a country?" Well for Ethiopia, this is it! A street party with 45,000 locals; you can't find a more authentic experience than that.
The cost of entry is £70 (approximately USD $90) and includes your race t-shirt and entry to the famous Pasta Party the night before. During this event you'll get a chance to mingle with long distance running royalty. It wasn't only Haile in attendance, but the Kenyan 5000 metre champion Hellen Obiri was also supporting the event. International entries also get a VIP start pass, meaning you can prepare for the race without having to fight the crowds at the start.
Click here to register or find out more.
Travelling to Addis Ababa, Ethiopia
Flights go daily from London to Addis Ababa via Ethiopian Airlines and can be found for as low as £400 if you book at the right time. In general Addis Ababa is a very well-connected airline, connecting all over Europe and further afield. From London it takes around 8 hours and most flights are overnight. The airport is very close to the city centre and if your hotel doesn't have a shuttle service (most do) then hopping in a taxi is safe and only costs around 50 – 150 birr.
Visa for Ethiopia
Then there's the visa. For most of us you can get a Visa on arrival or in advance online. I strongly recommend getting it in advance online, to avoid queues at the airport. Apply through the official Visa Application (beware of other copycat scam sites, use this link).
The Visa for UK and EU citizens is approximately £38 ($50).
Either way if you are visiting for the Great Ethiopian Run make sure you allow yourself some time to acclimatise to the 2355 metre altitude!
Where to stay in Addis Ababa
For the higher budget, and for the best convenience for race day, you can't beat the Hyatt Regency. It's right next to Meskel Square and it's one of the top hotels in Addis Ababa. The breakfast is amazing, and it has a huge pool and a fantastic spa. I was very happy in my room here.
For the mid-range budget check out the Beer Garden Inn. This hotel has all you need and is in the Bole area of the city. There are a few more bars and restaurants in this area and it's closer to the airport.
For the Athletes head to Haile Gebreselassie's very own Yaya Athlete's Village. It's away from the city in the highlands and it has a running track, gym and spa. Although there are some negative reviews, we all had a fantastic stay and couldn't fault the staff.
Explore more of Ethiopia
Where do I even start when it comes to travelling in Ethiopia? As a country it has so much to offer, so I've listed a few places below as things I recommend doing, but I'll be posting further articles in due course about specific parts.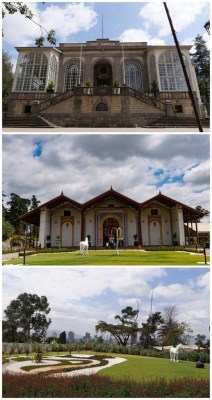 Addis Ababa
When it comes to the city itself, it's worth spending a few days here. It's a busy city with 3.5 million people so be prepared for terrible traffic and pollution. Don't let that put you off, you'll want to take in some sites.
Firstly, be sure to go and see Lucy, the most complete skeleton of a hominid ever found. She's said to be 3.2 million years old and located at the Ethiopian National Museum. The museum also has several other interesting skeletons and an archaeology section. It only costs 10 birr (24p or 30 cents) to enter. My second recommendation is to visit Unity Park and immerse yourself in Ethiopian History.
Finally, Addis Ababa has a big reputation for amazing nightlife. Although, unfortunately I was a little sick on my visit, so I just focused on completing the run. So, I can't speak from first-hand experience, although we did go to a cool Jazz bar. Who knew Addis Ababa had such a huge jazz following?
Tigray
Flying internally around Ethiopia is the cheapest and easiest way to travel. The Tigray area (flying into Mekelle) has a lot to offer! Look out for my video coming soon. I went up there to go cycling with Ethio Cycling Holidays, a tour company led by UCI World Tour Rider Tsgabu Grmay, in partnership with Richard Nerurkar.
They offer several tours in the region ranging in length and difficulty, and during my whole trip I felt safe and very well looked after. We found the right balance between cycling and exploring, doing some local sightseeing, markets, churches (see below) and even honey wine. I was being hosted by Sammy and Binyam, two of the most genuine and honest guys I have ever met. I wish the tour was longer.
The Tigray area is known for its spectacular churches, and none more so than Abuna Yemata. I've had it on my list since seeing it on BBC many years ago, and I urge you to go and climb to the top. It's tough, but your guides are there to help you and believe me when I say it's worth it. I'll also be editing a special video just on this experience. Watch this space.
Danakil Depression
Sure, why not visit the hottest and most inhospitable place on earth? Well in fact, I didn't have time to go on my trip to Ethiopia. But it is 100% top of my list for my next visit. Lying 100 metres below sea level, the contrast of landscapes you see at Danakil Depression are insane. It is quite literally like no where else you will see on earth. Look at the video below by Jordan from the Life of Jord.
Lalibela
Visiting the rock-carved churches of Lalibela is another must do on the travel list for Ethiopia. Lalibela is one of Ethiopia's holiest cities, and there really isn't any where else quite like it. There are more than 10 churches carved into the rocks which date back to the 13th century. Constructed by King Lalibela for a safe place of worship.
Most popular is the Church of Saint George, and for good reason. You can visit most of these churches alone, however going with a guide gives you the history and insight, not to mention the local customs you need to be aware of.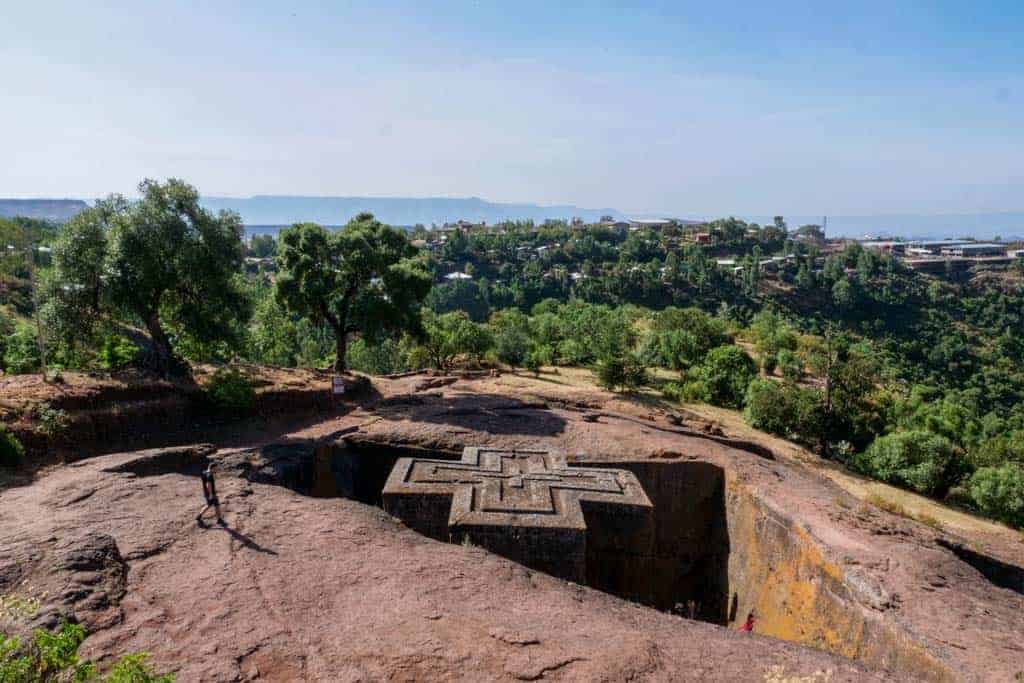 This is just a taster of what else is on offer in Ethiopia, I've barely scratched the surface. I didn't even mention any of the below. Basically, this is my checklist for coming back to Ethiopia so feel free to copy it!
Simien Mountains
Bale Mountains
Bahir Dar, Lake Tana & Blue Nile Falls
Gondar
Axum
All of these are top of my list for my return visit to Ethiopia. I encourage you to spend some time here, have a few days before the run to acclimatise, and then spend some time travelling around. You won't regret it.
Next up on the Africa bucket list: Climbing Kilimanjaro! Anyone want to come with me?
I was invited to Ethiopia by Blogilicious in partnership with The Great Ethiopian Run and Ethio Cycling Holidays. However, as always, all photos and views are my own (unless stated), and the trip was amazing.