In my recent article about New Brunswick and the Bay of Fundy, I put together the perfect itinerary for exploring New Brunswick and the Bay of Fundy. It was my first time exploring the Atlantic Coast of Canada, and some of these places have been on my Bucket List for years. Please note that we only travelled the south coast of New Brunswick, not the Acadian Coast and the Gulf of St Lawrence. So, these 10 tips come from the south of New Brunswick, along the Bay of Fundy Coastline. We started the trip in Moncton, and travelled along the coast to St Andrews, flying out of Saint John. Take a look at the exact itinerary here.
#1 The Fundy Trail Parkway
If you were to write a list of the greatest drives in the world, the Fundy Trail simply has to be on it. I remember seeing photos of the trail in a car magazine many years ago. I took a photo of this incredible horse-shoe bend on my phone. Well, on this trip I finally got to drive it and I suggest you do too. If you can, allow an entire day to explore, as there is a lot to see.
The closest town to reach the Fundy Trail Parkway is from St Martins, where the Sea Caves are (#3 on this list). However, you can also easily drive from Alma or Saint John. Even though the trail is only 18 miles (30km) it has 20 lookouts, numerous beaches and 4 waterfalls. And if you're into hiking there is a 10km hike. Can you see why you need a day now? Honestly, you'll just want to enjoy it, no rush, taking in the breath-taking scenery.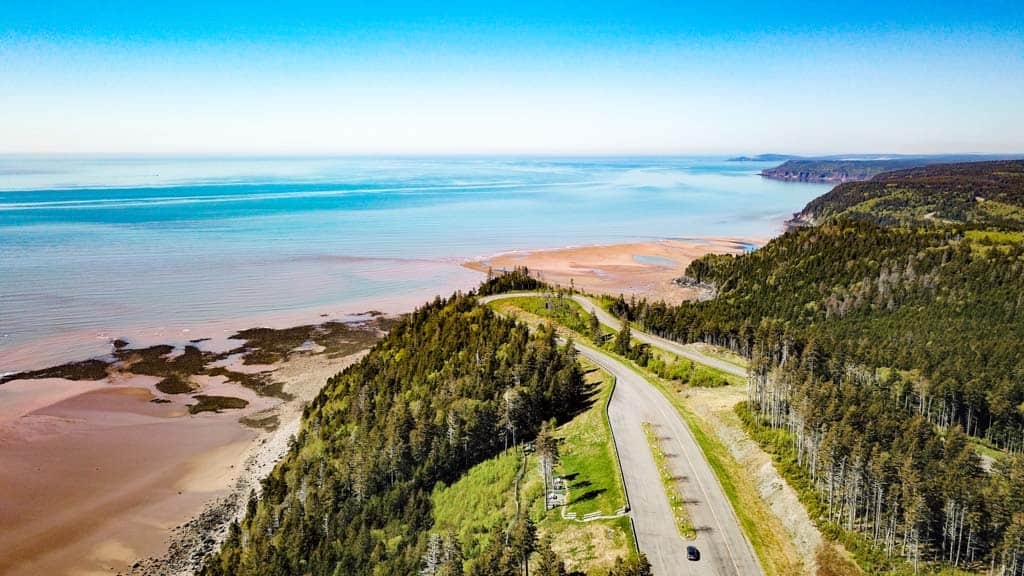 #2 Eat lobster
If ever there was a place famous for its lobster, it's New Brunswick. It was available everywhere! For lunch, dinner and even breakfast. In a variety of ways. Now, this is an interesting recommendation for me, because I can't eat lobster! But nonetheless, I do like the taste (from what I remember!) and I travelled with Dave from Travel Dave UK, and trust me when I say, he enjoyed it at every opportunity.
His favourite was the lobster rolls, and the places we recommend are as follows. Our first taste was the fantastic restaurant at Broadleaf Ranch (#10 on this list). Then in Alma we have two recommendations, Tipsy Tails for the meal and Collin's Lobster Shop to understand the scale of the business (and see some huge lobsters up close!). Finally, on the way to St Andrews you must stop at the local favourite Ossie's Lunch, known more for its fried clams or fish and chips.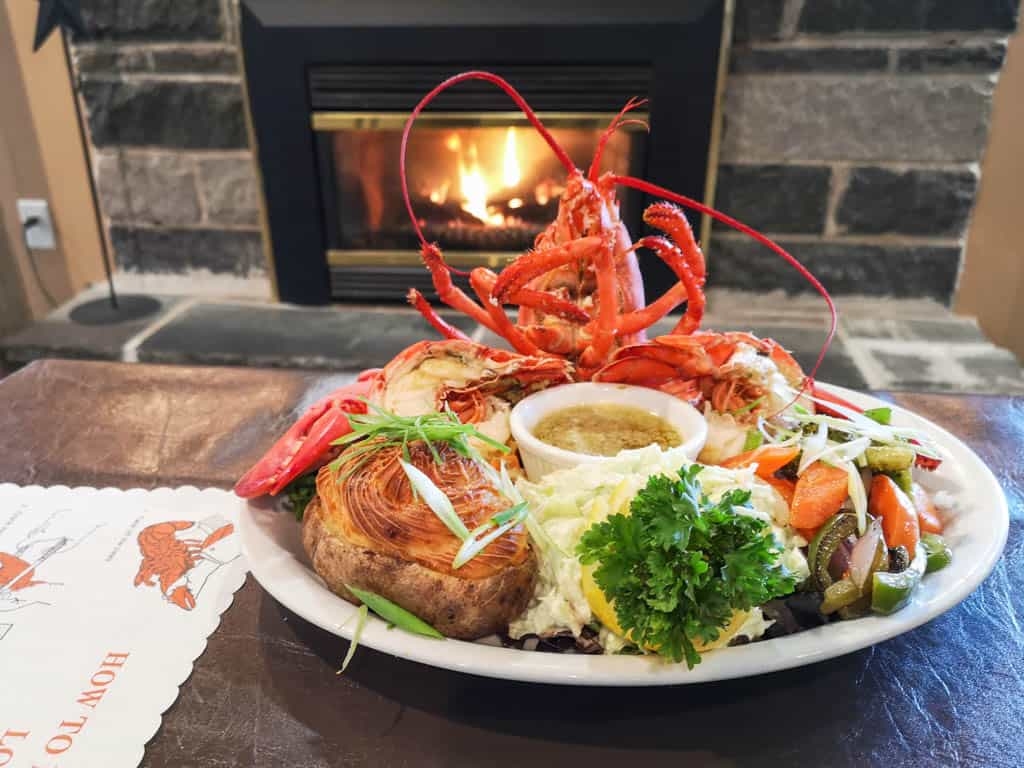 #3 Kayaking at St Martins Sea Caves
I've been very specific here, really the Sea Caves are the must do attraction. When the tide is out you can walk right out to them and see them up close. You can even enjoy a view of them whilst you eat your chowder soup from Caves Restaurant (that's the local's top recommendation). The Sea Caves are another example of the incredible Bay of Fundy tides, so why not walk to them and kayak to them?
Our Kayaking tour with Red Rock Adventure took around 2.5 hours, and started as the tide was coming back in. It was amazing to look at the dock when we left, to see how low the tide was! Then compare it on our return at high tide. We kayaked all around the caves and stopped for a fresh salmon lunch on a private beach. I really recommend this way of seeing the coastline, there's no better way to take it all in.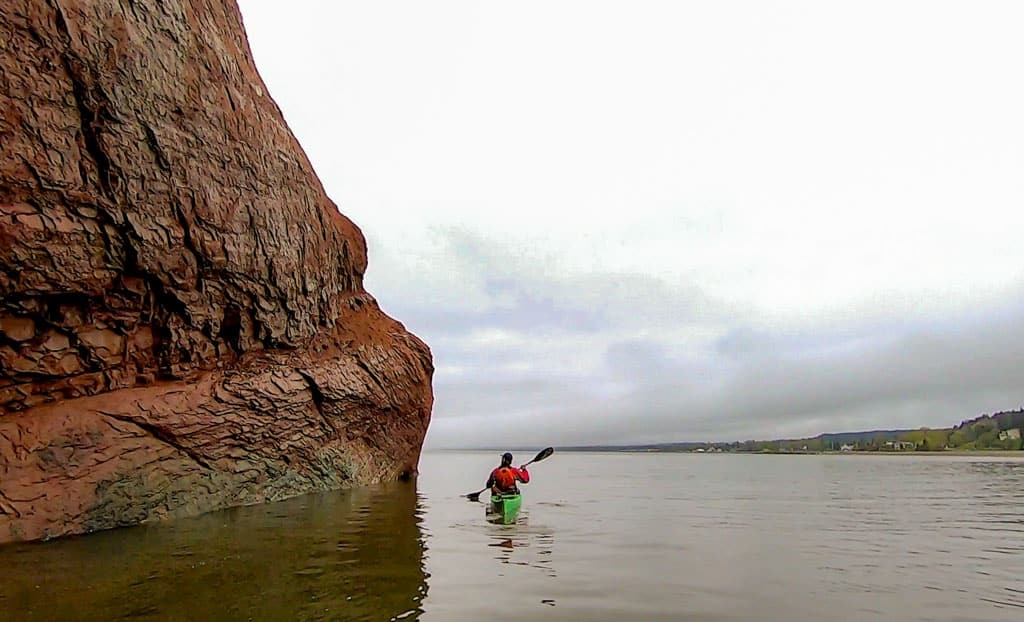 #4 Reversing Falls Rapids & Saint John
If you're into your geology look no further than the Reversing Falls Rapids. The falls are a gorge in Saint John and part of the Stonehammer Geopark, and the point where two ancient continents collide. One from the South Pole and one from Africa. But wait, in Canada? Yes, that is not a mistake, mind blowing hey?
The best view of the falls is from the Saint John Sky Walk. They have a fascinating video explanation in detail of what I've just said. The fall itself is created from the Bay of Fundy tides. They collide with the Saint John river. When the tides are out, the river flows normally, and the rapids are created. And when the tide is in, the river is forced back inland. There is a 20-minute calm twice a day, when it's safe for boats to pass. Honestly the whole place is such a phenomenon, I can't do it justice writing about it, just make sure this one is on your list.
Try to stay in Saint John at least a couple of days. The city has a trendy and almost hipster vibe. From sitting along the boardwalk watching live music to the walks along the river to the falls. We just felt at home here. I recommend a Craft beer tour with Uncorked NB. Leading me nicely onto the next one on the list…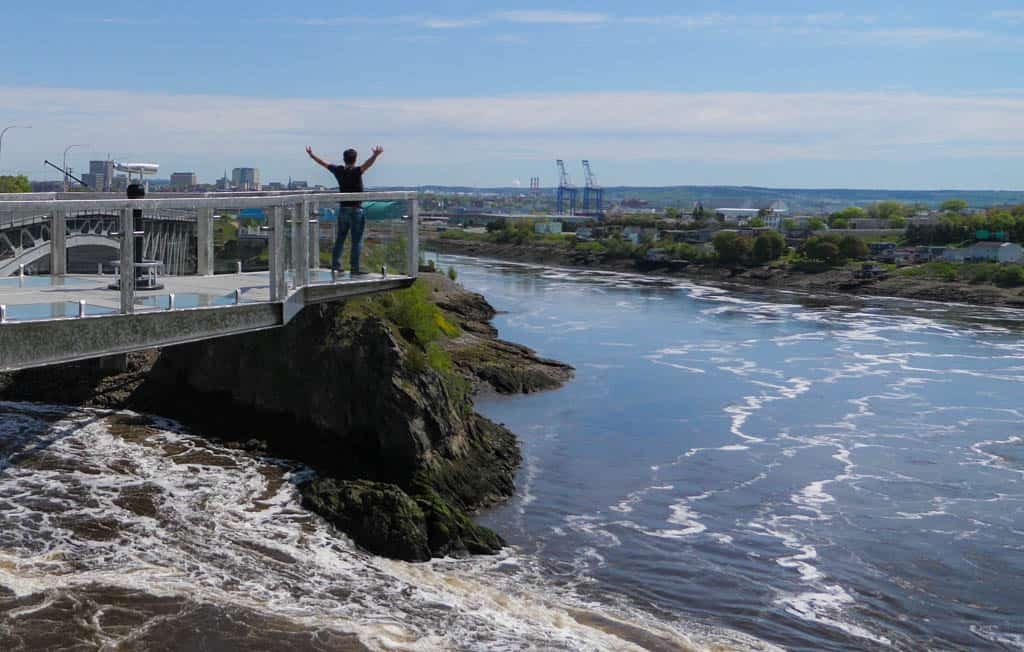 #5 Check out the Craft Beer Scene
I've been following Canada's craft beer scene with envy. There are some countries where craft beer has just boomed, Canada is one of them. We had a few opportunities to explore it, starting with a tour in Saint John with Uncorked NB.
Our tour took us around some of the best breweries and microbreweries in Saint John. And let me tell you, Saint John is an exciting city, particularly after a week travelling around the countryside. It has a cool and cultured vibe, almost hipster (although I use that word with some trepidation!). We started off at Market Wharf and finished with drinks with the Brew-master at Big Tide Brewing.
The other fantastic craft beer we found was in Alma, at Holy Whale. Pubs and bars are a little hard to come by in some villages, so we jumped at a chance to have a flight of beers at Holy Whale. I liked it so much I bought a hoody!
#6 Go Whale Watching
The Passamaquoddy Bay is one of the most famous Whale Watching spots in the world. You can find up to 12 species of whales during the summer months, from June to October. The whales use the bay to feed on huge amounts of krill, squid, herring, pollock and mackerel! All here in abundance as a result of those powerful Fundy tides mentioned throughout this article.
The Humpback Whales and White-sided Dolphins usually arrive in June, and by July the rare North Atlantic Right Whale has returned. You can also catch Minke Whales and Finbacks, along with seals, porpoise, bald eagles, and a variety of seabirds. Are you sold yet?
Most people set off from St Andrews, a lovely town to spend a few days. You'll find a few more tips for St Andrews in the itinerary article. We went out with the Fundy Tide Runners, on the perfectly sized Zodiac Hurricane; a high-speed rib boat. It was a fantastic tour and we also learnt a lot about the local area and fishing practises. You'll also cruise passed my next recommendation, Campobello Island.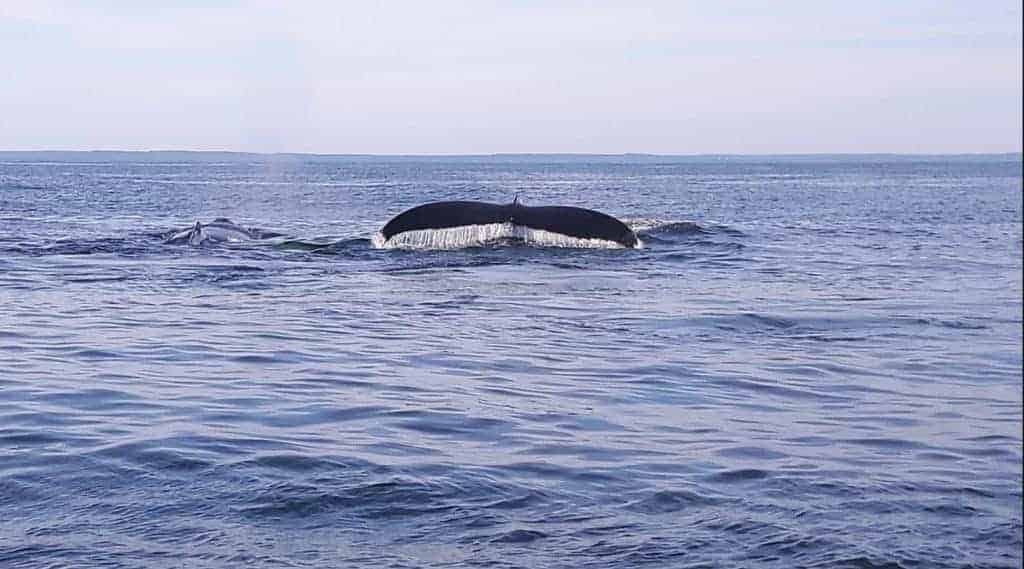 #7 Visit Campobello Island
Campobello Island is an island full of interesting history and can be reached by New Brunswick or from Maine (USA). You can drive there from the United States crossing the Lubec Narrows (and USA Canada border) by bridge. But it's only accessible by boat from Canada. It is Canadian, I promise! Although it wasn't supposed to be, it became part of Canada after a mistake when plotting the border.
You access Campobello by a 30-minute water taxi from St Andrews, and I recommend half a day exploring on a guided tour. You can do it alone and might prefer to if you're not so interested in the history. Most visitors are interested in the Roosevelt family history here. It was Franklin Roosevelt's summer playground, and you can explore his cottage and learn about the family.
Personally, I was more interested in the stunning views. Views of landscapes, lighthouses and across the bay. One point is known for being famous as a place to sit and watch whales pass by whilst you eat your breakfast! I plan to stay here next time, that's for sure.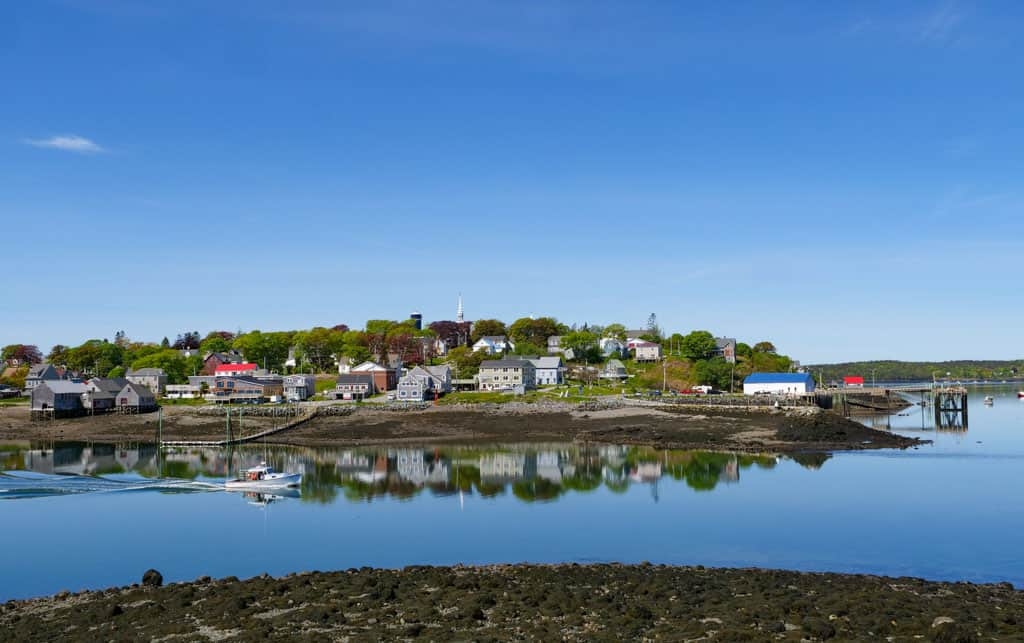 #8 Hiking at Fundy National Park
The next place on the list, located next to the town of Alma is the Fundy National Park. It's yet another place where you cannot plan enough time to visit. We unfortunately didn't allow enough time (and we were unlucky with the weather), so it just makes me want to go back again with more time. There are plenty of hikes to choose from, and the knowledgeable park guides in the Visitor Centre will talk you through your options.
Fundy National Park is New Brunswick's first national park and has 3 camping grounds if you are planning to camp or bring a campervan (RV). There are over 75 miles (120km) of hiking trails passing mountains, lakes, valleys, waterfalls and the Acadian Forest. For a short walk and lovely views head to the Dickson Falls followed by the Point Wolf Covered Bridge. I spotted some beautiful birdlife here. There's also a 9-hole golf course, kayaking at Bennett Lake and a variety of hiking at the Upper Salmon River.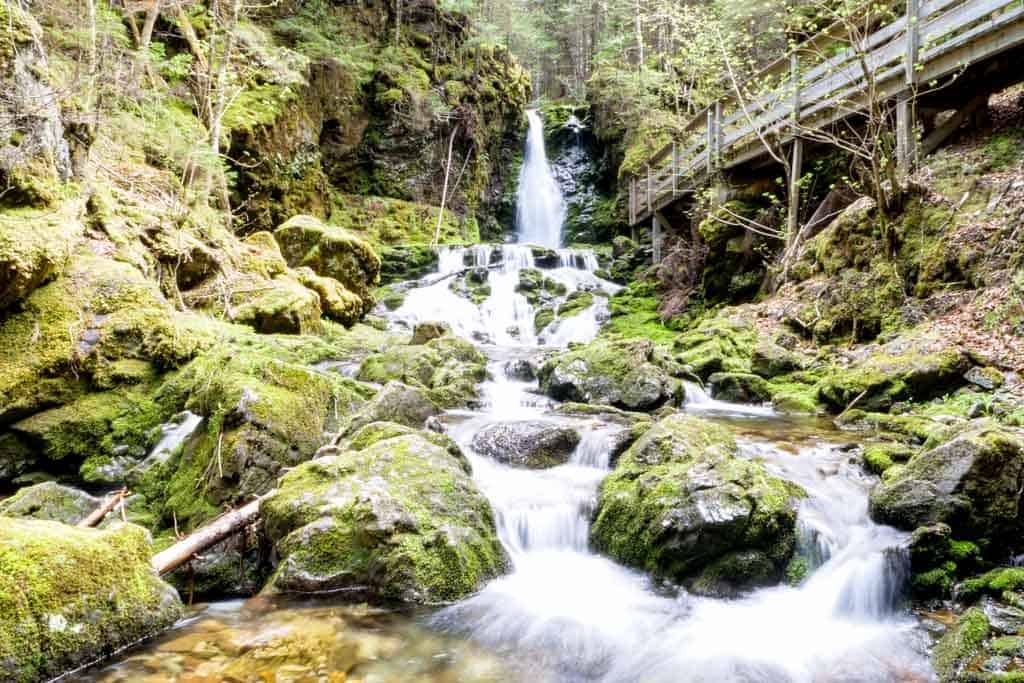 #9 Hopewell Rocks
This guide isn't written in order, but if it was, Hopewell Rocks would be #1. I wrote a whole article about the tides, the facts and night photography. It is yet another place you need a day or even better, two. I recommend two main things; the first, visit at low and high tide. The second, do a night photography tour with Kevin Snair. Full information is available in the article above.
The ticket includes two days of entry, just to allow you to come back at low and high tides. Make sure you check the tide times before you visit. You can even kayak around the rocks at high tide, how cool is that? Walk along the ocean floor at low tide, then kayak around it at high tide. The full story behind the tidal changes in the Bay of Fundy is amazing, as I touched on earlier with the Reversing Falls Rapids. Make sure you allow some time to explore the phenomenon and see it first-hand.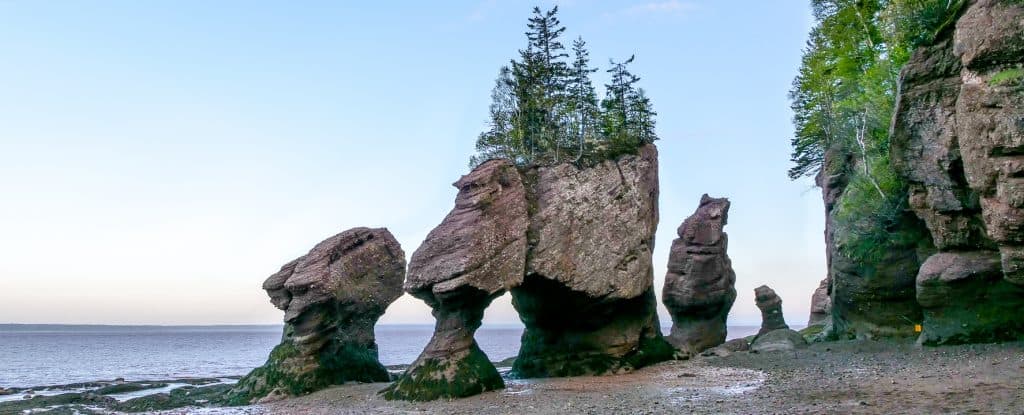 #10 Broadleaf Ranch
Just up the road from Hopewell Rocks, at the beginning of our road trip we stopped at Broadleaf Ranch. It's set in a beautiful spot right on the main road with a ton of things to do and a variety of accommodation options. It's also not far from Hopewell Rocks. They have camping and RV options, private secluded cabins, dorm rooms, luxury lodges, and even glamping!
Of all the activities available here I recommend the Horse Riding! We went on a lovely trail into the forest and around the grounds. They have horses to suit any level, and you can go as fast or slow as you want. But that's not all here, we followed that with canoeing in the Marshland. Or how about some indoor rock climbing? They offer a nice adventure activity combo that includes horse riding, biking and canoeing. Then before dinner you can go for a hike too if you are energetic enough! And the youth adventure camp could be a good place to leave the kids whilst you relax, if you're on a family trip.

So, there you have the top 10 must do's in New Brunswick! As you can probably tell, there is so much more to do than 10 things! But these are my top recommendations from my road trip here. It's a good starting point to plan your trip around these activities and fit anything else in there. But did I miss anything out? Is there something you think must be on this list? Please add it in the comments below.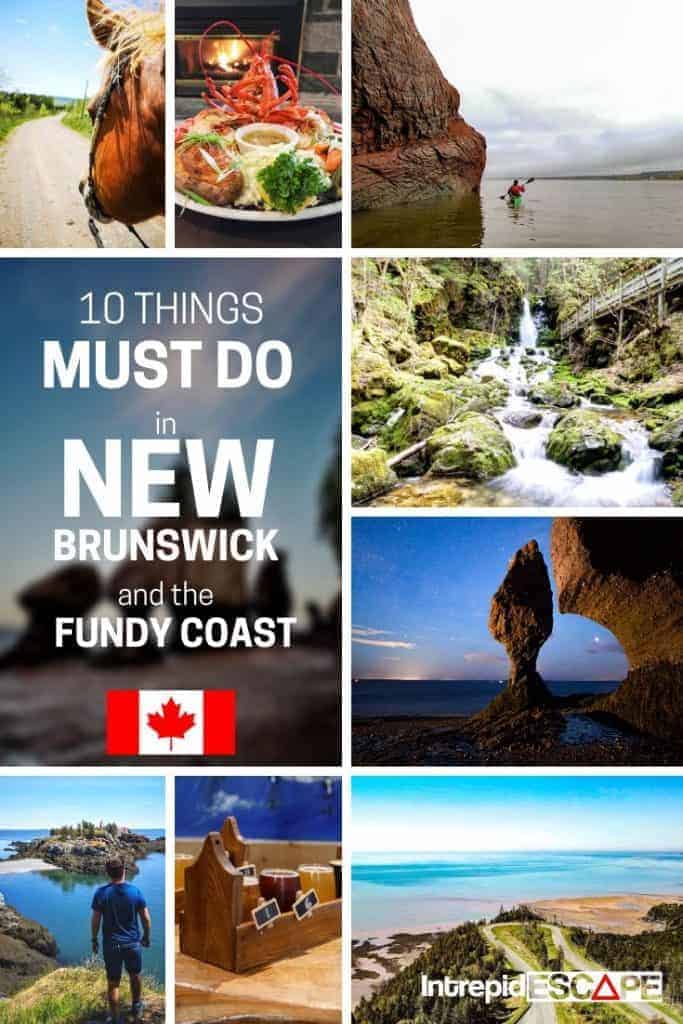 My trip to New Brunswick was sponsored by Destination Canada. Nonetheless, the photos, video and opinions are all my own (as always). And honestly, as I mentioned at the start, I love Canada and the best way to travel is a road trip!