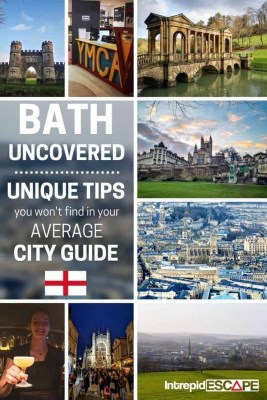 When I plan to visit somewhere, like you I research a whole host of options looking for the best things to do. The must-see spots, tourist hotspots, hidden gems, unique experiences etc. Nowadays I use a mixture of Travel Blogs like mine, Google and social media to find my inspiration.
It always disappoints me how time and time again the same content comes up. 10 things to do in Bath, 5 things you can't miss in Bath, Unique things you must do in Bath. The worst part, they are all the same. There is never anything new, just a different variation of the same article.
I decided to come up with a new style for my City articles. I thought of 5 characters, all of which I could be (see below), and I said what is one thing in this city I can recommend they do? I will do some research. However, the key to this article is the work once I arrive, finding tips from the locals themselves.
The Solo Traveller – Places to meet people or things to do alone
The Active Type – For anyone who loves the great outdoors
The Hopeless Romantic – Things to do as a couple
The Foodie – The best food or a local food
The Drink Lover – From craft beer to cocktails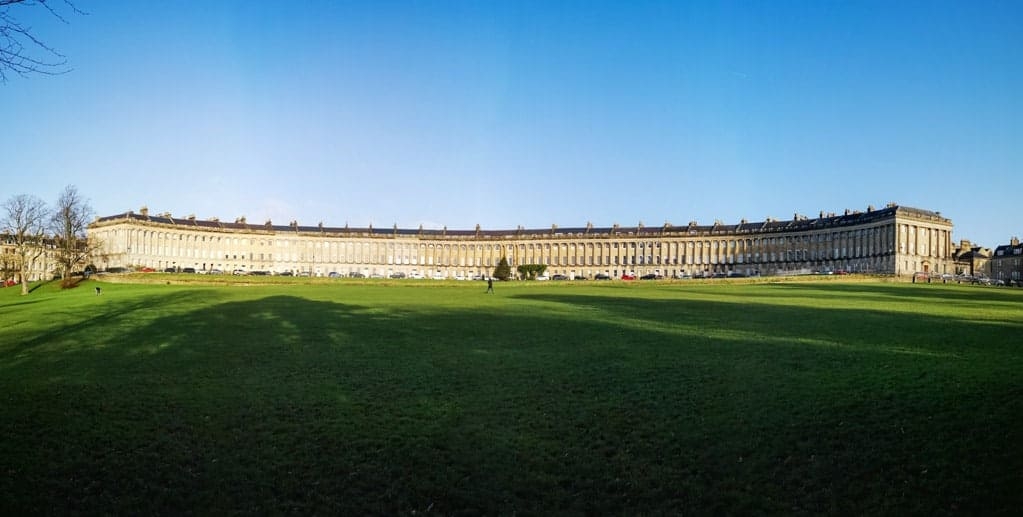 So how does it work? Well my Uncovered series will focus on these 5 specific types of people (sometimes more). Within that category will be one or two unique recommendations or hidden gems. Something that I highly recommend you do, and it's because I've done it.
In a nutshell, they are unique things to do, split by category, all experienced by me, recommended by locals. Got it?
Unique tips for the Solo Traveller
A category dedicated to the solo traveller. I often find myself in a city alone and depending on where it is it can be a minefield. I've used so many ways to meet like-minded people. Some of which I cover in Staying Connected and Meeting People Whilst Travelling.
Bath YMCA Hostel
My first port of call is usually a good hostel, somewhere central, has a good atmosphere and can be my handy base for exploring the city. For Bath, look no further than the Bath YMCA. They offer a variety of rooms (including an en-suite double, always my choice), a state-of-the-art gym, breakfast, good wifi and social rooms to relax.
YMCA is a Hostel with a difference. The YMCA group is part of the largest Youth Charity in the world. Their work with young vulnerable people in the local area is incredible. Staying at this hostel quite literally puts a roof over the head of someone in need. During my stay I learned about their Nightstop and Daystop campaigns, and all the commendable work they do. From providing emergency accommodation, to longer term solutions, to guidance and counselling.
The Hostel features a huge gym and studio classes. If you're local, gym membership starts at £29.95, including unlimited use of the gym and classes. If you're going to join a gym, why not join one that helps a great cause too? All this right in the heart of Bath with all the attractions within walking distance.
The Bell Inn
Other solo traveller recommendations can be meetups, social activities or sometimes a bar or pub. This next tip is the latter. The Bell Inn was highly recommended to me after it was bought out by over 500 locals to save the pub. Since then it's become a bit of a community pub with a fun and vibrant atmosphere.
But that alone doesn't always make it a place to visit alone, pubs can often be a little daunting for the solo traveller. Not the Bell. The reason this is here is because of how open and friendly it was. From the people in there to the bar staff. Grab yourself a drink (I suggest a Bell Ringer) and stand at the bar for a few minutes and I'm sure someone will get chatting to you. I ended up going out further to The Star Inn and then to a club with my new mates! The club was awful though so that doesn't get a mention.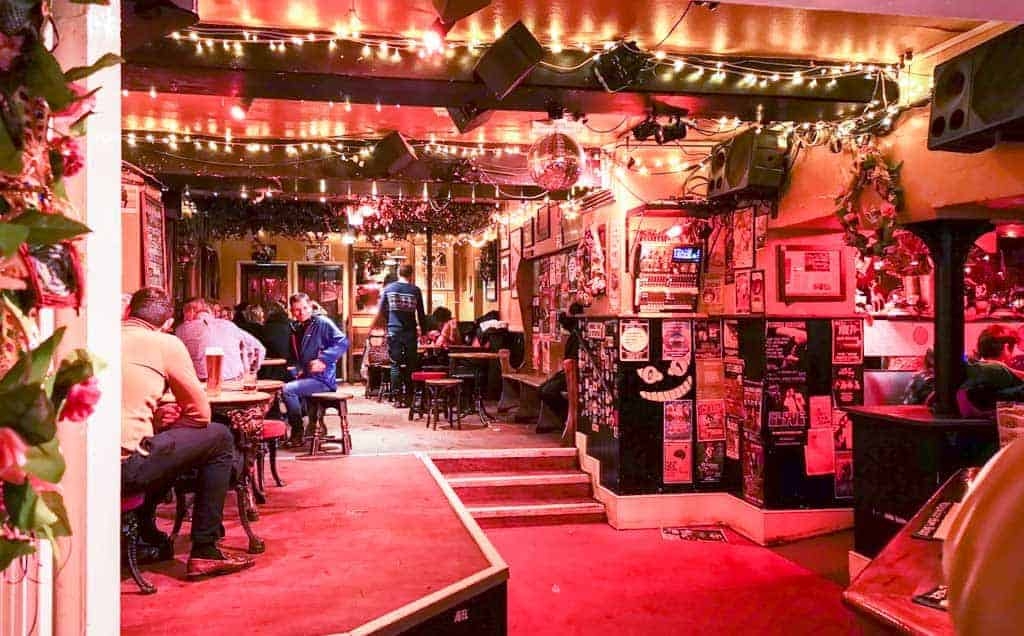 Solo travellers you must also check out the Dark Horse listed in the Drink-lover category.
Unique tips for the Active types
Bath is perfectly placed for exploring the great English countryside, from Somerset itself, to the Cotswolds to the north, or even Wales. I've decided to focus on something that's right on your doorstep and a big recommendation for something you can do all year round.
The Bath Skyline Walk
The Bath Skyline Walk is a 6-mile (10km) marked route that takes you out into the countryside to enjoy amazing views over the city. As the National Trust put it, you "enter into another world on the skyline hills above Bath, through meadows, ancient woodlands and secluded valleys". I am not sure about another world, but it is a lovely walk.
The Bath Skyline Walk is a great and easy way to escape the hustle of the city, which can be very busy at peak tourist times like the summer and Christmas. The best part is it only takes 3-4 hours, although you should allow longer to take photos and enjoy the scenery. It's also a dog-friendly walk. If you're feeling energetic you could even run it!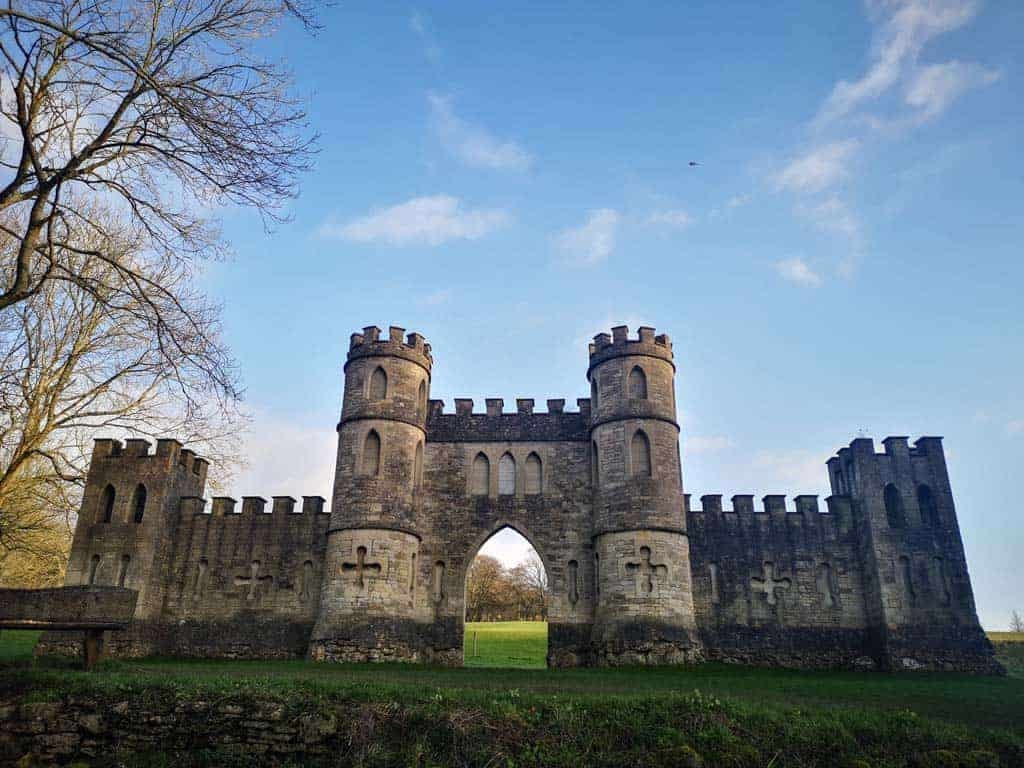 Cycling to Warleigh Weir
Sticking with the outdoors theme, this next tip is far more suited to summer or at least a nice day. Warleigh Weir is around 3 miles from Bath, so as above can also be a nice walk. However, I recommend cycling there, and if it's a nice day bring your swimmers.
The route is in fact part of the Kennet and Avon Cycle Route, an 82-mile route from Bath to Reading all along the canal. So, there's an even bigger cycle for you! A shorter 22-mile route takes you from Bath to Devises, with 21-miles of that being traffic free. Amazing. However, my tip is just to Warleigh Weir. A fantastic day out.
If you're feeling brave, google the Two Tunnels Greenway and take that route south before heading onto the canal path. These are two old railway tunnels that are now public cycle and walking paths. The tunnels are only subtly lit and there are quite eery echoes throughout, but it's great fun! Please note I did these a while back in summer, so do not have any photos of the experience.
Unique tips for the Hopeless Romantic
Whether you are a couple seeking something romantic or someone looking to impress a date. Look no further, I have you covered! Truth is, you can't go far wrong with Bath. If I'm honest, to really impress someone take them to the Thermae Bath Spa, a rooftop spa overlooking the city. This is more of an honourable mention, as I'm trying to find the less obvious spots!
Palladian Bridge at the Prior Park
I found two places that I would consider romantic, they could also come under nature and outdoors. So, if that's your thing read on, if not maybe stick to the spa! The first is on the Skyline Walk, but you don't need to do the walk to visit. It's the Palladian Bridge at the Prior Park Landscape Garden. I mean, just look at it. Can you get a more romantic spot than this? The park is perched on the hillside overlooking Bath. You can also stop for tea and find out more about Ralph Allen, the man behind the park who came from humble beginnings to being one of the wealthiest men in England.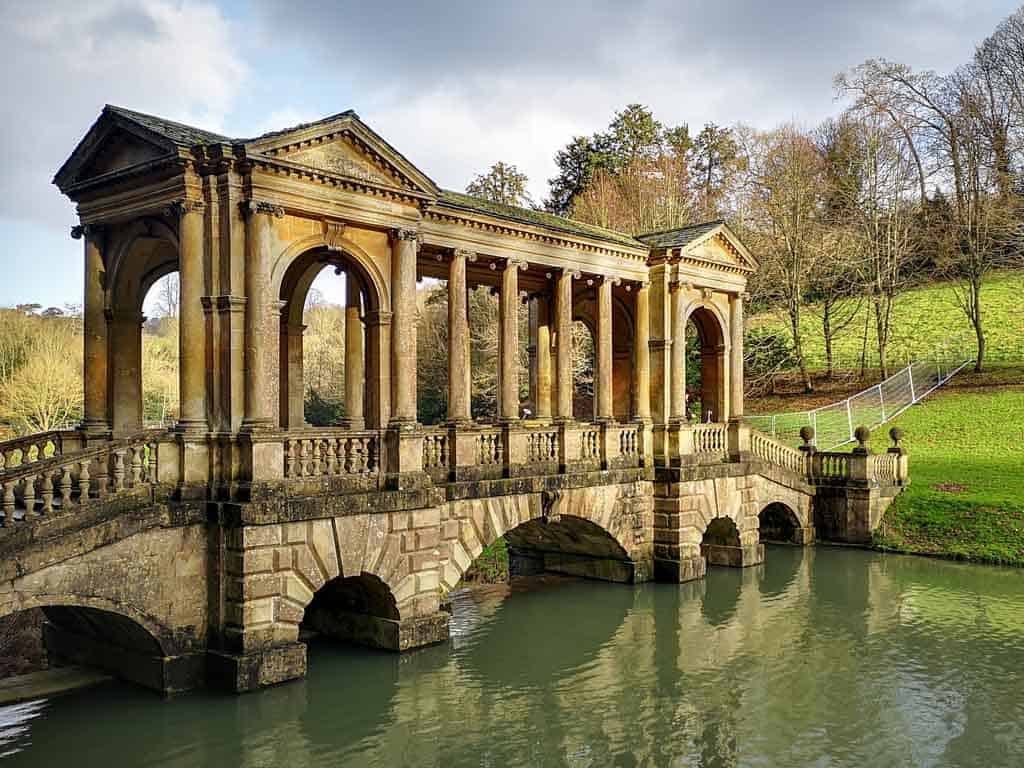 Bathwick Meadow
My second spot is a viewpoint and meadow. I always try to include a viewpoint under the romance section. This one is the Skyline Viewpoint, which ironically isn't part of the Skyline Walk. It's a 3-mile roundtrip from the city centre, so offers a nice alternative to the Skyline Walk which is far longer. I loved it as it's a large greenspace in a typical neighbourhood with simply breath-taking views.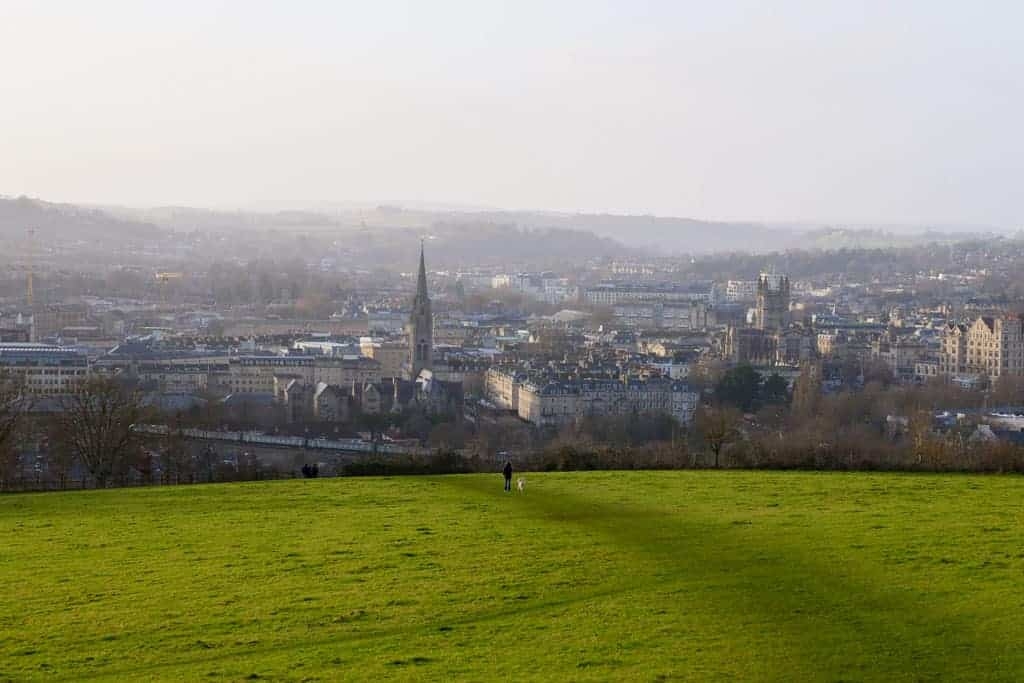 However, a close second place was the Bath Lookout at Alexandra Park. It was only the open space at the Bathwick Meadow that won it, but for the views is probably Alexandra Park!
My final honourable mention is a Hot Air balloon ride. It's only a mention as I haven't done it, and you need to time your visit right. Scheduled and share flights run from 1st March to 31st October, however you can also book exclusive flights at other times. Have a look at Bath Balloons for more.
Tip: another romantic suggestion was the Dark Horse and fell into the Drink-lover category below.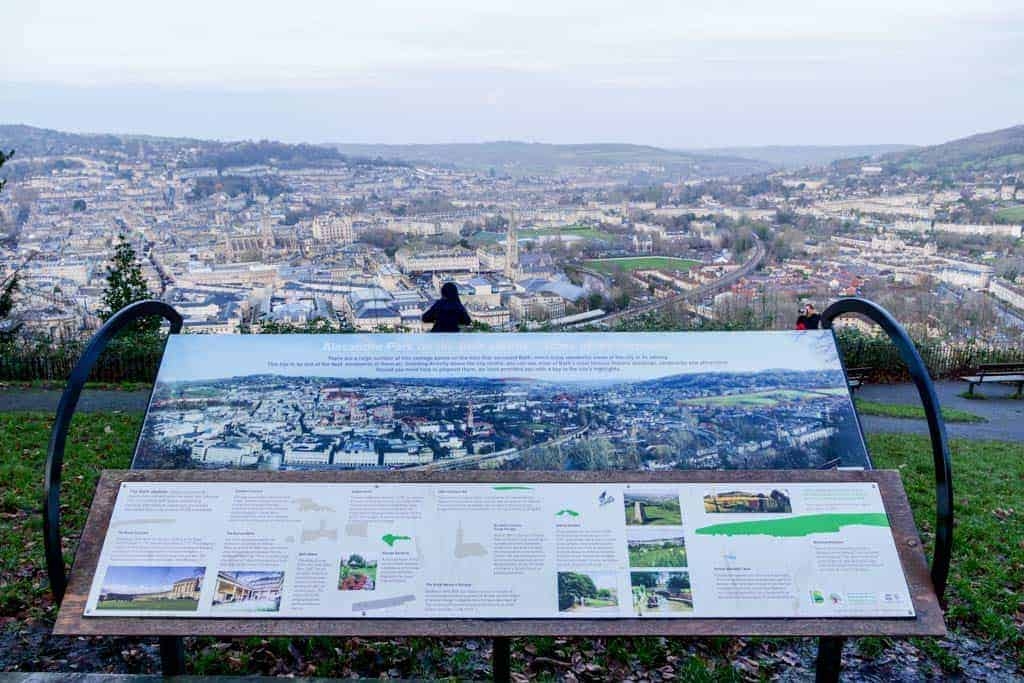 Unique tips for the Drink-lover
In this section I will usually focus on two from cocktails, beers, gin, rum or wine. It could be a bar, brewery, distillery or vineyard. Depending on the city I am in and the specifics things that impress me. In this case, I found a fantastic cocktail bar and a craft brewery.
The Dark Horse Cocktail Bar
Starting with the Dark Horse, a small hidden cocktail bar with an almost speakeasy vibe. This could have easily dropped into my solo category and romantic category. I love a cocktail bar for how friendly the bartender or mixologist are, making it perfect if you're alone. The Dark Horse also offers some quirky little booths and rooms for private parties (I recommend booking a table in advance here)
I was lucky enough to meet Louis the owner, by pure chance. He opened the bar 4 years ago and since then it's developed quite the reputation, winning awards and features in big publications. Now he can add Intrepid Escape to that list!
The bar was pretty much built by hand from scratch and offers a seasonal menu. What I like about this is it uses local ingredients and gives the mixologists the opportunity to experiment and curate their own cocktail. Meaning you'll find totally unique, on-of-a-kind cocktails on this menu, even better it changes every quarter.
So, here's my cocktail recommendations. The first the 10-cent pistol. You won't find this on the menu, but it was curated by Louis himself and all the bar staff know what it is. The second from their winter menu is the Jackdaw. Both are bourbon based, which is not my usual cocktail. But they were both honestly amazing. They also have a bar in Bristol.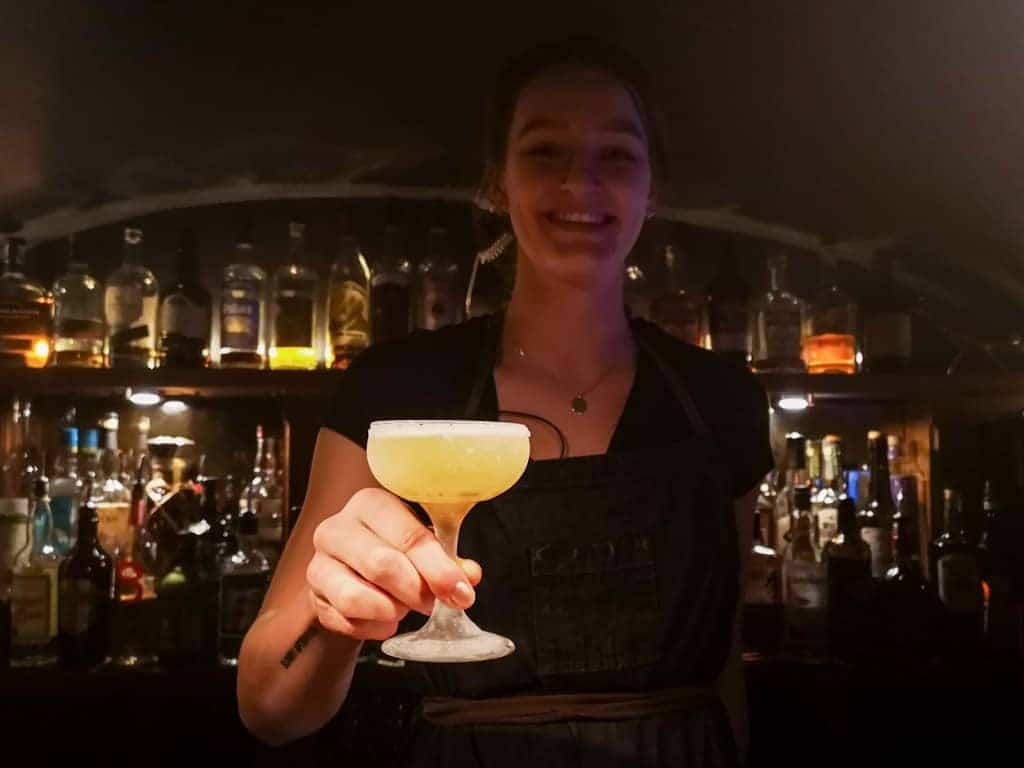 Electric Bear Brewing
Then of course the beer! With Bath being more known for its cider I wasn't expecting it to be a craft brewery that stole the show. Electric Bear Brewing describes itself like this "We are a microbrewery based in Bath creating eclectic, modern, flavourful and award-winning beers for the bold and the curious."
Well they're not lying. Situated a little outside of Bath. Like all good breweries it started with one person and a home brewing kit. Years later a team has now perfected the skill and Electric Bear Brewing is creating great tasting beers that are easy to drink. Their taproom is also cashless, which is great to see!
My tips: All the beers are worth trying and they push the boundaries that's for sure. So, try something different, like the 8% cherry chocolate stout (which you can take away in cans!).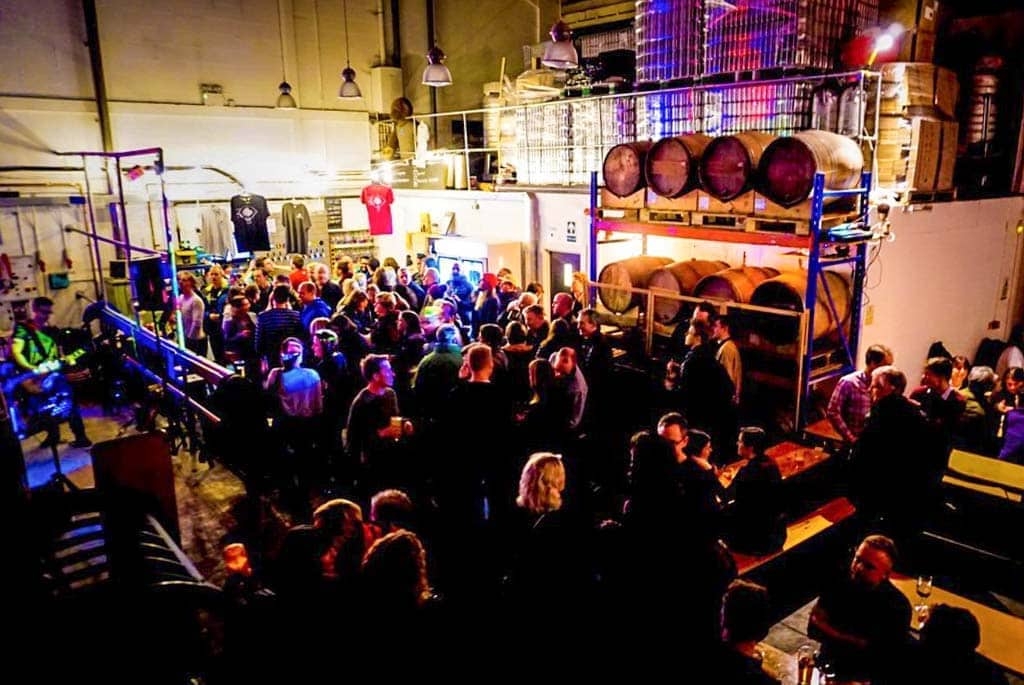 Unique tips for the Foodie
I spent a fair bit of time researching some typical food from Bath, something different that I can recommend. And if I'm honest, I struggled! But I did find a few tips and suggestions.
The Guildhall Deli
Firstly, I wanted to find the traditional Bath Chaps. Basically a meat dish that involved pickling a pig's cheek for 2 or 3 weeks. It's then soaked, boiled and cooled, served cold like ham or eggs often are. I had read one place does it traditionally, the Deli in the Guildhall Market. However, their butcher has stopped doing it, much to the disappointment of their owner, who I spoke to.
Still, I did get a lovely local pie from the Guildhall Deli, all sourced from local ingredients. That's traditional, so it's not a bad replacement is it? Pretty much anything from this Deli is amazing. I highly recommend stopping for a snack or for lunch. I had the Wild Boar and Chorizo pie, followed by the Christmas Venison pie.
Some of the other favourite are their scotch eggs, black pudding, Pork and Chilli, Pork and Apple, Goats cheese and caramelised onion, Pulled Pork soft yolk scotch eggs or the veggie oat slices. Or why not try a vegan sausage roll? Is anyone else getting hungry right now!? The Deli has been there 30 years and serves locally sourced traditional food.
Bath Christmas Market
Next up is the Bath Christmas Market, if you're visiting at the festive time of year. The market has the typical Christmas huts located all over the city centre, but what I loved about this market are the amount of local and English produce. From chocolate, pasties, pulled pork and flavoured gins. This is a great place to have a mulled wine and try some local delicacies. In fact, the Christmas Market could have found itself in any one of my categories!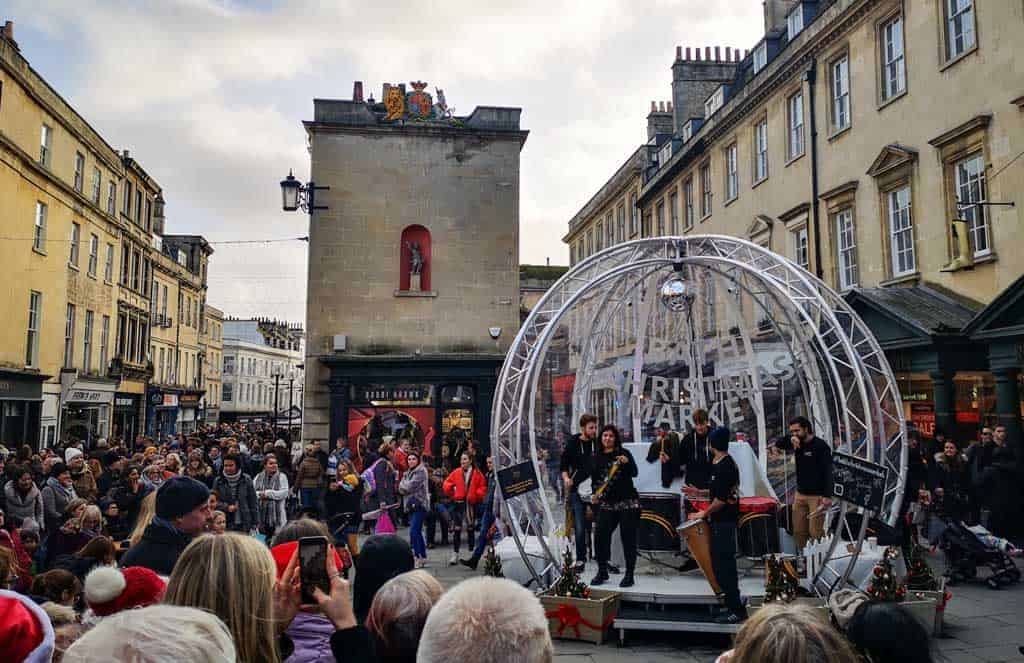 A final honourable mention is the food at Comptoir Libanais, a Lebanese restaurant offering many Middle Eastern dishes. One of which literally brought me right back to the Tagine I had in Morocco. The food here is amazing, and I had the Lamb and Prune Tagine followed by the Orange Blossom Mouhalabia (photographed below).
This article isn't a dig at the typical things to do in a city. It's just that you don't need me to tell you about them! You can find these anywhere. For the touristy information, I recommend you head to the Visit Bath Tourist information centre on Terrace Walk, to find out about tours and passes. Their website is also packed full of tips. It's a great starting point for your trip.
My trip to Bath was sponsored & supported by the YMCA Hostel and Visit Bath. Nonetheless, the photos and opinions are all my own (as always).