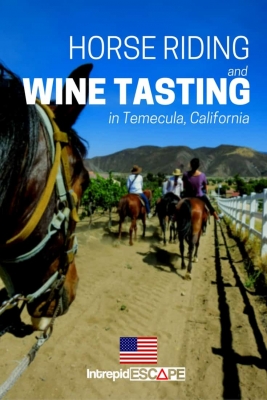 I found myself in Los Angeles ready to travel the Big Sur to San Francisco. With a couple of days to spare I got in touch with my friend and fellow Best Job in the World finalist Chanel, who invited me down to Temecula. But not just to visit, to go Horse Riding and Wine Tasting in Temecula – two things I love combined in one fun afternoon, perfect.
Saddle Up Wine Tours run tours, lessons and rides, but better than that all of the horses are rescued, and were either abandoned, abused or neglected. Each horse on our tour had a heart warming story behind how and why they ended up there, and what they've been through. Of course the horses are well trained, and only re-introduced to being ridden once safe.
I grew up riding horses, so I've always been a confident horse rider (sorry horse-BACK rider, I wouldn't want you Americans to forget what part of the horse to ride!). After asking about our experience, our guide Jennifer matched me with Sampson, a Spanish Mustang crossed with a Quarter Horse, and a real character. Apparently he needs a confident rider, and I got on with him just fine, in fact I wanted to take him home! He was also a bit of a pretty boy with some dressage moves, so it was fun trying to get him prancing up the hill with his nose tucked in!
horse-BACK rider, I wouldn't want you Americans to forget what part of the horse to ride!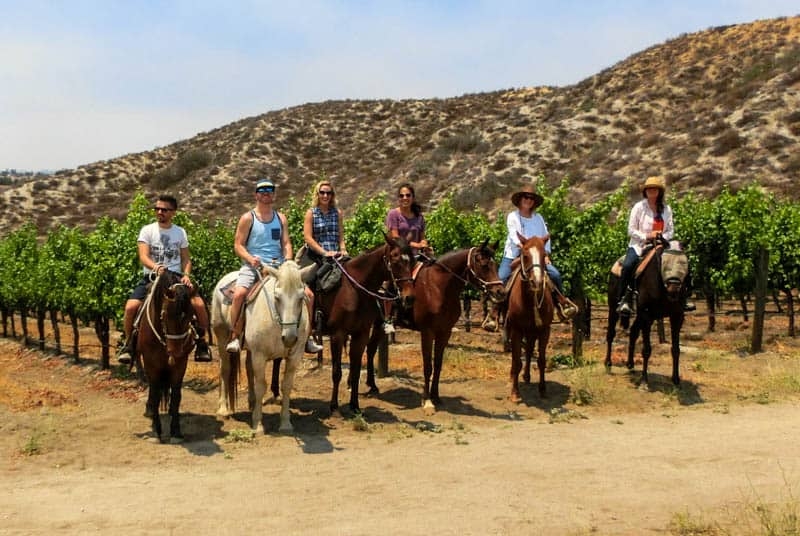 The tour starts with a quick safety briefing, how to turn right and left, where the brakes are and what means go faster. And then we set off, casually strolling through the vineyards and learning about the background of the horses. Our tour included two wineries; the first was Robert Renzoni Vineyards, where you get tokens in the form of poker chips to try the different wines. And if you're cheeky and English there's a chance you'll get the odd glass extra. There was a nice atmosphere inside, with a mixture of families, couples and hen parties enjoying an afternoon wine tasting!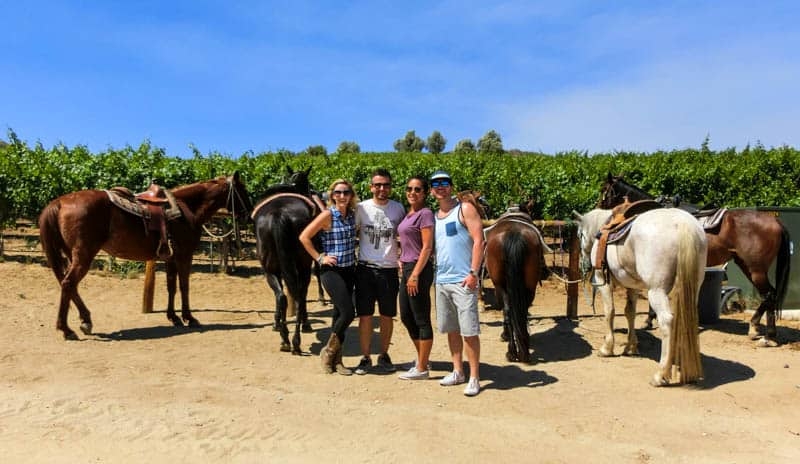 A short ride away and we're at the next stop, and my favourite Fazeli Cellars. In a stunning looking building over looking the valleys, there's a great atmosphere and vibe to Fazeli's. I'm not sure if it's the live acoustic music or the fact the owner is helping clear away plates and introducing himself to the guests. Then there's the food in Baba Joon's kitchen. It's incredible, a mix of 'Ancient Persia with Contemporary California'. Last but not least, the wines here were amazing, and my favourite was called Pandemonium, a mix of flavours thrown together that in theory shouldn't work, but it does.
So if you're looking to escape from LA, and try something different, an area dubbed as the 'new Napa Valley', then get down to Temecula.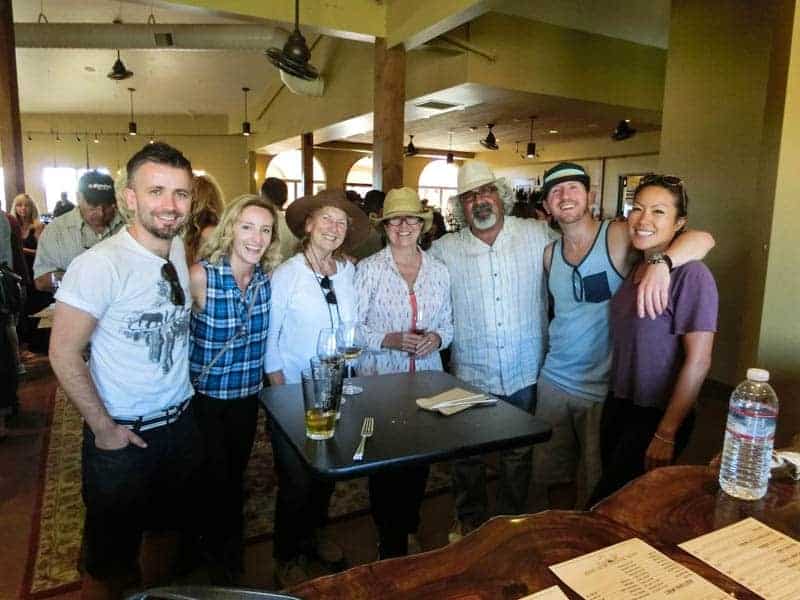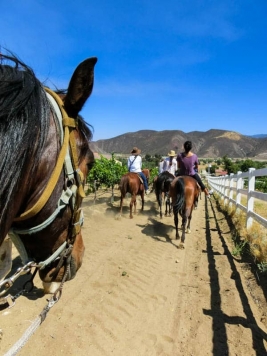 Getting there
I hired a car from LAX with Hertz, which in LA you need to do, as public transport is not the best here. I found the roads pretty easy, and all the cars are automatic. It was pretty seamless experience; I booked a car online, and took the Hertz shuttle to pick up my car!
A compact car (Nissan Versa or similar) with Hertz costs from £191 based on seven days hire from LAX. OR treat yourself to a Ford Mustang Convertible from £479. (Ford Mustang Convertibles sell out fast so booking in advance is recommended)
Tips for driving in the States
Remember they drive on the RIGHT, the opposite side to us in the UK.
Prepare for the freeways. They're huge, and can be up to five lanes. There's no fast lane, so over/undertaking can happen in any lane.
Make sure you take the right documents – It's a legal requirement to have your photo card driving licence with you while driving in the USA. Keep your passport with you for ID purposes too.
Get a GPS or use your phone. The road systems are always different to those at home, so it's far easier to get a good GPS or upgrade your rental to include one.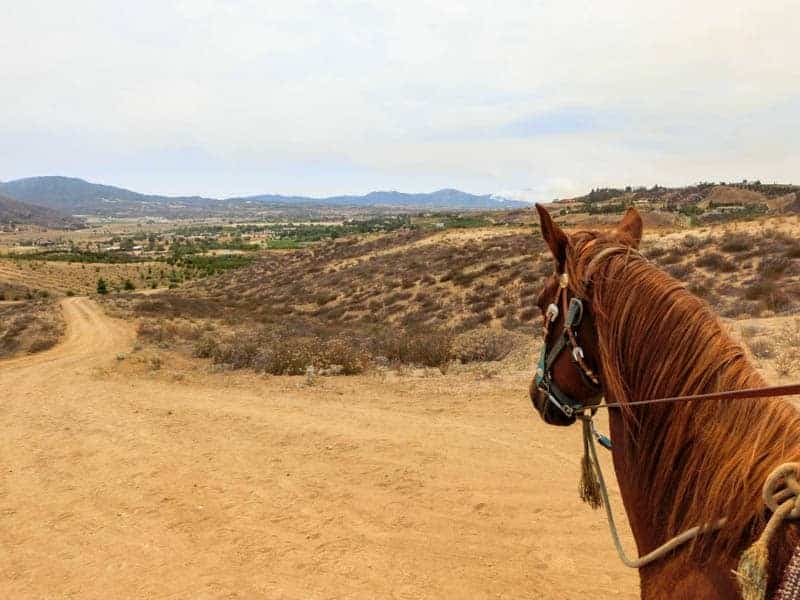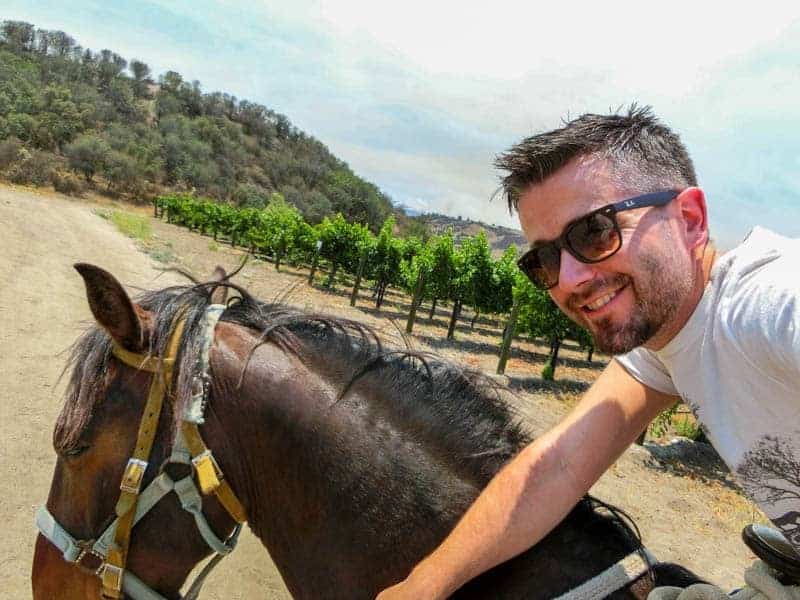 Share me…
Support Intrepid Escape by adding this article using the photos below to Pinterest, Twitter or Facebook. For you to read later and share with your friends. Have you been to the Temecula? Would you try Horse Riding & Wine Tasting? I'd love to hear from you in the comments below. Thanks for reading and happy travels!