For me exploring a new destination is all about outdoor adventure. Like many people it is the only way to truly get a feel for a place and experience nature first-hand. It could be hiking or kayaking, or just being on the open road.
Outdoor adventure does not come much better than New Brunswick. I have focused this article on 3 spots. In truth it could have been 30. I spent 10 days exploring, that could have been 100. But let's face it, often we don't have all the time in the world. So, if you are planning to visit soon or at some point in the future, please make sure you don't miss these 3 outdoor adventures.
The Fundy Trail Parkway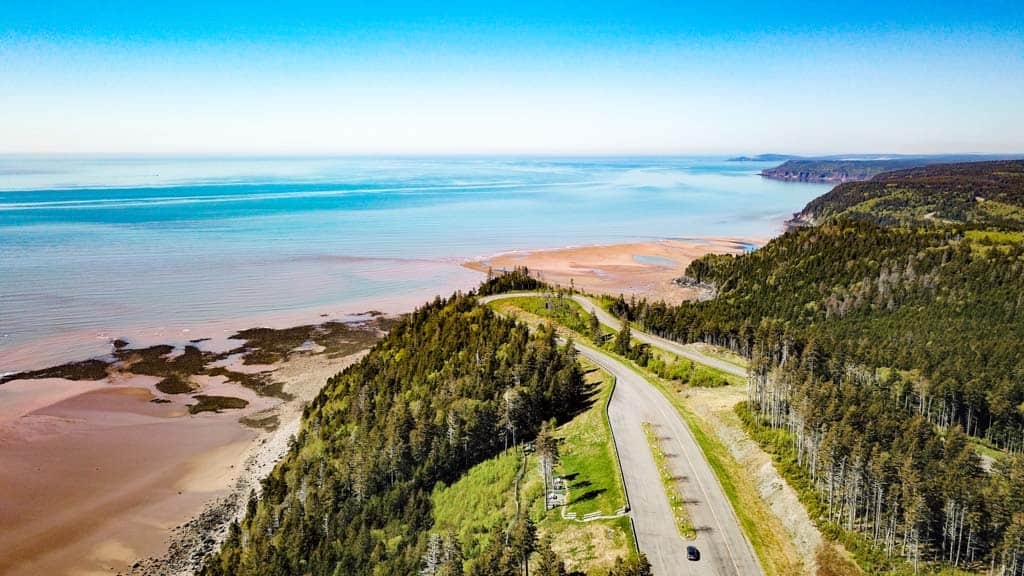 The Fundy Trail Parkway is the reason I previously called this route a Bucket List Road Trip. And if you know me well, you will know how much I love travelling this way. This is world class road trip territory.
The best part is there is so much more to do than just drive along the parkway, it is an outdoor adventure hotspot. There are 21 lookouts and 4 waterfalls to hike to, in addition to a marked 10km hiking route. There are picturesque beaches to spend the day at, and the water can be explored on a kayak.
Top tip: make sure you visit Fuller Falls; it is easily accessed and close to the road.
You will need at least a day here, but as always, the more time you spend the better. To really get a feel for the Fundy Trail Parkway allow at least two or three days. To look at all the hikes in detail visit the official Fundy Trail Parkway website, where they list the difficulty and length of each hike. And my recommendation for a moderate but short hike is the Long Beach Brook Falls Trail, only 2.2km long.
The closest town to the Fundy Trail Parkway is St Martins, where you can also find the famous sea caves. This is another brilliant area for adventure, and I highly recommend kayaking around the caves at high tide.
Entry to the Fundy Trail Parkway for one adult is $10 and the kayaking at St Martins starts at $65.
Hopewell Rocks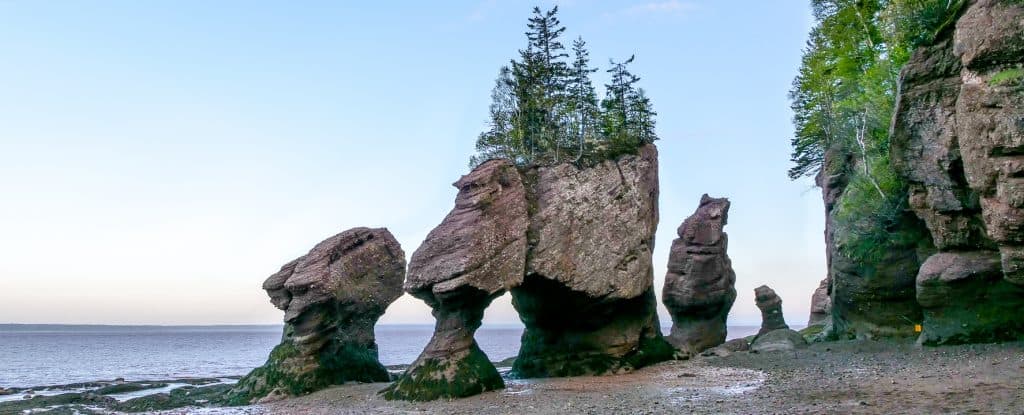 It is absolutely one of the best-known spots in New Brunswick, and for good reason! There are so many things I love about Hopewell Rocks; it is hard to know where to start.
Firstly, the science. You will hear a lot about the unique tides in New Brunswick, they impact so much of the coastline and nature. Trying to get your head around them is fascinating. The tide can change here as much as 50 feet (16 metres!) and rises 4-6 feet per hour. That is so quick. There is 160 billion tons of water that flows into the bay twice a day.
However, the reason this is on my list are the outdoor adventures you can have here. You can walk along the coast at low tide, looking up at how high the water will be in 6 hours and spotting Peregrine Falcons nesting above. Followed by kayaking on it at high tide! Yes, you can kayak 16 metres above where you walked earlier that day. Now there is a unique experience you will not find anywhere else.
Nonetheless it was the night photography walk that blew me away. We took a guided tour with renowned local photographer and park expert Kevin Snair. You can only enter the park at night with a guide, and you need one as believe me the tide changes so fast, so you do not want to get caught out.
Kevin has such a passion for the area and a wealth of knowledge about the tides. He will help you find the best photography spots, set up your camera and bring spotlights for the lighting. I cannot recommend this tour enough.
The Night Photography Tour is $100 and lasts at least 2.5 hours and guided Kayaking Tours start at $70.25 for adults and last 1.5 – 2 hours.
Whale Watching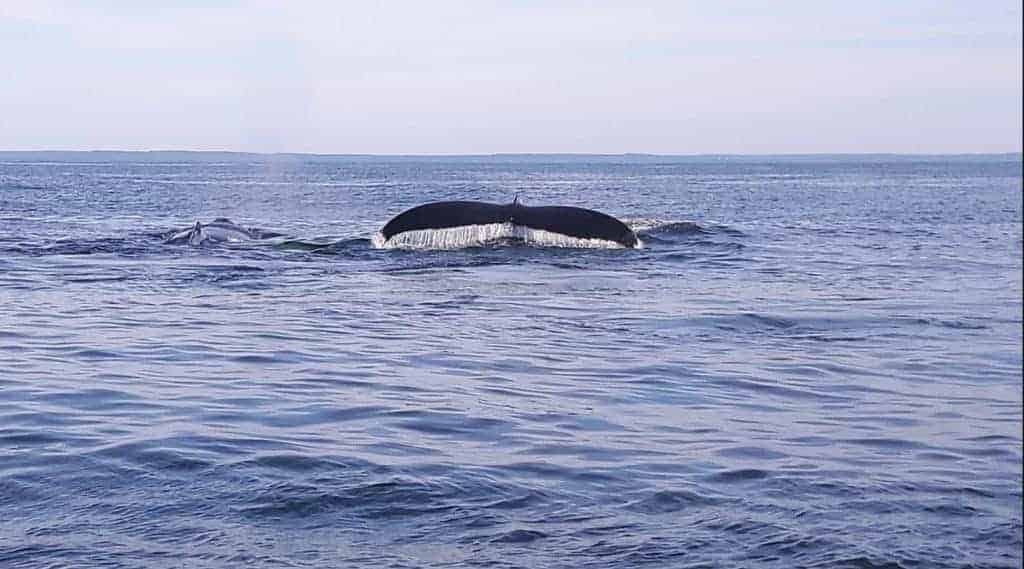 Heading to the East of New Brunswick where you will find another outdoor adventure hotspot, and a bay world famous for Whale Watching! In the summer months the Passamaquoddy Bay is one of the most reliable places to Whale Watch in North America.
You can regularly find 12 species of whale in these waters as they use the bay to feed. Humpback Whales usually arrive in June and in July you can spot the exceedingly rare North Atlantic Right Whales.
We based ourselves in the town of St Andrew and took our tour from there with Fundy Tide Runners. The boat trip took us all round the bay and Campobello Island, and included so much knowledge about the local wildlife and the tides that make this area so unique.
The tour included a full briefing talking about the bay, where we will go, what we might expect to see and all the necessary safety advice. We were then fitted with a flotation suit, which doubles as a comfy warmer because even if it looks warm, believe me once you are out there it is not!
It is not just the whales you will spot… During the boat trip you might also see Dolphins, Finbacks, Seals, Porpoise, all kinds of seabirds and even the Bald Eagle!
Top tip: if you are driving from St Martin to St Andrew make a pit-stop at the world-famous Ossie's Lunch (just off Route 1) for fish and chips.
St Andrew's is also a great spot to be based for a couple of days. I recommend exploring Ministers Island and taking a half day trip to Campobello Island.
For more about New Brunswick look at 10 things you must do in New Brunswick. Please make sure you check the latest travel advice and restrictions related to Covid before you book and ensure you have valid insurance.
You can find up-to-date travel information for UK residents on the UK government website, and for arriving in New Brunswick here.
This article was sponsored by Atlantic Canada. Nonetheless, the photos, video and opinions are all my own (as always).